When speaking of the Pae Maha Lap lucky goat amulet, there is one name which stands above all others, and that is the name of Luang Por Am, of Wat Nong Grabork, in Ban Kaay Rayong. Luang Por Am was, along with Masters like Luang Por Horm of Wat Sak Hmak, Luang Por Rerm of Wat Juk Gacher, and Luang Por Chaem, considered among the top Masters of the Province, long before even the Great Luang Phu Tim of Wat Laharn Rai acheived his fame. Luang Por Am was the Kroo Ba Ajarn of the Great Luang Por Lat (Wat Nong Grabork), who is famed in his own right for his powerful Pae Maha Lap Hand Carved Goat Amuletsม which he of course mastered under the tutelage of Luang Por Am.
The male Goat is known for the fact that it is able to keep a whole herd of dozens of females under his ownership, through merciful and protective influence. It is thus believed that who wears the Pae Maha Lap Khao Kwai Gae Sacred buffalo horn Goat amulets of Luang Por Am, will be an owner and controller of great possessions and wealth, with grand entourage.
Below; Luang Por Am, of  Wat Nong Grabork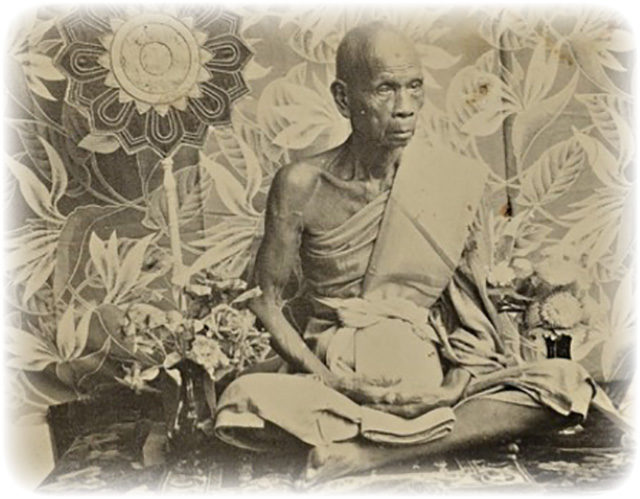 Luang Por Am, or 'Pra Kroo Taep Sittaa, was one of the Great Masters of the Central-Eastern Provinces during His Era, and the ex abbot of Wat Nong Grabork from 2431 – 2490 BE. He was rrespected and revered all around the Province, and had Great fame around the Nation for his Powerful Wicha. During his lifetime he became known as the top Master for carved Lucky Goat amulets. What is less known, and is of immense interest to investigate the lineage Wicha of the Pae Maha Lap, is the fact that Luang Por Am himself received this Wicha from Luang Por Dtaeng of Wat Ang Sila.
Luang Por Am was abbot of Wat Nong Grabork between the years 2431 to 2490 BE, being a Gaeji Ajarn of around 150 years ago, and was the Kroo Ba Ajarn teacher of many other great names of the time, such as Luang por Rerm of Wat Juk Gacher, and Luang Por Lat of Wat Nong Grabork (his successor and apprentice in magick). The Pae Maha Lap Nuea Khao Kwai Gae of Luang Por Am, is believed to possess the power to absorb Black Magick and protect the wearer/devotee from being affected.
It can be said that the Pae Maha Lap of Luang Por Am, Luang Por Lat, and now Pra Atigarn Surasit Akkawaro, the current abbot (written 2562 BE), are considered the 'cream of the crop', by serious devotees of the Pae Maha Lap, along with those other Great Chonburi Masters whose names carry fame for this Wicha such as Luang Phu Tim, uang Por Sakorn, Luang Phu Sin.
The Pae Maha Lap of Luang Por Am, was almost always made by carving a goat from 'Khao Kwai Fa Pha Dtaay', which is the horn of a buffalo which died struck by lightning in a field. It is an ancient magical belief that the horn of a lightning-struck bull or buffalo has the power of angelic beings in it, for indeed, the angelic beings of the elemental realms who control the weather, are who control these divine forces of Nature.
After the carving of the shape of the goat, Luang Por Am would then empower the Goats with incantations, and invocations of elemental powers and angelic beings, with Buddhist Blessings on top. Sometimes he would immerse them in aromatic sacred oils to consecrate them, mixed with herbal oils made from herbs and vines and flowers of the forest, with magical, healing, protective, and attraction powers. He would rebless them again and again until he felt the amulets were completely stuffed as full with magic as possible, and unable to insert any more. The magic within the amulets was hence always filled to the brim before distribution.
Look Om Thak Chueak Long Rak Pong Luang Por Gaew Early Era Luang Por Plord Wat Pak Tale
03710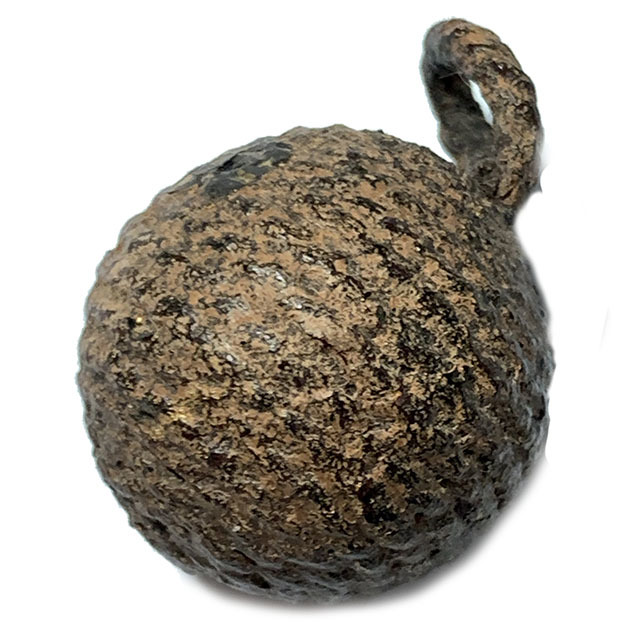 An early-era Look Om from the Great Luang Por Plord, of Wat Pak Tale. This Look Om is made from the Pong Wised Powders of Luang Phu Gaew (Wat Pak Tale/Wat Kruea Wan), with cord and ancient lacquered surface, of Wat Pak Tale.
The Look Om of Luang Por Plord (2387 BE 2492 BE), of Wat Pak Tale, is most famously revered for its Metta Sanaeh properties, and protective Magic within the household, especially its ability to prevent fires in the home, and fend off burglars and ill wishers. Luang Por Plod was a Geji Ajarn of Ancient Times, born in 2837 BE, and Ordained into the Sangha in the year 2436 BE, until his passing in 2492 BE.

Free Registered Airmail Shipping Worldwide
is included as usual with our service. Luang Por Plord was handed the abbot-hood of Wat Pak Tale from the previous abbot, and his Mentor Luang Por Gaew, when Luang Por Gaew was appointed to go become abbot of Wat Kruea Wan. Lpo Gaew was previously the abbot of Wat Pak Tale, and later moved to Wat Kruea Wan, hence passing on the care of Wat Pak Tale to Luang Por Plord.
Mostly his Look Om were made with 'Hoo' ears (pendant hoops) attached, with cord wrapping. Some would be first handed out with cord and then lacquered, and sometimes pasted with gold leaf, whereas others were left in bare cord without lacquer.
Luang Por Plord was a Great Petchburi Master froom Ban Hlaem, who was a first apprentice in Wicha to the Great Luang Por Gaew of Wat Pak Tale (then called Wat Kruea Wan). The Look Om of Luang Por Plord of Wat Pak Tale, are quite large in size, compared to many other Samnak / Lineage styles. He would still make the three usual sizes of Lek (small), Klang (medium), and Yai (large, sometimes up to the size of a 10 Baht coin).
The main ingredient of the admixture for the Muan Sarn Sacred Powders of the Look Om used the Muan Sarn of Luang Por Gaew (Wat Pak Tale/Kruea Wan), which was of course exactly the same Muan Sarn Sacred Powders used in the making of Luang Por Gaew's famous Pra Pid Ta amulets, some of which have been seen to fetch up to ten Million Baht (300,000$ US Circa) in cases of some competition prize-winning amulets.
Luang Por Plord would take the pure powders which he has received (inherited) from Luang Por Gaew, and add Wan Ya Magical Herbal Ingredients with Healing and Protective Powers, and Seductive Influence, which also came from the Dtamra Sorcery Grimoire of Luang Por Gaew's Lineage.
The Look Om is said to be 'Krob Jakrawal' (Universal Blessings' with Luck Bringing, Seductive, protective, and Evasive Powers all rolled into one powerful Sacred Powder Ball.
The Look Om is extremely famous for Maha Sanaeh Power of Attraction of customers, lovers, money, admirers, just as the immortal Pra Pid Ta of Luang Por Gaew Himself. Devotees like to keep the Look Om in a Prayer receptacle at home to prevent house fires and burglars, as well as to wear it for protection and lucky fortunes.
The Look Om Pong Luang Por Gaew Luang Por Plord Wat Pak Tale is perhaps the most popular alternative for devotees who cannot afford the Pra Pid Ta Luang Por Gaew, but who seek the powerful magic of his blessed Muan Sarn Sacred Powders, and empowerment of the Master Lineage of his First Apprentice and Wicha Inheritance Master, Luang Por Plord, of Wat Pak Tale (Wat Kruea Wan).
Below; Video Examination of the Look Om Amulet of Luang Por Plord Wat Pak Tale, Narrated by Thai Amulet Expert and Buddha Magic Author Ajarn Spencer Littlewood, with his own special insights, to lead you deeper into the world of Thai Buddhist Amulets of the Pra Niyom preferred high end category, and help you immerse yourselves in the depths and fascinating details of the art of perusal of authentic ancient amulets of the great masters of olden days.
Temple:Wat pak tale
Year of Issue:
Circa 2450-60 BE
Maker of Amulet:Luang Por Plord (2387 BE 2492 BE)
Weight:15 Grams
Recommended Uses:Protection Against Fire and Thieves, Lucky Fortunes, Seductive Power of Attraction
Size of Amulet:2.5 Cm
Encasement Options
Solid Gold Custom Casing - We will email you with a price quote according to current Gold Prices, and Invoice You after Agreement. (0) Waterproof Casing (Free Offer) (0) None (0)