When speaking of the Pae Maha Lap lucky goat amulet, there is one name which stands above all others, and that is the name of Luang Por Am, of Wat Nong Grabork, in Ban Kaay Rayong. Luang Por Am was, along with Masters like Luang Por Horm of Wat Sak Hmak, Luang Por Rerm of Wat Juk Gacher, and Luang Por Chaem, considered among the top Masters of the Province, long before even the Great Luang Phu Tim of Wat Laharn Rai acheived his fame. Luang Por Am was the Kroo Ba Ajarn of the Great Luang Por Lat (Wat Nong Grabork), who is famed in his own right for his powerful Pae Maha Lap Hand Carved Goat Amuletsม which he of course mastered under the tutelage of Luang Por Am.
The male Goat is known for the fact that it is able to keep a whole herd of dozens of females under his ownership, through merciful and protective influence. It is thus believed that who wears the Pae Maha Lap Khao Kwai Gae Sacred buffalo horn Goat amulets of Luang Por Am, will be an owner and controller of great possessions and wealth, with grand entourage.
Below; Luang Por Am, of  Wat Nong Grabork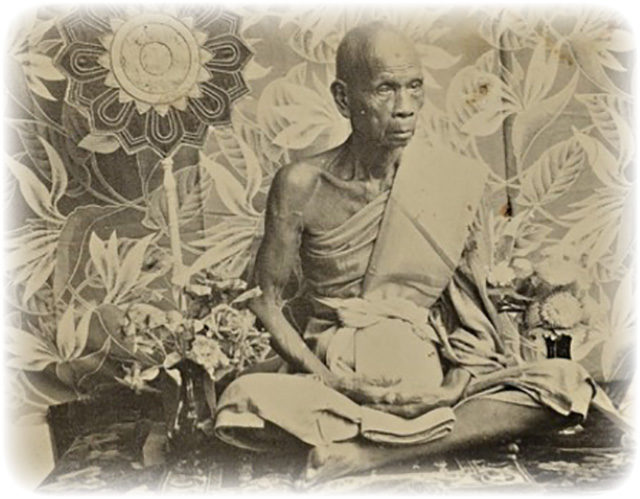 Luang Por Am, or 'Pra Kroo Taep Sittaa, was one of the Great Masters of the Central-Eastern Provinces during His Era, and the ex abbot of Wat Nong Grabork from 2431 – 2490 BE. He was rrespected and revered all around the Province, and had Great fame around the Nation for his Powerful Wicha. During his lifetime he became known as the top Master for carved Lucky Goat amulets. What is less known, and is of immense interest to investigate the lineage Wicha of the Pae Maha Lap, is the fact that Luang Por Am himself received this Wicha from Luang Por Dtaeng of Wat Ang Sila.
Luang Por Am was abbot of Wat Nong Grabork between the years 2431 to 2490 BE, being a Gaeji Ajarn of around 150 years ago, and was the Kroo Ba Ajarn teacher of many other great names of the time, such as Luang por Rerm of Wat Juk Gacher, and Luang Por Lat of Wat Nong Grabork (his successor and apprentice in magick). The Pae Maha Lap Nuea Khao Kwai Gae of Luang Por Am, is believed to possess the power to absorb Black Magick and protect the wearer/devotee from being affected.
It can be said that the Pae Maha Lap of Luang Por Am, Luang Por Lat, and now Pra Atigarn Surasit Akkawaro, the current abbot (written 2562 BE), are considered the 'cream of the crop', by serious devotees of the Pae Maha Lap, along with those other Great Chonburi Masters whose names carry fame for this Wicha such as Luang Phu Tim, uang Por Sakorn, Luang Phu Sin.
The Pae Maha Lap of Luang Por Am, was almost always made by carving a goat from 'Khao Kwai Fa Pha Dtaay', which is the horn of a buffalo which died struck by lightning in a field. It is an ancient magical belief that the horn of a lightning-struck bull or buffalo has the power of angelic beings in it, for indeed, the angelic beings of the elemental realms who control the weather, are who control these divine forces of Nature.
After the carving of the shape of the goat, Luang Por Am would then empower the Goats with incantations, and invocations of elemental powers and angelic beings, with Buddhist Blessings on top. Sometimes he would immerse them in aromatic sacred oils to consecrate them, mixed with herbal oils made from herbs and vines and flowers of the forest, with magical, healing, protective, and attraction powers. He would rebless them again and again until he felt the amulets were completely stuffed as full with magic as possible, and unable to insert any more. The magic within the amulets was hence always filled to the brim before distribution.
Look Om Thak Chueak Run Ayu 106 Pi Luang Phu Hmun Wat Ban Jan 2543 BE Released at Wat Pha Nong Lom
03584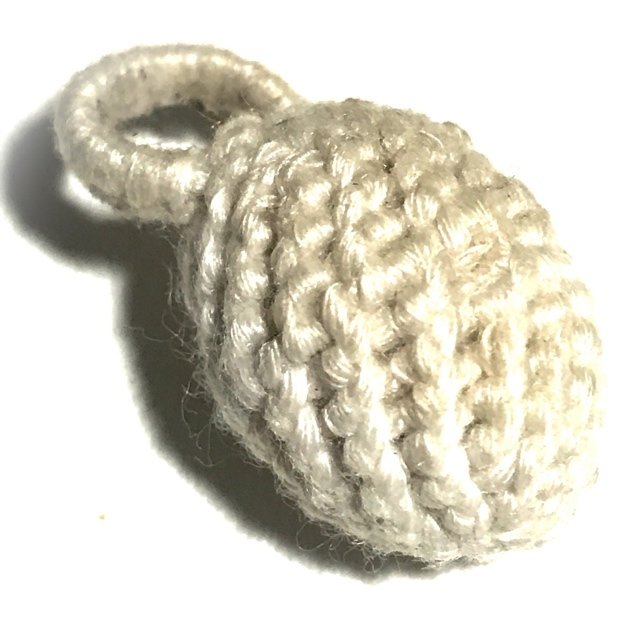 Ancient Amulet store is delighted to be able to present a true rarity and sacred Look Om Chan Hmak Betel-Areca powders 'Thak Chueak' cord bound sacred powder wishing ball amulet, from the Great Luang Phu Hmun Tidtasilo of Wat Ban Jan, which were released at Wat Pha Nong Lom in 2543 BE for Luang Phu's 106th Birthday. But This series of amulets were made in 2542 BE and also placed for blessing in the same Buddha Abhiseka Ceremony held for the 'Jaroen Lap' edition (105th Birthday Edition), with not only Luang Phu Hmun present to perform empowerment and blessings, but also a number of other Great Master Monks.
The Buddha Abhiseka Blessing for the amulets was performed on the 31st October in the year 2542 BE at Wat Ban Jan with Meditative Empowerment. Luang Phu Hmun was a Maha Thaera Guru Monk of great age and who received Great reverence and Respect from the people of Tambon Jan for his Diligence and Purity in practicing the Vinaya as a Buddhist Monk.
His predictions and instructions for ceremonial empowerment of amulets after his physical death, have been followed to the letter since his passing, for he gave special instructions to inform as to when and how he would return with his spiritual presence to empower amulets posthumously. His Miracle Powers are Legendary, with so many stories of Miraculous events related to this Monk, who has seen the Reign of Five Kings in his Lifetime.
Luang Phu Hmun's amulets are now very hard to come across.His amulets are becoming very rare, and prices have risen constantly since his passing, snapped up by the inner circle of devotees and collectors, who know about the attainments of this Monk, and that there are severe reasons to believe that he may have been an Arahant. His amulets are eminent members in the annals of the Classics.
Kam Ārātanā Buchā Luang Phu Hmun Tidtasīlō
Namō Dtassa Pakawadtō Arahadtō Sammā Samputtassa Namō Dtassa Pakawadtō Arahadtō Sammā Samputtassa Namō Dtassa Pakawadtō Arahadtō Sammā Samputtassa
Luang Phu Hmun Tidtasīlō Ma A U Luang Phu Hmun Tidtasīlō U A Ma
Kata Bucha Luang Phu Hmun
Dtua Gū Lūk Pra Putta Ongk Krū Sit Tudong Ong Āj Mai Bpramāt Krū Pob Roi Gom Dū Jer Krū Grāb Hwai
The word 'Hmun' means to turn and increase (revolve). Luang Phu Hmun always foretold that those who Bucha his amulets, would turn their luck and fortunes around, and increase their Business Success. He also foretold that those who Bucha his amulets will be protected from 'Dtaay Hoeng (premature deadly accidents), and that the Devas will Protect the wearer of his amulets. Bucha to Luang Phu Hmun should be performed on a Thursday, and should include offerings of; 16 Incense stick, 2 candles (lit), white flowers, or one puang malai garland. Hmak Plū Betel-Areca Nut with chewing paste (5 or 16 portions), a glass of sweet drink such as fizzy drinks, one roasted catfish, some rice or sticky rice, or fermented rice, or even steamed rice pudding.
Temple:Wat Ban Jan for Release at Wat Pha Nong Lom
Year of Issue:
Made in 2542 BE Released in 2543 BE
Maker of Amulet:Luang Phu Hmun Tidtasilo
Weight:4 Grams
Recommended Uses:Wish Fulfilment, Evade Danger, Wealth Attraction, Mercy Charm, Easy Attainment of One's Goals
Number of Amulets Made:Unknown
Size of Amulet:Circa 1.8 x 2 Cm
Encasement Options
Solid Silver Custom Casing - We will email you with a price quote and invoice after agreement (0) Solid Gold Custom Casing - We will email you with a price quote and invoice after agreement (0) Waterproof Casing (9) Stainless Steel Bubble Casing (9) None (0)