When speaking of the Pae Maha Lap lucky goat amulet, there is one name which stands above all others, and that is the name of Luang Por Am, of Wat Nong Grabork, in Ban Kaay Rayong. Luang Por Am was, along with Masters like Luang Por Horm of Wat Sak Hmak, Luang Por Rerm of Wat Juk Gacher, and Luang Por Chaem, considered among the top Masters of the Province, long before even the Great Luang Phu Tim of Wat Laharn Rai acheived his fame. Luang Por Am was the Kroo Ba Ajarn of the Great Luang Por Lat (Wat Nong Grabork), who is famed in his own right for his powerful Pae Maha Lap Hand Carved Goat Amuletsม which he of course mastered under the tutelage of Luang Por Am.
The male Goat is known for the fact that it is able to keep a whole herd of dozens of females under his ownership, through merciful and protective influence. It is thus believed that who wears the Pae Maha Lap Khao Kwai Gae Sacred buffalo horn Goat amulets of Luang Por Am, will be an owner and controller of great possessions and wealth, with grand entourage.
Below; Luang Por Am, of  Wat Nong Grabork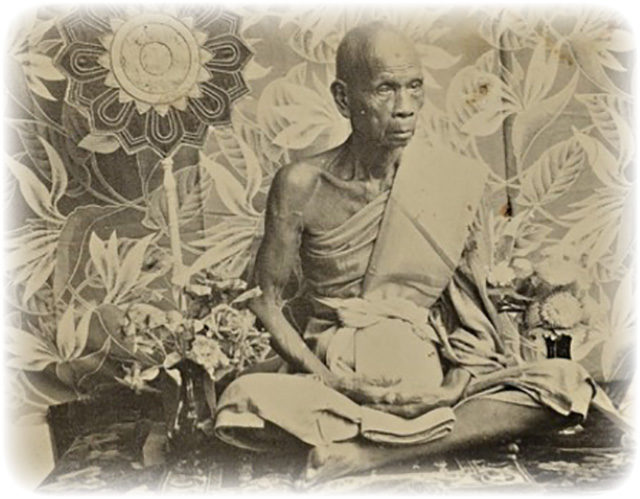 Luang Por Am, or 'Pra Kroo Taep Sittaa, was one of the Great Masters of the Central-Eastern Provinces during His Era, and the ex abbot of Wat Nong Grabork from 2431 – 2490 BE. He was rrespected and revered all around the Province, and had Great fame around the Nation for his Powerful Wicha. During his lifetime he became known as the top Master for carved Lucky Goat amulets. What is less known, and is of immense interest to investigate the lineage Wicha of the Pae Maha Lap, is the fact that Luang Por Am himself received this Wicha from Luang Por Dtaeng of Wat Ang Sila.
Luang Por Am was abbot of Wat Nong Grabork between the years 2431 to 2490 BE, being a Gaeji Ajarn of around 150 years ago, and was the Kroo Ba Ajarn teacher of many other great names of the time, such as Luang por Rerm of Wat Juk Gacher, and Luang Por Lat of Wat Nong Grabork (his successor and apprentice in magick). The Pae Maha Lap Nuea Khao Kwai Gae of Luang Por Am, is believed to possess the power to absorb Black Magick and protect the wearer/devotee from being affected.
It can be said that the Pae Maha Lap of Luang Por Am, Luang Por Lat, and now Pra Atigarn Surasit Akkawaro, the current abbot (written 2562 BE), are considered the 'cream of the crop', by serious devotees of the Pae Maha Lap, along with those other Great Chonburi Masters whose names carry fame for this Wicha such as Luang Phu Tim, uang Por Sakorn, Luang Phu Sin.
The Pae Maha Lap of Luang Por Am, was almost always made by carving a goat from 'Khao Kwai Fa Pha Dtaay', which is the horn of a buffalo which died struck by lightning in a field. It is an ancient magical belief that the horn of a lightning-struck bull or buffalo has the power of angelic beings in it, for indeed, the angelic beings of the elemental realms who control the weather, are who control these divine forces of Nature.
After the carving of the shape of the goat, Luang Por Am would then empower the Goats with incantations, and invocations of elemental powers and angelic beings, with Buddhist Blessings on top. Sometimes he would immerse them in aromatic sacred oils to consecrate them, mixed with herbal oils made from herbs and vines and flowers of the forest, with magical, healing, protective, and attraction powers. He would rebless them again and again until he felt the amulets were completely stuffed as full with magic as possible, and unable to insert any more. The magic within the amulets was hence always filled to the brim before distribution.
Palad Khik Mai Ngiw Dam Dong Hua Na Dan Dto Fang Muan Sarn Jarn Mer Luang Por Fak Wat Nikom Prachasan Free EMS
03672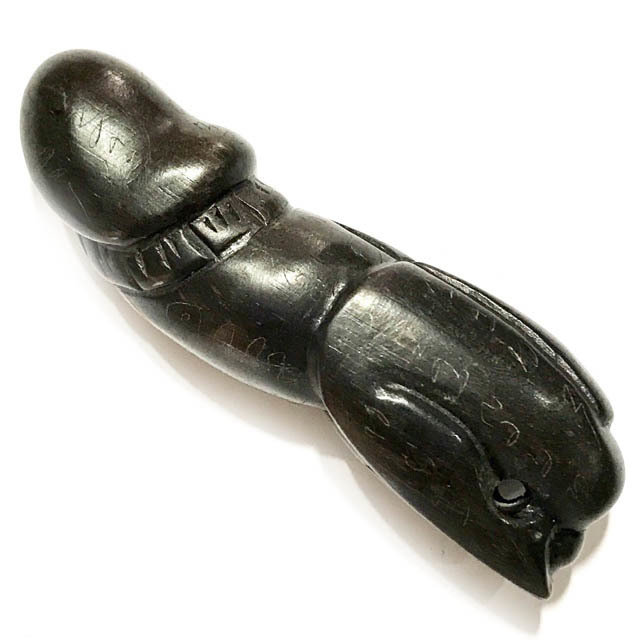 One of the rarest and most highly revered and sought after Palad Khik of all Time, the Palad Khik Gae Nuea Mai Paya Ngiw Dam Dong Jarn Mer, of Luang Por Fak, of Wat Nikom Prachasan. Hand carved from sacred Deva inhabited black Ngiw treewood. The Palad Khik of Luang Por Fak is considered amongst the top five Palad Khik of all time, and carries Supreme Eminence in the Thai Collector Scene of the Krueang Rang Category, and for all Devotees of Palad Khik amulets.
Free EMS Shipping Worldwide is offered with this item. Little is known of his Biography or Life before ordination, but it is known that he was the apprentice in Wicha to the great Luang Por Soke (also top 5 Palad Khik Master), and was the4 Kroo Ba Ajarn who taught the Wicha Palad Khik to the Great Luang Por Yid, of Wat Nong Jork. This Palad Khik from Luang Por Fak is in Pristine condition and exquisitely carved in the classic uniquitious curved shape which has come to be a trademark with the Palad Khik of Luang Por Fak.
A hole is drilled through the base of the Palad Khick for threading a cord through and attaching to a waistcord belt, or can alternatively be encased in waterproof casing with pendant hoop for wearing on a neckchain or belt as preferred.

The back of the Palad Khik has three holes where special Muan Sarn is inserted. The body of the the Palad Khik is formed in the clasic curved shape which has become known to be ubiquitous with the Palad Khik of this Master. This exhibit is extremely rare for the hand inscription of the Yant Dan Dta (Yant Dto) on the head of the Palad Khik, which is said to be found on only very rarely.
The Palad Khik of Luang Por Fak are highly renowned for Kong Grapan Chadtri (Invincibility), Klaew Klaad (Evasion of Deadly Accidents), Metta Maha Niyom n(Mercy Charm), Kaa Khaay (Selling Power), and Lai Phuudt Phii Pisaj (Chase Demons and Ghosts Away).
The Palad Khik is empowered with the Kata; NA HI HA HU JA CHA DAN DTA And the Kata Hua Jai Taw Waes Suwan "WAE SA PU SA", and the Kata Hua Jai Ittijae for Metta Maha Sanaeh "I TA KA MA", as well as the Kata Hua Jai Metta Karaniya Sutta "AE DTANG SA DTING", topped off with the Hua Jai Maha Ud "UT TANG AD TO".
11 Kinds of Blessings are included within the Magic of the Palad Khik's Wicha; 1. Sleep peacefully, 2. Awaken with Happiness, 3. Protection against all Deadly Weaponry, 4. Immunity to Poisons, 5. Mercy Charm, 6. Good Business and Wealth Increase, 7. Convincing Speech, 8. Ward off Evil Spirits and Ghosts, 9. Improve Karma, 10. Protect Household and Property, 11. Increase Popularity & Chances of Promotion.
The Palad Khik is an Ancient Wicha, whose development can be traced right back to the Vedic Brahman Occult practices of Thousands of Years ago. Palad Khik amulets must be empowered by the repetition of incantations, which Thais call 'Kata Bucha', derived from the Devanagari 'ghata poojah'. The incantations depend on the creator's lineage in each school of traditional non-Buddhist animist magic.
Kata Bucha Palad Khik
Ganha Neha Na Ma Pa Ta
or
Ja Pa Ga Sa Na Mo Put Taa Ya Gan Ha Nae Ha Na Ma Pa Ta
or

Om Siwaling Sabbha Metta Sabbha Pokaa Sabbha Laapo Sabbha Tanaa, Sabbha Yasa, Sabbha Pranee Sabbha Mangalaani Bhavantume.
or

Om Laluay Mahaa Laluay Samsip Sorng Hee Hae Hom Lorm Dtorm Kuay Khor Hai Guu Ram Ruay Pro Hua Kuay An Nii Da Daa Di Dii Duu Dii Hee Maa Kuay Maa Burut Maa Dii Sadtrii Mii Maa Swaa Home
chant any one, or all of the Kata 3 times holding the Palad Khik before wearing

Temple:Wat Nikom Prachasan
Maker of Amulet:Luang Por Fak
Weight:40 Grams
Recommended Uses:Kong Grapan Chadtri (Invincibility), Klaew Klaad (Evasion of Deadly Accidents), Metta Maha Niyom n(Mercy Charm), Kaa Khaay (Selling Power), and Lai Phuudt Phii Pisaj (Chase Demons and Ghosts Away).
Size of Amulet:3.1 Inches Long x 1 Inch High x 0.5 Inches Thick
Encasement Options
Waterproof Casing (Free Offer) (0) None (0)
Chueak Kart Aew Cord Belt
Ochre Cord Belt เชือกคาดเอวสีเหลือง (0) Black Cord Belt เชือกคาดเอวสีดำ (0) None (0)