When speaking of the Pae Maha Lap lucky goat amulet, there is one name which stands above all others, and that is the name of Luang Por Am, of Wat Nong Grabork, in Ban Kaay Rayong. Luang Por Am was, along with Masters like Luang Por Horm of Wat Sak Hmak, Luang Por Rerm of Wat Juk Gacher, and Luang Por Chaem, considered among the top Masters of the Province, long before even the Great Luang Phu Tim of Wat Laharn Rai acheived his fame. Luang Por Am was the Kroo Ba Ajarn of the Great Luang Por Lat (Wat Nong Grabork), who is famed in his own right for his powerful Pae Maha Lap Hand Carved Goat Amuletsม which he of course mastered under the tutelage of Luang Por Am.
The male Goat is known for the fact that it is able to keep a whole herd of dozens of females under his ownership, through merciful and protective influence. It is thus believed that who wears the Pae Maha Lap Khao Kwai Gae Sacred buffalo horn Goat amulets of Luang Por Am, will be an owner and controller of great possessions and wealth, with grand entourage.
Below; Luang Por Am, of  Wat Nong Grabork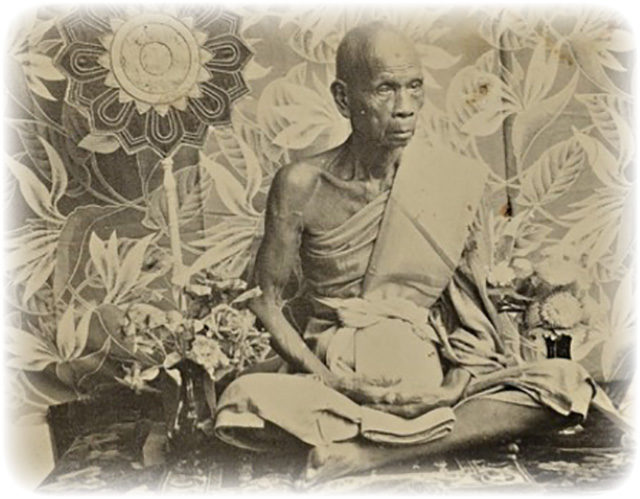 Luang Por Am, or 'Pra Kroo Taep Sittaa, was one of the Great Masters of the Central-Eastern Provinces during His Era, and the ex abbot of Wat Nong Grabork from 2431 – 2490 BE. He was rrespected and revered all around the Province, and had Great fame around the Nation for his Powerful Wicha. During his lifetime he became known as the top Master for carved Lucky Goat amulets. What is less known, and is of immense interest to investigate the lineage Wicha of the Pae Maha Lap, is the fact that Luang Por Am himself received this Wicha from Luang Por Dtaeng of Wat Ang Sila.
Luang Por Am was abbot of Wat Nong Grabork between the years 2431 to 2490 BE, being a Gaeji Ajarn of around 150 years ago, and was the Kroo Ba Ajarn teacher of many other great names of the time, such as Luang por Rerm of Wat Juk Gacher, and Luang Por Lat of Wat Nong Grabork (his successor and apprentice in magick). The Pae Maha Lap Nuea Khao Kwai Gae of Luang Por Am, is believed to possess the power to absorb Black Magick and protect the wearer/devotee from being affected.
It can be said that the Pae Maha Lap of Luang Por Am, Luang Por Lat, and now Pra Atigarn Surasit Akkawaro, the current abbot (written 2562 BE), are considered the 'cream of the crop', by serious devotees of the Pae Maha Lap, along with those other Great Chonburi Masters whose names carry fame for this Wicha such as Luang Phu Tim, uang Por Sakorn, Luang Phu Sin.
The Pae Maha Lap of Luang Por Am, was almost always made by carving a goat from 'Khao Kwai Fa Pha Dtaay', which is the horn of a buffalo which died struck by lightning in a field. It is an ancient magical belief that the horn of a lightning-struck bull or buffalo has the power of angelic beings in it, for indeed, the angelic beings of the elemental realms who control the weather, are who control these divine forces of Nature.
After the carving of the shape of the goat, Luang Por Am would then empower the Goats with incantations, and invocations of elemental powers and angelic beings, with Buddhist Blessings on top. Sometimes he would immerse them in aromatic sacred oils to consecrate them, mixed with herbal oils made from herbs and vines and flowers of the forest, with magical, healing, protective, and attraction powers. He would rebless them again and again until he felt the amulets were completely stuffed as full with magic as possible, and unable to insert any more. The magic within the amulets was hence always filled to the brim before distribution.
Paya Kochasri Nga Gae Carved Elephant-Lion Himapant Animal Luang Por Heng Circa 2460 BE Wat Khao Din
03609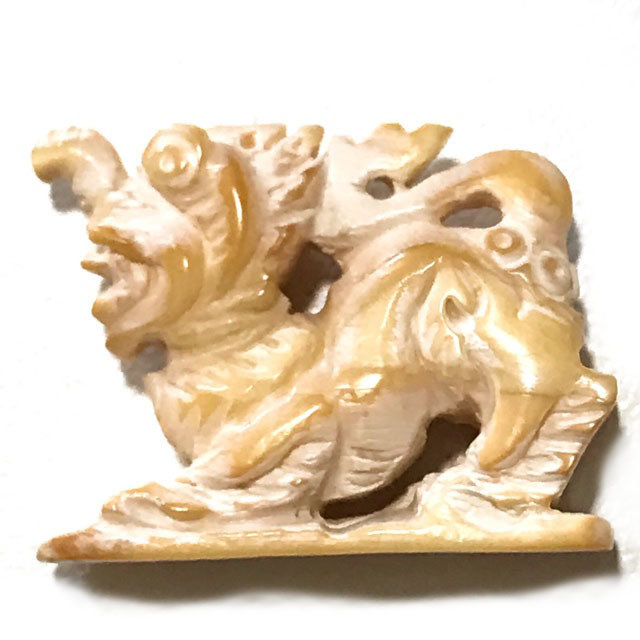 A pristinely well carved piece of Sacred Artisanry and Master-Class Pra Niyom Classic of authenticity, great beauty, and true power, the Paya Kochasri hand carved Old Ivory Ancient Amulet from the Great Olden Days Guru master of Nakorn Sawan Province, Luang Por Heng, of Wat Khao Din (2402 - 2485 BE). The amulet is made from carved Ivory, and is carved in the image of a Kochasri Himapant Lion with Elephant Head, which represents various aspects of Maha Amnaj, Metta, Klaew Klaad, and Maha Pokasap Cornucopia Magic.
The Kochasri Lion itself, especially when carved from Ivory, is naturally imbued with the Sorcerous Powers of Maha Amnaj (commanding power and influence), Serm Yos Status Increase for positions of command, and opportunities of promotion, and Metta Mahaniyom Mercy Charm to lull your Subjects and Charm them into Obedience. Maha Pokasap treasure Accumulation and Cornucopia of Requisites is also Imbued.
Luang Por Heng
Luang Por Heng, of Wat Khao Din, was born in Ban Maha Po, Nakorn Sawan, as the son of Mr Sangkh, and Mrs. Biam. he was given the name 'Heng' which is an auspicious word, because of the meaning in Chinese (and Thai Colloquial), being 'Good Luck', or 'Good Fortune'.
Even as a child, he was always showing Mercy and Compassion to animals, and liked to do good deeds to alleviate their suffering. It was sometimes even a problem, when his Father sent him to watch over the farm fields. The birds would come to steal the rice, but the young Heng would not chase them away or shoot at them, because he considered it an act of Generosity to the Birds, to let them eat.
The young boy Heng loved to educate himself, and would often travel to see Luang Por Tap at Wat Maha Po temple, to learn various Wicha with him, including the Wicha Paet Boran Traditional Medicine, Wicha Akom, and the Wicha Kochasart. The Kocha Sastra (Kochasart), is an ancient Wicha found in the Wicha Dtrai Taep of the Brahman Hindu Faith.

The Wicha Kochasart is related to Elephant Magic, and is Used for Protecting the Kingdom. The Dtamra is found to be split into two major Kampira Grimoires, as separate categories;
1. Dtamra Kochalaks - which deals with Invocation of the Tendencies and Character Powers of the Elephant, both the good and the bad parts, the merciful and the destructive.
2. Dtamra Kocha Gam - this Dtamra deals with Kata Waetmont Incantations to invoke various powers or magical effects, for various purposes, such as catching elephant, controlling an elephant, healing of ailments, or banishing evil curses and forest spirits, in order to protect elephants.
The Wicha of the Dtamra Kochasart tells of the Chang Mongkol which was created from the lotus which rose from the navel of Pra Narai Vishnu Avatar, when he gave birth to the Golden Kumarn, which he gave to Shiva at the beginning of Time. The elephant was split into four families of Magical Elephants, each with its own special qualities.
The first elephant was made by the God Brahma, and was endowed with the power to bring success and prosperity and Glorious Achievements to the Nation and its People.
The second elephant family was made by the God Shiva, and was endowed with the power to bring great Achievements of Powerful Status and Influence to the Kingdom or Nation, and fill its Coffers with Wealth.
The third elephant was made by the God Vishnu himself, and was endowed with the power to bring Victory against all Enemies and Opponents, and will cause the Rains to fall at the proper time and season, without drought or flooding, and the harvest to be plentiful and ripe.
The fourth elephant was made by the God of Fire, Agni, which was endowed with the Power to bring Plentiful Resources to the Nation, and Protect the Land and its Ruler from all forms of danger and disasters.
This was just one of the many powerful Wicha which Luang Por Heng learned to Master from a young age under his first Kroo Ba Ajarn long before he Ordained. Once the young boy Heng reached the age of 12 years old, his parents took him to be ordained as a Samanera Novice Monk at Wat Maha Po, where he remained and intensified his study and practice as an Ordained member of the Buddhist Sangha. After 4 years, he disrobed again, to help his parents on the farm. When he came of age, he reordained as a fully fledged Bhikkhu in the year 2423, once more at the temple of Wat Maha Po. Pra Kroo Gim, the abbot, was his Upachaya Ordaining Officer.
---
After his ordination, he studied the Dhamma Vinaya Buddhist Canon, Horasart (Astrology), and Wityakom (Occult Sciences), with ever increasing fervency, under the supervision of Luang Por Gim as Kroo Ba Ajarn. Wat Maha Po (Dtai) had one of the largest Bibliotheques of Kampira (Grimoires of Sorcery), and was an excellent place for Luang Por Heng to expand and develop his knowledge in Wityakom Occult Sciences. In addition, the Uposatha Shrineroom was imbued with Maha Ud, perfect for empowerment of amulets and talismans, and was very sacred, over 300 years Old. Luang Por Heng found himself in the perfect environment for developing his now Adept Skills.
Wat Maha Po Dtai lay on the banks of the rive Mae Ping, which meant that many Tudong Forest monks would pass by on their travels, to stay and practice (and teach their secrets). And so Luang Por Heng was able to access and receive Wicha from a large number of great Tudong Monks over the years, until one day, he decided to go on Tudong himself.
Luang Por Heng wandered in solitary through the wilderness, forests and caves of Thailand, Burma, Laos and Cambodia many times repeatedly over many years. He slept in the forest, the caves, the delapidated cemeteries, and meditated to develop his resilience of mind, and the powers which accompany such resilience developed their strength and intensity.
---
His mastery of the many Animist Wicha such as the Kochasart, allowed him to understand and intuit the true nature of animals, and he became able to call the spirits of dead animals to enter into carved or molded effigies, and inhabit them with their powers.
During his years of diligent Tudong Practice in the deep Jungles, he learned about the Magical foces within ivory, imbued with the four Magical Properties of the Dtamra Kochasart, and the Chang Mongkol of the Gods Brahma, Shiva, Vishnu and Agni. he mastered the knowledge through intuition and meditation, that this Elephant Magic within the Ivory has two branches of influence;
Nga Gam Jad is the Ivory from a Bull Elephant who was in Mating Season Anger and attacked a tree breaking his tusk on the tree
Nga Gam Jaay is ivory from an elephant who fought with another Bull for the leadership of the troupe, and broke his Tusk in the fight, in the depths of the Jungle.
Luang Por Heng would always collect and gather all the Magical ivory he found in the forests and Jungles during his years of Tudong, which had fallen from the two scenarios of Elephants in Rage, to use their powerful substance later, to shape into animist charms and talismans. Mostly his amulets are carved into the form of Suea (Tigers) Kochasri (elephant Head Lion Himapant Animal), Hmuu Pha (Wild Boar), and his own image. A few other forms are also found on rare occasions.
Luang Por Heng passed away in 2485 at the age of 83, after 63 years iin the Ordained Sangha, leaving his pantheon of Krueang Rang for us, the Devotees and Aficionados, to appreciate, and be protected and prosper through their blessings.
Luang Por heng possesed a special ability for Wicha using his magical ivory, and bone collected in the forests, and his immensely advanced and long trajectory in Buddhist Sorcery, making his amulets and talismans amongst the most highly sort after in this Genre. It is not possible to speak of ivory tiger amulets without mention of Luang Por Heng, who stands at the pinnacle of the Genre, along with the Great Luang Por Parn, Luang Por Derm, Luang Por Say and Luang Por Nok. His carved Ivory amulets are the most highly sought after, and considered to be powerful Kong Grapan Chadtri Klaew Klaad Protective amulets, with added Metta Mahaniyom, Maha Pokasap, and Maha Amnaj (commanding power and influence)
You can use the Kata Paya Rachasri for Kochasri and other Singha Type Himapant Lion Deities.
Temple:Wat Khao Din
Year of Issue:
Circa 2460 BE
Maker of Amulet:Luang Por Heng (2402 BE - 2485 BE)
Weight:3 Grams
Recommended Uses:Kong Grapan Chadtri Invincibility, Maha Amnaj (commanding power and influence), Metta, Serm Yos Status Increase, Klaew Klaad Evasion of Danger and Bad Karma, Maha Pokasap Treasure Accumulation
Actual Weight of Gold in Casing Frame:6.2 Grams Heavy Gauge 96% Solid Gold Artisanry
Size of Amulet:2.5 x 1.5 Cm
Encasement Options
Solid Gold Custom Casing (We email you price quote and invoice after agreement (0) Waterproof Casing (9) None (0)