When speaking of the Pae Maha Lap lucky goat amulet, there is one name which stands above all others, and that is the name of Luang Por Am, of Wat Nong Grabork, in Ban Kaay Rayong. Luang Por Am was, along with Masters like Luang Por Horm of Wat Sak Hmak, Luang Por Rerm of Wat Juk Gacher, and Luang Por Chaem, considered among the top Masters of the Province, long before even the Great Luang Phu Tim of Wat Laharn Rai acheived his fame. Luang Por Am was the Kroo Ba Ajarn of the Great Luang Por Lat (Wat Nong Grabork), who is famed in his own right for his powerful Pae Maha Lap Hand Carved Goat Amuletsม which he of course mastered under the tutelage of Luang Por Am.
The male Goat is known for the fact that it is able to keep a whole herd of dozens of females under his ownership, through merciful and protective influence. It is thus believed that who wears the Pae Maha Lap Khao Kwai Gae Sacred buffalo horn Goat amulets of Luang Por Am, will be an owner and controller of great possessions and wealth, with grand entourage.
Below; Luang Por Am, of  Wat Nong Grabork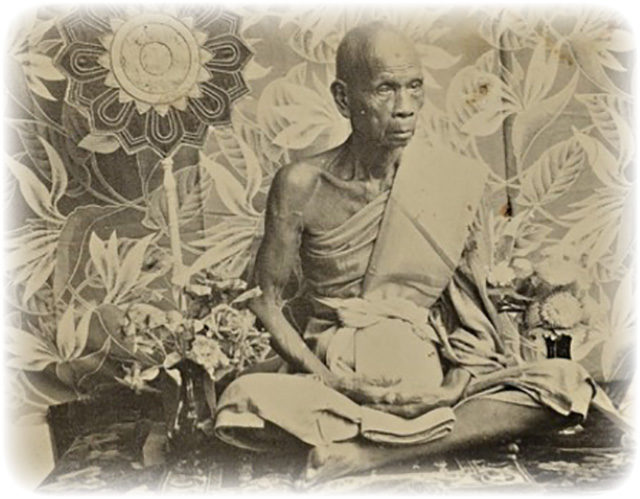 Luang Por Am, or 'Pra Kroo Taep Sittaa, was one of the Great Masters of the Central-Eastern Provinces during His Era, and the ex abbot of Wat Nong Grabork from 2431 – 2490 BE. He was rrespected and revered all around the Province, and had Great fame around the Nation for his Powerful Wicha. During his lifetime he became known as the top Master for carved Lucky Goat amulets. What is less known, and is of immense interest to investigate the lineage Wicha of the Pae Maha Lap, is the fact that Luang Por Am himself received this Wicha from Luang Por Dtaeng of Wat Ang Sila.
Luang Por Am was abbot of Wat Nong Grabork between the years 2431 to 2490 BE, being a Gaeji Ajarn of around 150 years ago, and was the Kroo Ba Ajarn teacher of many other great names of the time, such as Luang por Rerm of Wat Juk Gacher, and Luang Por Lat of Wat Nong Grabork (his successor and apprentice in magick). The Pae Maha Lap Nuea Khao Kwai Gae of Luang Por Am, is believed to possess the power to absorb Black Magick and protect the wearer/devotee from being affected.
It can be said that the Pae Maha Lap of Luang Por Am, Luang Por Lat, and now Pra Atigarn Surasit Akkawaro, the current abbot (written 2562 BE), are considered the 'cream of the crop', by serious devotees of the Pae Maha Lap, along with those other Great Chonburi Masters whose names carry fame for this Wicha such as Luang Phu Tim, uang Por Sakorn, Luang Phu Sin.
The Pae Maha Lap of Luang Por Am, was almost always made by carving a goat from 'Khao Kwai Fa Pha Dtaay', which is the horn of a buffalo which died struck by lightning in a field. It is an ancient magical belief that the horn of a lightning-struck bull or buffalo has the power of angelic beings in it, for indeed, the angelic beings of the elemental realms who control the weather, are who control these divine forces of Nature.
After the carving of the shape of the goat, Luang Por Am would then empower the Goats with incantations, and invocations of elemental powers and angelic beings, with Buddhist Blessings on top. Sometimes he would immerse them in aromatic sacred oils to consecrate them, mixed with herbal oils made from herbs and vines and flowers of the forest, with magical, healing, protective, and attraction powers. He would rebless them again and again until he felt the amulets were completely stuffed as full with magic as possible, and unable to insert any more. The magic within the amulets was hence always filled to the brim before distribution.
Pra Rahu Om Jantr Pim Yai Wicha Lanna Carved 1 Eyed Coconut Shell Circa 2465 BE Kroo Ba Nanta Wat Tung Man Dtai
03766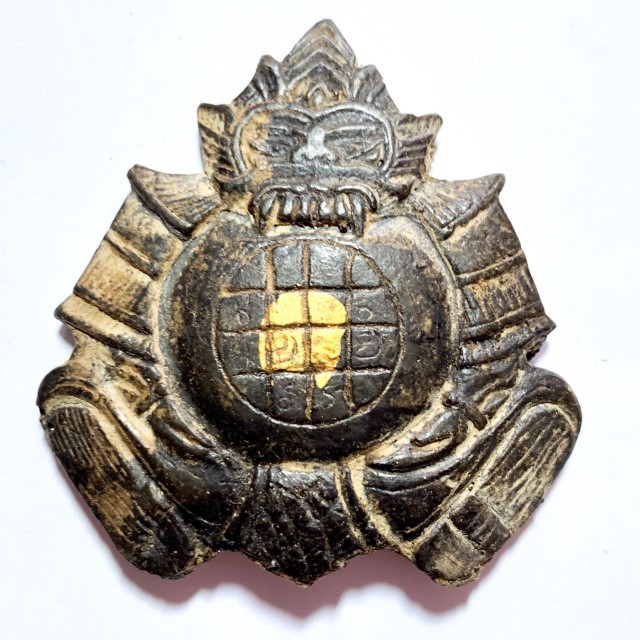 A very ancient and beautifully carved Large Size Rahu Om Jantr Ancient Amulet, In One Eyed Coconut Shell, hand carved by one of the preferred Master Looksit Artisans of Kroo Ba Nanta, and hand inscribed with the Wicha Pra Rahu, from Olden days Lanna Master Guru Monk Kroo Ba Nanta Nanto Bhikku, of Wat Tung Man Dtai, in Lampang.
The rear face reveals true ageing of a centenarian+ amulet, and the age of the inscriptions of Kroo Ba on the rear face with the Yant Duang shout out the word 'ancient'
Free Registered Air Parcel shipping Worldwide is included with this amulet. The Pra Rahu of Kroo Ba Nanta is a very rare thing to come by, and is highly revered by Business Owners and those who are in High Administrative Positions, as well as those who seek to turn their fate around. Kroo Ba Nanta was one of the Greatest Lanna Masters in Living memory, before whose time, little is known of the names of the Masters who lived, so long ago was his Era.
Because of this, and his constant absence on forest Tudong wandering,, it is not known when Kroo Ba Nanta began making Rahu Amulets, nor how many he made, except that old people who lived during his time, say that he had made them as long as they could remember. Many different shapes and forms can be found, but the trained eye can recognize his inscriptions, and the natural ageing process of the coconut shell, ivory, wood or sacred powders used to make the amulet.
The earliest actual evidence of his making the Rahu amulets was found inscribed on a Kala ta Diaw Rahu Image from Kroo ba Nanta with the year 2456 BE, which is considered to be one of his earlier one eyed coconut shell carvings.The amulet measures 5 x 4 Cm, and is made from Black Bailan Parchment Grimoire, and Sorcerous Powders. Kroo ba Nanta Nanto Bhikkhu was considered the older of the 2 Greatest Masters of the Wicha Pra Rahu of that particular Era, the other most famous Master being of course Luang Por Noi, of Wat Srisa Tong.
Kroo Ba Nanta was born in 2415 BE, and was indeed the older of these two Great Guru masters of Wicha, both of whom were famous for the Pra Rahu, and also the Wua Tanu Sacred Arrow Bull animist charm.Many people believe that Kroo ba Nanta was the Kroo Ba Ajarn of Luang Por Noi, but this is in fact a myth. Each of these Masters had their own personal Trajectories and their amulets differ in style and empowerment methods.
It would be more accurate to not compare the two, and to see that Kroo Ba Nanta and Luang Por Noi are equally Meritorious in their Mastery, and were perhaps the greatest Adepts of Wicha Pra Rahu in living memory. Kroo Ba Nanta was an Upachaya Monk (entitled to ordain people as monks, which is one of the highest statuses), and was responsible for having built many important Buddhist Edifices in Lampang, Chiang Rai, Payao, and surrounding provinces, including Uposatha Shrine Rooms for temples, Chedi Stupas (22 in all), Kuti Huts, and 26 Vihara Shrines.
It is said that during the times of great difficulty of the Monk Kroo ba Srivichai, as Kroo ba Srivichai was placed under house arrest, that Kroo Ba Nanta made a Pra Rahu Kala Ta Diaw Amulet to pray to for the release of Kroo Ba Srivichai, and that he was released shortly after this.
If you feel that your Fate and Horoscope is not Auspicious, then it could be that Pra Rahu is interfering. You can solve this problem by making Bucha offerings to Pra Rahu every Wednesday; Light 10 black incense sticks ('Toop' in Thai), and five types of black offerings (e.g. black sticky rice, black jelly grass drink, black semolina or sago pudding and the like).
12 repetitons of the Kata Bucha Pra Rahu are to be Chanted;
Idtipiso Pakawaa Pra Rahuu Sataewaa Samaa Winyaana Idtipiso Pakawaa Putta Sangmi
Kata Surya Buppaa (to be chanted in the daylight)
Gusaedto Ma Ma Gusaedto-dto Laalaa Ma Ma Dtolaamo Tolaamo Ma Ma Tolaamo Ma Ma Tolaamodtang Haegudti Ma Ma Haegudti
Kata Jantra Bupaa (to be chanted in the night time)
Yadt-thadtang Ma Ma Dtangthaya Dtawadtang Mamadtang Wadtidtang Saegaa Ma Ma Gaasaegang Gaadtiyang Ma Ma.Gaadtiyang Ma Ma Yadtigaa
When you begin to Bucha Rahu Deity, you should make the first ever session in the evening of a Wednesday (any time from 7 pm onwards). After you have done this once, you can make Bucha in the daytime if you wish, but the first time you must include the food offerings of black foods as well as the black incense. The second time onwards, only the incense is necessary in the daytime, if it is a lot of trouble to get the food offerings.
Temple:Wat Tung Man Dtai
Year of Issue:
Circa 2465 BE
Maker of Amulet:Kroo Ba Nanta Nanto Bhikkhu
Weight:25Grams
Recommended Uses:Improve Fate and Fortunes, Increase Status and Professional Success, Anti Black Magic, Auspicious Horoscope.
Number of Amulets Made:Kroo Ba Nanta only made individual Rahu Amulets by himself, one at a time
Size of Amulet:5.5 x 5.5 Cm
Material:One Eyed Coconut Shell
Additional Info:An extremely rare amulet from one of the Greatest Lanna Masters of Olden Days, whose amiulets coount among the most difficult to encounter anywhere. Highly Recommended.
Encasement Options
Solid Gold Custom Casing (Waterproo​​​​​​​f) - We will email you with a price quote according to current Gold Prices, and Invoice You after Agreement. (0) Waterproof Casing (Free Offer) (0) Without Casing (0)