When speaking of the Pae Maha Lap lucky goat amulet, there is one name which stands above all others, and that is the name of Luang Por Am, of Wat Nong Grabork, in Ban Kaay Rayong. Luang Por Am was, along with Masters like Luang Por Horm of Wat Sak Hmak, Luang Por Rerm of Wat Juk Gacher, and Luang Por Chaem, considered among the top Masters of the Province, long before even the Great Luang Phu Tim of Wat Laharn Rai acheived his fame. Luang Por Am was the Kroo Ba Ajarn of the Great Luang Por Lat (Wat Nong Grabork), who is famed in his own right for his powerful Pae Maha Lap Hand Carved Goat Amuletsม which he of course mastered under the tutelage of Luang Por Am.
The male Goat is known for the fact that it is able to keep a whole herd of dozens of females under his ownership, through merciful and protective influence. It is thus believed that who wears the Pae Maha Lap Khao Kwai Gae Sacred buffalo horn Goat amulets of Luang Por Am, will be an owner and controller of great possessions and wealth, with grand entourage.
Below; Luang Por Am, of  Wat Nong Grabork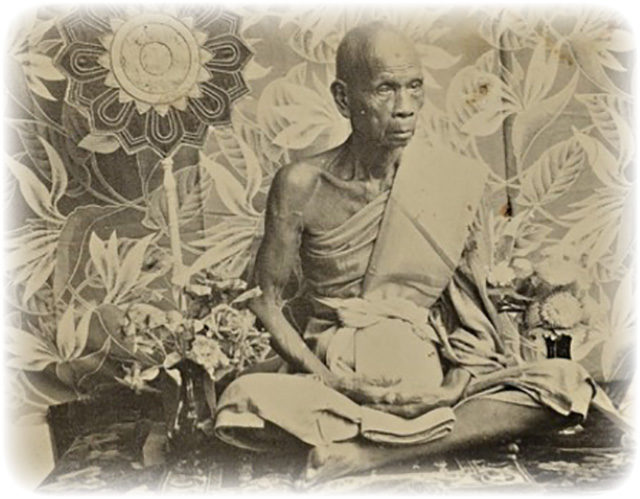 Luang Por Am, or 'Pra Kroo Taep Sittaa, was one of the Great Masters of the Central-Eastern Provinces during His Era, and the ex abbot of Wat Nong Grabork from 2431 – 2490 BE. He was rrespected and revered all around the Province, and had Great fame around the Nation for his Powerful Wicha. During his lifetime he became known as the top Master for carved Lucky Goat amulets. What is less known, and is of immense interest to investigate the lineage Wicha of the Pae Maha Lap, is the fact that Luang Por Am himself received this Wicha from Luang Por Dtaeng of Wat Ang Sila.
Luang Por Am was abbot of Wat Nong Grabork between the years 2431 to 2490 BE, being a Gaeji Ajarn of around 150 years ago, and was the Kroo Ba Ajarn teacher of many other great names of the time, such as Luang por Rerm of Wat Juk Gacher, and Luang Por Lat of Wat Nong Grabork (his successor and apprentice in magick). The Pae Maha Lap Nuea Khao Kwai Gae of Luang Por Am, is believed to possess the power to absorb Black Magick and protect the wearer/devotee from being affected.
It can be said that the Pae Maha Lap of Luang Por Am, Luang Por Lat, and now Pra Atigarn Surasit Akkawaro, the current abbot (written 2562 BE), are considered the 'cream of the crop', by serious devotees of the Pae Maha Lap, along with those other Great Chonburi Masters whose names carry fame for this Wicha such as Luang Phu Tim, uang Por Sakorn, Luang Phu Sin.
The Pae Maha Lap of Luang Por Am, was almost always made by carving a goat from 'Khao Kwai Fa Pha Dtaay', which is the horn of a buffalo which died struck by lightning in a field. It is an ancient magical belief that the horn of a lightning-struck bull or buffalo has the power of angelic beings in it, for indeed, the angelic beings of the elemental realms who control the weather, are who control these divine forces of Nature.
After the carving of the shape of the goat, Luang Por Am would then empower the Goats with incantations, and invocations of elemental powers and angelic beings, with Buddhist Blessings on top. Sometimes he would immerse them in aromatic sacred oils to consecrate them, mixed with herbal oils made from herbs and vines and flowers of the forest, with magical, healing, protective, and attraction powers. He would rebless them again and again until he felt the amulets were completely stuffed as full with magic as possible, and unable to insert any more. The magic within the amulets was hence always filled to the brim before distribution.
Singh Nga Gae Liam Derm Jag Wat Carved Singha Lion Luang Por Mui Wat Don Rai
03700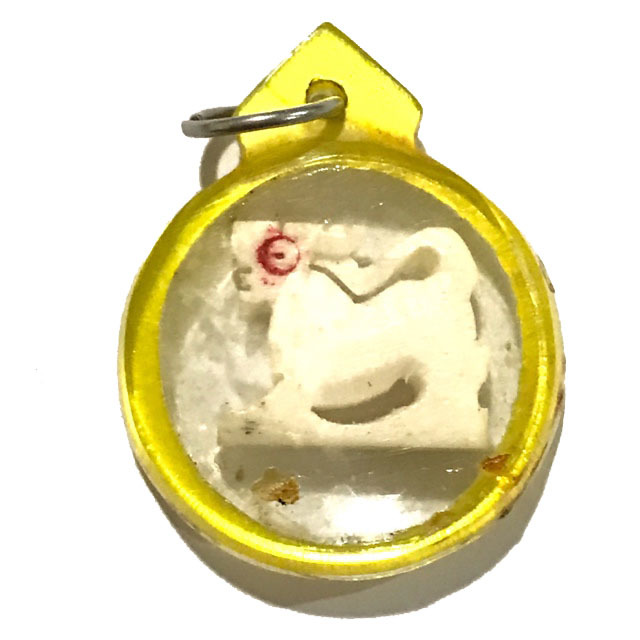 A very rare and highly preferred (as well as still within the limits of affordability) amulet from this Master, the Singh Nga Gae is a small sized hand carved icvory Singha Lion amulet for Maha Amnaj, Serm Yos, and Maha Lap Maha Pokasap. This Hand Carved Ivory Amulet with Singha Himapant Lion comes with the original casing as issued at the temple of Wat Don Rai. Due to its small size it is suitable for both men or ladies.
The Singh Nga Gae carved Himapant Lion amulet in all its various forms, is one of LP Mui's most famous and highly sought after early era classics and one of his rarer amulets to find. The Singh Nga Gae amulet is one of the most ancient types of Animist Charms, from the days when people still roamed the Jungle, and Lions and Tigers were commonplace Deities of Power and Invincibility, and Ease of Living with Over the Necessary Provisions. is both imbued with the natural Power of Maha Amnaj instilled by mother nature believed to dwell within all Teeth and Tusks, of Tigers and Wild Boars and Jungle Predators, as well as within all the bones of such creatures, as well as being empowered with the Wicha Singh and Wicha Rachasri of Luang Por Derm. Considered a very powerful protection and power amulet.
One can say that the amulets of Luang Por Mui are all time Classic Pra Niyom amulets of great fame and esteem, that most fans of ancient amulets will have heard of them more than once. it is not possible to spend years studying, loving and collecting amulets withought encountering mention of Luang Por Mui. In short, the amulets of Luang Por Mui are extremely well known amulets, that are very rare to find, but very much desired.

Luang Por Mui Putta Ragkhidto, of Wat Don Rai was the third abbot of the temple, and the first one to take true responsibility, and develop the temple to become the great temple it has come to be known as in the Present Times. The temple of Wat Don Rai was built by the local folk with the generosity of Mr See, Mrs. Poon, Mr Gaew and Mrs. Hmorn, who were the owners of the land where the temple was built. Once the temple was built in its basic functional state, the folk invited Pra Ajarn Plang to come and stay and administrate the temple.
Pra Ajarn Plang stayed for a period of only one year, and then moved to stay somewhere else. In the year 2458 BE, the folk then asked Pra Ajarn Ploy to come and be the new abbot in his stead. Pra Ajarn Ploy remained at the temple for 5 years, but then decided to disrobe and re-enter the lay community. So the temple of Wat Don Rai found itself without an Abbot for the second time.
The temple remained empty for three years, until the year 2466 BE, when the local Buddhist folk begged Luang Por Mui to come and stay and tend to the needs of the temple. Since then, Luang Por Mui remained at Wat Don Rai, and performed many great works of restoration and development of the temple facilities. He worked constantly, never complaining when tired, continuing to build and develop the temple, converting a small regional temple into the large one of National Fame, Status and Importance it is today.
Pra Kroo Suwanawutajarn, or 'Luang Por Mui, was born as one of 5 siblings, and given the name 'Chueam', but later changed his Name to 'Mui'. His Surname was 'Mee Sri Chai'. He was born on Thursday 5th December 2432 BE. His father's name was Mr. Muean, and his Mother's name was Mrs. Chang. His family were farmers.
Luang Por Mui spent his childhood much as many farmer's child would do, and lived a normal life, until he came of age and finished his national military service. After he has served his country with the military service, he then was ordained as a Bikkhu into the Buddha Sasana, as is traditional for all Male Buddhist children in Thailand to ordain at least for a while. Luang Por Mui actually ordained twice in his lifetime, with the first time remaining ordained for a period of 10 years (exact date of ordination unknown).
But after Luang Por Mui had disrobed, he became seriously ill, and during the illness made a Vow, that if the illness would disappear, he promised to Ordain again and devote his whole life to the Buddha-Dhamma. When the illness then faded and disappeared, he changed his name officially from 'Chueam' to 'Mui' at the same time. Luang Por then kept his promise, and sought Ordination for the second time. This time there would be no more disrobing.
Below: the famous Pra Ruang Nang Leaden Buddha Image of Luang Por Mui, which was cast from ancient Sukhothai Era Buddhas.
Below; some of the various sacred clay amulets of LP Mui

The second time he ordained is recorded as having occurred at Wat Don Bupharam in Supanburi with Pra Kroo Tammasarn Raksa (Luang Por An) as his Upachaya (Ordaining Officer), and Pra Ajarn Huan, from Wat Bang Krang as his Pra Gammawājājarn (Prompting Officer). Pra Ajarn Gun was his Pra Anusāwanājarn (witness) to the Ordination.
Luang Por Mui received the Dhamma Name of 'Putta Ragkhidto'. Luang Por Mui was known to have a very diligent personality, and in line with this, he began to study the many Wicha and master the Sacred Khom Sanskrit Agkhara Inscriptions. He studied Wicha Akom Dtamra Saiyasart Sorcery with a number of the great Masters of the time. Below, Luang Por Mui Putta Ragkhidto with some of the famous amulets of the grand pantheon of amulets which Luang Por Mui created during his lifetime, which are renowned for their Klaew Klaad Kong Grapan Chadtri and Metta Maha Niyom power.
His various Masters and Kroo Ba Ajarn included both Ordained Monks, and Lay Masters, which included amongst others; Luang Phu Sukh ( Wat Pak Klong Makham Tao), Luang Por Im (Wat Hua Khao), Luang Por An (Wat Don Bupharam), and Luang Por Bpling (Wat Wimon Pokaram). In the year 2475 BE, Luang Por Mui was officially elected as the Abbot of Wat Don Mui. In the year 2476 BE, Luang Por Mui was given the position of Bishop of Nong Sadao Parish. In 2496 BE, Luang Por Mui was given the Status of Upachaya Ordaining Officer for the region of Sam Suk Township. In the year 2502 Luang Por Mui was given the Honorary Title of Pra Kroo Sanyabadtr, and his name was changed in accordance to become 'Pra Kroo Suwannawutājarn'.
Below Pictures; The mausoleum of Luang Por Mui, where his mortal remains (relics) are kept inside a glass coffin for devotees to worship and ask for blessings.
Luang Por Mui was a 'Pra Samatha' - an avid practitioner of Meditation, who sought solitude, and was very strict in his self control and practice of the Vinaya rules of Ordained Life. He was tireless in his duties to serve the Buddhist Faith, and the Devotees of his Region. Luang Por continued to perform one meritorious act after another, throughout his life in service of the Temple and Devotees of Wat Don Rai.

Luang Por spent many years wandering the forests on Tudong, until sometime around 2516 BE, he became weaker and ill. He then decided to return to Wat Don Rai, where the Devotees received him with immense celebration to welcome the return of Luang Por Mui. Luang Por Mui then remained in his old age at the temple of Wat Don Rai, until the day of his final passing on the 15th January 2517 BE, at 07:15 am at the age of 84 years old.
Temple:Wat Don Rai
Maker of Amulet:Luang Por Mui
Weight:8 Grams
Recommended Uses:Increase Status, Invincibility, Commanding Power, Promotion, Wealthy Fortunes
Size of Amulet:2 Cm Diameter
Encasement Options
Solid Gold Custom Casing - We will email you with a price quote according to current Gold Prices, and Invoice You after Agreement (0) Waterproof Casing (9) Stainless Steel Casing (9) None (0)