When speaking of the Pae Maha Lap lucky goat amulet, there is one name which stands above all others, and that is the name of Luang Por Am, of Wat Nong Grabork, in Ban Kaay Rayong. Luang Por Am was, along with Masters like Luang Por Horm of Wat Sak Hmak, Luang Por Rerm of Wat Juk Gacher, and Luang Por Chaem, considered among the top Masters of the Province, long before even the Great Luang Phu Tim of Wat Laharn Rai acheived his fame. Luang Por Am was the Kroo Ba Ajarn of the Great Luang Por Lat (Wat Nong Grabork), who is famed in his own right for his powerful Pae Maha Lap Hand Carved Goat Amuletsม which he of course mastered under the tutelage of Luang Por Am.
The male Goat is known for the fact that it is able to keep a whole herd of dozens of females under his ownership, through merciful and protective influence. It is thus believed that who wears the Pae Maha Lap Khao Kwai Gae Sacred buffalo horn Goat amulets of Luang Por Am, will be an owner and controller of great possessions and wealth, with grand entourage.
Below; Luang Por Am, of  Wat Nong Grabork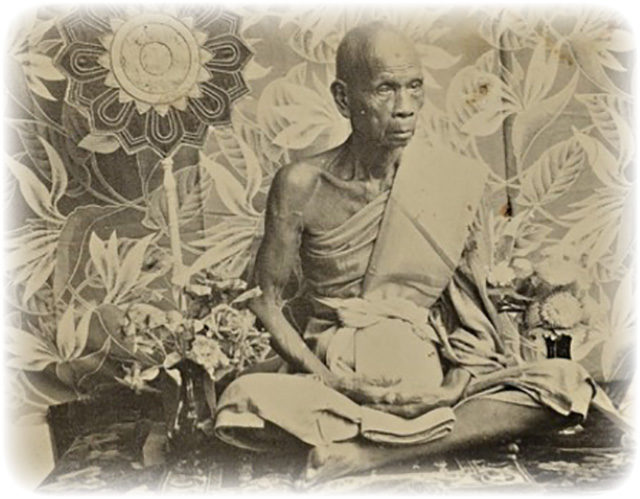 Luang Por Am, or 'Pra Kroo Taep Sittaa, was one of the Great Masters of the Central-Eastern Provinces during His Era, and the ex abbot of Wat Nong Grabork from 2431 – 2490 BE. He was rrespected and revered all around the Province, and had Great fame around the Nation for his Powerful Wicha. During his lifetime he became known as the top Master for carved Lucky Goat amulets. What is less known, and is of immense interest to investigate the lineage Wicha of the Pae Maha Lap, is the fact that Luang Por Am himself received this Wicha from Luang Por Dtaeng of Wat Ang Sila.
Luang Por Am was abbot of Wat Nong Grabork between the years 2431 to 2490 BE, being a Gaeji Ajarn of around 150 years ago, and was the Kroo Ba Ajarn teacher of many other great names of the time, such as Luang por Rerm of Wat Juk Gacher, and Luang Por Lat of Wat Nong Grabork (his successor and apprentice in magick). The Pae Maha Lap Nuea Khao Kwai Gae of Luang Por Am, is believed to possess the power to absorb Black Magick and protect the wearer/devotee from being affected.
It can be said that the Pae Maha Lap of Luang Por Am, Luang Por Lat, and now Pra Atigarn Surasit Akkawaro, the current abbot (written 2562 BE), are considered the 'cream of the crop', by serious devotees of the Pae Maha Lap, along with those other Great Chonburi Masters whose names carry fame for this Wicha such as Luang Phu Tim, uang Por Sakorn, Luang Phu Sin.
The Pae Maha Lap of Luang Por Am, was almost always made by carving a goat from 'Khao Kwai Fa Pha Dtaay', which is the horn of a buffalo which died struck by lightning in a field. It is an ancient magical belief that the horn of a lightning-struck bull or buffalo has the power of angelic beings in it, for indeed, the angelic beings of the elemental realms who control the weather, are who control these divine forces of Nature.
After the carving of the shape of the goat, Luang Por Am would then empower the Goats with incantations, and invocations of elemental powers and angelic beings, with Buddhist Blessings on top. Sometimes he would immerse them in aromatic sacred oils to consecrate them, mixed with herbal oils made from herbs and vines and flowers of the forest, with magical, healing, protective, and attraction powers. He would rebless them again and again until he felt the amulets were completely stuffed as full with magic as possible, and unable to insert any more. The magic within the amulets was hence always filled to the brim before distribution.
Suea Nga Gae Carved Tiger Amulet 2460 BE Hand Inscriptions & Authenticity Certificate Free EMS Luang Phu Bun Wat Klang Bang Gaew
03697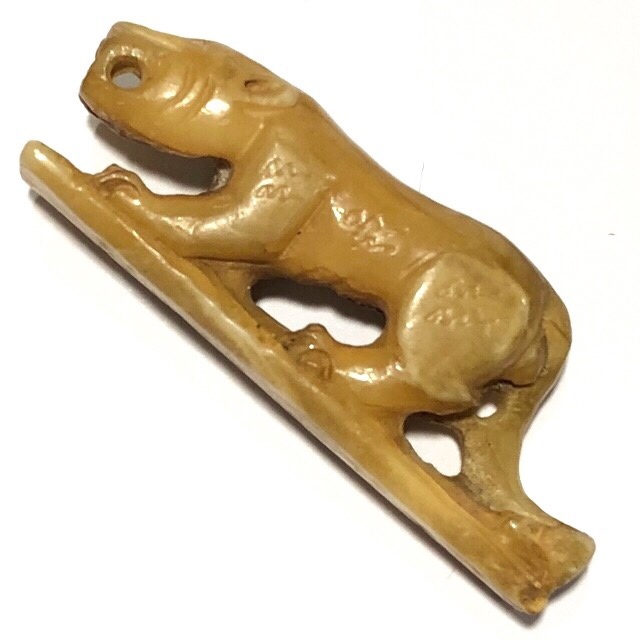 A very rare hand carved amulet in Nuea Nga with authenticity certificate, from the great Master of Wicha Bia Gae Olden Days of the Nakorn Pathom Province Luang Phu Bun, of Wat Klang Bang Gaew. This exhibit is in extremely pristine condition, and shows the true qualities of ageing on its patina, to reveal an authentic model of the Sua Nga Gae carved antique ivory-carved amulet of Luang Phu Bun, with hand inscriptions.
This amulet comes with free EMS Shipping Included in the price, with the options of waterproof, or solid gold custom waterproof casing as additional options. The amulet comes with its A4 sized plasticized Certificate of Authenticity issued by the Samakom Song Pra Tae Mueang Siam Amulet Society, during their 8th official meeting of 2018 (2561 BE).
Below; Authenticity Certificate Suea Nga Gae LP Bun Wat Klang Bang Gaew - A Centenarian Amulet of Immense Value for the Sacred Powerful Blessings of the Great LP Bun, its Historical Importance, and Rarity as an Ancient Amulet of Master-Class Status, as well as for being a masterpiece of antique hand carved artisanry, in a substance that is no longer to be found used in the making of modern amulets, due to the ban on ivory, which only permits antiques.

The amulet is made from carved Ivory, and is carved in the image of a tiger crouching ready to pounce upon its prey, which represents various aspects of Maha Amnaj Commanding Power, Invincibility, Chai Chana Victory Bringing Magic, Serm Yos Status Increase, Easy Living and Maha Pokasap Wealth Attraction. The tiger itself, especially when carved from Ivory, is naturally imbued with the Sorcerous Powers of Maha Amnaj (commanding power and influence), Serm Yos Status Increase for positions of command, and opportunities of promotion, and Metta Mahaniyom Mercy Charm to lull your Subjects and Charm them into Obedience. Maha Pokasap treasure Accumulation and Cornucopia of Requisites is also Imbued.
This is an extremely Rare Ancient Amulet of the Pra Niyom Master-Class of Thai Buddhist Amulets. Luang Phu Bun is one of the Top Master Guru Monks of Thai Buddhist History in both Patipata (Dhamma Practice) as well as for his Magical Prowess in Amulet making, Puttasart, and Saiyasart (Occult Sorcery and Buddha Magic). The amulets of Luang Phu Bun are famous for their immense Klaew Klaad and Metta Mahaniyom Powers and their Power of 'Serm Duang' (improve fate and destiny).
His amulets grace the pages of almost every famous catalog and amulet magazine in the High End Collector Publications, and are amongst the highest priced ranging from many hundreds of dollars for the most commonly found amulets, to hundreds of thousands of dollars for his rarest amulets.
Luang Phu Bun was a close friend and accomplice in Wicha with the Great Somdej Pra Sangkarach (Pae) of Wat Sutat fame, whose amulets belong to the priceless treasures category and are only to be found in the possession of millionaires and high ranking persons of state importance, and a few lucky extreme collectors and devotees who have kept them throughout the generations, or inherited them as heirlooms from their family members. Almost anybody who owns such an amulet will be hard pressed to part with it in any circumstances.
Below; The tail and mouth have orifices which can be used to thread strong but thin cord through, for those who prefer the olden days method of not encsing the amulet, instead, wearing the amulet against the skin. Khom Agkhara Inscriptions are visible on the side of the tiger amulet of LP Bun.

Luang Phu Bun was extremely famed for his Wicha of making Ya Wasana Jinda Manee. This Wicha was developed by Luang Phu from an Ancient Teaching through his Kroo Ba Ajarn, and has since his making the Muan Sarn famously powerful, has been inherited as a Wicha of Muan Sarn powder making for the amulets of the Wat Klang Bang Gaew lineage throughout the ages from Luang Phu Bun, to Luang Por Perm, to Pra Ajarn Bai, to Luang Phu Juea, and now the present holder of Luang Phu's now ancient Wicha, Luang Por Kong (Sanya) at Wat Klang Bang Gaew.
The Bia Gae of Luang Phu Bun is considered the most famous and difficult to find of all Bia Gae that are of Master Class status. All following Masters of Luang Phu Bun's temple have become famous Bia Gae Masters, and continue to rise in procession in line and following after those now immensely unaffordable Bia Gae from Luang Phu Bun.

The famous Pong Ya Wasana Jinda Manee, and Pong Khamin Sek Muan Sarn Powders of Luang Phu Bun (also known as 'Pra Ya Horm'), carry legendary status for their immensely powerful magical properties. These are two very Sacred Powders within the Dtamra, with Pong Khamin Sek having a pungent aroma, with Powers of Protection and Wealth Increase, and the legendary Pong Ya Wasana Jinda Manee having an aromatic Sacred Powder, which uses of course the famous 'Ya Wasana ('Wasana' meaning Lucky Fortunes).
Pong Ya Wasana, and Pong Khamin Sek are the most famous Muan Sarn powders of Luang Phu Bun, and have become his Legendary 'Dtamra' (Traditonal Legend of Inheritance Wicha). For the sake of lineage magic preservation, and continued equal respect to all following lineage masters of Wat Klang Bang Gaew, It must be noted, that despite the fame of his world famous predecessors at Wat Klang Bang Gaew, LP Bun, LP Perm, Ajarn Bai, and Lp Juea, the present Wicha Holder LP Kong Sanya of Wat Klang Bang Gaew, now holds a Wicha that has been passed through a long lineage of already Great and Famous Guru Masters. All Masters inherited this Wicha from the Great Kroo Ba Ajarn Luang Phu Bun, and who have all passed away in sequence after their long lives and trajectory.
We are thus gazing avidcly at an amulet of a True Olden Days Master, who is already 4 -5 generations the predecessor of the current Wicha holder and Sentinel of the Wicha, making his amulets truly worthy of the title 'Ancient Amulet'.
Kata Suea - Invocation of Tiger Spirit (Chnanting Tutorial)

Below; Luang Phu Bun, of Wat Klang Bang Gaew.
Temple:Wat Klang Bang Gaew
Year of Issue:
Circa 2460 BE
Maker of Amulet:Luang Phu Bun
Weight:3 Grams (60 - 100 Grams Packed with A4 Certificate and Amulet Society Series Coded Box)
Recommended Uses:Commanding Power, Promotion and Status, Great Wealth, Success in One's Endeavours
Size of Amulet:4.5 x 1.5 x 1 Cm
Encasement Options
Solid Gold Custom Casing - We will email you with a price quote according to current Gold Prices, and Invoice You after Agreement (0) Wateproof Casing (Free Offer) (0) None (0)