When speaking of the Pae Maha Lap lucky goat amulet, there is one name which stands above all others, and that is the name of Luang Por Am, of Wat Nong Grabork, in Ban Kaay Rayong. Luang Por Am was, along with Masters like Luang Por Horm of Wat Sak Hmak, Luang Por Rerm of Wat Juk Gacher, and Luang Por Chaem, considered among the top Masters of the Province, long before even the Great Luang Phu Tim of Wat Laharn Rai acheived his fame. Luang Por Am was the Kroo Ba Ajarn of the Great Luang Por Lat (Wat Nong Grabork), who is famed in his own right for his powerful Pae Maha Lap Hand Carved Goat Amuletsม which he of course mastered under the tutelage of Luang Por Am.
The male Goat is known for the fact that it is able to keep a whole herd of dozens of females under his ownership, through merciful and protective influence. It is thus believed that who wears the Pae Maha Lap Khao Kwai Gae Sacred buffalo horn Goat amulets of Luang Por Am, will be an owner and controller of great possessions and wealth, with grand entourage.
Below; Luang Por Am, of  Wat Nong Grabork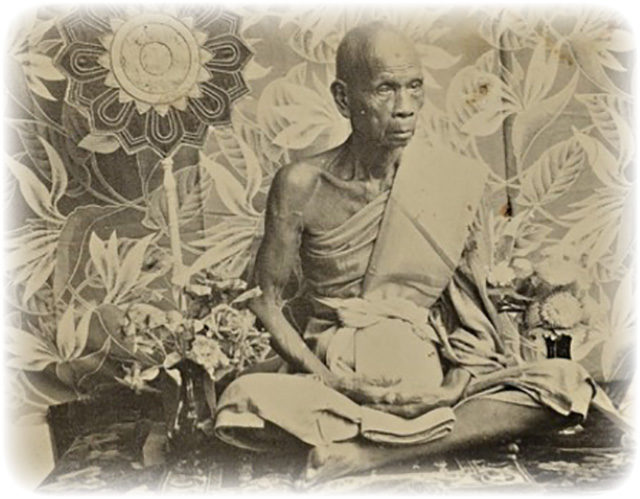 Luang Por Am, or 'Pra Kroo Taep Sittaa, was one of the Great Masters of the Central-Eastern Provinces during His Era, and the ex abbot of Wat Nong Grabork from 2431 – 2490 BE. He was rrespected and revered all around the Province, and had Great fame around the Nation for his Powerful Wicha. During his lifetime he became known as the top Master for carved Lucky Goat amulets. What is less known, and is of immense interest to investigate the lineage Wicha of the Pae Maha Lap, is the fact that Luang Por Am himself received this Wicha from Luang Por Dtaeng of Wat Ang Sila.
Luang Por Am was abbot of Wat Nong Grabork between the years 2431 to 2490 BE, being a Gaeji Ajarn of around 150 years ago, and was the Kroo Ba Ajarn teacher of many other great names of the time, such as Luang por Rerm of Wat Juk Gacher, and Luang Por Lat of Wat Nong Grabork (his successor and apprentice in magick). The Pae Maha Lap Nuea Khao Kwai Gae of Luang Por Am, is believed to possess the power to absorb Black Magick and protect the wearer/devotee from being affected.
It can be said that the Pae Maha Lap of Luang Por Am, Luang Por Lat, and now Pra Atigarn Surasit Akkawaro, the current abbot (written 2562 BE), are considered the 'cream of the crop', by serious devotees of the Pae Maha Lap, along with those other Great Chonburi Masters whose names carry fame for this Wicha such as Luang Phu Tim, uang Por Sakorn, Luang Phu Sin.
The Pae Maha Lap of Luang Por Am, was almost always made by carving a goat from 'Khao Kwai Fa Pha Dtaay', which is the horn of a buffalo which died struck by lightning in a field. It is an ancient magical belief that the horn of a lightning-struck bull or buffalo has the power of angelic beings in it, for indeed, the angelic beings of the elemental realms who control the weather, are who control these divine forces of Nature.
After the carving of the shape of the goat, Luang Por Am would then empower the Goats with incantations, and invocations of elemental powers and angelic beings, with Buddhist Blessings on top. Sometimes he would immerse them in aromatic sacred oils to consecrate them, mixed with herbal oils made from herbs and vines and flowers of the forest, with magical, healing, protective, and attraction powers. He would rebless them again and again until he felt the amulets were completely stuffed as full with magic as possible, and unable to insert any more. The magic within the amulets was hence always filled to the brim before distribution.
Takrut Bailan Pitsamorn Long Rak Circa 2480 BE Ajarn Mun Puritatto Wat None Jaroen
03773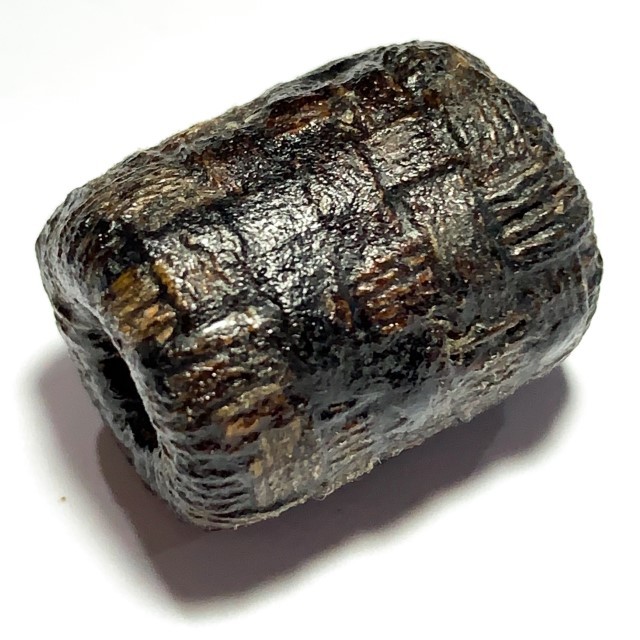 An immensely rare item to find in any of its forms, the Takrut of the great co-founder of the Thai Tudong Forest Monk Tradition Luang Phu Mun (Pronounced 'Man'), of Wat None Jaroen (2413 - 2492 BE), who along with Luang Phu Sao became the forefathers of what we know today as the Thai Kammathana Forest Monk Tudong Tradition of Practice, considered to be the closest to that which was practiced by monks in the time of the Lord Buddha himself.
The Takrut is in small size and measures 2 Cm, and is made from Bailan with sinjana cords, and lacquered surface. Ajarn Mun did not make many amulets, for the forest tradition monks are not prone to this practice, but those which he did make are extremely rare and highly revered for his Abhinya Powers. His remains are said to have turned into crystalline relics, which is seen as proof of Arahantship in Thai Buddhist Belief.
The Takrut wards off all evil and protects from dangers, and allows one to practice and further one's life without obstacles, as well as protecting against poisons and poisonous beasts.

Ajarrn Luang Phu Mun (Venerable Ācariya Mun Bhuridatta Thera), was born in Baan Kham Bong, a farming village in Ubon Ratchathani Province, Isan.
Ordained as a monk in 1893, he spent the remainder of his life wandering through Thailand, Burma, and Laos, dwelling for the most part in the forest, engaged in the practice of meditation. He attracted an enormous following of students and, together with his teacher, Sao Kantasīlo (1861–1941) established the Thai Forest Tradition (the Kammaṭṭhāna tradition) that subsequently spread throughout Thailand and to several countries abroad.
He died at Wat Suddhavasa, Sakon Nakhon Province. Mun's mode of practice was solitary and strict. He followed the vinaya (monastic discipline) faithfully, and also observed many of what are known as the 13 classic dhutanga (ascetic) practices, such as living off alms food, wearing robes made of cast-off rags, dwelling in the forest and eating only one meal a day. Monks following this tradition are known as thudong, the Thai pronunciation of this Pali word.
Searching out secluded places in the wilds of Thailand and Laos, he avoided the responsibilities of settled monastic life and spent long hours of the day and night in meditation. In spite of his reclusive nature, he attracted a large following of students willing to put up with the hardships of forest life in order to study with him. (Wikipedia)
Ajarn Mun was an extremely influential Monk. He had very effective methods for alleviating the mental stress and feelings of anxiety experienced by his followers. Many people have recounted instances when they were determined to commit evil, or their minds were very hot and agitated, or they felt vengeful enough to kill someone, and the mere thought of Ajarn Mun then, was enough to cause these emotions and ideas to subside immediately.
It was as though he had doused their flaming hearts with cool water, allowing them to realize their misunderstandings. Their harmful thoughts had simply vanished. The sense of relief they felt made them want to prostrate before him then and there. Many lay followers have testified to this, and surely there are many more unreported cases of devotees using the power of remembering Ācariya Mun to successfully counter their wrongful intentions. Many monks, as well, have used the power of their faith in him to restrain themselves in accordance with their spiritual calling.
Temple:Wat None Jaroen
Year of Issue:
Circa 2480 BE
Maker of Amulet:Luang Phu Ajarn Mun Puritatto (2413 - 2492 BE)
Weight:3 Grams
Recommended Uses:Protection, Advancement in Life
Number of Amulets Made:Unknown
Size of Amulet:2 Cm
Material:Bailan Parchment Scroll Sinjana Cord Wrapped with Lacquer
Additional Info:An extremely rare opportunity for devotees of Luang Phu Mun to possess a sacred Amulet from this Great Guru, who made so very few.
Encasement Options
Solid Gold Custom Casing - we will send a price quote per email and send invoice after agreement (0) Waterproof Casing (9) None (0)