When speaking of the Pae Maha Lap lucky goat amulet, there is one name which stands above all others, and that is the name of Luang Por Am, of Wat Nong Grabork, in Ban Kaay Rayong. Luang Por Am was, along with Masters like Luang Por Horm of Wat Sak Hmak, Luang Por Rerm of Wat Juk Gacher, and Luang Por Chaem, considered among the top Masters of the Province, long before even the Great Luang Phu Tim of Wat Laharn Rai acheived his fame. Luang Por Am was the Kroo Ba Ajarn of the Great Luang Por Lat (Wat Nong Grabork), who is famed in his own right for his powerful Pae Maha Lap Hand Carved Goat Amuletsม which he of course mastered under the tutelage of Luang Por Am.
The male Goat is known for the fact that it is able to keep a whole herd of dozens of females under his ownership, through merciful and protective influence. It is thus believed that who wears the Pae Maha Lap Khao Kwai Gae Sacred buffalo horn Goat amulets of Luang Por Am, will be an owner and controller of great possessions and wealth, with grand entourage.
Below; Luang Por Am, of  Wat Nong Grabork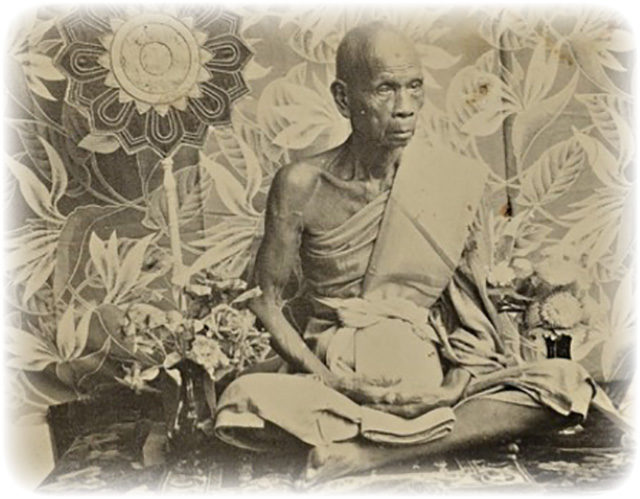 Luang Por Am, or 'Pra Kroo Taep Sittaa, was one of the Great Masters of the Central-Eastern Provinces during His Era, and the ex abbot of Wat Nong Grabork from 2431 – 2490 BE. He was rrespected and revered all around the Province, and had Great fame around the Nation for his Powerful Wicha. During his lifetime he became known as the top Master for carved Lucky Goat amulets. What is less known, and is of immense interest to investigate the lineage Wicha of the Pae Maha Lap, is the fact that Luang Por Am himself received this Wicha from Luang Por Dtaeng of Wat Ang Sila.
Luang Por Am was abbot of Wat Nong Grabork between the years 2431 to 2490 BE, being a Gaeji Ajarn of around 150 years ago, and was the Kroo Ba Ajarn teacher of many other great names of the time, such as Luang por Rerm of Wat Juk Gacher, and Luang Por Lat of Wat Nong Grabork (his successor and apprentice in magick). The Pae Maha Lap Nuea Khao Kwai Gae of Luang Por Am, is believed to possess the power to absorb Black Magick and protect the wearer/devotee from being affected.
It can be said that the Pae Maha Lap of Luang Por Am, Luang Por Lat, and now Pra Atigarn Surasit Akkawaro, the current abbot (written 2562 BE), are considered the 'cream of the crop', by serious devotees of the Pae Maha Lap, along with those other Great Chonburi Masters whose names carry fame for this Wicha such as Luang Phu Tim, uang Por Sakorn, Luang Phu Sin.
The Pae Maha Lap of Luang Por Am, was almost always made by carving a goat from 'Khao Kwai Fa Pha Dtaay', which is the horn of a buffalo which died struck by lightning in a field. It is an ancient magical belief that the horn of a lightning-struck bull or buffalo has the power of angelic beings in it, for indeed, the angelic beings of the elemental realms who control the weather, are who control these divine forces of Nature.
After the carving of the shape of the goat, Luang Por Am would then empower the Goats with incantations, and invocations of elemental powers and angelic beings, with Buddhist Blessings on top. Sometimes he would immerse them in aromatic sacred oils to consecrate them, mixed with herbal oils made from herbs and vines and flowers of the forest, with magical, healing, protective, and attraction powers. He would rebless them again and again until he felt the amulets were completely stuffed as full with magic as possible, and unable to insert any more. The magic within the amulets was hence always filled to the brim before distribution.
Takrut Tone Nuea Tong Daeng Thak Chueak 4 inches Circa 2500 BE for Protection & Prosperity Luang Por An Wat Prayat
03636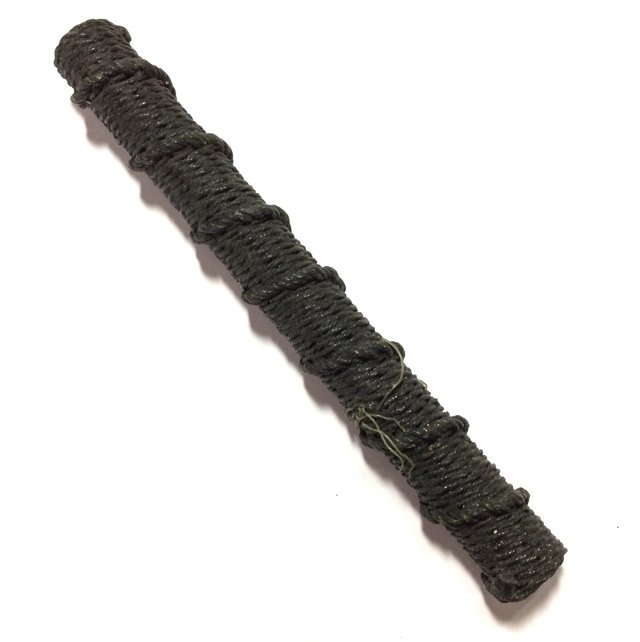 Four inches copper Yantra Foil Takrut spell with green Cord Bound Takrut Tone, in Nuea Tong Daeng for Klaew Klaad Kong Grapan Chadtri Protection, and Maha Lap Metta Maha Niyom, from the Great Ayuttaya Master, Luang Por An of Wat Prayatigaram
The Takrut is extremely rare, measuring 4 Inches long, and is empowered for Serm Duang Auspicious Karma and Lucky Fortunes, Mercy Charm and Kong Grapan Chadtri Klaew Klaad, for all round protection, in all eight directions of the Universe.
Luang Por An was born in the year 2435 BE, and ordained into the Sangha at Wat Prayatigaram on the 26th May 2456 BE, with the Great Luang Por Glan Tammachoti as his Ordaining Upachaya, Luang Por Chaay (Wat Dtong Pbu) as his Gammawajajarn prompting officer.

The name of his Anusawanajarn witness is no longer recorded, but most devotees assume it to be Pra Ajarn Rod Widtuyo of Wat Ayotaya (also called Wat Gasankh), or a few historians believe his Anusawanajarn witness to have been Luang Por Lueang, of Wat Pradoo Song Tam. In the year 247ึ7 BE, Luang Por Glan passed away and Luang Por An became the next abbot of Wat Prayat. lp An inherited all of the Wicha of his Kroo Ba Ajarn Luang Por Glan .
Luang Por Glan was known to be highly Adept with a large number of Magical Wicha, be it the Wicha Fan Dab (Swordfighting), or the Science and Art of fighting with Ancient Weaponry, and had Mastered the Secret Ancient Wicha Kong Grapan Chadtri, of the Olden days Sorceror Warriors, who used Magic to protect them in Wars.
Below; Luang Por Glan, Kroo Ba Ajarn of Luang Por An
Below; Luang Por An

Luang Por Glan's Fame for Magical prowess caused many people to come and satisfy their curiosity as to whether Luang Por's Magic was as powerful as rumour had it, and would come to the temple to test him out. Luang Por Glan always knew beforehand and sensed it, when a devotee was approaching to try to test his Magic and his Abilities. Luang Por An spent many years developing his abilities under Luang Por Glan and Mastering the Many Wicha of this Great Kroo Ba Ajarn of Ancient Times.
The Great Luang Por An passed away in 2512 BE as he was on travels visiting Wat Pra Singh in Chiang Mai, for a Buddha Abhiseka Blessing. His body was kept for devotees to worship at Wat Prayat for 25 years before he was cremated in the year 2536 BE. Most devotees of Wat Prayat will collect and Bucha amulets from both Luang Por An, and his Kroo Ba Ajarn Luang Por Glan (which are very hard to find).
It is seen that the magic of both Masters is seen to be second to none for Klaew Klaad Kong Grapan Chadtri Metta Maha Niyom power. Luang Por Glan was the abbot of Wat Prayatigaram, in Ayuttaya, and the Kroo Ba Ajarn of the Great Luang Por An, who succeeded Luang Por Glan as abbot of Wat Prayat after his passing.
In turn, Luang Por An was also a Great Master of Olden Days, whose amulets were immensely famous during the Wartime Era, for their Kong Grapan Chadtri Klaew Klaad power. Luang Por An inherited and learned most of his Wicha from Luang Por Glan, who was one of the top ten Masters with the most powerful psychic powers of his Era. Luang Por An was highly renowned for his amulets, especially his Takrut, Pra Khun Phaen, Pra Pruhnang, and his Pra Suriya Muni amulets, and Pha Yant, as well as his Rian Kanajarn Monk Coins.
Use any or All of the below Kata Bucha for your empowerment needs
Kata Maha Namasakarn
Namō Dtassa Pakawadtō Arahadtō Sammā Samputtassa Namō Dtassa Pakawadtō Arahadtō Sammā Samputtassa Namō Dtassa Pakawadtō Arahadtō Sammā Samputtassa
Kata Ārātanā Pra Krueang
Puttang Ārātanānang Tammang Ārātanānang Sangkang Ārātanānang
Make a Wish/Prayer, and continue with;
Puttang Bprasittimē Tammang Bprasittimē Sangkang Bprasittimē
m

Temple:Wat Prayat for Wat Sala Poon
Year of Issue:
Circa 2500 BE
Maker of Amulet:Luang Por An
Weight:15 Grams
Recommended Uses:Auspicious Blessings, Invincibility, Evade Death, Prosperity
Size of Amulet:4 Inches
Encasement Options
Waterproof Casing (9) Stainless Steel Capped Tubular Casing (9) None (0)