When speaking of the Pae Maha Lap lucky goat amulet, there is one name which stands above all others, and that is the name of Luang Por Am, of Wat Nong Grabork, in Ban Kaay Rayong. Luang Por Am was, along with Masters like Luang Por Horm of Wat Sak Hmak, Luang Por Rerm of Wat Juk Gacher, and Luang Por Chaem, considered among the top Masters of the Province, long before even the Great Luang Phu Tim of Wat Laharn Rai acheived his fame. Luang Por Am was the Kroo Ba Ajarn of the Great Luang Por Lat (Wat Nong Grabork), who is famed in his own right for his powerful Pae Maha Lap Hand Carved Goat Amuletsม which he of course mastered under the tutelage of Luang Por Am.
The male Goat is known for the fact that it is able to keep a whole herd of dozens of females under his ownership, through merciful and protective influence. It is thus believed that who wears the Pae Maha Lap Khao Kwai Gae Sacred buffalo horn Goat amulets of Luang Por Am, will be an owner and controller of great possessions and wealth, with grand entourage.
Below; Luang Por Am, of  Wat Nong Grabork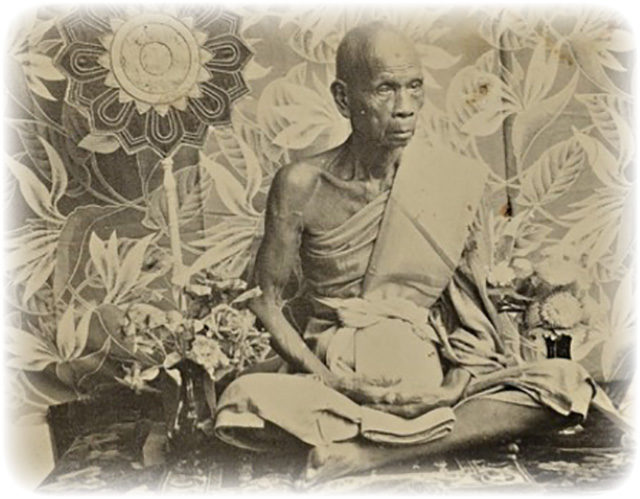 Luang Por Am, or 'Pra Kroo Taep Sittaa, was one of the Great Masters of the Central-Eastern Provinces during His Era, and the ex abbot of Wat Nong Grabork from 2431 – 2490 BE. He was rrespected and revered all around the Province, and had Great fame around the Nation for his Powerful Wicha. During his lifetime he became known as the top Master for carved Lucky Goat amulets. What is less known, and is of immense interest to investigate the lineage Wicha of the Pae Maha Lap, is the fact that Luang Por Am himself received this Wicha from Luang Por Dtaeng of Wat Ang Sila.
Luang Por Am was abbot of Wat Nong Grabork between the years 2431 to 2490 BE, being a Gaeji Ajarn of around 150 years ago, and was the Kroo Ba Ajarn teacher of many other great names of the time, such as Luang por Rerm of Wat Juk Gacher, and Luang Por Lat of Wat Nong Grabork (his successor and apprentice in magick). The Pae Maha Lap Nuea Khao Kwai Gae of Luang Por Am, is believed to possess the power to absorb Black Magick and protect the wearer/devotee from being affected.
It can be said that the Pae Maha Lap of Luang Por Am, Luang Por Lat, and now Pra Atigarn Surasit Akkawaro, the current abbot (written 2562 BE), are considered the 'cream of the crop', by serious devotees of the Pae Maha Lap, along with those other Great Chonburi Masters whose names carry fame for this Wicha such as Luang Phu Tim, uang Por Sakorn, Luang Phu Sin.
The Pae Maha Lap of Luang Por Am, was almost always made by carving a goat from 'Khao Kwai Fa Pha Dtaay', which is the horn of a buffalo which died struck by lightning in a field. It is an ancient magical belief that the horn of a lightning-struck bull or buffalo has the power of angelic beings in it, for indeed, the angelic beings of the elemental realms who control the weather, are who control these divine forces of Nature.
After the carving of the shape of the goat, Luang Por Am would then empower the Goats with incantations, and invocations of elemental powers and angelic beings, with Buddhist Blessings on top. Sometimes he would immerse them in aromatic sacred oils to consecrate them, mixed with herbal oils made from herbs and vines and flowers of the forest, with magical, healing, protective, and attraction powers. He would rebless them again and again until he felt the amulets were completely stuffed as full with magic as possible, and unable to insert any more. The magic within the amulets was hence always filled to the brim before distribution.
Takrut Tong Daeng Sariga 5 Dork Mad Chueak Five Yantra Spells on Spellbound Cords Luang Por Jong - Wat Na Tang Nork
03589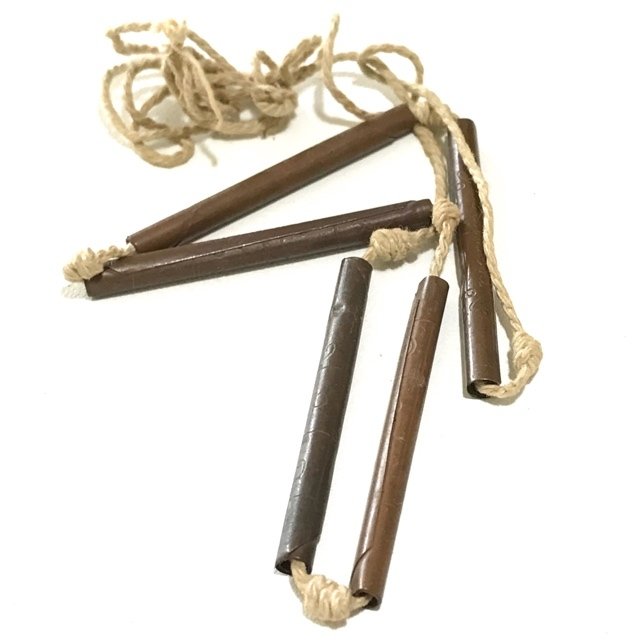 A Rare, and of course as are all amulets of this master, a highly Preferred Takrut Sariga See Dork - Sacred set of Takrut Sariga Yantra Foil Spells on the original old spellbound cord, as bound together by the Great Luang Por Jong Puttassaro of Wat Na Tang Nork. The cords are long enough to wear either as a necklace or, if less than 31 cm waist, also as a belt.
This powerful Wicha Takrut Compendium is an incredibly rare exhibit with hand inscribed and empowered spell inscriptions, made in the days of old by the Great Master Luang Por Jong. Note; collectors leave amulets as they are in original condition, but people who seek only the magic and to wear, would not be wrong if they re-bound the takrut to a new belt to fit their needs. This would however disqualify the amulet from eligibility for competition entries, which is why collectors do not alter amulets from their original state.
Luang Por Jong, was a famous Gaeji Ajarn Guru Monk, highly revered for a vast pantheon of different amulets, but if there is one section of that Pantheon that stands out above others for its Kong Grapan Chadtri and Klaew Klaad Magic, it is his Takrut Amulets.
The Takrut has a compendium of Incantations imbued, covering an immense range of protective and Karma Improving Powers, for Metta Maha Niyom, Kong Grapan Chadtri, Klaew Klaad, Serm Yos, Serm Duang, Maha Sanaeh, and all other imaginable Magical Blessings for a complete compendium of Auspicious Lucky Fortunes and Safety. The Takrut are made from Nuea Tong Daeng (Sacred Copper Yantra Foils), and are bound together into one single formula, composing a total of 5 Scroll Spells.
Luang Por Jong made a variety of different Takrut charms, ranging from Takrut Tone Dtakua (Leaden Yantra Foil), Tong Daeng (Copper Foil), Tong Lueang (Almsbowl Brass foil) Hnang Suea (Tiger Skin), and other combo-Takrut on waist cords or wrapped in cord with lacquer.
There is a particular faction of collectors who specialise purely in the collection of Takrut of Luang Por Jong, and this is a category in itself that is accepted for Competition in many Amulet Shows and Competitions. Their immense power is undisputed through the wartime legends of the Taharn Phii ghost soldiers, making his Takrut amongst the most highly sought after in the Kong Grapan Chadtri Klaew Klaad category.
His Takrut 'Hnaa Phaag Suea', are amongst the more difficult to find amulets, and are very jealously guarded by their owners. This is not strange, considering how so many tales of Miraculous Events arising from the amulets of Luang Por Jong during the Indo-China War have endowed his amulets with Immortal Fame, and the Unwavering Faith of the Devotees who worship them.
Extremely Powerful Kong Grapan Chadtri, Klaew Klaad, Serm Yos, Metta Mahaniyom, Maha Lap, and Maha Amnaj Power is embedded within this fivefold Wicha, from one of the top Ten Master Monks of the Indo-China Wartime Era. Small and portable, this amulet is both Powerful, and of Historical Value and of Extremely High Status in the Amulet World.
One more classic and essential Rarity for the Devotee who needs true Protective Magick from the Olden days Masters, from a time before Buddhism became Commercial, and when special amulets like this, were still hand made one by one by the Masters.
Luang Por Jong Puttasaro lived from 2415 BE to 2508 BE, and was one of the previous generation of attained Masters, of National and International Fame. Known for his Kong Grapan Chadtri Klaew Klaad protective amulets handed out to soldiers during the Indochina Wars, his Pla Tapian Maha Lap Kaa Khaay amulets are also renowned for their ability to instigate good commerce and prolific sales quotas with sales persons.
Luang Por Jong of Wat Na Tang Nork was one of the great Guru Masters of the Ayuttaya Province, in line with the Great Luang Por Parn of Wat Bang Nom Kho, and is one of the Great Masters who assisted the Thai Military with powerful Kong Grapan Chadtri and Klaew Klaad amulets during the Indochina Wars.
Known for his Kong Grapan Chadtri Klaew Klaad protective amulets which were handed out to protect Thai soldiers during the Indochina Wars, his aring Amulets, Pra Somdej and other Sacred Powder Votive Tablets, and Powerful Takrut are famous as they are rare to find. His Pla Tapian Maha Pokasap Lap Kaa Khaay Gold-Silver Fish amulets, are also renowned worldwide, for their ability to instigate good commerce and prolific sales quotas with sales persons.
Luang Por Jong was a Highly Attained Master in both Worldly Deeds of Goodness and Self Renunciation, as well as in the Dhamma Path. His Great Fame and Honorable Status has survived more than half a century, and who is remembered as one of the Greatest Masters of His Time, and as one of the Greatest Masters of the Ayuttaya Lineage.
Luang Por Jong was born with the name 'Jong' into a farmer family in the village of Na Mai, in Bang Sai Municipality, of the Province of Ayuttaya. HIs Father was called my Yord, and his Mother was called Mrs. Khlip. Luang Por Jong had two younger siblings (one brother and one sister). His younger brother was called Nil, and his little sister was called Bplik, who was the youngest of the three.
It is not known exactly which date Luang Por Jong was born, for there is no official documentation of his birth. But it is stated in his family lineage, that he was born during the time that King Rama 5 was ruling Siam, on a Thursday of the year of the monkey on the 8th Lunar Phase. This, when calculated from knowing the Year of Monkey during the Reign of King Rama 5, within Luang Por Jongs childhood, would mean he would have been born on the 6th of March 2415 BE.
During his childhood he displayed strong leanings to remain in solitary, and even when his parents would take him to the local Lige theatre shows, he would distance himself from the crowd of spectators and watch from a distance. He was never one to socialise or look for attention. Luang Por Jong was ordained in 2435 BE at Wat Na Tang Nork temple in Ayuttaya, and was given the ordained name of Jong Puttassaro with the Abbot of Wat Na Tang Nork as his Pra Anusawanajarn (Luang Por Po).
Luang Por Po noticed that Luang Por Jong, despite being weak of body and prone to illness, was excellent in his mental capacity and learned the Khom Agkhara Sanskrit perfectly in a very short time. It became noticed by the local devotess and by Ajarn Po himself that Luang Por Jong was showing wisdom and ability in Wicha Akom Sorcery that was far beyond his age.
In no time, Luang Por Jong was given every single facet of the Wicha from his Kroo Ba Ajarn Luang Por Po, and became a Master Sorceror in his own right, and a great Dhamma Practitioner and Teacher to the local Folk.
His trajectory followed on from that, and he never stopped advancing, becoming one of the Greatest Sorceror Monks of his Era, until his passing in the year 2508 BE. Luang Por Jong remains one of the most famous Masters of Indochina Wartime Era for his Powerful Kong Grapan Chadtri, Klaew Klaad, Maha Lap, Kaa Khaay and Metta Maha Niyom Magic.
The Sariga (sometimes also called 'Nok Garawaek') bird is empowered with spells with the Invocations of Maha Sanaeh, for Seductive Charm, and Maha Pokasap for Prosperity. Very popular with shopkeepers, and traveling salespersons. The Takrut Sariga is Unisex and can be worn by both men or ladies to use equally successfully for seductive influence, mercy charm, good business, and increased popularity. The Nok Garawaek, and the Nok Sariga, are heavenly birds which are more or less synonymous with each other, for which reason, you can use any of the Kata Incantations which are used for the Nok Sariga Celestial Magpie
Temple:Wat Na Tang Nork
Year of Issue:
Circa 2485 BE
Maker of Amulet:Luang Por Jong Puttasaro (2415 BE - 2508 BE)
Weight:30 Grams
Recommended Uses:Metta Maha Niyom, Klaew Klaad, Kong Grapan Chadtri, Maha Lap, Serm Duang, Serm Yos
Size of Amulet:5 Cm length each single Takrut (5 in total)
Encasement Options
Wrap Together and Encase in Waterproof Casing (9) Wrap Together and Encase in Steel Capped Transparent Tubular Casing (9) None (0)