When speaking of the Pae Maha Lap lucky goat amulet, there is one name which stands above all others, and that is the name of Luang Por Am, of Wat Nong Grabork, in Ban Kaay Rayong. Luang Por Am was, along with Masters like Luang Por Horm of Wat Sak Hmak, Luang Por Rerm of Wat Juk Gacher, and Luang Por Chaem, considered among the top Masters of the Province, long before even the Great Luang Phu Tim of Wat Laharn Rai acheived his fame. Luang Por Am was the Kroo Ba Ajarn of the Great Luang Por Lat (Wat Nong Grabork), who is famed in his own right for his powerful Pae Maha Lap Hand Carved Goat Amuletsม which he of course mastered under the tutelage of Luang Por Am.
The male Goat is known for the fact that it is able to keep a whole herd of dozens of females under his ownership, through merciful and protective influence. It is thus believed that who wears the Pae Maha Lap Khao Kwai Gae Sacred buffalo horn Goat amulets of Luang Por Am, will be an owner and controller of great possessions and wealth, with grand entourage.
Below; Luang Por Am, of  Wat Nong Grabork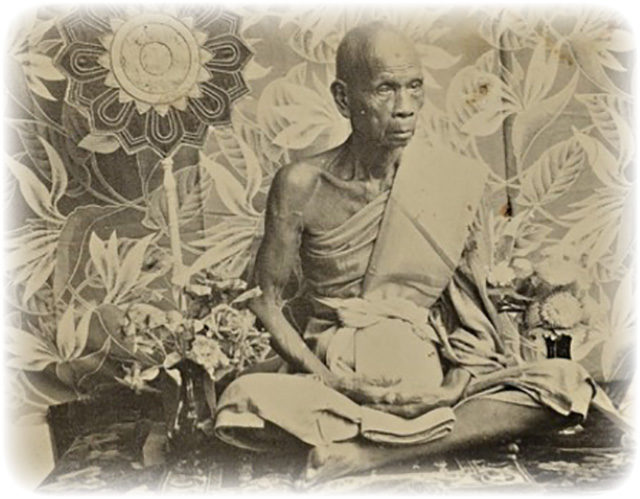 Luang Por Am, or 'Pra Kroo Taep Sittaa, was one of the Great Masters of the Central-Eastern Provinces during His Era, and the ex abbot of Wat Nong Grabork from 2431 – 2490 BE. He was rrespected and revered all around the Province, and had Great fame around the Nation for his Powerful Wicha. During his lifetime he became known as the top Master for carved Lucky Goat amulets. What is less known, and is of immense interest to investigate the lineage Wicha of the Pae Maha Lap, is the fact that Luang Por Am himself received this Wicha from Luang Por Dtaeng of Wat Ang Sila.
Luang Por Am was abbot of Wat Nong Grabork between the years 2431 to 2490 BE, being a Gaeji Ajarn of around 150 years ago, and was the Kroo Ba Ajarn teacher of many other great names of the time, such as Luang por Rerm of Wat Juk Gacher, and Luang Por Lat of Wat Nong Grabork (his successor and apprentice in magick). The Pae Maha Lap Nuea Khao Kwai Gae of Luang Por Am, is believed to possess the power to absorb Black Magick and protect the wearer/devotee from being affected.
It can be said that the Pae Maha Lap of Luang Por Am, Luang Por Lat, and now Pra Atigarn Surasit Akkawaro, the current abbot (written 2562 BE), are considered the 'cream of the crop', by serious devotees of the Pae Maha Lap, along with those other Great Chonburi Masters whose names carry fame for this Wicha such as Luang Phu Tim, uang Por Sakorn, Luang Phu Sin.
The Pae Maha Lap of Luang Por Am, was almost always made by carving a goat from 'Khao Kwai Fa Pha Dtaay', which is the horn of a buffalo which died struck by lightning in a field. It is an ancient magical belief that the horn of a lightning-struck bull or buffalo has the power of angelic beings in it, for indeed, the angelic beings of the elemental realms who control the weather, are who control these divine forces of Nature.
After the carving of the shape of the goat, Luang Por Am would then empower the Goats with incantations, and invocations of elemental powers and angelic beings, with Buddhist Blessings on top. Sometimes he would immerse them in aromatic sacred oils to consecrate them, mixed with herbal oils made from herbs and vines and flowers of the forest, with magical, healing, protective, and attraction powers. He would rebless them again and again until he felt the amulets were completely stuffed as full with magic as possible, and unable to insert any more. The magic within the amulets was hence always filled to the brim before distribution.
Wua Tanu Aathan Nuea Loha Pid Tong Wat Khoeng Khaw Blessed by LP Kam Saen, KB Chum, LP Ruesi Ling Dam
03581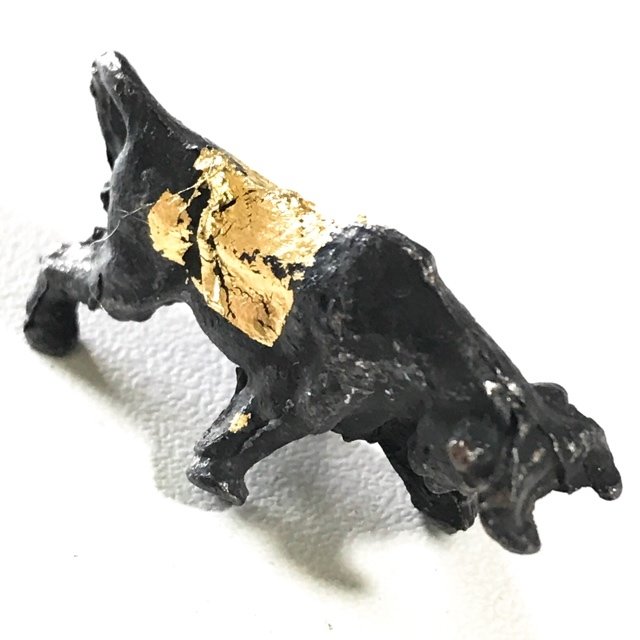 A very rare animist charm from the year 2518 BE, of the 'Payont' reanimated effigies type Wicha released at Wat Khoeng Khaw in Chiang Mai, with blessings from a Host of Great Master Monks including the Great Luang Por Ruesi Ling Dam, of Wat Ta Sung, in Utai Thani, and Luang Phu Kam Saen.
The legend of the sacred Wua Tanu of the temple of Wat Khoeng Khaw, Comes from the fact that Luang Phu Kam Saen of Wat Sri Don Moon, and Luang Phu Bun Rat of Wat Khloeng Khaw were very close friends, and in the year 2518 BE, at Wat Pha Don Moon, LP Kam Saen bestowed the Dtamra Grimoire Secret Methods of the Wicha Wua Tanu upon Luang Por Rat, as well as demonstrating the methods of making the sacred chanuan muan sarn materials and the magical methods of forging and casting the images with alchemical metallurgy.
LP Kam Saen was very old already, and was afraid to die without passing on the secrets of the Wicha, which would be a loss to the world, and become one more lost Wicha that has not been preserved.
In this case of the first demonstration, he showed him the method used by those who did not have access to metallic forges, and so constructed and empowered a Wua Tanu effigy using Mai Hwaay Pha Seek, which is a magical form of Rattan wood, which are split into strips and used to weave the form of the effigy.
He carved it and shaped it into the form of the Wua Tanu and completed the invocations, inscriptions and incantations necessary, and handed it to Luang Phu Bun Rat. Luang Phu Kroo Ba Rat later also received the Wicha Wua Tanu of the Great Kroo Ba Chum of Wat Wang Mui, which Luang Phu Bun Rat said resembled the Wicha of Luang Phu Kroo Ba Kam Saen in every detail.
Luang Phu Bun Rat thus began to make Wua Tanu amulets using the Wicha given from the Dtamra of both these two Great Lanna Masters. Luang Phu Bun Rat took all of his Wua Tanu to give to Kroo Ba Kam Saen at Wat Pha Don Moon, for him to perform solo empowerment. After this empowerment session was performed, Kroo Ba Kam Saen told Luang Phu Bun Rat that he should not distribute the Wua Tanu yet, and should keep them first for a time, because in the future, a time will come when many people will come to seek the Wua Tanu. So for this reason, Luang Phu Bun Rat kept the Wua Tanu in his keeping, but took them to a number of other Kroo Ba Ajarn for solo empowerment from each Master, including Luang Phu Kroo Ba Chum of Wat Wang Mui, LP Kam Saen of Wat Suan Dork, Luang Phu Kroo Ba Dhamma Chai of Wat Tung Luang, Kroo Ba Chaya Wongsa of Wat Pra Puttabat Huay Dtom.
He even took them down to Bangkok to ask Luang Phu Seng of Wat Kanlayanamit (The Master of the Dtamnan Bam Montr Bua Ban Flowering Lotus Holy Water Wicha), for him to perform empowerment over the Wua Tanu.
Above and beyond these events, the Great Luang Por Ruesi Ling Dam took these amulets and blessed them in a large number of Buddha Abhiseka blessing ceremonies around Thailand, because he would travel to Wat Khoeng Khaw every year for the Kathina robe giving ceremonies, and so would take them back and forth each time he visited.
The amulet is most often presented in Thai amulet circles as being the Wua Tanu of LP Ruesi Ling Dam, but is in fact the Wua Tanu of Wat Khoeng Khaw, which has the blessings and empowerment of so many great Masters of the time, that the amulet has become a popular member of the pantheon of all of the monks and temple involved with its empowerment.
Devotees of any or all of these Masters can safely regard the amulet as being in direct spiritual connection with their chosen Master, as well as being sure that this Wua Tanu must have immense magical power to protect your household and wealth, and fend off black magic, demons and ghosts, and bring prosperity and good fortune, and happiness to your family household and prosperity to your business.
Kata Wua Tanu
How to use Wua Tanu
You can use Wua Tanu to watch over your house,or mark a safe area around the house, or any place where there is strong Magic. To do this, you need four Wua Tanu, and a bowl of pure water in a Khan Nam Montr vessel.
Then take the Wua Tanu and place them in the Khan Nam Montr (prayer water bowl). Then focus your mind into meditation, and think of the Buddha Dhamma and Sangha, the Deities and Kroo Ba Ajarn, and Ajarn Somrach, and empower the prayer water by chanting the Kata into it and projecting your thoughts into the water as you blow three times into the bowl.
Take the four Wua Tanu, and bury them in the Earth in the four Cardinal directions. If it is a house, that has no earth to be able to dig, then the Wua Tanu should be placed in the four outer corners of the house,and the prayer water should be sprinkled around the area to be protected. If you have a Kuman Tong or other forms of Phuudt or Prai which you make Bucha offerings to in the house, then you must tell the Wua Tanu by stating who is allowed to enter and leave the protected area and who not. It is a good idea to also state that any ghosts or beings that are benevolent and will bring help or auspicious blessings should be allowed to enter. In truth the Wua Tanu is a kind of 'Hun Payont' Golem, but in animal form, instead of Human. Instilled with powerful Anti Black Magic and Protective spells to prevent thieves, demons, sorcery and curses from entering the household or vicinity around them. The Wua Tanu also Possesses the Magical power to help attract Business, Gambling and Lottery success. They possess multiple powers, ranging from protection against black magick and deadly dangers, ward off enemies, and Seduce Others. Animist spirit assistants of this type work as a kind of invisible guardian and valet, who cares for your safety and well being, protecting and nourishing.
Using to make Holy Water (Nam Montr)
If you want to make Nam Montr to remove the power of magic from a person place or object, or to banish demons and spirits, or exorcise a person who is possessed, then you must make the Nam Montr in the same way as previously explained. But this time you need to use only one Wua Tanu. Then hold the Wua Tanu in your hands and enter Samadhi meditation, focusing as strongly as possible on the Merits of the Buddha.
Chant Na Mo Dtassa Pakawadto Arahadto Sammaa Samputtassa 3 times, and ask for the Power and grace of the Triple Gem the Angels and Deities and Brahmas, Kroo Ba Ajarn (your teachers), and the power of the Mythic Wua Tanu to make the prayer water powerful and endowed with the ability to remove all forms of black magic and evil influence (you can specify particular purposes if you wish to be more detailed in the function of the Nam Montr).
Once you have chanted the Kata of empowerment, you should breathe deeply inwards and blow three times on the Wua Tanu, and lower it into the Khan Nam Montr until it is submerged under the surface of the prayer water.
Then you can use the water for drinking, cleaning yourself and the like to remove any magic spells or unlucky influences. You can wear or carry the Wua Tanu with you, or put it in your vehicle as a protection from accidents of all kinds. If there are ever any visitations or experiences with contacting dark entities, all you need to do is dedicate some of the fruits of your merits to them, and think of Wua Tanu, and they will disappear.
Kata Wua Tanu
(always chant 'Namo Dtassa pakawadto Arahadto Samputtassa 3 times before any other Kata)
Then Chant the Hnun Taat See (Invocation of the four elements)
Na Ma Na A - Nor Gor Na Ga - Gor Or Nor A - Na A Ga Ang (3 times)
Om Kono Kono Wua Tanu Gao Panwaa Saay Dtaa Gao Pan Muay Tiaw Plaay Duay Tuk Kam Chao Bpen Jao Gae Fhoong Phii Tang Hlaay Puudt Phii lae Phii Prai Chin Hai Dtaay Ya Hai La Thoi Ju Lai Ju Sitti Puttang Sitti Tammang Sitti Sangkang Sitti Swaaha Pa Ta Na Ma Kata Wua Tanu Tong
Kata Wua Tanu Lanna
Om Kho No Kho No - Wua Tanoo Gao Pan Nork Saay Rort Gao Panwaa Saay Dtaa - Gao Pan Muay Tiaw Bpraay Duay Tuk Kam Shao Bpen Jao Gae Foong Phii Tang Hlaay - Phuudt Phii - Phii Prai Chon Hai Dtaay Yaa Dai Laa Thoy Joo Lai Joo Sitti Puttang Sitti Tammang Sitti Sangkang Sitti Swaaha
Call Back Kata
To call the Wua Tanu back to you after sending on Missions, use this Kata
NA MA PA TA MĀ NI MĀ MĀ ĒHI JONG MĀ
Temple:Wat Khoeng Khaw
Year of Issue:
Made in 2518 BE, Released some years later after Multiple Blessings by Multiple Masters
Maker of Amulet:Luang Phu Kroo Ba Bun Rat with the assistance of 6 of the Greatest Masters of the Era
Weight:4 Grams
Recommended Uses:Gae Aathan, Pongan Pai, Klaew Klaad, Fao Sap, Kong Grapan Chadtri, Maha Lap, Maha Pokasap
Number of Amulets Made:Protection of Personal safety and Household Wealth, Anti Black Magic, Mercy Charm, Lottery and Gambling, Increase Business Success
Size of Amulet:2.5 x 2 Cm
Encasement Options
Waterproof Casing (9) Solid Gold Custom Casing - We will email you with a price quote and send invoice after agreement (0) None (0)