Roop Lor Mae Chee Bun Ruean 2521 BE Dtok Code Niyom With Casing Blessed by Luang Phu To at Wat Awut
An extremely rare limited edition Pim Niyom amulet that is seldomly seen, the Sacred Roop Lor Loi Ongk Statuette in Nuea Rae Maekasit alchemical meta alloy, with the image of the Great Thai Buddhist Nun, Mae Chee Bun Ruean, of Wat Awut and Wat Sarnath.
Mae Chee Bun Ruean was famous for her 'Pra Putto Noi' amulet, Thung Khiaw Hniaw Sap treasure pouches, and Khaw Dtok Pra Ruang Sacred Elements. Her amulets and those in her image enjoy immense reverence with Buddhist Folk of every Province in Thailand, for her great healing powers and her Merits made for Buddism, and her meditative prowess and teachings.
The Roop Lor is made from Nuea Maekasit, a special magical alloy forged using metallurgy and alchemy, and was blessed in 2521 BE at Wat Awut, with the Great Luang Phu To of Wat Pradoo Chimplee presiding over the Blessing ceremony and empowerment.
It is worthy for students of amulets to note, than a later edition of the Roop Lor Mae Chee Bun Ruean was also famously released in the year 2532 BE with Luang Phu Buddha Thanawaro performing blessings. the 2521 BE and 2532 BE editions asre noticeably different by the fact that the later 2532 BE edition had Muan Sarn Sacred Powders filling in the base of the Loi Ongk Statuette.
Nuea Maekasit is obtained by Alchemically smelting Iron Artifacts, with Mercury as the main base Magical ingredient, and performing Elemental Invocations until the structure of the metal changes, and becomes a sacred Metal of Alchemical Nature. Alchemy and Metallurgy are combined here as one facet of the various aspects of empowerment of the amulet. The Maekasit and Maekapat Sacred Alchemical Metals are not only especially apt for channelling Magical Forces.
This is only possible with metals which will usually not smelt, by the use of Incantation and Meditative Prowess, as well as Metallurgical expertise and experience in this Wicha, because the turning point must be held at a precise temperature, along with the proper incantations, which must be performed simultaneously as the separate substances melt and are forged into one substance. The resulting alchemical alloy may take on any of a number of colour tones, depending on the formula of Kaya Siddhi substances used, and the nature of the Magic. Colours can range from matt black, silvered, rusty red, to bluebottle blue and greenbottle green, silver, and even golden and purple, much like Lek Lai Kaya Siddhi Adamantine Substance.
This slideshow requires JavaScript.
Mae Chee Bun Ruean is perhaps the most famous of Thai Buddhist Nuns, which is underlined by the fact that a Buddhist Nun made such great impression and influence in the Thai Buddhist religion is a statement in itself of her great merits to propagate and preserve the Buddha's teachings, and to lead her devotees towards the true path of practice.
The Roop lor is made from cast alchemical iron alloy with blackened finish, with series edition code stamp on the rear side of the image, and is hence a preferred pim, which devotees prefer above those versions with no code stamp.
---
Who was Mae Chee Bun Ruean?
---
Kun Mae Chee Bun Ruean was a Buddhist Nun whose purity of practice was so exemplary that she became a Buddhist master in her own right in Thailands Theravada tradition, which is highly unusual and a difficult task to acheive, in a Tradition where women are not permitted to ordain as a Bhikkhuni, and must remain in white as a Karavasa Holder of Precepts.
Despite these disadvantages, her great practice, Metta (Compassion) and her teachings, and Charitable Works for Buddhism, brought her to become the most highly beloved Buddhist Nun in the History of Thai Buddhism. She was known to practice and listen to the Dhamma mostly at Wat Sampant Wongs in Bangkok.
Her most famous amulet is of course the 'Pra Putto Noi' amulet, which was made in various kinds of sacred powder clay. The most popular model being the 'Pim Jumbo' large size model, in its white powder version.
The Pra Putto Noi was created in the year 2494 BE, with the Mae Chee Bun Ruean as the Organiser of the raising of the funds for their making and the Charitable Acts which were planned from the funds. The Pra Putto Noi amulet in its Pim Niyom model, if in pristine state, can fetch tens of thousands of dollars in the high end auction rooms of the Sian Pra Niyom.
Luckily there were many models, and some are still affordable in this time, but they are very far and few to discover for collection. The devotees who wear her amulets walk confidently in faith of the Metta Maha Niyom and Serm Duang Klaew Klaad Powers, and healing effects of the amulets of Kun mae Chee Bun Ruean. Devotees would rub the powders ointment onto giant centipede and snake bites and infected wounds, to heal them.
Her amulets are said to heal illnesses and to improve Karma. They are believed to be full of Puttakun Power to bring auspicious blessings and prosperity, because of Mae Chee Bun Ruean's life of charitable acts, and her practice of great generosity. They are full of Metta Maha Niyom from Mae Chee Bun Ruean's Equal treatment and Loving Compassion for all of her devotees regardless of their social or financial status. All were treated with the same Metta.
Her purity is believed to have made the amulets she created to be so powerful, and caused her Pra Putto Noi and other amulets to be extremely sought after amulets. She blessed the amulets in 2494 BE, with a ceremonial prayer for the Welfare of the Temple of Wat Awut, in Thonburi. The aim of the funds raised from the edition was to construct the Pra Putto Paas Chinarat Jom Muni, as the 'Pra Pratan' Main presiding Buddha Image of the Uposatha Shrineroom at Wat Sarnath Dhammaram temple, in Rayong.
This slideshow requires JavaScript.
She bestowed permission to Pra Ajarn Sanguan Kosago, the Abbot of Wat Awut Wikasitaram, who had already collaborated in the making of the Pra Putto Noi Amulets which were previously distributed during the Tord Pha Pha robe donation ceremony. Ma Chee Bun ruean also made extra batches to donate to the Monks at Wat Sampant Wongs, for them to give to their devotees who came to make merits.
Apart from the Pra Putto Noi amulet, Kun Mae Chee Bun Ruean made various other amulets which are also in extremely high regard for their Sacredness, such as the Pra Chaiyawat Putto Brass Votive Tablet of 2499 BE, and the Rian Pra Putto Jom Muni coin of the Pra Putto Yai Statue Installation Ceremony of 2499 BE.
Another very popular 'Krueang Rang' Talismanic Charm of Mae Chee Bun Ruean was the 'Thung Hniaw Sap" treasure glue purse (lucky purse to attract treasures and money like glue sticks to paper), made in 2497 BE. The treasure purse was made in various colours; white, blue, yellow, pink, red, black, and with various styles and designs. Som were made from sack cloth, others from fine cloths, some were large others small purses. The closures of the purses were also varied, ranging from zip to string closures.
Mae Chee Bun Ruean empowered the Thung Khiaw Hniaw Sap treasure attractor purses at the temple of the Buddha Footprint at Wat Pra Puttabat, in Sra Buri, where they were blessed in a large Buddha Abhiseka ceremony and released in early 2488 BE. Some purses actually had something inside of them, and others didn't. The purses are reputed for their Maha Pokasap power to increase wealth and professional success, but have also gained a reputation for powerful healing and protection powers too.
Kata Bucha
Na Chā Lī Dti Chimpalī Ja Mahā Thērō Suwana Mā Mā Pō Chana Mā Mā Pōka Mā Mā Mahā Lāpō Mā Mā Sappē Chanā Pahū Chanā Pawandtumē
The Kata is said to have been transmitted to Mae Chee Bun Ruean in Meditation from the God Indra, to pay reverence to the Chimplee Arahant (Pra Sivali), in order to bring Maha Lap Lucky Fortunes, Maha Choke, Lucky Windfalls, and Maha Pokasap Treasures.
For Auspicious Blessings, the Kata should be chanted on any Sunday that falls on the 6th day of the month, any Monday falling on the 15th of any Month, Tuesdays which fall on the 8th day of any Month, Wednesdays which fall on the 17th of any Month, Thursdays which fall on the 19th of any Month, Fridays which fall on the 12th day of any Month , and Saturdays which fall on the 10th day of any Month.
---
Praput Chin Dtakua Fang Khiaw Hmaa Pha 2460 BE Leaden Buddha Amulet with Wolf Tooth Insert Luang Por Dam Wat Kuti
03736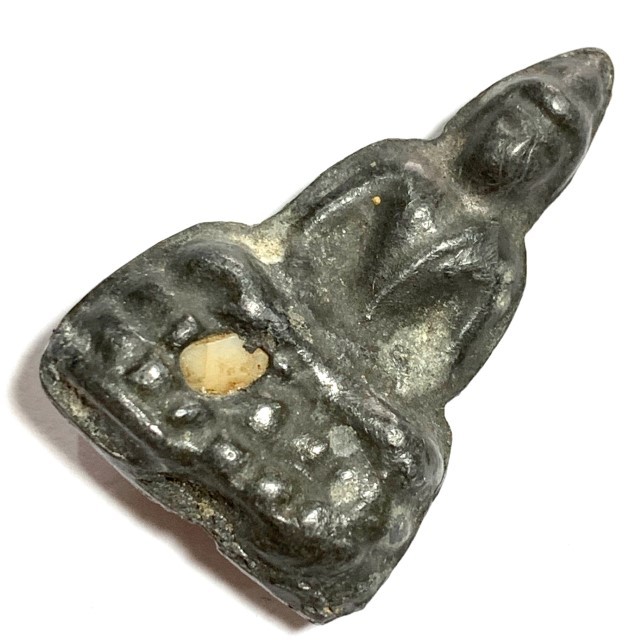 A seldom seen Large Pim Yai version (3 x 2 Cm) of Luang Por Dam's Extremely Rare and Highly Prized Khmer Alchemical amulet, the Pra Pim Pra Put Nuea Chin Dtakua Fang Khiaw Hmaa Pha, Leaden Buddha Amulet with Magic Spell and Visible Wolf's Tooth Insert.
Free Registered Airmail Shipping Worldwide is included with this amulet. The Pra Pim Pra Put Dtakua Fang Khiaw Hmaa Pha, was one of a variety of different Pim (models), which Luang Por Dam created by taking already pre-existing designs from other great temples and masters, and using them to make these amulets. Created by forging them with alchemical metallurgy into leaden statuettes, which the filled with the insertion of a magic spell in Sacred Khom Agkhara on a piece of parchment paper, and wolf's canine tooth.
Luang Por Dam was an olden days Khmer Sorceror Monk who stayed at Wat Kuti in the Pre Modern Era. He is said to have been of the same Generation and approximate age of the Great Luang Phu Suk of Wat Pak Klong Makham Tao, and lived long ago. Nobody has ever been able to compile a full biography of this monk, whose Khmer past is obscured from history.
Luang Por Dam made his amulets in his own inimitable way with his own particular metho, which came from his Khmer Sorcery Wicha. He was able to manipulate alchemical metals and to 'riak parort', which means 'to call alchemical mercury'.
He would make the amulets by bthe alchemical method of using Incantations and meditative prowess to call the mercury to flow to him and guide them into the casting molds with magical spell-casting.
Apart from being famous for Kong Grapan Chadtri Klaew Klaad and 'Gan Sadtw Pit Raay' (protect against poisonous beasts), the amulets of Luang Por Dam are known for their power to erase Black Magick. It is said that if a house is cursed, or there are any sorcerous magical spells influencing the house, to walk in with one of Luang Por Dam's amulets will dispel the curse or Black Magick Immediately, dispersing it and banishing it.
In those olden times, as Luang Por Dam would make amulets for the devotees at the temple, he became famous from many stories of miraculous lifesaving events connected with his amulets. Ranging from people being attacked by bandits and shot at at point blank range, but the guns would not fire, to surviving deadly accidents in the face of certain death.
But his amulets also then became famous outside of his locality and to spread around the provinces, because of Rice!
Luang Por Dam's temple needed rice, and Luang Por Dam would also have to go to Sara Buri township often to get rice for the temple, and would take his amulets to exchange with the market farmers for rice.
In the beginning, not many people took much notice, but he would exchange one amulet for a cart of rice with some traders. But after some time, there were some devotees who payed reverence and gave alms to Luang Por Dam, and received an amulet as a gift from him for their kindness.
The devotees took the amulet and hung it up against a tree to test it with a revolver, by shooting at it, but however they tried, the gun would not shoot when pointed at the amulet.
The amulets of Luang Por Dam of Wat Kuti are now extremely rare to encounter, and are highly renowned for their powerful Kong Grapan Chadtri, Maha Ud, Klaew Klaad and Gan Sadtw Pit Raay Powers.
His first edition came to be, because of the Thai devotees of the area hearing of Luang Por Dam being from the Khmer side of the border, and that he was a Tudong Forest Monk, so they came to ask him for a way to prevent the Black Magick spells which were being placed on them using Khmer Necromancy and Black Magick.
Luang Por Dam then made his first edition, using the wolf's teeth inserts, which are now so rare and famousl powerful, with Anti Black Magick and Kong Grapan Chadtri Maha Ud klk Protective Sorcery to keep his devotees safe and banish any evil curses they may have had afflicting them.
The wolfs teeth were obtained by Luang Por Dam, as he was wandering through the forests of the Khao Gaew Jungle, and he came upon the scene of a pile of skeletons of wolves, and a couple of tiger skeletons, all in one area.
He concluded that the wolves must have died in their struggle with the tigers, but that the wolves, despite being much smaller, were as brave and fearless and just as much a fierce hunter as the much larger tiger himself.
He took the teeth and empowered them throughout his Tudong wandering times with Maha Amnaj, Maha Ud, Klaew Klaad and Kong Grapan Chadtri Magic, for later use, in these amulets. He made the amulets in various models, including the Pra Put Buddha image, the Pra Pid Ta Pra Pim Pak Pao (single Pidta) up to the Pra Pid Ta Pim Haa Gler (5 sided Pidta), which is known in the present day as 'Pid Ta Piang Chompoo Haa Gler'.
Use the Traditional Thai Buddhist Method for Bucha;
1. Chant Maha Namasakara (3 Times)
2. Chant the Trai Soranakom (3 Times)
3. Chant Kata Aaraatanaa Pra Krueang (3 Times)

Kata Maha Namasakara
Namo Dtat-Sa Pakawa-Dto Araha-Dto Sam-Maa Sam-Put-Dtat-Sa
Namo Dtat-Sa Pakawa-Dto Araha-Dto Sam-Maa Sam-Put-Dtat-Sa
Namo Dtat-Sa Pakawa-Dto Araha-Dto Sam-Maa Sam-Put-Dtat-Sa
Trai Soranakom
Puttang Cheewidtang Yaawa Nipaanang Saranang Kajchaami

Tammang Cheewidtang Yaawa Nipaanang Saranang Kajchaami
Sangkang Cheewidtang Yaawa Nipaanang Saranang Kajchaami
Tudtiyambpi Puttang Cheewidtang Yaawa Nipaanang Saranang Kajchaami
Tudtiyambpi Tammang Cheewidtang Yaawa Nipaanang Saranang Kajchaami
Tudtiyambpi Sangkang Cheewidtang Yaawa Nipaanang Saranang Kajchaami
Dtadtiyambpi Puttang Cheewidtang Yaawa Nipaanang Saranang Kajchaami
Dtadtiyambpi Tammang Cheewidtang Yaawa Nipaanang Saranang Kajchaami
Dtadtiyambpi Sangkang Cheewidtang Yaawa Nipaanang Saranang Kajchaami
Kata Aaraatana Pra Krueang
Puttang Aaraatanaanang
Tammang Aaraatanaanang
Sangkang Aaraatanaanang
Puttang Prasittimae
Tammang Prasittimae
Sangkang Prasittimae
Temple:Wat Kuti
Year of Issue:
Circa 2460 BE
Maker of Amulet:Luang Por Dam
Weight:25 Grams
Recommended Uses:Protection, Gunstopper, Evasion, Anti Black Magick
Size of Amulet:3 x 2 Cm
Encasement Options
Solid Gold Custom Casing (Waterproo​​​​​​​f) - We will email you with a price quote according to current Gold Prices, and Invoice You after Agreement (0) Waterproof Casing (9) Without Casing (0)