This list of Buddhist Guru Master monks will auto-update each time we add a new Master. Click each link in the list to view the amulets and read about each Guru Monk

External Pages
---
1st Edition Locket Chak Fa (Blue Face) Luang Phu To - with Monk Hair, Sacred Powders, Takrut LP To - Wat Pradoo Chimplee
02710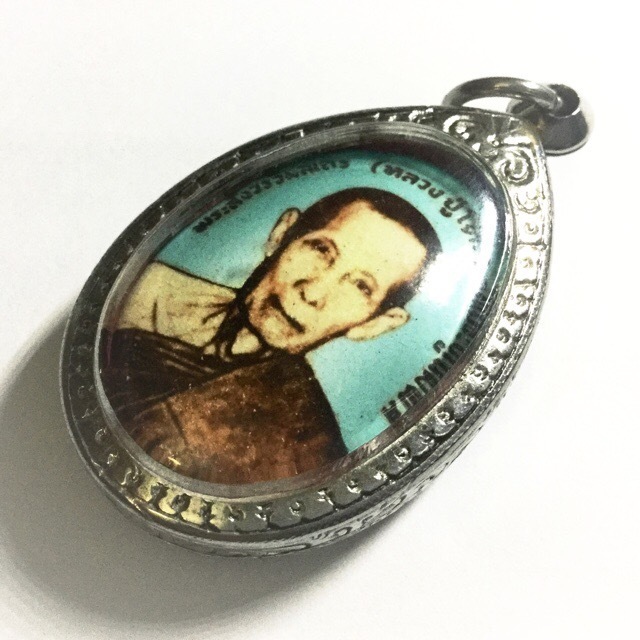 This early edition 'Chak Fa' locket (blue faced) of LP To is an Absolute rarity, and extremely sought after spiritual item.The perfect choice for aesthetic beauty, spiritual value, and magic power, and top choice for the Serious Collector. Released in 2519 BE, the first edition was depleted a few times consecutively, given 'serm hlang' (repletion), with 3 renewed series released every time the edition deleted.
The front face features the image of Luang Phu To of Wat Pradoo Chimplee, with the rear face filled with powerful sacred powders, a Yant Gan Pai spell and a Takrut empowered and inserted from Luang Phu To. Hair from Luang Phu is mixed into the sacred muan sarn powder mixture, making this a truly sacred and immensely collectible amulet from one of Thai Amulet History's all time great Guru Master Monks, Luang Phu To.
The code 'T' for 'To' is also stamped into the rear face. Less than one thousand were made counting both first and second editions together, making this locket an Ultimate Essential Rarity and a Grand Masterpiece Amulet.
Comes with free stainless steel casing. Can be encased in waterproof or Solid Gold if you prefer.
The rear face has the authentic Yant Na with the letter Ta,and the Dork Jantr code of the first edition trademark. This is a classic rare amulet and yet another priceless classic that one sees gracing the covers of magazines, and, unfortunately, out of reach of the pockets of the average collector.
Below; Luang Phu To - Wat Pradoo Chimplee
Below; First edition 'Roop Taay' Photo Lockets by LP To
You may notice the bottom row is the second edition, which has writing around the bottom edge. This is not present on the first edition, which are seen in the examples above the bottom row. The oval Roop Khai version of the first edition was made in white and blue faces (Chak Khaw and Chak Fa).
Temple:Wat Pradoo Chimplee
Year of Issue:
Circa 2519 - 2521 BE
Maker of Amulet:Luang Phu To
Weight:30 Grams
Recommended Uses:Improve Karma, Protection, Luck, Good Health, Safety, Prosperity, Buddhist Blessings, Bucha Lp To
Number of Amulets Made:less than 500
Size of Amulet:4 x 3 Cm
Ecasement Options
Waterproof Casing (Free with this Item) (9) Solid Gold Custom Casing (Waterproo​​​f) - We will email you with a price quote according to current Gold Prices, and Invoice You after Agreement. (0) Sytainless Steel Casing (Free with this Item) (0)