This list of Buddhist Guru Master monks will auto-update each time we add a new Master. Click each link in the list to view the amulets and read about each Guru Monk

External Pages
---
Buddha Riding on Bird (Khee Nok) Amulet 2520 BE - Black Sacred Powders - Luang Por Chern Wat Koke Tong (Ayuttaya)
02646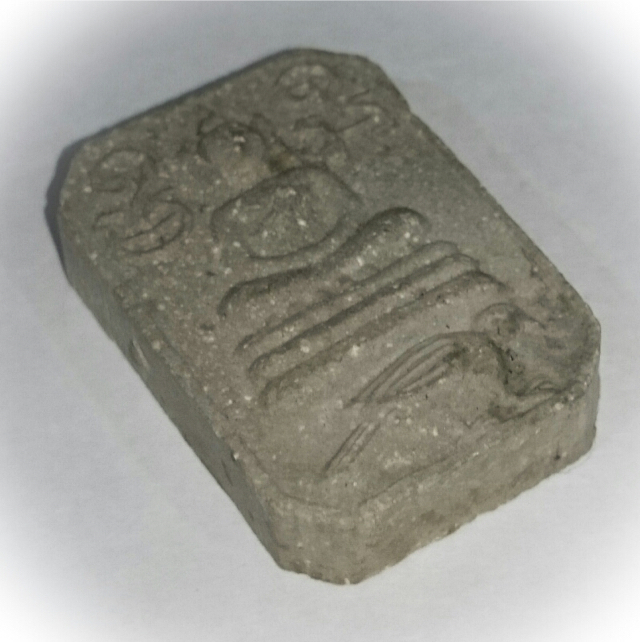 Pra Putta Jao Pratap Sadtw (Buddha on Animal Steed) 2520 BE - Run Krop Jet Rorb (70th Birthday edition) - Pim Song Khee Nok (Buddha riding a Bird) - Nuea Pong Bai Lan Pasom Pra Luang Por Parn Gao (Black parchment grimoire powders with ancient amulets from Luang Por Parn Wat Bang Nom Kho mixed in)  - Luang Por Chern Bunya Siri (2450 - 2543 BE) - Wat Koke Tong.
This edition became so rare after its release, that the devotees beseeched repeatedly for more, and a 'Yorn Yuk' remake was made in the year 2534 BE, for Luang Por Chern's 84th Birthday celebration. The later 2543 BE 84th Birthday edition was made from incense powders, and old amulets from Luang or Parn of Wat Bang Nom Kho. The 2520 edition is now an extremely rare amulet to find, and we are proud to present it for your study and appreciation. The Pim Khee Nok (riding a bird) model is very popular with Airforce and Pilots, but is indeed actually also useful for those who need a good 'overview' to oversee and to foresee events, such as those who are in professions to do with speculative risk. The birds eye view is an advantage over those who cannot see far ahead.
Luang Por Chern was a Gaeji Ajarn Guru Master Monk whose knowledge of Wicha Akom and certain specialised Wicha, was of great variety and who possessed some extremely rare abilities in the Wicha Saiyasart, which are most difficult to find in any Master of this Century.
The front face of the amulet features the Buddha sitting on a 7 petalled lotus dais, over a bird. The amulet is made from black bai lan parchment powders.
Luang Por Chern studied as an apprentice in Saiyasart and Buddha Sastra (Buddha Magic) under the Great Luang Phu Suk the famed Master of Wat Pak Klong Makham Tao, as well as undergoing apprenticeships in Magic to the Great Luang Por Jong (Wat na Tang Nork), Luang Por Glan of Wat Prayat, and of course, the Great Luang Por Parn, of Wat Bang Nom Ko, who was the master from whom he inherited the most secret and Sacred Wicha of making the Buddha riding Animals amulets (Pra Putta Jao Pratap Sadtw).
The amulets of Luang Por Chern are known to possess extremely high Puttakun (Buddhakun) power, and his empowerments were known to be of equal power and effectiveness as those of his mentors.
The rear face of the amuet features the Yant Grao Paetch Diamond Armour yantra of Luang Por Parn (Wat bang Nom Kho)
Luang Por Chern was born into the Kutee Sukh family lineage in the village of Dong Dtan in Pong Peng Municipality in Pha Moke district, Ang Tong Province on a friday, in the first Lunar Phase of the 6th Astrological Month, in the year of the Goat. In Modern terms this means the the 12th April 2450 BE.
His Father was called Mr. Klueab, and his Mother bore the name of Mrs. Lo. Luang Por Chern was the older of three Siblings, with his two younger Siblings being Twin Sisters, called Miss Jiam, and Miss Jom
Luang Por Chern's Mother passed away as he was aged 5 years old, and so as his Father would go to farm the fields, Luang Por Chern would have to assist in watching over his two younger Siblings, and this was a very hard time for his family, and for Luang Por Chern, as he was still himself only a small boy of 5-6 years old.
As he reached the age of 8 years old, his Father brought him to be looked after at the temple of Wat Ler Chai under Luang Por Kharp, who was at the time the Bishop of Kutee Municipality in Pak Hai District. Luang Por Chern recieved an education there under Luang Por Kharp for a period of 2 years, until he became able to read and write. After this, Luang Por Kharp took Luang Por Chern and put him in the care of Luang Por Perm (Pra Kroo Borvorn Sangkagij) of Wat Koke Tong Temple, in the Sena Municipality District.
Luang Por Chern was ordained as a Samanera Novice Monk, at the age of 16, on the fifth of June, in the year 2466 Buddhist Era. Luang Por Perm was his Upachaya Ordaining Officer.
Luang Por Perm was a grand Master of Pariyatti Theoretical Dhamma, and of Samatha Meditation and Vipassana Kammathana practice. He was also very diligent practitioner of the Moral Code of Vinaya Precept keeping, and and expert in Traditional Buddhist Medicine, as well as the Wicha Saiyasart (Sorcery). He had inherited the Wicha from Luang Por Glan of Wat Prayat, Luang Por Sukh of Wat Pak Klong Makham Tao, and Luang Por Parn of Wat Bang Nom Kho.
Luang Por Perm was famous for his ability to banish ghosts, demons and remove black magic curses and spells, and for his ability to perform spiritual healing. His fame was almost equal to that of his colleague and companion Luang Por Parn of Wat Bang Nom Kho at the time, who was his elder by 5 years.
In those days Luang Por Parn would often come to stay and visit at Wat Koke Tong. Luang Por Parn was even present to assist in the raising of the central foundation pillar of the Sala Bprian study hall at Wat Koke Tong in 2467 BE, and helped to lift the pillar. But what is sadly strange is that Luang Por Perm himself never made amulets, which resulted in his fame being specific to the time he was alive, and that due to the fact that he made no amulets, the later generations did not have something to study his trajectory with.
However, the fact that he renounced such activities, also shows his practice as being already beyond material activities, and that he was already approaching the path to Nibbana. The only sacred material object he has to mark his passing, is a pair of memorial stones, which he inscribed with Wicha, which are placed at the prayer water well at the temple. A third memorial stone is also placed there which came from Luang Por Parn, of Wat Bang Nom Kho. The 'Nam Montr' (holy prayer water) from this well, is said to be extremely sacred and powerful. Luang Por Chern would always use it to spray holy water blessings on his Devotees.
When Luang Por Chern had been a Samanera for 4 years, and then came of age (20), he was then promoted to the status of a fully fledged Bhikkhu Buddhist Monk, and did not disrobe beforehand as often happens when a child ordains as a Novice Monk. He was Ordained as a Bhikkhu at the Putta Sima Monastic Border Monument at the entrance to the Temple of Wat Koke Tong, on the 1st June 2470 BE , with Luang Por Kharp his first Mentor as his Upachaya Ordaining Officer, and Luang Por Perm as hi Pra Kamma Wajaajaarn (Prompting Officer). Pra Ajarn Jaem was his Pra Anusasanaajarn witness. He received the official ordained Pali sanskrit name of 'Bunya Siri", meaning 'Majestic Merit'.
After his ordination, Luang Por Chern assisted Luang Por Perm with the temple activities constantly, and learned from him all that he could know, he became first a batchelor of arts in Dhamma study, then a Doctor of Dhamma, and eventually a Masters degree in Dhamma. He was elected as a 'Pra Palad' which is equivalent to a commanding officer of the temple, and had to perform all the administrative duties for Luang Por Perm, right up to the passing of Luang Por perm in 2491 BE.
In 2492 BE, Luang Por Chern was elected to be Abbot of Wat Koke Tong and shortly after was awarded the academic status of 'Pra Kroo Sanya Badtr Chan Aek' and was presented with the official Monks Fan of this status by the Prime Minister, wj happened to also be the founder of the Wat Koke Tong school. Pra Somdej Prayan Sangworn Sangkaracha, the head Monk of the Thai Buddhist Religion from Wat Bovornives in Bangkok, was also present to award Luang Por Chern with the official presentaiton of the Pat Pattana ritual fan for Luang Por Chern's great attainments.
Luang Por Chern had many Kroo Ba Ajarn who loved him highly because of his diligence and loving kindness and helpfulness, and for this reason he received so many Secret and Powerful Wicha from them all. He became an Adept at Incantations, Khom Agkhara Magical Spell Inscription and the Sacred Geometry Wicha of Yantra design, and of Traditional Medicine and Spiritual Healing methods.
He knew how to make medicine that would banish and remove curses and spells, and banish ghosts and demons. He would spend much time sitting in Samatha meditation and Vipassana Kammathana practice and had been practicing this since the age of 10 years old already, resulting in his highly Adept ability to empower amulets through his Jhanic Meditative Prowess. As he was just 10 years old he had already followed Luang Por Perm on Tudong to the province of Chainat and was able to meet Luang Phu Sukh of Wat Pak Klong Makham Tao.
Even in his first ever year of ordination, he was lucky to go and sit and practice Kammathana Meditation together with the Great Luang Por Jong at Wat Na Tang Nork, after which he would often travel there to learn more Wicha with Luang Por Jong, for many years.Luang Por Chern was also given the chance to be a Looksit Apprentice to Luang Por Glan at Wat Prayat as Luang Por Perm was still alive. Luang Por perm took him there in 2473 BE as Luang Por Glan was already a very aged Master Monk, and complete n his Wicha.
Because Luang Por Parn of Wat Bang Nom Kho would often stop by at Wat Koke Tong to rest and stay for a while, Luang Por Chern also begged to become an apprentice in Wicha, and so would often use the rowing boat at the riverside of the temple to row Luang Por Parn back downstream to the temple of Wat Bang Nom Kho and take him home, and learn Wicha with him at Wat Bang Nom Kho.
This is of course how he inherited the Wicha for making the famous 'Pra Putta Jao Pratap Sadtw' Buddha riding on animal steeds amulets, with Luang Por Parn's Great yantra, the 'Yant Grao paetch' on the rear face, for which these amulets of Luang Por Chern are a perfectly recommendable alternative to the much more expensive classics from Luang Por Parn himself, and there is no reason to believe that their power is less than that of those from his Mentor.
Luang Por Chern passed away on the first of January in the year 2543 Buddhist era at the age of 93 after 73 years of ordained life leaving devotees in extreme sadness at his passing. His great ability to empower and bless amulets has made him yet another of the Great Masters of Immortal Fame in the Pantheon of Thai Buddhist Masters of Old - A true Gaeji Ajarn of Highly respectable Trajectory, and Legendary fame.
Temple:Wat Koke Tong
Maker of Amulet:Luang Por Chern Bunya Siri (2450 - 2543 BE)
Weight:4 Grams
Recommended Uses:Klaew Klaad Evasion Magic, Kong Grapan Chadtri, Serm Duang, Metta Mahaniyom, Maha Lap.
Actual Weight of Gold in Casing Frame:Circa 4.5 Grams if encased in Gold
Size of Amulet:2.8 x 1.8 Cm
Encasement Options
Waterproof Casing (Free Option) (0) Solid Gold Custom Casing (we will email you with a price quote, depending on gold price rates at time of order) (0) Without Casing (0)