This list of Buddhist Guru Master monks will auto-update each time we add a new Master. Click each link in the list to view the amulets and read about each Guru Monk

External Pages
---
Hanuman Thawaay Hwaen Nuea Pong Ya Wasana Jinda Manee 2464 BE Luang Phu Bun Wat Klang Bang Gaew
02618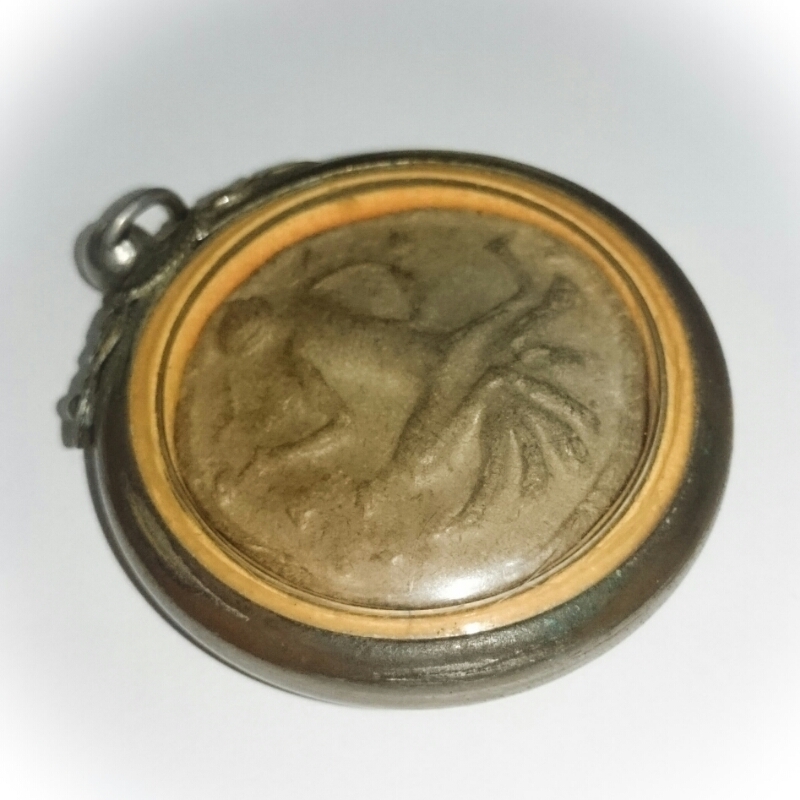 Pra Pong Hanuman Jantr Loi - Nuea Jinda Manee - Luang Phu Bun Wat Klang Bang Gaew (2390 BE - 2478 BE)
This particular Pim shows the Vanora Simian God Hanuman in the posture of 'Thawaay Hwaen' which represents the moment in the Ramayana Epic of Valmiki the Hermit, when the Hanuman, the Monkey general of Rama's (Pra Ram) Army against the Demon Ravana (Totsagan).
It was Totsakan, who had kidnapped Rama's Consort, the Lady Sita (Nang Sida) presents Rama's ring to her, to prove his alliance with rama, and offer to assist her to escape back to her husband.
The Hanuman Jantr Loi of Luang Phu Bun, is an extremely Rare Ancient Amulet of the Pra Niyom Master-Class of Thai Buddhist Amulets. Luang Phu Bun is one of the Top Master Guru Monks of Thai Buddhist History in both Patipata (Dhamma Practice) as well as for his Magical Prowess in Amulet making, Puttasart, and Saiyasart (Occult Sorcery and Buddha Magic).
His amulets grace the pages of almost every famous catalog and amulet magazine in the High End Collector Publications, and are amongst the highest priced ranging from many hundreds of dollars for the most commonly found amulets, to hundreds of thousands of dollars for his rarest amulets.
Luang Phu Bun was a close friend and accomplice in Wicha with the Great Somdej Pra Sangkarach (Pae) of Wat Sutat fame, whose amulets belong to the priceless treasures category and are only to be found in the possession of millionaires and high ranking persons of state importance, and a few lucky extreme collectors and devotees who have kept them throughout the generations, or inherited them as heirlooms from their family members. Almost anybody who owns such an amulet will be hard pressed to part with it in any circumstances.
The Hanuman Jantr Loi is a very special amulet of Luang Phu Bun, ot only for its rarity, but also for the fact, that Luang Phu created them choosing the astrological year of the monkey, which is also the astrological year which Luang Phu Bun was also born in in a previous cycle to the year he created the Hanuman.
Above; Second Encyclopedia of Luang Phu Buns Amulets featuring Hanuman Jantr Loi
The amulet was made in 3 different types of Muan Sarn Sarn; Nuea Pong Ya Jinda Manee (Special Herbal and Magically Empowered Ingredients), Nuea Khee Nok Khao Bplao (Thick Billed Green Turtle Dove Faeces - considered to have Magical Properties), and Nuea Wan (Herbal Extracts and Pollens).
The Hanuman Jantr Loi amulets is famously documented within the second book of Biography and Catalog of Amulets of the Dtamra Luang Phu Bun; "Cheewaprawat Luang Phu Bun Lem 2"
The Pong Ya Wasana Jinda Manee Muan Sarn Powders of Luang Phu Bun (also known as 'Pra Ya Horm') is a very aromatic Sacred Powder, which uses of course the famous 'Ya Wasana ('Wasana' meaning Lucky Fortunes) is the most famous Muan Sarn of Luang Phu Bun, and has become his Legendary 'Dtamra' (Traditonal Legend of Inheritance Wicha).
The Wicha of Ya Wasana Jinda Manee was developed by Luang Phu from an Ancient Teaching through his Kroo Ba Ajarn, and has since his making the Muan Sarn famously powerful, has been inherited as a Wicha of Muan Sarn powder making for the amulets of the Wat Klang Bang Gaew lineage throughout the ages from Luang Phu Bun, to Luang Por Perm, to Pra Ajarn Bai, to Luang Phu Juea, and now the present Abbot and holder of Luang Phu's now ancient Wicha, Luang Por Kong (Sanya) at Wat Klang Bang Gaew.
We can see that the present Abbot now holds a Wicha that has been passed through three already Great and Famous Guru Masters who have inherited this Wicha from Luang Phu Bun and who have all passed away in sequence after their long lives and trajectory. We are hence looking at the amulet of a Master who is already 4 generations the predecessor of the current Abbot, making his amulets truly worthy of the title 'Ancient'.
The amulets of Luang Phu Bun are famous for their immense Klaew Klaad and Metta Mahaniyom Powers and their Power of 'Serm Duang' (improve fate and destiny). The Ya Wasana Jinda Manee Sacred Muan Sarn powders are hence the most popular Muan Sarn ingredient of all his different amulets, and the preferred substance of all, for the fact that they seem to improve success in life and protect with immensely good results.It is said that he who revers the Amulets of Luang Phu Bun, will never be penniless or poor, and will never make a loss in business but will always profit.
Temple:Wat Klang Bang Gaew
Maker of Amulet:Luang Phu Bun
Weight:14 Grams in Casing
Recommended Uses:Protection, Improve Karma, Success.
Number of Amulets Made:Extremely few made - Immensely Rare.
Size of Amulet:3 Cm diameter without Casing
Encasement Options
Solid gold custom casing (we will email you with a price quote according to current gold prices at the time of inquiry (0) Keep in the Existing Old Casing (0)