This list of Buddhist Guru Master monks will auto-update each time we add a new Master. Click each link in the list to view the amulets and read about each Guru Monk

External Pages
---
Hwaen Pra Pirord (Hwaen Dtakror) Magic Ring of Protection and Power Ancient Amulet - Luang Por Khwan Wat Ban Rai
02569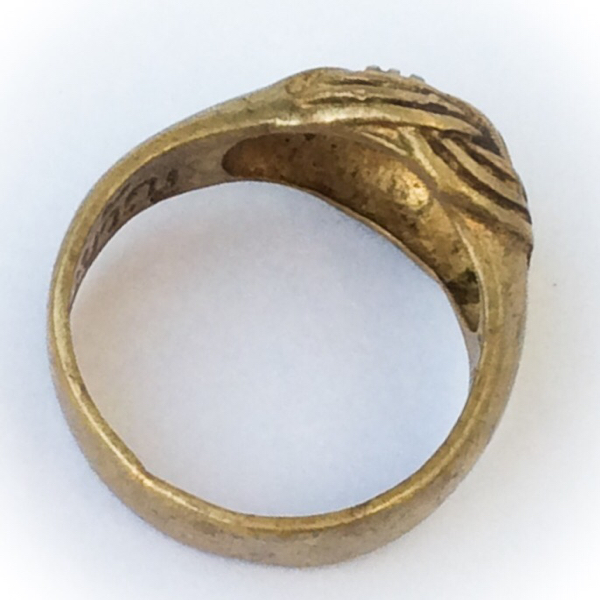 Ultra rare Amulet - Hwaen Pra Pirord (Hwaen Dtakror) - Luang Por Khwan Wat Ban Rai - Circa 2488 BE Kong Grapan Chadtri Magick Rings of Protection Amulets. The Hwaen Pra Pirod is a Warrior's and Sorceror's Ring, imbued with Protective Magick and Maha Amnaj Power to Command both Humans and Devas.
Luang Por Khwan was born on 18th September, in 2451 BE in Ban Rai District in the Municipality of Sam Ngam, in Pijit Province. He was Ordained into the Sangha as a Monk in 2470 BE during the fourth lunar waning day phase of the 8th waxing moon.
He was a Monk who developed many charitable projects and funded many construction projects for auspicious buildings for the benefit of the local citizens, such as Temples, schools, and hospitals, as well as donating large sums of money to charitable causes.
He would make amulets to donate to people who came and gave alms at the temple, including famous Luang Por Khwan amulets such as the Pra Somdej Paetch Hleek, Many types of Takrut, and the most favored of all, the 'Hwaen Pra Pirod', which enjoys the commonly known nickname of 'Hwaen Dtakror'. You can listen to a narrative explaining about these rings in the below podcast.
The Wicha Hwaen Pra Pirod, is in no way different to the concept presented in Tolkien's Lord of the Rings. The Thai Dtamra Saiyasart which dates back 5000 years into Vedic Legend, tells of this Wicha and how who wears the ring of power, even if made with paper yantra, can enter into battle both against humans, and even angelic devas.
Luang Por Khwan of Wat Ban Rai in Pijit, passed away in 2548 BE, at the old age of 97 years old. There are many tales of miracle events and of his powerful amulets, which have made him and his famous Hwaen Pra Pirod the stuff of Historical Legend.
The ring measures an inner diameter of 2.0 Cm and will fit on some people's finger. The ring is mostly worn on a neckchain either with or without waterproof casing, but some people are lucky to have a finger that fits the ring, as is the case with all rings that are not specially made to measure.
This ring will fit fingers of men with medium size fingers, on the small or ring finger. Slim fingered men will possible be able to place it on the middle finger or forefinger. Ladies with larger hands may also be able to use this ring. As already stated, it is difficult to judge by eye.
The Miracle of the Hwaen Pra Pirod;
Mrs. Malay Banya Pim tells the Miraculous tale of how Luang Phu Khwan helped her husband to survive certain death. In the year 2539 BE, her Husband, who was a Praratrooper Regiment Soldier resident in the Pitsanuloke Barracks, jumped out of a plane at a height of 5,500 feet, and his parachute did not open. Even his emergency parachute refused to open, which was when he thought he had no chance of survival, and focused on his family members and Luang Por Khwan in his mind, preparing to die.
He had the ring of Luang Por Khwan on his person (probably on a chain around his neck, for the rings are small, and not often worn on the finger), and his thoughts prayed to Luang Por for assistance as a last resort. He lost consciousness as he saw the floor hit him below.
His colleagues landed and rushed his body to the hospital where the doctor warned not to raise one's hopes too high as such a high fall should result in death, or permanent brain damage as his head had struck the floor. Arms were broken completely, and he was placed in a high emergency state ward. After some time though, he regained consciousness, and doctors were amazed to see that he seemd to be completely recovered. Then, they were stunned to find that his broken arm was completely unhurt and just as it had been before.
All of this complete miraculous recovery happened in 23 days in the hospital without any operation. The doctos who were to operate on the broken arm were flabberghasted to find the arm in perfect original condition and in no need of operating, and could not understand how such a thing could occur.
It came to light later that her husband's father had been to the temple to see Luang Por Khwan, and asked him to take the written name and address of the ward and hospital and focus on healing his son.
Both the ring saving him from the fall, and Luang Por Khwan's remote healing served to completely save both the man's life, and his physical health.
Kata for wearing and removal of the Hwaen Pra Pirod
The below Kata Chanting tutorial is for the Invocations necessary for the placing on and removal of such Magickal Rings of Protective Power.
Temple:Wat Ban Rai (Pijit)
Year of Issue:
Circa 2488 BE
Maker of Amulet:Luang Por Khwan
Weight:5.5 Grams
Recommended Uses:Protection and Power
Size of Amulet:2.0 Cm inner diameter
Waterproof Casing
Waterproof Casing with Pendant Ring (9) Without Casing (0)