This list of Buddhist Guru Master monks will auto-update each time we add a new Master. Click each link in the list to view the amulets and read about each Guru Monk

External Pages
---
Hwaen Pra Somdej Nga Gae Carved Ring with Buddha Image Circa 2490 BE Luang Por Gan Wat Khao Gaew
03728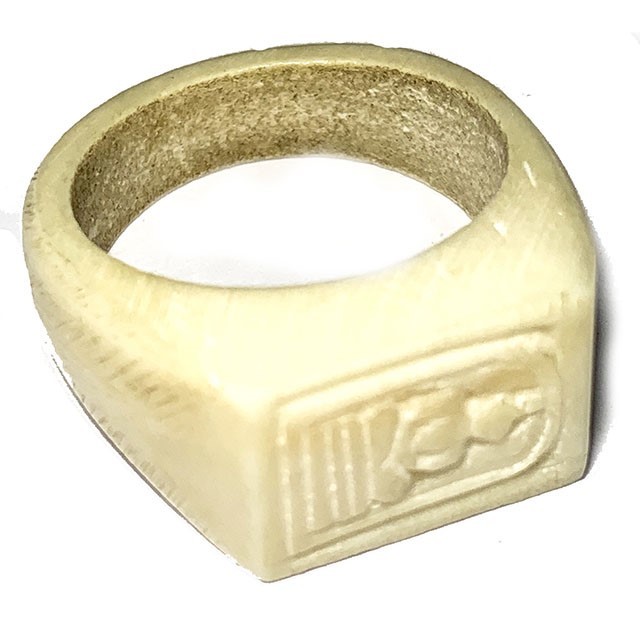 Sacred Hand carved ring with Pra Somdej Buddha Image carved into the surface of the ring head, from the Great Luang Por Gan of Wat Khao Gaew (2434 BE - 2513 BE). The ring measures 2.2 Cm inner diameter, and is carved from a piece of ivory, with the image of a Buddha seated upon 3 tiered dais within an arch (Pra Somdej). Luang Por Gan was a 'Sit Aek' Prime Apprentice of the great Luang Por Derm, and received direct Wicha transmission from LP Derm himself. Famed for his magic rings and Rian monk coins.

The ring is one of the rarer items of Luang Por Gan, along with his famous carved Tigers. His ability and tendency to make and empower amulets made of carved wood and ivory comes of course from the Wicha bestowed upon him by his Kroo Ba Ajarn Luang Por Derm, who was of course the leading Master in carved ivory Singha Lions, Ivory Mitmor Knives, and other wood and ivory carved amulets.
The Hwaen Pra Somdej is imbued with Serm Duang Karma Improving magic, with Metta Mahaniyom Mercy Charm, Klaew Klaad Evasion, and Serm Yos Promotion Power. The amulet, being a Buddha image, is also Pure Buddhanussati to remind a Buddhist of his or her practice to sustain mindful attention on the objects of focus which the Buddha taught to practice, and to keep the moral precepts, which in turn brings auspicious blessings through Buddhakhun Power.
Luang Por Gan was ordained in the year 2454 at age 20, with Luang Por Kham of Wat Khao Gaew as his Upachaya ordaining officer, and remained there until superceding Luang Por Kham after his passing, after which Luang Por Gan became the abbot of Wat Khao Gaew, until his passing in the year 2513 BE.
It is known for a fact that Luang Por Gan was an important and high apprentice of Luang Por Derm, because it is recorded in many documents of LP Derm visiting Buddhist Places of Pilgramage and Temples to help refurbish, restore and build, that LP Gan would almost always accompany LP Derm, along with Luang Por Choi, another Sit Aek first apprentice of LP Derm. Both Luang Por Gan and Luang Por Choi were faithful apprentices and devoted assistants to Luang Por Derm.
Luang Por Gan rose to fame in his own right through his powerful Wicha which he had mastered under Luang Por Derm, and became a gaeji Ajarn of High Repute, considered on par with the Great Masters of his time like Luang Por Prohm of Wat Chong Kae
Kata Aaraatanaa Pra Krueang (Kata Pra Somdej
Puttang Aaraatanaanang, Tammang Aaraatanaanang Sangkang Aaraatanaanang
close your eyes and make your prayers and wishes.
And then chant;
Puttang Bprasittimae, Tammang Bprasittimae Sangkang Bprasittimae
Temple:Wat Khao Gaew
Year of Issue:
Circa 2490 BE
Maker of Amulet:Luang Por Gan (2434 BE - 2513 BE)
Weight:3 Grams
Recommended Uses:Buddhanussati, Serm Duang, Serm Yos, Klaew Klaad
Size of Amulet:2 Cm Inner Diameter
Material:Ivory
Additional Info:One of Very Few Hand Carved Items of this particular design from this Master
Encasement Options
Wateproof Casing (9) None (0)