This list of Buddhist Guru Master monks will auto-update each time we add a new Master. Click each link in the list to view the amulets and read about each Guru Monk

External Pages
---
Hwaen Yant Arahang Nuea Galai Ngern Magic Yantra Ring - Luang Por Klaew - Wat Wang HIn
03146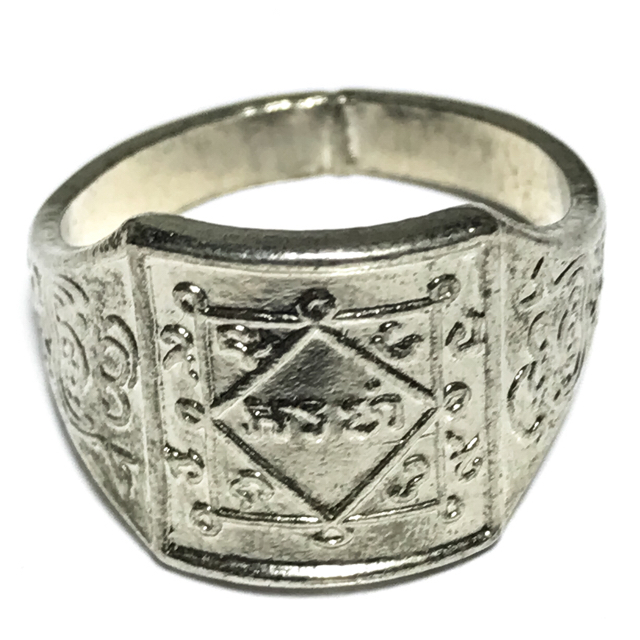 Presenting a very rare example of the Hwaen Yant Arahang (Arahant Yantra) magic Ring by Luang Por Klaew, of Wat Wang Hin, in Supannburi. The ring is cast in Nuea Galai Ngern, Silver Galvanised Sacred Metal Alloy, and is in pristine condition
Luang Por Klaew, was a Gaeji Ajarn of the Supannburi Province, born in 2453 BE. and passed away in the year 2528 BE, leaving the temple to his successor Luang Por Pra Kroo Suparatanogas. He ordained at a young age and inherited his famous Wicha from his Kroo Ba Ajarn, Luang Por Lek, the previous Abbot of Wat Wang Hin. Luang Por Klaew, was extremely famous for being able to perform anti black magic, and fireproof spells, and for his ability to banish ghosts and demons.
His power of Klaew Klaad, was legendary, and synonimous with his name 'Klaew'. Luang Por Klaew was a close accomplice of the Great Luang Por Mui, of Wat Don Rai. His 'Rian Kanajarn' Monk Coins, Takrut, Pha Yant and Somdej amulets are all highly revered for their power to protect and to increase auspicious fortunes and prosperity.
The front face of the ring has an eight knots Yantra composed of two square Yant, with the Kata 'Arahang' in Khom Pali Agkhara lettering embossed. The sides of the ring have Sacred Yant on them with Unalome.
The inner side of the ring has a Yant Putsoorn concentric Dhyani Buddha Yantra engraved upon the surface as the 'Yant Pratab Hlang' rear face shield of protection.
The Hwaen Arahang is renowned for its Klaew Klaad, Anti Black Magic/Curses, and Serm Duang Karma Improvement Powers. It is also a highly recommendable amulet for those who are serious practitioners of the eightfold path, to contemplate the Mantra ('Arahang' - Enlightened One), as a mental anchor for mindfulness of the Buddha's Enlightenment, and the practice of the 8-Fold Path (Buddhanussati + Bhavana).
---
To perform Incantations/Prayers for this amulet you should use either, or both of the following Kata
1. Kata Gratu Jet Baeg
The below version is called I Dti Bpi So Paed Tidt (8 directional chant) – if you read it vertically top to bottom and each column left to right, you will see it reads I Dti Bpi So. If you read it Horizontally left to right top to bottom, then it reads the same as Yant Gratuu Jed(7) Baeg.

I Ra Chā Ka Dta Rasā Dti Hang Ja Dtō Rō Thi Nang Bpi Sam Ra Lō Bu Sa Pu Sō Mā Na Ga Ri Thā Tō Pa Sam Sam Wi Sa Tē Pa Ka Pu Ban Tū Tam Wa Ka Wā Tō Nō A-Ma-Ma Wā A Wich Su Nuch Sā Nu Dti
2. Kata Idtibpisō Paed Tidt
Idtipisō Pakawā Arahang Sammā Samputtō Wichā Jarana Sambpannō Sugadtō Lōga Witū Anudtarō Bpurisa Tamma Sārathi Sathā Tēwa Manussānang Puttō Pakawādti
3. Kata Arātanā Pra Krueang
Puttang Ārātanānang Tammang Ārātanānang Sangkang Ārātanānang
Puttang Bprasittimē Tammang Bprasittimē Sangkang Bprasittimē
Temple:Wat Wang HIn
Year of Issue:
Circa 2520 BE
Maker of Amulet:Luang Por Klaew (2543 BE - 2528 BE)
Weight:5 Grams
Recommended Uses:Protection, Meditation, Buddhanussati, Improve Karma
Size of Amulet:2 Cm
Encasement Options
Waterproof Casing (9) No Casing (0)