This list of Buddhist Guru Master monks will auto-update each time we add a new Master. Click each link in the list to view the amulets and read about each Guru Monk

External Pages
---
Khem Glad Na Buddha Racha Sarapat Gan Pim Klang 3 x 1 Cm Nuea Galai Tong Luang Por Suea Dam Wat Sri Nuan Tamma Wimon
03760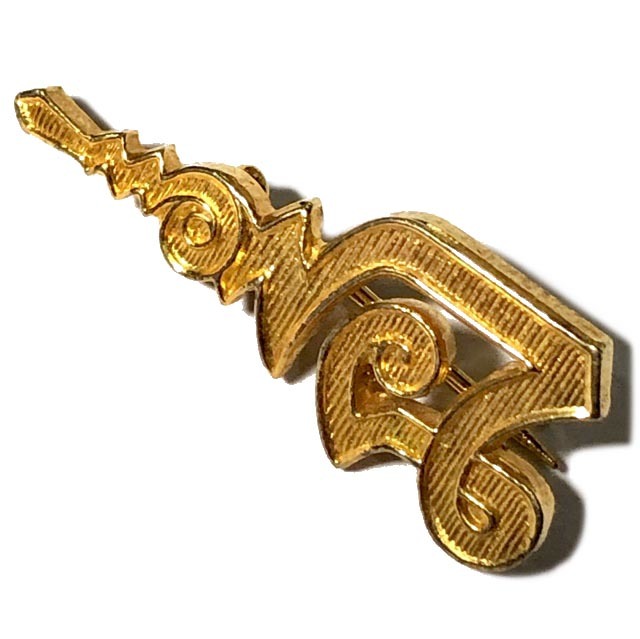 A very sacred and highly revered item considered 'Na Unalome Yant Sarapat Gan', in Medium size Pim Klang (3 x 1 Cm), for its ability to protect and prosper in all areas of life, from the Great legendary Ex-Gangster Sorceror-Monk, Luang Por Tawee Sak (Luang Por Suea Dam). The Khem Glad Na Buddha Racha is a small badge with pin on rear face, for attachment to clothing or other cloth surface, and is composed of the Sacred Khom letter Na Yantra, the Heart of all Yant, with an unalome spiralling upwards.
This very same Yant Na Buddha Racha by LP Suea Dam was once tested with Guns on a T-shirt which Luang Por had inscribed the Yantra on, which was recorded on video and went viral in Thailand, as was also the case with LP Suea Dam's Takrut Ud Pern Gunstopper amulet.

Free Registered Air Parcel Shipping Worldwide is included in the price with this amulet. The amulets were made in Pim Lek, Klang and Yai (small medium and large). Luang Por Suea Dam was one of the four most infamous and beloved Gangster Highwaymen of Thai History, along with the Great Suea Bai, Suea Mahesworn, and Suea Fai. Luang Por Suea Dam was the last of the four great Gangsters to pass away.

As Luang Por Tawee Sak was still a Gangster in his earlier times, he became the arch enemy, but also somehow friend, through mutual respect for each other's powerful gunstopper magic, of the great Khun Pantagij Rachadej the great Police Officer who created the legendary editions of Jatukam Ramathep amulets, and who hunted all these 'invincible' Gangsters with great fervency.
Suea Dam (LP Tawee Sak) was known as a Robin--Hood type Gangster, for he would only rob very rich people, and would give most of the takings to the poor people. He was also known as 'The Gentleman Thief' because he used to warn his victims one week before that he was going to rob them (but still always succeeded). The word 'Dam' means 'Black' and this also has a reason for LP Tawee Sak being known as 'Suea Dam' (Black Panther), in his time as a Gangster. Suea Dam used to wear all black, and use two pistols one in each hand like a western gunslinger, which is what gave his this legendary name of 'Suea Dam'.
It was said by Suea Dam that he came to join forces and become a Gangster with Suea Mahesworn and Suea Bai, after a meeting, where himself, Suea Mahesworn and Suea Bai's homes had been robbed by other robbers, knowing they had treasures stashed in there, and decided to form an alliance (cartel), but none of them had any large number of followers, so each of them went their own way to make a name for themselves, and gain fame, reputation and followers. Each of them gathered around 50 or 60 followers in their respective gangs, and remet, giving themself the Cartel name of 'Sum Suea Dam' (The Arched Portal of Black Panther).

The Gang had strict rules never to harm the person they were robbing, even if the victim fought back and harmed the robber, and that it was forbidden to rob rice grain barns, or poor people. Old people were forbidden to be mnolested by gang members, and to not break the precept of adultery with the wives of others. For a gang member to break the rules would mean to be shot dead by the gang.
As time passed, prices were put on the heads of the three great Gangsters, and robbing became ever more difficult, as well as having to hide and disguise themselves from bounty hunters. It came to pass around the years 2495 - 2499 BE, that they had many shootouts with the police, and finally came face to face with Police Sergeant Khun Pant Rachadej, the most famous gangster Killer and Catcher in Thailand, and stood face to face in a gunfight. However, both Khun Pant and Suea Dam had Wicha Akom Sorcery, which was so powerful that neither were able to shoot each other, even at point blank range, as they had decided to have it out with each other and end it once and for all.
Below; An old picture of Suea Dam during his 'Robin Hood' Gentleman Thief Highwayman days

But however they tried, they were both invulnerable, and the meeting and respect for each other, came to make Suea Dam, and the other Gangsters begin to change their ways and attitude to life. For Khun Pant said that if they were to change their ways and become good people, and live honest lives, the police would drop all warrants for them all. Suea Dam and the others stopped their gangsterhood on this day, and of course, Suea Dam became ordained as a Buddhist Monk, and renamed as Luang Por Tawee Sak (popularly always known as Luang Por Suea Dam).
Below; Video of Gunstopper Test on a Tshirt with the sacred Na Buddha Racha of Luanf Por Suea Dam

Since he ordained, he built up the temple in his charge, made many amulets using his powerful Wicha, inherited from his days as a Gangster, and became a highly revered and respected good hearted monk who attained many achievements for Thai Buddhism during his time, and was abbot of both Wat Sri Nuan Tamma Wimon, as well as Wat Chon Aratanaram in Ayuttaya, until his passing. His famous Takrut Ying Mai Awk Gunstopper amulet became worldwide news, and his devotees consider his amulets extremely powerful authentic magical protection.
Below; thre threee great gangsters of legend meet again - Suea Dam, Suea Bai, Suea Mahesworn. This last meeting was the last time all three were photographed together alive.

Temple:Wat Sri Nuan Tamma Wimon
Maker of Amulet:Luang Por Suea Dam
Weight:4 Grams
Recommended Uses:Protection, Gunstopper, Anti Black Magick, Mercy Charm, Good Karma, Lucky Fortunes, Demon Slayer
Size of Amulet:3 x 1 Cm
Encasement Options
Solid Gold Custom Casing - We will email you with a price quote according to current Gold Prices, and Invoice You after Agreement (0) Waterproof Casing (9) None (0)