This list of Buddhist Guru Master monks will auto-update each time we add a new Master. Click each link in the list to view the amulets and read about each Guru Monk

External Pages
---
Khiaw Suea Kroeng Tiger Amulet - 3.2 Inches with Khom Inscriptions - Luang Por Say - Wat Bang Hia
02697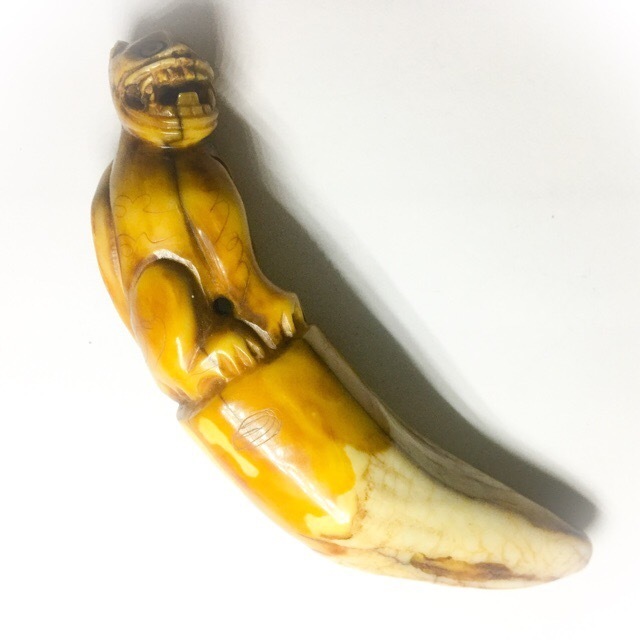 A most beautiful and entirely complete tooth carved into the shape of a roaring tiger, with hand made Khom Agkhara spell inscriptions on the surface. The amulet is from Luang Por Say, Master Monk and Apprentice in Wicha to Luang Por Parn of Wat Bang Hia. This tooth is from the 'Suea Kroeng' and is a large tooth of impressive appearance, and extremely rare artifact for its pristine appearance.
Luang Por Say learned at Wat Bang Hia from Luang Por Parn himself, as well as absorbing Wicha and 'Witi Pluk Sek' (Empowerment Methods) of amulets, especially the Khiaw Suea Tiger Tooth, for which Luang Por Parn, his Looksit Luang Por Nok, and Luang Por Sai and other Wat Bang Hia Masters are so Famous For.
He would make so many as his Devotees would bring and donate to him for empowerment. TRhe carvings were made by one of two Master Artisans always, and their handiwork is recognizable as that of Chang Dta Hwaeng Klong Nang Hongs, and Chang Dta Hwai as the sole Artisans responsible for the carving of the tiger amulets.
The hand inscription is inimitably inscribed in the handwriting of Luang Por Say, and hence easily recognisable with his extended 'Haang' tails on the 'Pa' Agkhara, and his number 3 like Unalome with curving offset tails on them. The tooth is still complete and in excellent condition, despite its respectable age. The yellowing of aging on the surface of the tooth brings character and excellence to the amulet, revealing its evident age and distinguished status, adding to the Magick of Maha Amnaj Commanding Power, Dominion and Influence in its visual effect, which is Imposing in Itself at First Glimpse.
The Khiaw Suea measures 3.2 Inches Long, and is a 'Khiaw Suea Krong, the rarest of all types of Khiaw Suea, excepting the legendary 'Khiaw Suea Proeng Fa' Giant Hollow ฺBengal Tiger tooth, which is no longer made of course, and only Ancient Amulets made before the protection laws exist.
Khiaw Suea are full of Maha Amnaj, Kong Grapan Chadtri and Metta Mahaniyom-Maha Sanaeh Magick, and possess Anti Black Magick Forces in their very nature. An excellent Status Increase Talisman to Impose your Superiority and Status and Rank over others, and to protect you from deadly Dangers and Weaponry, as well as to Increase Seductive Charm and Chances of Promotion.
Wat Bang Hia is of course a World famous Historical Temple of Monumental Status in the Amulet Scene for the fact that this was the temple of Luang Por Parn, Master Wicha holder of making famous Tiger Tooth and Carved Tiger amulets, whose amulets are now of the 'Maha Sethee' Millionaire master Class.
The tiger amulets of Luang Por Sai and Luang Por Nok, are also Master Class Amulets of Ultimate Status, and differ only by the fact that they are from Antecesors of the Great Luang Por Parn, and are also still to be found available once in a while, which is almost no longer the case with the amulets of Luang Por Parn, due to their extremely elevated price, and the fact that their owners rarely wish to part with them.

Temple:Wat Bang Hia
Year of Issue:
Somewhere between 2490 - 2510 BE
Maker of Amulet:Luang Por Say
Weight:30 grams
Recommended Uses:Protection, Commanding Power, Status, Promotion, Influence, Business, Anti Black Magick
Size:3.2 Inches
Encasement Options
Waterproof Casing (Free Offer with this Amulet) (0) Without Casing (0)