This list of Buddhist Guru Master monks will auto-update each time we add a new Master. Click each link in the list to view the amulets and read about each Guru Monk

External Pages
---
Khiaw Suea Tiger Tooth Amulet - Luang Por Parn Wat Bang Hia (2368 - 2453 BE) - Kong Grapan Chadtri Maha Amnaj Talismanic Amulet of Master Class Status
02754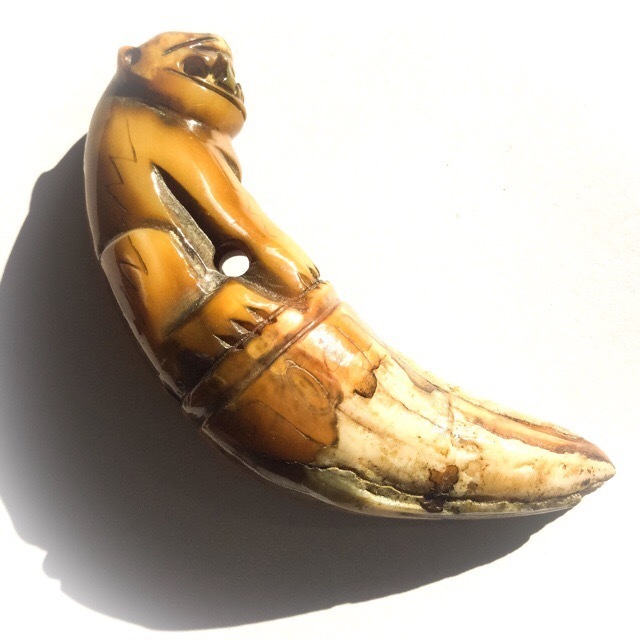 Khiaw Suea Kroeng Jarn Mer Sacred Tiger Tooth Amulet, with hand inscription by the Great Luang Por Parn of Wat Klong Dan Previously 'Wat Bang Hia') - Kong Grapan Chadtri Maha Amnaj Talismanic Amulet of Master Class Status.
The amulet has a beautiful Patina from aging through the many decades iof time that have passed, and thorugh contact with the skin of devotees, and is a most pristine example of a Khiaw suea Kroeng as could be desired for.
Luang Por Parn is arguably the number one Master Gaeji Ajarn of all Living Memory when it comes to Wicha Khiaw Suea. Many Masters hold a high status for carved Khiaw Suea, but nobody in living memory has attained the same status as Luang Por Parn, except his famous apprentice, Luang Por Nok, of Wat Sangkasi.
Khiaw Suea are full of Maha Amnaj, Kong Grapan Chadtri and Metta Mahaniyom-Maha Sanaeh Magick, and possess Anti Black Magick Forces in their very nature. An excellent Status Increase Talisman to Impose your Superiority and Status and Rank over others, and to protect you from deadly Dangers and Weaponry, as well as to Increase Seductive Charm and Chances of Promotion. The temple of Wat Kong Dan (Wat Bang Hia), is of course a World famous Historical Temple of Monumental Status in the Amulet Scene for the fact that this was the temple of Luang Por Parn, Master Wicha holder of making famous Tiger Tooth and Carved Tiger amulets, whose amulets are now of the 'Maha Sethee' Master Class, highly favored and collected by the wealthy collector, which has caused these amulets to become amongst the most expensive of their genre.
The tiger teeth of Luang Por Parn are perhaps the most sought after and rare of all Tiger Tooth amulets even more so than those of his predecessor Luang Por Ruean (also of Wat Bang Hia), especially those which are of the 'Suea Kroeng' tiger (large male tiger). Some circles of collectors may charge as much as 50,000$ for one, as can be seen in the below news article from the newspaper 'Kom Chad Leuk'.
However, we wish to dispose of such exaggerated prices, which are indeed seen to be perpetuated, and certain marketplaces do continue to declare these prices, and get them from rich millionaires. But we do not pertain to such practices of price manipulation at such exaggerated levels, and maintain a realistic approach based on our ability to discover and obtain such items of authenticity at reasonable affordable prices.
Such prices are manipulated and highly exaggerated, despite their continued success in maintaining the myth of mega millionaire price tags. A tiger tooth from Luang Por Parn is indeed expensive, as are all tiger teeth from olden days masters, but not as expensive as such circles of aficionados like to insinuate.
Many people think that Luang Por Parn of Wat Klong Dan is a different Master to the Luang Por Parn of Wat bang Hia, but this is a Myth, that is perpetuated by people's ignorance of the fact, that wat bang Hia, in Bang Bor, Samut Prakarn Province, is a different temple to the temple of Wat Klong Dan. The truth is however, that the word 'Hia' which means both 'monitor lizard' (which is the true reason for the temple being named Wat bang Hia, due to a lot of Monotor Lizards being around in those days), also is a swear word, meaning 'very bad person'. Because the name of the temple of Wat Bang Hia was seen as Inauspicous to some people's ears, it was changed to 'Wat Klong Dan'
This is why much confusion has occurred with those who have not studied the Dtamra of Luang Por Parn and related Masters of this Temple, may believe there are two Masters famous for Tiger Teeth both named Luang Por Parn, tow Masters famous for tiger teeth named Luang Por Say, for they are both sometimes stated to be of 'Wat Bang Hia, and sometimes as coming from 'Wat Klong Dan'
Luang Por Parn was one of the Great Master Guru Monks of his Era (2368 - 2543 BE), and the originator of the Wicha for Tiger Amulet empowerment of this Lineage, using the Wicha of Wat Bang Hia.
Size; 2.6 Inches Long
Wat Bang Hia is of course a World famous Historical Temple of Monumental Status in the Amulet Scene for the fact that this was the temple of Luang Por Parn, Master Wicha holder of making famous Tiger Tooth and Carved Tiger amulets, whose amulets are now of the 'Maha Sethee' Millionaire master Class.

It was the Great Luang Por Parn who was the Mentor and Teacher in Wicha to Luang Por Nok of Wat Sangkasi, who is a Classic Olden Days Master of Legendary Status in his own right, and whose Tiger Teeth Talismans also carry immense Serm Baramee and Maha Amnaj Power.

Luang Por Nok practiced the Mastery of Wicha Saiyasart Buddha Sastra Occult magic under Luang Por Parn himself. He fast became Luang Por's most elite apprentice for his fast wittedness, ease of learning and good memory.
Because of this he recieved the teachings and attained Mastery of the methods of Luang Por Parn in a very short space of time, and was soon considered to have a level of Mastery and Understanding that Thai people call 'Dtaek Chan', which means to Master a subject to the poin where one excels above all other practitioners.
Luang Por Nok often followed Luang Por Parn out into the forest when he would wander on Tudong Practice. This is where Luang Por Parn revealed and taught the Master Wicha of the 'Khiaw Suea' Tiger tooth amulet. The Wicha of Luang Por Nok became so powerful, because he was receiving Wicha from perhaps the greatest Master in Living Memory for Tiger Tooth Talismans.
One can say that Khiaw Suea from Luang Por Parn and from his Apprentice, the Great Luang Por Nok, can be considered the top preferred Masters for this kind of Talismanic Charm. They are both immensely rare, and most often completely beyond availability. We pride ourself in our diligent quest to search far and wide to find the remaining exhibits around the country, to present them for your admiration and study, and to place some available to those who wish to possess one.
Luckily we are patient and vigilant, and try our best to seek both beautiful, sacred and authentic example that are also affordable. It can not happen very often, for good things are hard to find, and far and few between. The Powers of the Tiger Tooth are reputably said to possess Kong Grapan Chadtri, Klaew Klaad, and Maha Amnaj (commanding power and influence), as well as powerful Maha Sanaeh attraction power and Metta Mahaniyom Mercy Charm.
The hand inscription is inimitably inscribed in the handwriting of Luang Por Say, and hence easily recognizable for its style of Agkhara lettering, noticeabe for its 'lightning flash' like Agkhara inscription, which is ubiquitously present with tiger teeth of Luang Por Parn.

The tooth can be encased if desired in waterproof casing for attachment as a pendant. One could say that this exhibit is an extremely pristine and beautiful example of Khiaw Suea Kroeng, with most beautiful features, and highly visible inscription, revealing the authentic evidence of the hand of a preferred artisan of the great master Luang Por Parn
Kata Hua Jai Suea Maha Amnaj - Incantation for the Tiger of Commanding Dominion and Power.
Gur Ru Su Gu
The yellow patina which has developed through aging on the surface of the tooth, brings character and excellence to the amulet, revealing its evident age and distinguished status, adding to the Magick of Maha Amnaj Commanding Power, Dominion and Influence in its visual effect, which is Imposing in Itself at First Glimpse.
Incantation for Tiger and Rachasri Lion amulets from the Great Luang Por Guay of Wat Kositaram
Temple:Wat Bang Hia
Year of Issue:
Circa 2450 BE
Maker of Amulet:Luang Por Parn
Weight:20 Grams
Recommended Uses:Kong Grapan Chadtri, Maha Amnaj (commanding power and influence), Klaew Klaad, Maha Sanaeh, Serm Yos, Metta Mahaniyom.
Number of Amulets Made:Luang Por Parn made each of his tiger teeth amulets as single items, empowered by his own hand.
Size of Amulet:2.5 Inches Long
Encasement Options
Waterproof Casing (free offer for this item) (0) Without Casing (0)