This list of Buddhist Guru Master monks will auto-update each time we add a new Master. Click each link in the list to view the amulets and read about each Guru Monk

External Pages
---
Khun Phaen Prai Kumarn Pim Jiw Nuea Dam 2514 BE Luang Phu Gaew & Luang Phu Tim Wat Laharn Rai
03632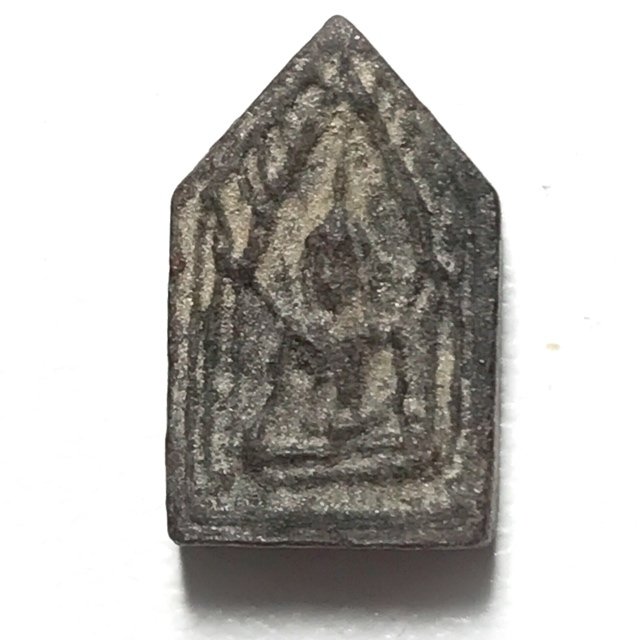 An Extremely Rare Miniature Pra Khun Phaen amulet, in Nuea Dam (Pong Bailan) made with admixture of Pure Pong Prai Kumarn Luang Phu Tim Wat Laharn Rai - Blessed by Luang Phu Tim's close accomplice Luang Phu Gaew Gesaro, and also additionally blessed by the Great Luang Phu Tim Issarigo himself. The amulets were only privately distributed, between the close Looksit, and the Sian (Amulet Appreciation Society Members), and are very rare to find amulets, of the highest esteem.
The amulet is almost completely unknown to the general public, but has been a closely guarded prized possession of the inner circles of collectors of amulets of Luang Phu Tim, and the devotees of Luang Phu Gaew Gesaro. This amulet is an absolute essential rarity that only few can have the pleasure to possess, for they are immensely difficult to find under any circumstance. Miniature in size, packed with truly powerful magic of two great Masters.
Some circles call this amulet a Pra Khun Phaen Jiw Luang Phu Tim, and others call it Pra Khun Phaen Jiw Luang Phu Gaew and even 'Yord Khun Pol Jiw'. Although attributed to Luang Phu Gaew, In truth, the amulet has passed through blessings by both Masters.
This Miniature size but extremely powerful Pra Khun Phaen jJiw can be considered a perfect alternative to the Official Pra Khun Phaen Pong Prai Kumarn of Luang Phu Tim Wat Laharn Rai, and is indeed one and the same.
It was made with Luang Phu Tim's powders, and the empowerment of Luang Phu Tim for his close accomplice Luang Phu Gaew, who has been recognised for miraculous powers, and who was empowered to make the Pra Khun Phaen with the same formula as Luang Phu Tim. Luang Phu Gaew Gesaro.
Luang Phu Gaew Gesaro was a Great Master Monk and close accomplice of Luang Phu Tim Issarigo of Wat Laharn Rai , and highly famed for the miracle of multiple recorded photos from different photographers of light energy coming out of his nose, as he empowered his famous Pra Kring Gao Gaew amulets.
The miraculous photos which were taken during the famous blessing ceremony of the Pra Kring Gao Gaew, were taken during Luang Phu's traditional performance of the evocation of the 4 Elements.
Luang Phu Gaew was accomplished in Sunyatta Citta (the realisation of emptiness) which is the highest realization that empowers the Miraculous Control over the 4 elements. Indeed, all things in this Universe, including all the elements in the table of elements. The three states of Matter; Solid (earth), Liquid (Water), Vaporous (Air) and the temperature which inhabits those three states (Fire), It is Temperature, which changes the vibratory energy of the three states of matter, to cause solids to melt into liquids, and liquids to melt into vapors.
And so, even those states of matter are not stable, and are impermanent. Beyond that, lies tha fact that all things are truly empty of any permanent inherent quality that is unchangeable. Luang Phu Gaew had received true insight into this higher truth, and the realisation of this truth, empowered him to turn the elements and their energies within material objects.
This allowed him to empower amulets in a very special way, by casing the powerful quantum energies within their subatomic structure to vibrate and emanate powers which lie beyond the perception of normal humans. The features of this Miniature Pra Khun Phaen amulet when scrutinized can be seen to possess identical properties with the Pra Khun Phaen Pong Prai Kumarn Wat Laharn Rai of Luang Phu Tim's own official editions.
Luang Phu Gaew is said to be the only monk who was repeatedly lauded by Luang Phu Tim for his attainment of the Mastery of the Elements. Luang Phu Gaew was given the honor of performing Sak Yant and also to empower the amulets of Luang Phu Tim in his stead. But this is not such a well known fact to the public, because Luang Phu Gaew did not boast about it, nor did he do it in public sight, rather, hid imself away to perform these duties for Luang Phu Tim.
Below; Luang Phu Gaew
The Wicha of Luang Phu Gaew included Metta Maha Niyom, Klaew Klaad and Kong Grapan Chadtri , and the ability to evade and escape Police. The powers of the Pra Khun Phaen Pong Prai Kumarn of Luang Phu Tim, are the most highly reputed of all Pra Khun Phaen amulets in living memory.
Towards the end of his life, Luang Phu Gaew moved from Wat Laharn Rai to stay at Wat Nong Pawa, and it was here where Luang Phu Gaew first took the stage as the main protagonist, with the creaiton of his Pra Kring Gao Gaew (Nine Crystals Medicine Buddha). This was his first official edition, after having been responsible for secretly assiting in empowering the amulets of Luang Phu Tim for so many years without revealing the fact.
Temple:Wat Laharn Rai
Maker of Amulet:Luang Phu Gaew + Luang Phu Tim
Weight:1 Gram
Recommended Uses:Maha Sanaeh, Metta Maha Niyom, Maha Lap, Klaew Klaad, Kong Grapan Chadtri
Number of Amulets Made:Unknown
Size:1 x 0.75 Cm
Encasement Options
Solid Gold Custom Casing- We will email you with a price quote according to current Gold Prices, and Invoice You after Agreement. (0) Waterproof Casing (9) Without Casing (0)