This list of Buddhist Guru Master monks will auto-update each time we add a new Master. Click each link in the list to view the amulets and read about each Guru Monk

External Pages
---
Kot Gala Mai Mee Dtaa Suea Maha Ud Hand Carved Tiger from Miniature No-Eye Coconut - Luang Por Kong - Wat Wang Sapparot
02543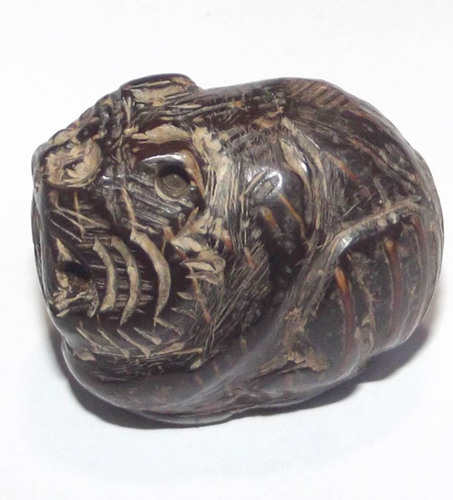 Very Special and Rare 'Kot Maprao', from the great Luang Por Kong, of Wat Wang Sapparot. The 'Kot' is made from a whole fully grown 'dwarf anomaly coconut' with 'no eyes'. The miniature no-eyed coconut has been taken to carve into a tiger, for Maha  Amnaj and Kong Grapan Chadtri protection, evasion and commanding power and status.
Luang Por Kong was famous for Palad Khik and other carved wooden Animist Charms of this variety, and the Kot Maprao is one of his rarer amulets. This can be considered a rare opportunity to obtain such an inimitable occult charm from this Great master of Yesteryear.
Be the King of your Jungle, with the Maha Amnaj power of ther Suea Maha Ud Maha Pokasap Great Wealthy treasure attractor and enclosed fortress for Protection and Invincibility. The Roar of the Tiger is heard and obeyed, and intimidating is his air towards his foes and peers (Maha Amnaj).
Very few of these tiny, but fully mature miniature dwarf anomaly coconuts were found and carved for Luang Por to Empower and Bless.
The amulet comes with a heart shaped velvet box and a photo of Luang Por with a tiger.
The carving is a work of excellence. considering the extremely durable and hard consistency of miniature coconut. The Kong Grapan power contained within the ultra-dense material is known for its immense magical resistance, strength and Maha Amnaj influence.
Luang Por Kong of Wat Wang Sapparot is an Internationally and Officially documented Master, whose amulets have graced the pages and covers of Top Thai Buddhist Amulet magazines for decades.
Temple:Wat Wang Sapparot
Maker of Amulet:Luang Por Kong
Weight:10 Grams
Recommended Uses:Maha Amnaj, Maha Pokasap, Maha Ud, Metta Mahaniyom, Serm Yos
Number of Amulets Made:Very Few
Size:3 x 2 Cm
Waterproof Casing
With Casing (9) Without Casing (0)