This list of Buddhist Guru Master monks will auto-update each time we add a new Master. Click each link in the list to view the amulets and read about each Guru Monk

External Pages
---
Locket Jumbo Ongk Kroo 2542 BE 105 Years Edition Ud Muan Sarn 108 Fang Nakprok 3 Takrut Ploi Sek Dtid Jiworn Luang Phu Hmun
03714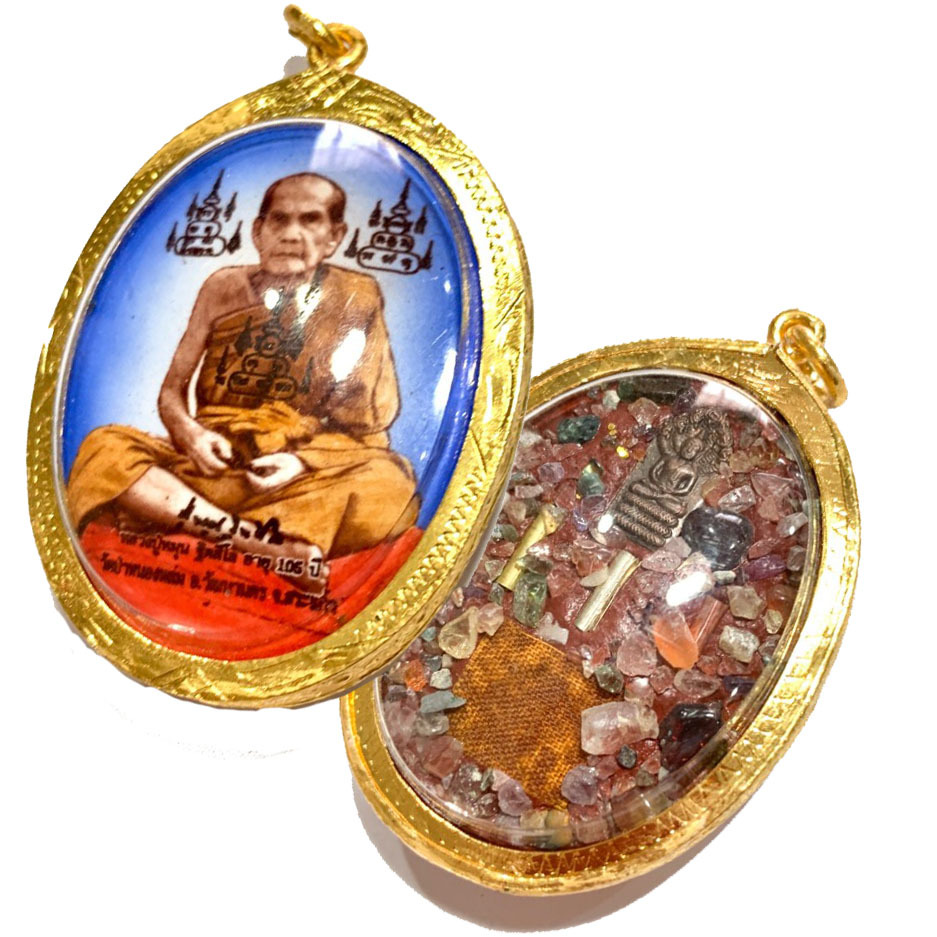 105 Years edition Jumbo size Locket Chak Fa blue version amulet, with Pra Nakprok Bai Makham Naga Throne Buddha, Ploi Sek Maha Pokasap Gemstones, 3 Takrut Sam Kasat, and Jivara Robe attached to rear face, inserted into powerful muan sarn sacred powders, from the Great Luang Phu Hmun Tidtasilo of Wat Ban Jan.
The amulets of Luang Phu Hmun are extremely popular, for they are very well known for the power of Jaroen Lap Wealth Increment, and Lucky Fortunes, as well as for their Miraculous Protective Powers.
Free registered airmail shipping worldwide is offered, as is ubiquitous with all amulets in Ancient Amulet Store. Lockets and images of the Gurus themselves, along with the Muan Sarn and empowerment within the amulet makes this kind of amulet also 'Gurunussati' (Mental Telepathic and Spiritual Connection and Remembrance / Mindfulness of the Guru).
Above; the rear face has a pra Nakrpok Bai Makham Saturday Buddha inserted with Takrut Sam Kasat (3 Kings triple Takrut forming a single spell) , sacred powders, Ploi Sek Wealth attracting gemstonesReleased in the 2546 BE 'Roi Ha Pi' 105th birthday edition of Luang Phu Hmun iin 2546 BE. This large Jumbo size locket has a plethora of sacred muan sarn ingredients inserted into the rear face, something which our proprietor Ajarn Spencer remarked that he appreciates the overly generous and 'no holds barred ' style of compressing as much and as many powerful elements into the rear face of the locket, because this is precisely the same method he himself has used before in lockets, and sees that a true lover of powerful magick will always insert the most powerful ingredients and not try to dilute them in any fashion, except for when necessary (for various reasons which require long explanation).
Luang Phu Hmun was a Maha Thaera Guru Monk of great age and who received Great reverence and Respect from the people of Tambon Jan for his Diligence and Purity in practicing the Vinaya as a Buddhist Monk.
His predictions and instructions for ceremonial empowerment of amulets after his physical death, have been followed to the letter since his passing, for he gave special instructions to inform as to when and how he would return with his spiritual presence to empower amulets posthumously. His Miracle Powers are Legendary, with so many stories of Miraculous events related to this Monk, who has seen the Reign of Five Kings in his Lifetime.
Luang Phu Hmun's amulets are now very hard to come across.His amulets are becoming very rare, and prices have risen constantly since his passing, snapped up by the inner circle of devotees and collectors, who know about the attainments of this Monk, and that there are severe reasons to believe that he may have been an Arahant. His amulets are eminent members in the annals of the Classics.
Kam Ārātanā Buchā Luang Phu Hmun Tidtasīlō
Namō Dtassa Pakawadtō Arahadtō Sammā Samputtassa Namō Dtassa Pakawadtō Arahadtō Sammā Samputtassa Namō Dtassa Pakawadtō Arahadtō Sammā Samputtassa
Luang Phu Hmun Tidtasīlō Ma A U Luang Phu Hmun Tidtasīlō U A Ma
548349294944-82043875/IMG_1687_JPG" alt="" style="display: block; margin: auto;">
Kata Bucha Luang Phu Hmun
Dtua Gū Lūk Pra Putta Ongk Krū Sit Tudong Ong Āj Mai Bpramāt Krū Pob Roi Gom Dū Jer Krū Grāb Hwai
The Kata is available as a download MP4 after purchase from the files section of your account
The word 'Hmun' means to turn and increase (revolve). Luang Phu Hmun always foretold that those who Bucha his amulets, would turn their luck and fortunes around, and increase their Business Success. He also foretold that those who Bucha his amulets will be protected from 'Dtaay Hoeng (premature deadly accidents), and that the Devas will Protect the wearer of his amulets.
The number of accounts of people who have had miraculous experiences with amulets of LP Hmun are uncountable, which is part of what has made his pantheon such a highly regarded Master-Class status pantheon, despite being from the late 20th century, and not as old as many of the great masters who are seen as his equal.
---
Bucha to Luang Phu Hmun should be performed on a Thursday, and should include offerings of; 16 Incense stick, 2 candles (lit), white flowers, or one puang malai garland. Hmak Plū Betel-Areca Nut with chewing paste (5 or 16 portions), a glass of sweet drink such as fizzy drinks, one roasted catfish, some rice or sticky rice, or fermented rice, or even steamed rice pudding.
Temple:Wat Ban Jan
Maker of Amulet:Luang Phu Hmun Tidtasilo
Weight:20 Grams
Recommended Uses:Evade Danger, Wealth Attraction, Status Increase, Invincibility, Prosperity
Size of Amulet:4 x 2,5 Cm