This list of Buddhist Guru Master monks will auto-update each time we add a new Master. Click each link in the list to view the amulets and read about each Guru Monk

External Pages
---
Locket Roop Khai Chak Fa 2519-2520 BE - Blue Guru Monk Locket Sacred Powder Filled 2 Code Stamps - Luang Phu To Wat Pradoo Chimplee
02959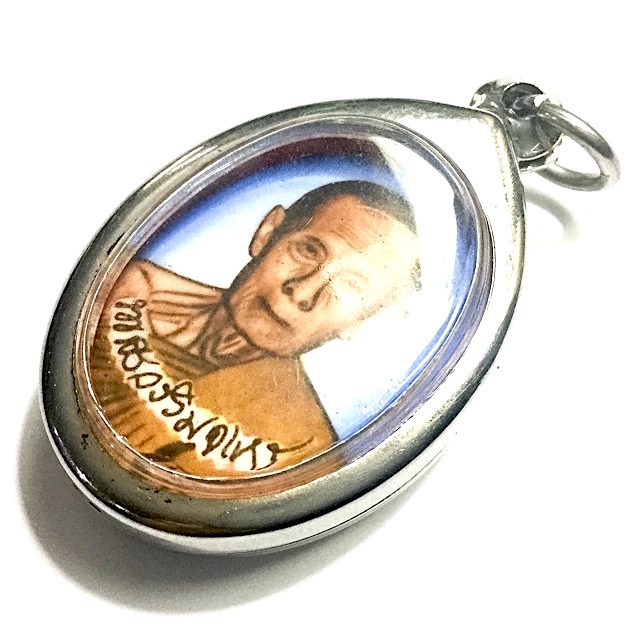 Blue Face (Chak Fa) Oval shape (Roop Khai) Guru Monk Locket of the Great Luang Phu To, of Wat Pradoo Chimplee, filled with the famously powerful Muan Sarn Sacred Puttakun Powders of Luang Phu To, with Dork Jantr and Na Metta code stamps.
The amulet was released in the years 2519 - 2520 BE, and blessed in full Buddha Abhiseka Ceremony at Wat Pradoo Chimplee, with Luang Phu To presiding over, and performing the empowerments.
A highly revered and preferred amulet of Luang Phu To. This early edition 'Chak Fa' locket (blue faced) of LP To is an Absolute rarity, and extremely sought after spiritual item.The perfect choice for aesthetic beauty, spiritual value, and magic power, and top choice for the Serious Collector.
Released in first edition in the year 2519 BE, and second edition in 2520 BE. Less than one thousand were made counting both first and second editions together, making this locket an Ultimate Essential Rarity and a Grand Masterpiece Amulet.
The locket features a half torso (Kreung Ongk) Cameo image of Luang Phu To, and the Official Dork Jantr Asterisk, and Sacred Yant Na Metta code stamp embossment on rear face. The locket is a Pim Klang medium size, measuring 3 x 2 Cm (3.5 x 2.5 Cm with Casing).
This Blesséd sacred powder filled enamelled image of Luang Phu To is one of the preferred and officially accepted amulets of the pantheon of 'Pra Niyom' Master Class amulets of this Great Master Monk.
This particular amulet is especially prized exhibit, for the presence of the official Na Metta Code stamp on rear face, which lends ease of authentication and higher level of preference (Niyom Sud). Having said this, Muan Sarn Sacred Powders in themselves, are extremely revealing of the authenticity of this amulet.
This locket is in perfect Condition, and possesses the code Na stamp embossment of LP To and Wat Pradoo on the rear face, with evident aging signs apparent when examining the Sacred Powders of the rear face, with the mass of Puttakun powders which can be seen to have risen through the Sacred Clay, to reside upon the surface of the Muan Sarn.
You can have this amulet in its original casing as seen, or take the free offer of having it removed from the original case, and re-encasing it in new waterproof casing (free offer for this amulet).
This Roop Khai Locket is most definitely a very fine acquisition as a Sacred Votive Tablet of Pra Niyom Preferred Classic Category, that has been well looked after and maintained in its original state, and is a very well-kept amulet, that is worthy of competition entry for its clear features.
Roop Tai Photos, and Enamelled Lockets are highly preferred, because this type of amulets were always the ones to recieve direct personal blessings from Luang Phu To himself, passing through his hands to bless each one. Their Sacred Power is considered to be Extremely Holy, and offers Great Protection and Opportunity for the Wearer.
A highly prized and jealously guarded amulet of the serious collector and devotee of Luang Phu To amulets.
Luang Phu To of Wat Pradoo Chimplee was one of the greatest Masters of the Last Century, and a Highly revered Monk around the whole Kingdom of Thailand. he was Respected and revered by His Majesty Our great King, who was a close friend and companion.
This Great Monk achieved his status through his Great deeds and his great Diligence in his Patipatā (Practice of Purity and Renunciation), and in his Great Attainments in Dhamma Pariyatti and Dhamma Patipatā.
Luang Phu To was born on the 27th March 2429 BE in Ban Klong Bang Noi in Samut Prakarn and passed away on 5th March 2524 BE. His many honourable awards of status reflect his great practice and diligence.
This is noticeable since beginning to study the Dhamma Vinaya at Wat Pradoo as a Samanera Novice monk, through to become the Bishop of the Ta Pra Municipality (2463 BE), to becoming awarded the charge of being the Pra Kroo Sangka Wichit for the Abbot of Wat Maha Tat in 2457 BE.
In 2463 BE, Luang Phu To became ascended to the status of Pra Kroo Sanya Badtr Chan Dtri (Third Level, tantamount to Batchelor of Arts in Dhamma). In 2497 BE, Luang Phu then became promoted to Pra Kroo Sana Badtr Chan Toe (Second Level, tantamount to a Doctorate in Dhamma), of Royal Category.
In the year 2500 BE, Luang Phu was then given the additional status of Upachaya Ordaining Officer. In the year 2506 BE, Luang Phu attained the status of Pra Kroo Sanya Badtr Chan Ek (tantamount to a Masters Degree in Dhamma).
In 2516 Luang Phu became Pra Racha Kana (Royal Appointment Sangha Comittee) and head officer of the General Affairs of Vipassana Practice.
Below: some of the various lockets released in the 1st and 2nd editions by Luang Phu To
In 2521, Luang Phu To received the status of Pra Racha Kana Chan Rach (tantamount to being an Archbishop of the Royal Decree). His Blessings are believed to possess the most powerful protective power, and to increase success and prosperity.
His amulets are both highly revered for their sacred Power of Protection and Prosperity, but also as a connection and Buddhanissati reminder of the Great Guru master, to beseech his blessings through the amulet.
Temple:Wat Pradoo Chimplee
Year of Issue:
2519 - 2520 BE
Maker of Amulet:Luang Phu To
Weight:16 Grams
Recommended Uses:Klaew Klaad, Metta Maha Niyom, Kong Grapan Chadtri, Maha Lap, Serm Duang, Serm Yos
Size of Amulet:3 x 2 Cm (Locket) Or 3.5 x 2.5 Cm (Including Casing)
Encasement Options
Solid Gold Custom Casing (Waterproo​​​​​​​f) - We will email you with a price quote according to current Gold Prices, and Invoice You after Agreement (0) Fit New Waterproof Casing (Free Offer) (0) With Original Steel Casing (0) Without Casing (0)