This list of Buddhist Guru Master monks will auto-update each time we add a new Master. Click each link in the list to view the amulets and read about each Guru Monk

External Pages
---
Locket Roop Tai Hlang Takrut Sam Kasat - Luang Phu Klueab - Wat Nong Gradee
02899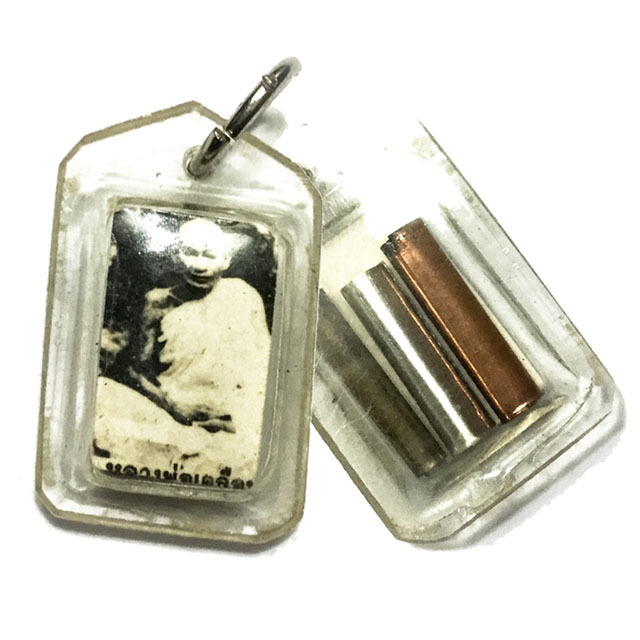 Miniature Roop Tai Blessed Photograph of the Great Luang Phu Klueab of Wat Nong Gradee in Utai Thani (2432 BE - 2497 BE). Luang Phu was one of the Great Masters of Utai Thani and highly respected, who made only a few editions of amulets, which are all rare, because he did not live to a very old age, and so his editions are less than other great masters of his Era, such as Luang Por Derm (Wat Nong Po), and Luang Por Ngern (Wat Bang Klan).
The front face is a photo of Luang Phu Kluea sat in meditative poise, with the rear face of the amulet appended with three Takrut scroll spells, in brass, copper and silver, known as 'Sam Kasat' which means 'Three Kings'.
Luang Phu Klueab ordained at the age of 21 at Wat Nong Dtao, with Luang Phu Sin as his Upachaya Ordaining Officer. He only remained three years at Wat Nong Dtao, whereafter he traveled to Lopburi Province to find some Kroo Ba Ajarn to learn and Master Wicha Akom Buddha Magic.
It is said that Luang Phu Klueab learned his first Wicha with Luang Por Gop of Wat Khao Salika, who was a Master of Fire Kasina Magic, said to be able to stare at an unlit candle and make it burst into flames. Luang Por Gop was visited by Luang Phu Klueab, who asked for permissions to receive his Magical Secrets. Luang Por Gop then stated that only if Luang Phu Klueab promised to never disrobe, only then would he teach him his Magick, and that if not, he would not teach him. Luang Phu Klueab then promised to never disrobe, and was accepted into the apprenticeship of Luang Por Gop.
After six years of practicing the Mastery of Luang Por Kop's Wicha, Luang Phu Klueab then travelled on Tudong solitary wandering into the Northern Lanna Regions, and met with many Masters along his way, receiving many more Magickal methods and secrets. Most of his time in the Northern Lanna Regions were not recorded in historical records, but it is said by many of the old devotees of Luang Phu Klueab that he did visit and practice with Luang Por Saeng of Wat Pha Cha.
After Luang Phu Klueab returned from the North, he stopped at Wat Nong Gradee, which began to be built in 2431 BE, and was inaugurated officially as a temple in 2468 BE, to serve under Luang Por Glam. however, after a short time though, Luang Por Glam passed away, and the local devotees of Wat Nong Gradee asked Luang Phu Klueab to continue as the new Abbot.
Once Luang Phu Klueab took over, he quickly developed the temple facilities on a grand scale, building a Sala Bprian Utility Hall, and a new Uposatha Shrine Room. which was inaugurated with the burying of the Look Nimit Arahant Ball in the year 2470 BE. Luang Por Klueab lived a further 27 years as Abbot until his passing in the year 2497 BE, at the young age of 66, in his 45th year of Ordained life as a monk, after spending almost all of his life in robes since the age of 21.
Some of the few bur rare and very famous amulets of Luang Phu Klueab which are known are is Takrut Tong Fa Badtr, and Takrut Dtakua Tone, his Red or White Pha Yant cloths which had the Yant Mongkut Pra Putta Jao Buddha's Crown Yantra, with hand inscriptions from Luang Phu Klueab.
Wat Nong Gradee also inaugurated a special Memorial Edition of amulets devoted to and invoking Luang Phu Klueab in the year 2515 BE with Luang Por Samai performing the invocation of the spirit of Luang Phu Klueab, which became a very famous (and now very difficult to find) edition, because of some miraculous and unexplainable occurrences which happened during the night of the Buddha Abhiseka ceremony.
The Ceremony was accompanied by a constant rain out of season, with strange thunderous sounds throughout the whole day and night of the long ceremony, which was performed throughout the day and night. A strange occurrence was that at the end of the ceremony all the bottles of liquor from all of the local shops were found to have somehow appeared on the lawn of the temple, of their own accord in their hundreds.
Temple:Wat Tap Tan Nong Gradee
Weight:2 Grams
Recommended Uses:Klaew Klaad, Metta Maha Niyom, Serm Duang
Number of Amulets Made:Unknown
Size of Amulet:1.5 x 1 Cm