This list of Buddhist Guru Master monks will auto-update each time we add a new Master. Click each link in the list to view the amulets and read about each Guru Monk

External Pages
---
Locket Yant In Ma Saep Nang+ Takrut Gao Gum 9 Takrut Scrolls Spellbound with Daay Akom Cords - Kroo Ba Wang - Wat Ban Den
03066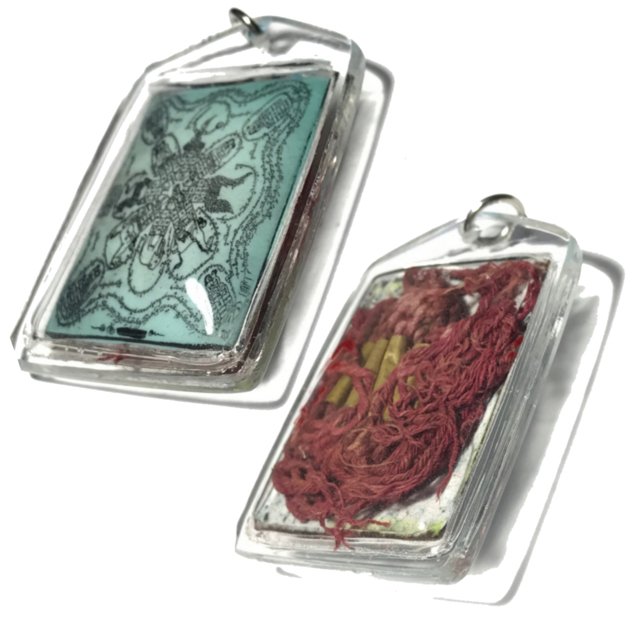 Extremely rare combination of 'Krueang Rang Lanna' , composed of a Sacred Locket In Koo Ma Saep Nang, which has been encased together with the Sacred Lanna Takrut 9 Gum, of Kroo Ba Wang (Wat Ban Den). The Locket features a Sacred Lanna Yantra composing a Pantheon of Animist Devas and Himapant Animal, and Mythical Beings.
The quartals of the Yant are watched over by In Koo Devas (entwined Yab-Yum lovers). The In Koo are seated upon thrones of Magic Squares with Lanna Agkhara Inscriptions. In the center of the Yant, Eight Deities guard and cast spells to the eight directions, all seated upon a throne of Magic Yantra squares.
Two In Koo, and two In Ma Saep Nang Devas are seated upon each of the four diagonal thrones, with the other four points ruled over by (from top in clockwise direction); 1. Taep Payatorn, 2. Oaya Hongs (Hongsa Himapant Swan), 3. Chang Silawa (White Elephant), 4. Paya Rachasri Himapant Lion. Nine Yantra Scroll Spells on Red Cheak Akom Sorceror's Spellbinding Cords, from Olden Days Lanna Guru Master Monk, Kroo Ba Wang, of Wat Ban Den, are affixed to the rear face of the locket.
The Takrut is affixed with the intention to radiate its power outwards through the Yantra on the front face of the locket, to focus and amplify the power of Maha Sanaeh Metta Maha Niyom, and to increase the Kama Sutra Effect, to add more sensual attraction to the power emanating from Kroo Ba Wang's famous Takrut Gao Gum.
The Takrut Gao Gum is a Legendary Amulet of the Lanna Tradition of Amulets, and holds the status of being one of the most famous Lanna Amulets, from one of the most Famous and Revered Lanna Guru Monks of the last Century. The full Biography and many of the other amulets of Kroo Ba Wang and the Great Thai Lanna Masters, are covered in Ajarn Spencer Littlewood's E-Publication ' The Book of Thai Lanna Sorcery".
About In Ma Saep Nang Deva
There is a Fable that there was once a family who had a very beautiful daughter. This family reared horses for a living, and their horses were famous for their incredible beauty. The daughter took care of the horses every day until one day she felt intense desire for the horse she had become attached to, and consummated her desires with the horse (had sex with it).
When the family found out about the event, they were incredibly offended and angry, and they killed the horse which the daughter had been caring for and had sex with. The daughter heard of this, and became so sad, that she died of a broken heart, from sorrow for loss of her horse and lover. The ancient Kroo Ba Ajarns of Old believed that this particular horse had an incredible power of Maha Sanaeh (charm and attraction).
So strong indeed, that even a Human Woman could fall in love with it and allow it to have sexual contact. For this reason the In Ma Saep Nang is an extremely powerful love charm, and that whoever carries it will certainly have the charming effect on others around him or her.
Kroo Ba Wang - Luang Phu Kroo Ba Wang is Legendary for his Maha Sanaeh Magic, was one of the most famous of the Northern Lanna Guru Masters of the Olden Days. Kroo Ba Wang's Magic is highly preferred for his In Koo and In Ma Saep Nang amulets, as well as his famous Takrut scroll, Pra Rahu, and Pha Yant Sacred Geometry Yantra Cloth Spells. Of the Pha Yant he was especially renowned for his Pha Yant Ma Saep Nang Lady-Horse images.
Luang Phu was born in 2434 BE, in the country into a family of farmers and market traders, In those days, the only way to get any schooling in the countryside was to stay in a temple and learn with the Monks, and so, at the age of nearly 9 years old, his father took him to live at the nearby temple, to learn to read and write.
After about 3 years. Luang Phu could read and write fluently enough, and so he was able to ordain into the Sangha as a Samanera Novice Monk in the year 2445 BE. Luang Phu then began to practice Khom Sanskrit Agkhara and Wicha, and within a very short period of time became so adept that he could chant every single line of Agkhara from memory with great aptitude.
After this Luang Phu Kroo Ba Wang then moved to stay at Wat Ban Hmueang Jee, which was in his home area where he was born. Luang Phu then continued to study and practice Wicha Akom and Khom Agkhara for a further three years, until he became inspired to take up the practice of Tudong Solitary Forest wandering. He travelled around the Lanna Region for many decades before building up the temple of Wat ban Den, where he then remained to serve the needs of the local Folk and to Serve Buddhism.
His many Talismanic Lanna amulets are rare prizes to find in this day and age, and are of immense sacred and historical value. The amulets of Kroo Ba Wang are one of the first to come to mind when the subject of Ancient Lanna Wicha arises, revealing their Iconic Status in the genre of Lanna Occultism.
In the year 2513, time caught up with Luang Phu, and he became ill, and began to weaken with age, and became unable to travel, and stayed for the rest of his life performing meritorious acts for the temple and the devotees, until his final passing at Wat Ban Den, in the year 2516 BE.
Kata In Ma Yern Saep Nang
Na Mo Puttaaya Na Ma Pa Ta Ma A U Idtipiso Pakawaa Arahang Samma Samputto Na Mo Puttaaya Na Cha Na Ka (3 times)
Dtae Dtii Dtu Dta Nia Mia Pia Tia
Temple:Wat Ban Den
Year of Issue:
Circa 2500 BE
Maker of Amulet:Takrut by Kroo Ba Wang Prohmaseno. Locket by Unknown Lanna Master
Weight:24 Grams
Recommended Uses:Mercy Charm, Business Success, Seduction, Kama Sutra Magic
Size of Amulet:4.3 x 3.5