This list of Buddhist Guru Master monks will auto-update each time we add a new Master. Click each link in the list to view the amulets and read about each Guru Monk

External Pages
---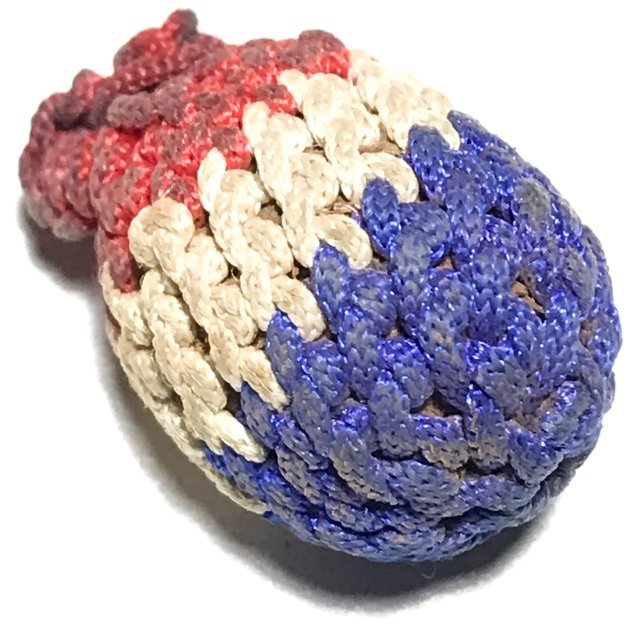 Look Om Chan Hmak Thak Chueak Tong Chart Circa 2470-80 BE Luang Por Tob Wat Chon Daen
SKU 03452
Product Details
A very rare old Look Om Chan Hmak chewed betel and areca nut amulet, wrapped in a red white and blue Chueak Tong Chart (Thai Flag) cord jacket with pendant hoop attached.
A very rare original amulet from the legendary Luang Por Tob, of Wat Chon Daen (Wat Chang Phueak). Estimated to have been made during the early - middle Era of Luang Por Tob's trajectory, between 2470 - 2480 BE, the Look Om is highly renowned for Maha Lap Lucky Fortunes, and its powerful Kong Grapan Chadtri, Klaew Klaad, and Maha Ud Protective Power.
It is said that Luang Por Tob (Pra Kroo Wichit Pachrajarn), was full of Metta and had supernatural abilities. He was a monk of the olden days, but he lived long until the age of 95, bringing him to survive into the new era, and be known not only by the folk of the first half of 20th Century, but also those of the late 20th century. He was hence a popular sorceror monk of devotees of various generations, making him one of the more eminent master Monks and amulet makers of Thai History.
His attainments were both worldly and unworldly, in helping people with their needs in daily life, and charitable projects, as well as bringing his students to lessening their suffering through the teaching of the Buddha Dhamma and his advanced practice. This has served to ensure that his memory has remained in the minds of generations of Thai Buddhists right up to the present day.
Kata Bucha Luang Por Tob Wat Chang Phueak (Wat Chon Daen)
Chant Maha Namasakara 3 times
Namō Dtassa Pakawadtō Arahadtō Sammā Samputtassa Namō Dtassa Pakawadtō Arahadtō Sammā Samputtassa Namō Dtassa Pakawadtō Arahadtō Sammā Samputtassa
Then Chant
Puttang Ārātanānang Luang Por Tob Ubpagārang Idtibpisō Tammang Ārātanānang Luang Por Tob Ubpagārang Idtibpisō Sangkang Ārātanānang Luang Por Tob Ubpagārang Idtibpisō
Kata Hua Jai Sethee Luang Por Tob (for good business and wealthy treasures)
Namō Puttāya Yatā Put Mō Na U Āgasa Āgasa U Ga Sa U Ā Sa U Ā Ga Nachā Līdti Hang Chālīdti Pali Rāchā Bpiyang Ma Ma Ākajcheuyya Ākajchāhi Ēhi Mā Mā Na Ngern Tong Hlai Mā Nachā Līdti
Pra Kata Sorb Lai Luang Por Tob (For passing exams and tests)
Na Bpōng Bpu Talu Banyā Pra Put Nam Pā Pra Tā Kid Dai Mudt Dtō Mudt Dtang Saranang Mudt Dtō
One of the more famous types of 'Krueang Rang' talismanic amulets of Luang Por Tob is the Look Om Chan Hmak Gesa, Sacred Areca-Betel Nut powder ball with Monks hairs, which was most commonly distributed with a cover wrapped in cord with a cord pendant hoop. Most would be wrapped with plain coloured cord, but some special ones were wrapped in tricoloured cords (red white and blue for the Thai Flag), which is known as 'Trairong', or 'Tong Chart' (meaning 'National Flag').
The olden days folk of Pechaburn are said to have preferred the following three types of amulets of Luang Por Tob above all others;
1. Look Om Chan Hmak
2. See Pheung Metta Balm
3. Takrut
This is because the folk of olden days noticed the effects of these amulets almost immediately after wearing them, and the effects of the amulet were highly noticeable above any doubt of coincidence.
It is said that whoever manages to possess all three of these sacred items, is blessed with extremely powerful blessings and will experience immensely luck and good fortunes.
The Look Om Chan Hmak of Luang Por Tob has many legends of miraculous events with devotees who used the Look Om, such as the story of the great Gangster Suea Kam Mee, who was a feared gunman of Hlom Sak District, who was shot with M16 by the police, and the bullets did not pierce his skin or kill him.
When Suea Kam Mee became old and gray, eventually his Look Om Luang Por Tob fell off (the cord ring broke), and he stopped wearing it. Within a few days of not wearing the Look Om he was shot again by enemies, and killed. Suea kam Mee's grandson one day decided to open the cord wrapping of Suea Kam Mee's Look Om to see what was inside, and found it to be made of Chan Hmak Betel Areca Nut with Monks hairs mixed in, with a Takrut inserted within it.
Luang Por Tob made Look Om over many years, so the Look Om of Luang Por Tob can be found from various eras. he made them in various ways with various appearances, such as bare powder balls rolled with the hand, others wrapped with cords, and even sometimes molded into the shape of Buddha amulets.
Luang Por Tob would mix his Chan Hmak chewed betel-areca with Nam Mont Holy Prayer Water, and add some monk hairs, and roll the paste up into a ball, and wrap it with various kinds of woven cords, depending on which kind of cords were available to him at the time. He would allow his devotees to help him to bind the Look Om with the cords, resulting in some people wrapping them left-handed, and others wrapping them right handed fashion. Some devotees would wrap a single weave, others double or triple weave, resulting in the Look Om of Luang Por Tob having a a large variation of appearances as far as the cord wrapping is concerned
But the actual Look Om when wrapped with cord, should have a pendant hoop attached, and fully enclosed with cord, with the weave having the appearance of a honeycomb pattern
In the mid and later era of his trajectory, Luang Por Tob began to use See Pheung to coat the Look Om with before wrapping them (and those which were not wrapped too). Some Look Om can be seen visibly to have some See Pheung leaks on the surface of the Look Om, or the cord wrap, which would indicate that the Look Om came from the mid or later era, not the early era where Luang Por did not yet use See Pheung to coat the Look Om with.
The See Pheung he would use would have to be previously empowered before using to coat the Look Om. A Ceremony was made for the See Pheung to be boiled with constant incantations. Luang Por Tob's apprentices (Luang Por Tong, Pra Giang and Samanera Nid), would assist to collect the residues of the chewed betal-areca and roll them into Look Om, or even into the shape of Buddha amulets. Luang Por Tob would only perform such a ceremony to make these amulets once every few years, because it was difficult to collect enough Muan Sarn to be able to perform the ceremony properly, and this took a long time to gather enough chewed betel-areca, and the ingredients for the See Pheung
When he would perform these ceremonies, some devotees would sit and wait for them to finish and ask for look om fresh from the ceremony (still not dry), and others would come later to ask for one after they were dried out.
The Look Om were always amongst the most popular amulets with his devotees, because they were small and easy to carry/wear, and because of their undoubtable power.
The Looksit of Luang Por Tob value the Look Om Chan Hmak very highly, because they believe that when Luang Por used to chew the betel-areca nuts with his eyes closed in meditation, that he would enter the Jhanic states of absorption. It is considered to be a fact that true empowerment of amulets is performed by the attainment of arupa jhana (formless state of absorption), and so the Looksit believe that the Look Om of Luang Por Tob were properly and poerfully blessed using the correct and powerful method of empowerment
Whoever was able to visit Luang Por Tob and ask for some of his Chan Hmak chewed betel-areca is considered extremely lucky, because Luang Por Tob would only spit it out if asked, and would otherwise always swallow it all, making the Chan Hmak a rare thing to obtain. His Looksit would sit watching him meditate and wait to ask him for some Chan Hmak, in fear of blinking in case he swallowed it before they could ask.
If Luang Por Tob would chew betel in the night time, he would sometimes spit the betel-areca out onto the cliffside near his hut, and when the sediment had accumulated enough, he would ask his apprentices to collect it and gather for later to make amulets with. This was because the number of devotees who had begun to ask for Look Om had become ten times more than the amount he was able to make during the day, and was ever increasing, so Luang Por had to look for ways to increase the amount of Chan Hmak he was able to make for the devotees.
The Look Om became famous over the years because of the large number of miraculous stories of devotees experiencing life saving miracles, with Klaew Klaad and Kong Grapan Chadtri protection involved.
Many people would travel to the temple from far afield to ask for Look Om Chan Hmak,and the number of devotees were ever increasing. So Luang Por decided to find a way to provide more to the people, and ordered his looksit to begin a new admixture that was easier to make larger quantity of, by mixing Betel-Areca with the Bai Plu leaf, the chewing cement (Poon Hmak), and mix with his Ya Chun rolling tobacco and other sacred ingredients, which were then mxed into a larg mound of sacred clay and given to Luang Por Tob on a tray to empower the sacred clay in solo.
The samaneras and other apprentice monks of Luang Por Tob would then take the tray of clay and mix it all together again in a large mortar bowl with the previous trays they had made for Luang Por to empower, and keep repeating the process until they had enough of the clay to make a complete edition with.
Then they took the final admixture and returned it to Luang Por Tob for a second empowerment to ensure the power of the Muan Sarn Clay to be as powerful as possible, They then molded the clay into balls and wrapped them with cord, to make them durable against the weather and wear and tear. Once the Look Om were all made, they were placed on a receptacle and returned once more to Luang Por Tob for a further empowerment session.
The Look Om which were not wrapped in cord were taken and dried out in the sun. The apprentices would take the still wet clay and lay them out to dry and wrap them in a piece of cloth and tie it up. This is why some of Luang Por Tob's Look Om are found wrapped inside a piece of cloth, instead of woven cord.
Some apprentices would take a piece of rattan and place the Look Om inside it, and seal the rattan with some Krang Putsa paste, or some candle wax from sacred candles, or even tree sap. Ther apprentices would roll the Chan Hmak into a tiny ball and cover it in Krang Putsa resinous paste and apply flame to the Krang Putsa to seal it around the Look Om. After some time the Krang Putsa paste ran out, so the apprentices would use Khee Pheung Borisut pure forest beesnest beeswax, which was used for making See Pheung, and heat it to make it malleable, and cover the Look Om with it They would wrap them in cords, and dip the cord wrapped Look Om in Melted beeswax to seal them up and prevent water or insects from being able to get inside.
After this, they then began to distribute the Look Om to devotees.
Luang Por Tob Tamma Banyō, or, 'Pra Kroo Pichit Pacharājarn, of Wat Chon Daen, also known as Wat Chang Phueak, or, 'the Temple of the White Elephant', in Pechaburn, was a Nationally and Internationally famous Gaeji Ajarn Buddhist Master, renowned for his merits in building important and highly required edifices for various Buddhist Temples and for the Sangha in general around the whole province of Petchaburn.
Luang Por Tob was born on third of March 2424 BE, and was the son of Mr Phueak Muang Dee, and Mrs Intr Muang Dee. His family were relatively comfortable and did not go without or suffer to any extent.
His parents gave him the name 'Tob'. When the young Tob reached the age of 16, he was taken to the temple of Wat Chang Phueak to place under the tutelage and care of Pra Ajarn Sī by his parents, to ordain as a Samanera Novice Monk. After his Ordination, Luang Por Tob studied the Dhamma Vinaya and Wityākom Occult Sciences to a highly advanced level.
In the year 2445 BE, he reached the age of 21, and was ordained as a fully fledged adult Bhikkhu in the Buddha Sasanā, at Wat Silāmōng. Pra Kroo Mueang was his Upachāya, and Pra Ajarn Parn as his Pra Gammawājājārn, and Pra Ajarn Si as his Pra Anusāwanājārn.
He was given the Ordained name of 'Tammabanyõ', which means 'He who has Great Knowledge in Dhamma'. After his ordination as a Bhikkhu, he traveled to practice Vipassanā Kammathān and Buddha Magic (Wityākom/Wicha) with Pra Ajarn Parn, and once more excelled to the point of reaching adept mastery of the various Wicha taught to him by Pra Ajarn Parn. After completing his studies of Wicha with Pra Ajarn Parn.
Luang Por Tob then went on Tudong forest wandering, to practice solitude and develop his Kammathāna practice. During the time he spent on Tudong, he met many great Masters, and learned their Magical Wicha.
During the times of Tudong, Luang Por Tob met and became very close friends with the great Luang Por Khien Tamma Ragkhidto, who was one of the Great Famous Masters of the Petchaburn Province in that Era. Luang Por Tob and Luang Por Khien became very close friends and companions.
Luang Por Tob, made merits building temples, Sala Bprian Dhamma Halls, Uposatha Shrine Rooms for temples in need, and restored many shrines, buildings and delapidated temple facilities scattered around the province.
He made countless merits both with worldly acts, and with the spiritual teachings of the Buddha-Dhamma, and the memory of his great deeds remains in the minds of the devotees to this day, and has passed into the living memory of the current generation of Devotees.
When Luang Por Tob went on Tudong to the municipality of Chon Daen, and stayed in the forest close to the locality, the local Buddhist Folk of Chon Daen came to pay reverence, and asked Luang Por Tob to build the temple of Wat pra Puttabat Khao Noi, which was at the time was only a small Samnak Songk Sangha station in the forest.
Luang Por Tob accepted and built Kuti Hut dormitories for the Monks, an Uposatha Shrine Room, a Sala Bprian, and improved the facilities of the temple, transforming it into a large and popular temple for the local community, which was then raised in official status from the status of 'Samnak Songk' and registered as a 'Wat' (fully fledged Temple).
In the year 2490, Luang Por Tob was promoted in status to be awarded the status of Upachaya Monk (ordaining officer). In 2497 BE, he recieved the Royal decree of elevated status of 'Pra Kroo Sanyabadtr. He was given the new name of Pra Kroo Wichit Pacharājārn. Luang Por Tob passed away on the 14th of March 2519 BE, on the fourth phase of the fourth lunar month, at the age of 95 years old, after 75 years of ordained life.
The current abbot of Wat Chang Phueak (Wat Chon Daen), Pra Kroo Wimol Pacharagij, who is a direct transmission lineage Looksit of Luang Por Tob, says that Luang Por Tob had given instructions before his death, that his body should not be cremated, because one day in the future, his body would become of use to the temple in some way.
So after his death, the Looksit of Luang Por Tob took his body, and placed it inside a glass coffin. The provincial offices then built a Roop Muean statue of Luang Por Tob, and a shrine area for its placement, so that Devotees could worship Luang Por Tob's image and his Relics.
In the present Era, Wat Chang Phueak (Wat Chon Daen) is a place where Buddhists from around South-East Asia and the rest of the World come in Pilgramage and to sight-see. Hundreds and Thousands of devotees visit the temple every day to pay reverence to the relics of Luang Por Tob, and beseech his blessings. Luang Por Tob's body has not deteriorated, and has calcified to become stone over the years, and remains in the same condition as it was when he was first placed into the glass coffin.
Each year, the temple performs a ritual to change his robes. The used robes which are removed, are cut up into pieces and given to the Devotees to use as articles of Faith, Good Fortune and Protection of the Blessings of Luang Por Tob.
The amulets of Luang Por Tob are amongst the most highly preferred of any master, with his Roop Lor Hnaa Farang, and the Rian Dode Rom Parachute coin, and Rian Paetch Rab coin being the most highly sought after amulets in his image, and his Takrut Tone spells being the most highly preferred of his Talismanic 'Krueang Rang' type amulets
Wadthumongkol - the Amulets of Luang Por Tob
As far as amulets are concerned, Luang Por Tob excelled in this Wicha, and created more than 200 different kinds of amulets during his trajectory as a Sorceror Monk, including Muan Sarn Sacred Powders amulets, Roop Lor Loi Ongk Statuettes, Look Om Chan Hmak, Takrut and other amulets. So many of his amulets have become world famous classics and highly renowned for their magical power. His famous Roop Lor Hnaa Farang, Roop Lor Hua Mai Kheed, and Roop Lor Awk Sir are immensely sought after by collectors and devotees of the amulet appreciation societies, and fetch very high prices these days.
His charms and Talismans are legendary for their power of Kong Grapan Chadtri, Klaew Klaad, and Maha Ud Magic. His Takrut Tone Tak Daay Cord-Bound Yantra scroll spells are the most highly sought after amulets in the 'Sian Pra' amulet collector societies, and carry heavy prices to them, and are immensely rare to find.
Save this product for later