This list of Buddhist Guru Master monks will auto-update each time we add a new Master. Click each link in the list to view the amulets and read about each Guru Monk

External Pages
---
Look Om Takror Mad Chueak Long Rak Pid Tong Sacred Wishing Ball Amulet Cord Wrapped Lacquered Gold Leaf - Luang Por Tong Bai Wat Ob Tom
03281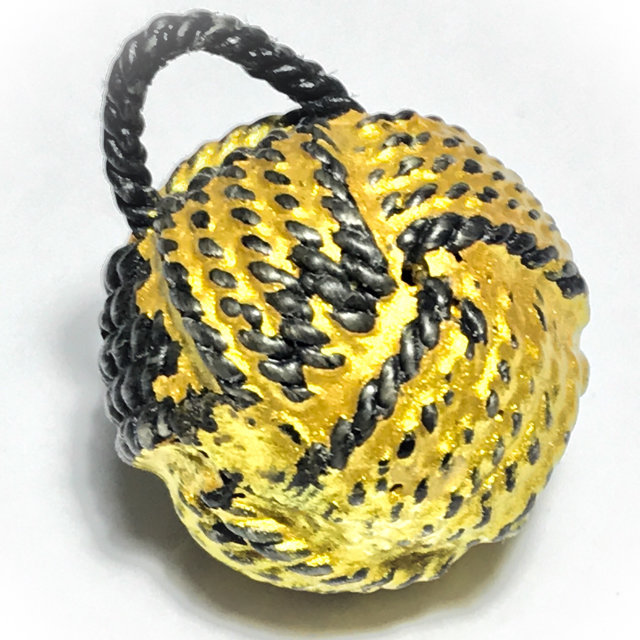 Sacred Look Om Takror Wishing Ball Amulet of Luang Por Tong Bai, deceased Gaeji Ajarn Master of Wat Ob Tom, in Ang Tong. The Look Om is diligently wrapped in protective Chueak Akom cord wrapping with a pendant hoop attached, The cord wrapped Look Om is coated in black herbal lacquer, and pure gold leaf.
This exhibit is not only a very rare artifact of this great Master of Ang Tong region, but is also especially attractive, eyecatching and well kept, making it worthy of presenting for show, for example in the Ang Tong regional Masters category of amulet competitions, or the Krueang Rang Talisman category. Wear and Bucha for Maha Lap Maha Pokasap Kong Grapan Chadtri Klaew Klaad magic, to invoke invincibility magic, wealthy fortunes, luck in games of risk, escape/evade dangers and enemies, attract helpful admirers, and improve business success.
The Wicha Look Takror contains a vast compendium of blessings, ranging from Maha Ud Pern protection, to Maha Ud Sap (Maha Pokasap) wealthy fortunes, with very strong leanings towards Klaew Klaad Evasion of dangers, and Kong Grapan Chadtri Invincibility, being the most prominent form of magic present
Luang Por Tong Bai was by born in 2453 BE in the city of Rachaburi, but was to become a Famous Gaeji Ajarn of the Ang Tong Province. His monk coins, Takrut and Palad Khik are highly revered amulets within his fold of Devotees. Luang Por was very famous for his Kong Grapan Chadtri Klaew Klaad amulets, especially after his 2511 BE edition was released, and numerous miraculous events were reported by devotees.
He ordained at the age of 20 in the year 2473 BE at Wat Khanong in Rachaburi, and remained there to study under his kba, and complete his academics. In the year 2485, he completed his 4th Bprian Academic Level in Dhamma. In the year 2493, the fold of devotees of Ob Tom township, who had become very faithful to Luang Por Tong Bai, invited him to come and be the Abbot of Wat Ob Tom.
Luang Por Tong Bai accepted and remained Abbot of the temple untilo his passing in the year 2537 BE, at the age of 85. His passing only served to increase tghe faith of devotees in his miraculous powers, because his remains did not decay, and hair and beard continues to grow from his body, which is on show in a glass coffin in his shrine at Wat Ob Tom.
Luang Por Tong Bai was known for his idiosyncrasy of refusing to ride on a motorcycle, and his insistence on traveling by tractor. He likes to go and beg for alms in the early evening to get food for giving to the cats and dogs around the temple enclave. He is very popular for giving blessings to the cars and vehicles of his devotees, and his car blessing is highly reputed to be the most extensively fulfilled.
Luang Por Tong Bai would inscribe sacred Paeng Enchanted Talcum paste, not only on the windscreen of the car (as is the case with most Masters), but performs inscriptions and blessings on the whole car, even pasting blessings onto the wheel nuts. In the end the car is completley covered in Sacred Paeng and white all over.
The blessings always took quite some time to complete, but Luang Por was tireless and diligent, his blessings being 'No Holds Barred'. The final part of his vehicle blessing, required that the devotee must drive the vehicle and bump into something in front of Luang Por Tong Bai.
Some devotees in the past refused to bump into something for shyness, but had a bump immediately after leaving the temple. So it is very important for the devoptee to complete the ritual by making a symbolic crash by gently bumping into the target given by Luang Por Tong Bai before driving out of the temple.
One of Luang Por Tong Bai's most famous displays of power has been his ability to produce geckos out of his hands. He has been seen to perform Incantations into his hand and cause flames to rise up from his palm. After his passing away, his body did not rot or decay, and is to this day even now on display in a glass coffin in the shrine. He was a revered Kroo Ba Ajarn to many Great Monks of his Era, such as Luang Por Song, and Luang Por Kasem (Wat Muang).
Luang Por Tong Bai was in himself a Devotee of Luang Por Tong, who was still alive in that time. His devotees included many members of the military and police forces, for his famous Kong Grapan Chadtri Klaew Klaad protective magic, that had become legendary from word of mouth tales of soldiers and police officers whose lives were saved by miraculous circumstances when wearing his amulets. Luang Por Tong Bai was also a friend and colleague of the great Luang Por Koon, who had great respect for each other.
Luang Por Tong Bai was one of the Important gaeji Ajarn of the Ang Tong-Singhburi Region, but is also highly revered by Devotees of Rachaburi Province, for indeed the first part of his life was spent there, and was his birthplace.
His famous Rian Roop Muean 2511 BE amulet and indeed all amulets of that year, are immensely favoured amulets of Pra Niyom category of Ang Tong Region Amulets. His Palad Khik with Gecko riding amulets are best known for their Maha Lap, Klaew Klaad, Gae Aathan and Maha Pokasap Metta Maha Niyom Maha Sanaeh Powers, which combine to bring prosperity, power of attraction, mercy charm, luck, and wealthy fortunes. Luang Por Tong Bai Passed away in the year 2537 BE.
Use the Traditional Thai Buddhist Method for Bucha;
1. Chant Maha Namasakara (3 Times)
2. Chant the Trai Soranakom (3 Times)
3. Chant Kata Aaraatanaa Pra Krueang (3 Times)
Kata Maha Namasakara
Namo Dtat-Sa Pakawa-Dto Araha-Dto Sam-Maa Sam-Put-Dtat-Sa
Namo Dtat-Sa Pakawa-Dto Araha-Dto Sam-Maa Sam-Put-Dtat-Sa
Namo Dtat-Sa Pakawa-Dto Araha-Dto Sam-Maa Sam-Put-Dtat-Sa
Trai Soranakom
Puttang Cheewidtang Yaawa Nipaanang Saranang Kajchaami

Tammang Cheewidtang Yaawa Nipaanang Saranang Kajchaami
Sangkang Cheewidtang Yaawa Nipaanang Saranang Kajchaami
Tudtiyambpi Puttang Cheewidtang Yaawa Nipaanang Saranang Kajchaami
Tudtiyambpi Tammang Cheewidtang Yaawa Nipaanang Saranang Kajchaami
Tudtiyambpi Sangkang Cheewidtang Yaawa Nipaanang Saranang Kajchaami
Dtadtiyambpi Puttang Cheewidtang Yaawa Nipaanang Saranang Kajchaami
Dtadtiyambpi Tammang Cheewidtang Yaawa Nipaanang Saranang Kajchaami
Dtadtiyambpi Sangkang Cheewidtang Yaawa Nipaanang Saranang Kajchaami
Kata Aaraatana Pra Krueang
Puttang Aaraatanaanang
Tammang Aaraatanaanang
Sangkang Aaraatanaanang
Puttang Prasittimae
Tammang Prasittimae
Sangkang Prasittimae
Temple:Wat Ob Tom
Maker of Amulet:Luang Por Tong Bai
Weight:9 Grams
Recommended Uses:Invincibility, Gambling, Business Seduction, Power of Attraciton, Protection, Evade Danger, Wealth and Treasure Accumulation
Size of Amulet:2 Cm Diameter
Encasement Options
Solid Gold Custom Casing - We will email you with a price quote according to current Gold Prices, and Invoice You after Agreement. (0) Waterproof Casing (9) None (0)