This list of Buddhist Guru Master monks will auto-update each time we add a new Master. Click each link in the list to view the amulets and read about each Guru Monk

External Pages
---
Look Om Ya Chun Sacred Tobacco Ball - Luang Por Songk - Wat Jao Fa Sala Loi Circa 2505 BE
03071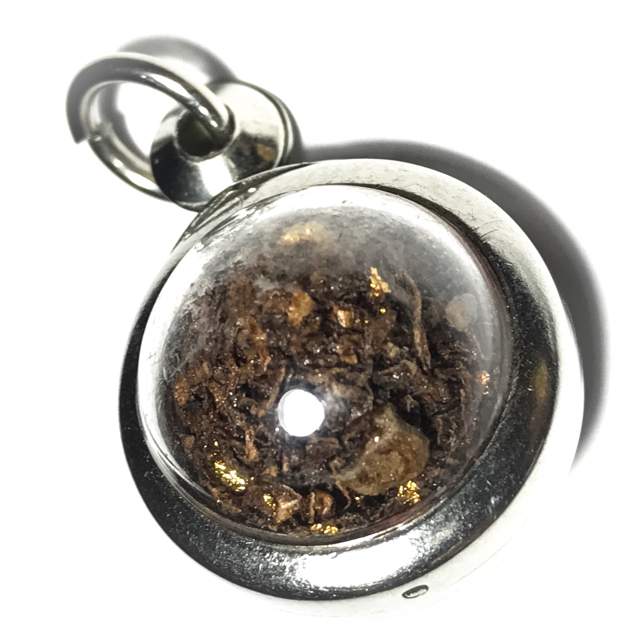 Sacred Look Om of Ya Chun Tobacco Wishing-Ball amulet of the Great Luang Por Songk Jantasaro Bhikkhu, of Wat Jao Fa Sala Loi, in Chumporn.
Luang Por Songk was a Gaeji Ajarn Master Monk of the Samatha-Vipassana method school of practice, who was highly revered both in Chumporn Province, and in Bangkok. He was very famous for being a very compassionate Monk who was always trying to help those in need, without discrimination of status or wealth.
He would give his fullest efforts when bestowing blessings on devotees, tirelessly performing his duties as a Buddhist Monk, and Representative of the Buddha. The image of Luang Por Songk, and anything of his personage, such as Civara Robe, Chewed Areca Betel leaf and nut, Tobacco, or his Hair, are said to be Sacred, and to possess the power to bestow blessings of Luang Por Songk.
Luang Por Songk was born in Ban Wisai Nuea, Amphoe Sawee, Chumporn Province on Tuesday of the Year of the Tiger 2432 BE. His Mother and father, Mr. Daeng and Mrs. Nui were farmers. When he reached the age of 18 years old, he was ordained as a Samanera Novice Monk at Wat Sawee temple, which was close to his home. Luang Por Songk studied the Dhamma Vinaya for 2 years of ordination, and then disrobed to help his aging parents on the farm.
At the coming of age of 21, Luang Por Songk then re-ordained as a fully-fledged Bhikkhu in the Buddha-Sasana, with Pra Ajarn Chern as his Upachaya Ordaining Officer, who bestowed him with the new Monk Name of 'Jantasaro Bhikkhu'. Luang Por Songk then went to reside at Wat Kuan temple for a year to continue his study of Dhamma Vinaya, until he understood the complex 227 rules of conduct of Ordained Monks.
He then left Wat Kuan to further his experience and apply his practice, and to seek a Kroo Ba Ajarn to learn the methods of Samatha and Vipassana Kammathana Meditation. In those days, there were not any Advanced Masters of this particular method of practice in the locality of Chumporn, and so Luang Por Songk went on Tudong Forest wandering, and wandered through the wilderness, jungles and mountains of the surrounding provinces, seeking to encounter a Guru in the depths of solitude.
Luang Por Songk knew that the Kammathana Vipassana Masters preferred to stay in solitude in the forests, more than in the temples, and persevered wandering iin the forests. he managed to survive all the dangers of fevers, dangerous animals of prey and poisonous beasts, and the evil spirits and denizens which inhabit enchanted parts of the forest, and came across Pra Ajarn Rod, of Wat Dto Sae.
Pra Ajarn Rod was a Master of Kammathana who had attained the Chan Samabat (Samabhati Level of Meditation), which is the highest level of Meditation Attainable, and leads to the Psychic and Miraculous Abhinya Powers arising.
Luang Por Songk offered himself as an apprentice to Pra Ajarn Rod, to improve his skills in Vipassana Kammathana, for a period of 2 years, until he became adept. Pra Ajarn Rod instructed Luang Por Songk to wander around the ancient haunted cemeteries of the forests, caves and mountains, to meditate there, and awaken the acute powers of mind, and intensify the strength of his psychic abilities.
Luang Por Songk wandered as far as the border regions of Malaysia. Luang Por Songk then turned around and wandered on foot through the wilderness areas for a long time, until he reached the Province of Petchburi (roughly 100 Kilometers distant), practicing the advanced methods taught to him by Pra Ajarn Rod. His Kammathana Abilities were now well formed and adeptly controlled, and his Psychic Powers were awakened. In those days, most of the Southern Khao Or Lineage Masters of the Provinces South of Chumporn, were inclined to follow the Tudong Vipassana Kammathana tradition method of practice, and develop psychic powers as part of their trajectory.
The Southern Khao Masters have always been famous for their Powerful Sorcery. Luang Por Songk is one of the Great Masters of that Era, who was a standard bearer of the Wicha during his Era along with other Great Names, such as the Late Luang Phu Hmun. The masters of Tudong are naturally endowed with special abilities due to ther Kammathana Practice which strengthens their minds, allowing monks of this method of practice to see the Vattha Samsara (wheel of becoming), and disentangle their minds from worldly distractions, to focus with utmost power on their meditations.
Luang Por Songk then practiced in solitude for a further 7 years waking on Tudong, or in 'Jong Grom' (pacing between two marked points), and examining the Dhamma Phenomena which arose, and faded one by one within his awareness. he learned to observe the experiences, thoughts, perceptions, feelings, and physical sensations as mere passing events, and became dispassionate as to whether an experience was pleasant or unpleasant. In this way he saw the true Dhamma of Impermanence and began to teach himself to act skilfully in that knowledge. Luang Por Songk remaiined for many years in the forest without ever leaving to visit a town at all, practicing diligently his Tudong.
Luang Por Songk spent a total of 10 years practicing in the forests using same method as was practiced in the Buddha's time, in the forest, away from the world, and even away from the temples. he practiced so hard that he began to look more like a Ruesi Hermit, with long beard and worn out robes, like a wild man of the forest, like an ancient yogic sage. One day some local folk were hunting for birds in the deepo forests of Chumporn province, and encountered Luang Por Songk performing his austerities. They invited him to inhabit a deserted empty temple they knew of nearby, and Luang Por accepted their offer.
Luang Por Songk took up the task of repairing and building the deserted tuined temple, and brought it to become the famous temple we know today as 'Wat Jao Fa Sala Loi' . During his life, he alleviated the sufferings of the local folk with many meirorious projects, and brought the ruined temple to become a living monument of Buddhism, and a place of worship and spiritual comfort for the local Devotees. His many (now Pra Niyom) highly preferred amulets have served to both finance the achievement of building the temple of Wat Jao fa sala Loi, and to protect the Devotees and Bring them Prosperity, Health, Wealth, Love and Happiness.
Luang Por Songk remained in service of Buddhism and the Local Devotees and the Temple for 54 Years until his final passing in 2526 BE. His relics (remains) are on display at the shrine of the temple of Wat Jao fa Sala Loi for his Devotees to come and pay reverence, worship and beseech Miracles from. Luang Por Songk's amulets are known for powerful Klaew Klaad protection, and Metta Maha Lap for Business Improvement, but many Devotees also believe that Luang Por Songk's amulets help increase wealth by attracting winning lottery numbers.
Luang Por Songk was known to have had a water bowl at the side of the stairs to his Kuti Hut, which he would constantly refill every day with the Holy Prayer Water he would make every night as he meditated. Devotees who knew about the water bowl next to Luang Por's Kuti being Holy Water, would come and ask to take some home for Praying to, and to drink, to heal their ailments, Luang Por Songk's Holy Water was very sacred, and he used it to heal and bring blessings to devotees constantly. It is said that the holy water of Luang Por Songk can be asked to fulfill wishes and perform miracles. There is a very famous legend that once some devotees brought their daughter who was apparently behaving as if she were possessed by a ghost to the temple. The came to the staiway to Luang Por Songk's Kuti, and waited there (for girls were not allowed up the stairs), and the father entered the Kuti to ask Luang Por for his help.
Luang Por Songk emerged from the Kuti, as the girl was struggling to get free from her relatives, who were holding her arms to prevent her from hurting herself or others. The girl was screaming and wriggling. Luang Por Songk Said 'Stop wiggling and jiggling for a monent can't you?', and the girl immediately stopped, and became still. But as Luang Por stopped talking and became silent, the girl began to scream again. One of Luang Por's Devotees, Mr. Sang, then picked up the Holy Water bowl and gave it to Luang Por Songk, who poured the water over the possessed girl. The girl deflated immediately and became still, this time permanently. Luang Por Songk went back into his Kuti Hut, and after he closed the door, the girl awoke again but was healed, and completely returned to her normal state. This exorcism with Holy water event became heard of around the country, and led to many devotees beseeching Luang Por Songk for his Holy water Blessings.
Temple:Wat Jao Fa Sala Loi
Year of Issue:
Circa 2505 BE
Maker of Amulet:Luang Por Songk Jantasaro
Weight:6 Grams
Recommended Uses:Protection, Lucky Windfalls, Mercy Charm, Good Business
Size of Amulet:1.5 Cm Diameter (2 Cm with casing)