This list of Buddhist Guru Master monks will auto-update each time we add a new Master. Click each link in the list to view the amulets and read about each Guru Monk

External Pages
---
Look Raberd Sap Fang Rae Bang Pai Sord Takrut Yant - Explosion of Wealth Grenade Spell - Luang Por Waipojana - Wat Sam Ngam 2550 BE
02690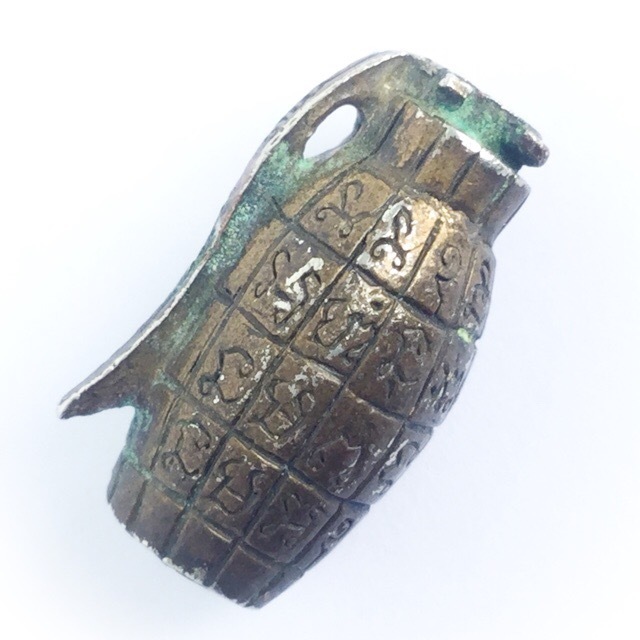 Look Raberd Sap Fang Rae Bang Pai Sord Takrut Yant - Explosion of Wealth Sacred Yantra Grenade Spell -Luang Por Waipojana - Wat Sam Ngam (Nonta Buri) 2550 BE
The Look Raberd of Luang Por Waipojana is already an extreme rarity, as well as immensely original amulet using Wicha Maha Pokasap Maha Lap. Released in 2550 BE at Wat sam Ngam in Nontaburi, the Grenade is made from Albaca Sacred Alchemical Alloy.
The Takrut Look Raberd Sap has a Sacred Alchemical leaden Alloy sealing spell with the code 'Na' Khom Agkhara inscription on the base of the grenade spell, with a Takrut Yant within its hollow interior, which is stuffed full of 'Rae Bang Pai' Lek Lai Kaya Siddhi Adamantine Substance related Sacred Elemental Muan Sarn.
This Talismanic Amulet is extreme Maha Pokasap Treasure and Wealth Increase Spell in order to lessen the sufferings of Humans, through easing the difficulties of life with wealth, and paving the way for the person who becomes wealthy, to forget the fear of giving, and be wealthy enough to slowly open up and create merits for him or herself, by being able to openly share some of the wealth to help and be kind to others, which in turn, builds positive thinking, and makes for a better world in the long run.
It is Wealth, that is for the lessening of suffering and stress that allows the heart to bloom and think kind intentions towards others. Otherwise, Wealth is something that generates greed in the hearts of Humans, and one may wonder what wealth seeking has to do with Buddhism. But in truth, if one does not follow the path of greed, and merely understands that wealth will free us from the fear of being generous to others, because we won't have to worry about having enough left over afterwards, and won;t need to get angry or afraid of giving.
Hence, Wealth makes it possible to practice generosity and advance in Dhamma Practice, and Increase merits, and subsequently, good Heavenly Blessings and Rewards. One should not seek Wealthy personal rewards for greedy reasons though, rather, merely to alleviate one's own suffering, and after, the suffering of others too, and be free to be kind to others without worrying about personal finances.
The whole surface of the Grenade is covered in Khom Agkhara syllables which are Invocations of Elemental Powers, to generate a flow of Magical Energy, and Emanate Maha Pokasap Maha Lap Power to multiply one's wealth.
The Look Raberd were release din two sizes, 2 x 1 Cm, and 3 x 1.5 Cm. Luang Por Waipojana made many previous editions of other Takrut spells in many forms before he created the Look raberd Khum sap Yantra Grenade Spell, such as Takrut Pitsamorn, Takrut Tone Dtakua, Takrut Traimas 3K, Takrut Suea Dam (Black Panther).
Anybody who would seek any of these editions of Takrut from Luang Por Waipojana, will find that they are all depleted, and only to be found in the possession of single owners, who mostly will not part with them. The Look Raberd has joined the ranks of those famous editions, and is now one of the rarest of all.
Luang Por Waipojana has always showed preference for Takrut making as ghis chosen form of Wicha for amulets, because he has Mastery over it more than other Wicha, for having learned Khom Agkhara inscriptions and Sacred Yant from two Adept Lay Sorcerors; Ajarn Puang and Ajarn Kluean.
Luang Por made the Look Raberd Wealth Grenades to release and raise funds to finish the construction of the Uposadha Shrine Room (Chapel), which was still unfinished, and to construct a 2 storey 'Sala Ruean Pak' rest area for Lay Practitioners who came to practice Dhamma and Meditation, to dedicate and offer to His Majesty the King's 80th Birthday, on 5th December 2550 BE.
The Takrut Look raberd differs from all other Takrut, because of the Rae Bang Pai Loha Dhatu Alchemical sacred metal elements which are stuffed within the interior of the Takrut.
Rae Bang Pai, is a Kaya Siddhi Elemental Substance found only in the Earth, and Caves around the Area of Bang Bua Tong, in Nontaburi. It is a Sacred Substance empowered with Metta Mahaniyom, Maha Ud, Kong Grapan Chadtri, and Klaew Klaad Power from Natural Earth Magic, even without the interference of an Adept Sorceror's added Empowerment.
The exterior of the Look raberd is taken care of with Magical Power by the inscription and invocation of Khom Agkhara spells in the form of Syllables which encode the summoning, mixing and turning of the 4 Elements for Reanimation of the Magic Spell, and the Kata Invocation of the Hua Jai Ittirit Heart Mantra of Supernatural Power.
The Look Raberd is also a 'Kring' because it rattles when shook, and can call Wealth to it, or Forewarn of Dangers, or Lucky Windfalls. You should check if you feel good or wary when it warns you, to distinguish if it is warning of Danger, or of Lucky Windfall.
The empowerment and Blessing of the Takrut Look Raberd amulets was performed in grandeur with many great masters invited to assist in the Blessing Ceremony, including; Luang Por Chalerm of Wat Prayat, Luang Por Udom of Wat Pichai Songkram, Luang Por Jamlong of Wat Chedi Daeng, Ajarn Wanna (Luang Por Nopawan) of Wat Sena Nimit (Ayuttaya), Luang Phu Phaew of Wat Kampaeng Saen, Luang Por Bun of Wat Tung Hiang, Luang Por Dtat of Wat Chai Na (Top Olden Days Deceased Master), Luang Por Lum, of Wat Samakee Dhamma, Luang Phu Yaem of Wat Takian, Luang Por Chamnan, of Wat Bang Kuti Tong, Luang Por Daeng, of Wat Rai (Pattani), Ajarn Ord of Wat Sai Mai (Famous Sak Yant Monk with World Famous Bullet Takrut Kong Grapan Chadtri Amulets), Luang Por Prasit of Wat Sai Noi, and Luang Por Waipojana himself (Abbot of Wat Sam Ngam).
In addition, it is to be noted that the amulets were taken and placed in Herbal Prai Oils and Metta Oils for Charging with Power, such as Nam Man Wan Jang-Ngang, Wan Joong Nang Wan Na Ma A U, Wan Maha Bpraab, Wan Bpraab Samutra, Wan Tipya Naedtra, and 12 different kinds of Wan Paetch, which were namely;
Paetch Na Tang, Paetcha Glab, Paetch Yai, Paetch Noi, Paetch Chompoo, Paetch Pai Toon, Paetch Narai, Paetch Ma, Paetch Nam Pheung, Paetch Hleek and Paetch Heung from 1900 Temples.
Sacred Code 'Na' Agkhara in Khom is embossed onto the Leaden Seal Spell on te base of the Grenade.
The Look Raberd were then immersed and soaked in Holy prayer Water (Nam Pra Putta Montr) which was taken from the Chanting Ceremonies of Monks from 108 Sacred Places, including from Temples of 4 Buddhist Pilgrimage Sites in India, and from Extrememly sacred Thai Temples such as Wat Pra Sri Radtana Sasadaram (Temple of Eemerald Buddha), Wat Sotorn Wora Wiharn (Luang Por Sotorn Buddha), Wat Manghala Bopit (Luang Por Mongkol Bopit Buddha Statue), Wat Pratat Doi Sutep (Chiang Mai Mountain Temple), Wat Ban Hlaem (Luang Por Wat Ban Hlaem Standing Buddha Image Temple), Wat Intr (Wat Bang Khun Prohm Nai Luang Por To Statue) Wat Panan Cherng (Luang Por To Temple in Ayuttaya), and Sacred Prayer Water from the 214th Anniversary Ceremony of Wat Suwan Bamrung Rach. Holy Water from the sacred Lakes of Sra Gaew, Sra Yom, Sra Bote and Sra Rakaa, were also used to immerse and empower.
The Look Raberd Yant is hence a Powerful talisman for both Immense Wealth Increase, Protection, and Evasion of Deadly Dangers
Use the Traditional Thai Buddhist Method for Bucha;
1. Chant Maha Namasakara (3 Times)
2. Chant the Trai Soranakom (3 Times)
3. Chant Kata Aaraatanaa Pra Krueang (3 Times)
Kata Maha Namasakara
Namo Dtat-Sa Pakawa-Dto Araha-Dto Sam-Maa Sam-Put-Dtat-Sa
Namo Dtat-Sa Pakawa-Dto Araha-Dto Sam-Maa Sam-Put-Dtat-Sa
Namo Dtat-Sa Pakawa-Dto Araha-Dto Sam-Maa Sam-Put-Dtat-Sa
Trai Soranakom
Puttang Cheewidtang Yaawa Nipaanang Saranang Kajchaami

Tammang Cheewidtang Yaawa Nipaanang Saranang Kajchaami
Sangkang Cheewidtang Yaawa Nipaanang Saranang Kajchaami
Tudtiyambpi Puttang Cheewidtang Yaawa Nipaanang Saranang Kajchaami
Tudtiyambpi Tammang Cheewidtang Yaawa Nipaanang Saranang Kajchaami
Tudtiyambpi Sangkang Cheewidtang Yaawa Nipaanang Saranang Kajchaami
Dtadtiyambpi Puttang Cheewidtang Yaawa Nipaanang Saranang Kajchaami
Dtadtiyambpi Tammang Cheewidtang Yaawa Nipaanang Saranang Kajchaami
Dtadtiyambpi Sangkang Cheewidtang Yaawa Nipaanang Saranang Kajchaami
Kata Aaraatana Pra Krueang
Puttang Aaraatanaanang
Tammang Aaraatanaanang
Sangkang Aaraatanaanang
Puttang Prasittimae
Tammang Prasittimae
Sangkang Prasittimae
Temple:Wat Sam Ngam
Maker of Amulet:Luang Por Waipojana
Weight:4 Grams
Recommended Uses:Wealthy Increase through Business, Gambling and Luck. Protection and Evade Danger. Buddhakhun Metta Mahaniyom Vlessings
Encasement Options
Waterproof Casing (9) Without Casing (0)