This list of Buddhist Guru Master monks will auto-update each time we add a new Master. Click each link in the list to view the amulets and read about each Guru Monk

External Pages
---
Nang Kwak Hlang Yant Ha - Extremely Rare Preferred Ancient Amulet by Luang Phu Tim - Wat Laharn Rai - released at Wat Pai Lom 2513 BE
02630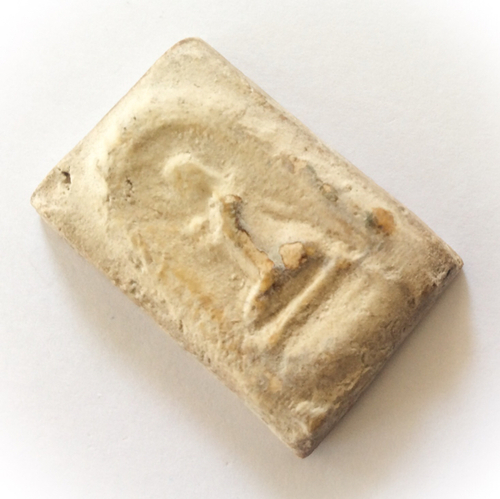 Pra Nang Kwak Hlang Yant Ha - Nuea Pong Puttakun - Pong Prai Kumarn, an extremely rare and esteemed amulet, from the great Master Luang Phu Tim, of Wat Laharn Rai - made in 2513, and released at Wat Pai Lom 2514 BE) This amulet is classifiable as a 'Pra Anuraks' (Conservation Class Model Amulet) of the Dtamra Luang Phu Tim, of Wat Laharn Rai (Rayong).
This classic competition class amulet is a well known category of competition entry, and a popular show-piece for serious collectors. Blessed and empowered by Luang Phu Tim of Wat Laharn Rai. The amulet was made in 2513, but released one year later in 2514 BE, after a second Buddha Abhiseka ceremony at Wat Pai Lom. The Nang Kwak is one of the rarer models of this edition.
Above and beyond this, the amulet is an authentic Sacred Buddhist Image, blessed and madein 2513 by Luang Phu Tim, released in 2514, in a ceremony held at Wat Pai Lom in Rayong Province (one of the Luang Phu Tim lineage temples).

This edition featured Pra Somdej amulets in white and brown powders, in various models (Pim), Pra Luang Por Dto, Pra Pong Nang Kwak, and various other Sacred Powder Amulets such as Pra Nang Paya, Pra Ha Tat, Pra Pid Ta, The Nang Kwak, and other famous Benjapakee style and Pra-Kru style amulets.
An extremely recommendable amulet for serious collectors of Luang Phu Tim amulets, and an extraordinary piece for the personal museum, for its high Puttakun value. Stands its own now against Luang Phu Tims top amulets such as the Rian Jaroen Porn and the Rian Sema Luang Phu Tim. The blessing was performed with Luang Phu Tim presiding over the empowerment and Buddha Abhiseka ceremony.
The famously powerful 'Yant Ha' (5 Dhyani Buddhas Yantra) of Luang Phu Tim, is embossed in relief into the rear face of this most classic, rare, sacred, powerful, Pra Kru amulet. This Pim is now risen to top class status and has become yet another of the most highly sought after amulets of the great Luang Phu Tim, and is considered an extremely prized acquisition.
This edition is now becoming the most sought after edition since the complete depletion of the already extreme high price range editions which came directly from Lat Laharn Rai. Such editions are now only affordable by the wealthiest of devotees and collectors, and which require a very high level of expertise in recognizing and authenticating before risking their purchase.
This edition is now expected to reach depletion within a period of a couple of years, as many collectors around the world, and especially in Malaysia and Singapore, are snapping them up with the foresight that the edition is to become a future millionaire edition, that will enter the same level of rarity and esteem as the editions which preceded it, one by one, as each edition depletes and becomes no more available, or affordable.
Containing his famous Muan Sarn Sacred Powders that are now legendary and priceless the world over. This particular exhibit has not yet been entered into competition, but is in our opinion most definitely worthy of a prizewinning status, and would easily take prominent lead in its category. This can be entered in any and all high end competitions of world class category in both Regional and National competitions.
It can stand its ground against any Pra Niyom Amulet for its individuality and Class, and would be proud to be worn by any collector of all levels, simply because of its Class, Status and Revered Master Monk who made and blessed it.
Officially catalogued and admitted into the top prize-giving competitions, this is a perfect amulet to begin on a smaller budget to enter into the High End Category of Thai Buddhist Amulet collectorship, and competition grade amulets for entry into the world of Pro-Collector Sacred Ancient Amulets of the First Class.
There are many different colored mineral derived elemental substances, which give the amulet an inimitable appearance when you examine the surface textures to find the different components of the Muan Sarn Sacred Powders within the amulet, and if present, can authenticate and confirm its validity. The amulets are made from a Muan Sarn Sacred Powders composed of a large variety of sacred clay earths, Pong Prai Kumarn, herbal pollens and powders, and Puttakun powder. Herbs and Sacred ingredients with all sorts of different blessings and powers were added to gif a complete range of blessings.
Luang Phu Tim stands amongst the top ten Guru masters of Thai Amulet History, and Hence, this amulet can only be recommended for its status, sacred value, magical power, artistic appreciation, and collectorship value.
This particular model is seen to be much more preferred than the models without the 'Yant Ha' Sacred Yantra so famously used by Luang Phu Tim on rear face, for it is believed that these models were first made at wat laharn rai by Luang Phu Tim himself and entered into the Wat pai Lom ceremony, and can be seen to possess much more Pong Prai Kumarn from Luang Phu Tim, and not only the Jinda Manee Powders he donated to Wat Pai Lom edition. In a recent auction in Thailand, this model, and indeed a very similar example as far as clarity and Pim are concerned, went for over 2400$ U.S. (70,000 Baht), as can be seen in the below screenshot.
Above; Pra Khun Phaen Prai Kumarn - Famous Amulet of Luang Phu Tim
Luang Phu Tim Issarago of Wat Laharn Rai is perhaps most famous for his Pra Khun Phaen Prai Kumarn, and his ultra powerful and now totally depleted at the temple 'Pong Prai Kumarn' powders, used in his famous Pra Khun Phaen amulets and Look Om Pong Prai Kumarn.
His famous Rian Sema coin, Jaroen Porn coin, and other amulets are amongst Thailand's most prized and Internationally Famous amulets of all History.
Kata Chanting and Bucha method for Nang Kwak Deity
What to chant? What to Offer? How to place the statue?…
Nang Gwak is one of Thailands most commonly seen Deities. Her image is given offerings and prayed to, in order to increase wealth and business prosperity. She is a Deity revered by Merchants in both India and Thailand, by both Brahman, and Buddhists alike.

Nang Gwak is the helper of all shop-owners and merchants. She is normally seen placed on a high shelf (normally a wooden or red and gold lintel, called 'Hing' in Thai) and offered "Nam Daeng" (a red syrupy drink, often used in Bucha offerings to Deities in Thai Buddhist practice). Also, Incense, and flower garlands are offered to please Nang Gwak, and bring customers and make sales.
Kata Nang Gwak is used when paying devotional merits to Nang Gwak, who is used in the place of business to increase the amount of customers and sales you may ingress. Nang Gwak is a very popular magic cloth Yantra used in most business establishments in Thailand. You can also see Nang Gwak worshiped as a statue .
How to Rever Nang Gwak
To Bucha Nang Gwak, One should use 5 incense sticks and offer flowers (preferably jasmine), red syrup drink ('Nam Daeng'). Some water, and also some sweets and rice as offerings.
Light the incense, candles, and offer the flowers and drinks. Then Say "Namo Dtassa Pakawadto Arahadto Sammaa Samputtassa" 3 times, and bow three times to Buddha before you begin chanting Kata Nang Gwak.
Kata Nang Gwak
Om Sriwichay Gangwian

Phu Jao Khao Khiaw Mii Luuk Kon Diaw Cheu Naang Gwak

Chaay Hen Chaay Rak Hying Hen Hying Tak

Tak Tuan Naa Puak Paanichaa Paa Guu Bpai Kaa Terng Mueang Maen

Guu Ja Bpai Kaa Hua Whaen Gor Dai Wan La Saen Tanaan

Guu Ja Kaa Saarapadgarn Gor Dai Doey Klong

Guu Ja Kaa Tong Mua Rai, Gor Dai Dtem Haab Piang Wan Nii Bpen Rooy

Saam Haab Ma Ruean Saam Duean Bpen Saedtii Saam Bpii Bpen Por Kaa Sampao

Pra Rasii Puu Bpen Jao Bprasit Hai Gae Luuk Kon Diaw Swaaha.
Use this Kata when you are going to sell things, or in your place of business in the morning. Here is a slow and clear pronunciation of the above text, exactly as it is written;
Temple:Wat Pai Lom
Maker of Amulet:Luang Phu Tim of Wat Laharn Rai
Weight:5 Grams
Recommended Uses:Kaa Khaay, Jerajaa, Maha Lap, Maha Pokasap.
Encasement Options
Waterproof Casing (0) Solid Gold Custom Casing (We will Email You with a Price Quote) (0) Without Casing (0)