This list of Buddhist Guru Master monks will auto-update each time we add a new Master. Click each link in the list to view the amulets and read about each Guru Monk

External Pages
---
Nang Kwak Supawadee Nuea Pong Nam Man Early Era Amulet - Luang Por Guay Wat Kositaram (2448 - 2522 BE)
03409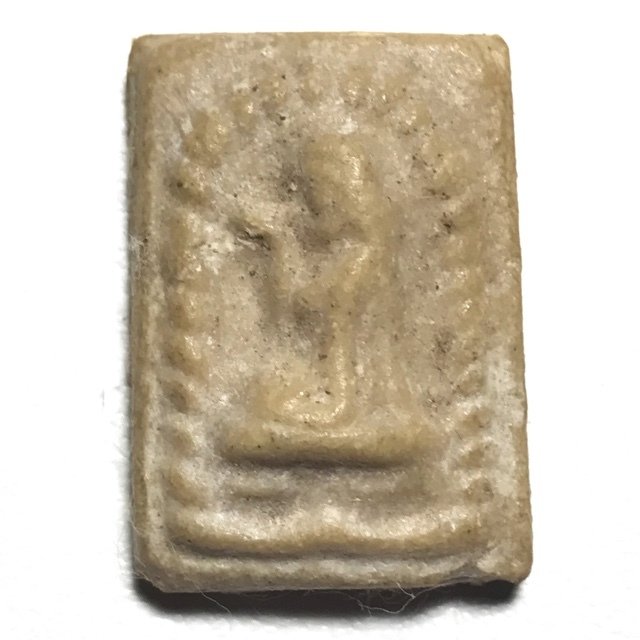 An extremely well preserved and clear example of the Pra Pong Mae Nang Kwak Nuea Pong Nam Man (Oily Pollens, and Sacred powders), 'Yuk Dton' (Early Era Amulet) from the Great Luang Por Guay, of Wat Kositaram. The amulet is estimated to have been made roughly between the years 2480 and 2497 BE, for Luang Por Guay released these amulet continuously throughout this period. This exhibit is outstanding in its clear cut features, and an excellently preserved example that is hard to find in such pristine condition
The front face of the amulet bears the image of Nang Supawadee the Brahman Merchant's daughter, who brought her family to immense success and wealthy fortunes, through her Metta Maha Niyom Maha Sanaeh Maha Lap Maha Pokasap power, which she had received as a blessing through having listened to Dhamma sermons from two great Arahants. Nang Kwak is waving and beckoning customers to come to her father's market cart and buy their wares, and is successful in this endeavour, through the mercy charm and seductive aura she emanates.
Luang Por Guay's amulets have reached the highest level of respect and collectorship in their history now, and are considered to have noticeable effects that are felt be everybody who owns and wears one of his amulets. The stories of confirmation of their power are more than can be counted, and his gereat Patipata and Exceedingly Powerful applied methods of Sorcery are a large part of what attributes to their power.
His amulets are now extremely rare to find because those who already own any will never wish to part with them again, and they are hence becoming one of the rarest kind of amulets to find these days. Usuallly this happens because of specualtion by the collector scene, but in the case of Luang Por Guays amulets, it has happened primarily for their Sacred Value, much much more than for their collectorship and artistic value, which is of course also extremely high.
Luang Por Guay was famous and extremely respected for his immensely diligent and complex manner of empowering (Pluk Sek) amulets, which involved daily empowerments at various times of day namely at dawn, morning, midday, afternoon, evening and midnight.
In addition, he would perform empowerments during the various 'Reuks' (Astrological Influentian moments), to bring total coverage of protection and fortuitous blessings to all who might wear and Bucha his amulets, namely the 'Reuks Mongkol' Buddhist Auspicious alignments, the 'Reuks Jone' (Gangster Alignments) Inauspicious Alignments, and the 'Reuks Bun Paya Marn' Demonic Influential Alignments. This means that it did not matter who wore his amulets, Good people would wear them, Gangsters would wear them, anybody could wear them without loss of magical effect.
Luang Por Guay was born on 2nd of November 2448 in the year of the snake, in Soi 9, Ban Kae , Tambon Bang Khud, Sakburi, Chainat. His Patipata trajectory as a Buddhist Guru Monk is an amazing story that has enchanted Buddhist Folk to become his devoted followers all around Thailand, for his obvious extreme dedication to high empowerment methods using Occult Buddha Magic to create extremely powerful Sacred Amulets. He was also a Grand Master of Sak Yant Tattoos, which were highly reputed for their Kong Grapan Power.
Read about the Legend of Nang Kwak
Kata Chanting and Bucha method for Nang Kwak Deity
What to chant? What to Offer? How to place the statue?…


Nang Kwak is one of Thailands most commonly seen Deities. Her image is given offerings and prayed to, in order to increase wealth and business prosperity. She is a Deity revered by Merchants in both India and Thailand, by both Brahman, and Buddhists alike. Nang Gwak is the helper of all shop-owners and merchants. She is normally seen placed on a high shelf (normally a wooden or red and gold lintel, called 'Hing' in Thai) and offered "Nam Daeng" (a red syrupy drink, often used in Bucha offerings to Deities in Thai Buddhist practice). Also, Incense, and flower garlands are offered to please Nang Gwak, and bring customers and make sales.
Kata Nang Gwak is used when paying devotional merits to Nang Gwak, who is used in the place of business to increase the amount of customers and sales you may ingress. Nang Gwak is a very popular magic cloth Yantra used in most business establishments in Thailand. You can also see Nang Gwak worshiped as a statue .
How to Rever Nang Gwak
To Bucha Nang Gwak, One should use 5 incense sticks and offer flowers (preferably jasmine), red syrup drink ('Nam Daeng'). Some water, and also some sweets and rice as offerings.
Light the incense, candles, and offer the flowers and drinks. Then Say "Namo Dtassa Pakawadto Arahadto Sammaa Samputtassa" 3 times, and bow three times to Buddha before you begin chanting Kata Nang Kwak
Use this Kata when you are going to sell things, or in your place of business in the morning. The above youtube clip is a slow and clear pronunciation of the below text, exactly as it is written;
Om Sriwichay Gangwian
Phu Jao Khao Khiaw Mii Luuk Kon Diaw Cheu Naang Gwak
Chaay Hen Chaay Rak Hying Hen Hying Tak
Tak Tuan Naa Puak Paanichaa Paa Guu Bpai Kaa Terng Mueang Maen
Guu Ja Bpai Kaa Hua Whaen Gor Dai Wan La Saen Tanaan
Guu Ja Kaa Saarapadgarn Gor Dai Doey Klong
Guu Ja Kaa Tong Mua Rai, Gor Dai Dtem Haab Piang Wan Nii Bpen Rooy
Saam Haab Ma Ruean Saam Duean Bpen Saedtii Saam Bpii Bpen Por Kaa Sampao
Pra Rasii Puu Bpen Jao Bprasit Hai Gae Luuk Kon Diaw Swaaha.
Luang Por Guay Passed away under miraculous circumstances on the 12th April in the year 2522 BE as foretold by himself.
Read full Biography of Luang Por Guay - Wat Kositaram
Temple:Wat Kositaram
Year of Issue:
Between 2480 - 2497 BE
Maker of Amulet:Luang Por Guay Chudtintaro
Weight:4 Grams
Recommended Uses:Metta Mahaniyom, Maha Lap, Maha Sanaeh.
Number of Amulets Made:Unknown
Size of Amulet:2.2 x 1.5 Cm
Encasement Options
Solid Gold Custom Casing - We will email you with a price quote according to current Gold Prices, and Invoice You after Agreement (0) Waterproof Casing (Free) (0) Without Casing (0)