This list of Buddhist Guru Master monks will auto-update each time we add a new Master. Click each link in the list to view the amulets and read about each Guru Monk

External Pages
---
Pae Maha Lap Khao Kwai Gae Luang Por Am 2470 BE Carved Horn Lucky Goat 3rd Prize Competition Winner Certificate Free EMS
03740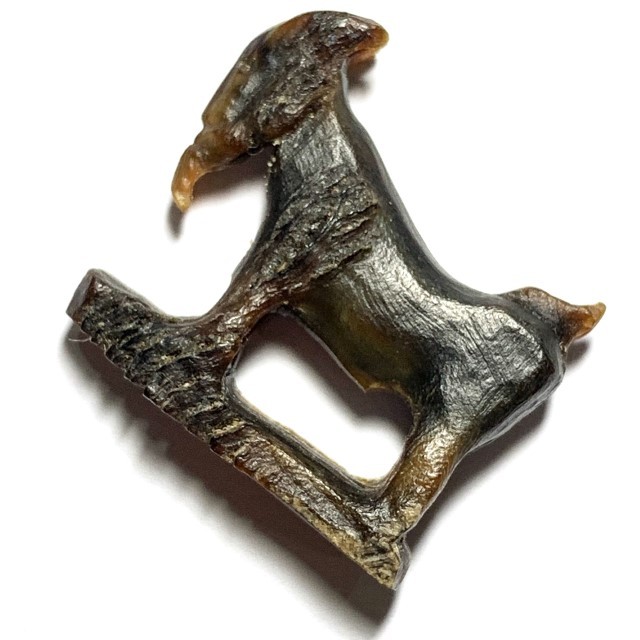 The Immortal and No.1 Lucky Goat Amulet of all time, the Pae Maha Lap Nuea Khao Kwai Fa Pha Dtaay Gae, of Luang Por Am (Wat Nong Grabork, Ban Kaay, Rayong). This hand carved Sacred Lucky Goat of LP Am, was made ubiquitously from the horn of a Buffalo that was struck by lightning in the middle of a fertile field.
The Sacred Pae Maha Lap of Luang Por Am is a centenarian amulet considered to be the number one Pae Maha Lap amulet of all time, along with those of his aprentice and subsequent abbot of Wat Nong Grabork, Luang Por Lat, as well as those of his other Looksit Luang Por Rerm of Wat Juk Gacher.

This amulet comes with certificate of authenticity with third prize winner status in competition of the Association of Amulets of Siam Thailand, and free EMS Registered Express Airmail Shipping Worldwide included.

The male Goat is known for the fact that it is able to keep a whole herd of dozens of females under his ownership, through merciful and protective influence. It is thus believed that who wears the Pae Maha Lap Khao Kwai Gae Sacred buffalo horn Goat amulets of Luang Por Am, will be an owner and controller of great possessions and wealth, with grand entourage. It must be said that although LP Am became abbot of Wat Nong Grabork in the year 2431 BE, he was already a monk for a long time before, and was making Pae Maha Lap through the Wicha he received from his own Kroo Ba Ajarn, Luang Por Dtaeng of Wat Ang Sila, a Great Master Monk who lived and practiced around 150 years Ago.

The Pae Maha Lap of Luang Por Am, was almost always made by carving a goat from 'Khao Kwai Fa Pha Dtaay', which is the horn of a buffalo which died struck by lightning in a field. It is an ancient magical belief that the horn of a lightning-struck bull or buffalo has the power of angelic beings in it, for indeed, the angelic beings of the elemental realms who control the weather, are who control these divine forces of Nature.
Luang Por Am was abbot of Wat Nong Grabork between the years 2431 to 2490 BE, being a Gaeji Ajarn of around 150 years ago, and was the Kroo Ba Ajarn teacher of many other great names of the time, such as Luang Por Rerm of Wat Juk Gacher, and Luang Por Lat of Wat Nong Grabork (his successor and apprentice in magick). The Pae Maha Lap Nuea Khao Kwai Gae of Luang Por Am, is believed to possess the power to absorb Black Magick and protect the wearer/devotee from being affected.
Below; A4 sized plasticized Certificate of Third Prize Winner and complimentary box, which comes with the Pae Maha Lap Luang Por Am

After the carving of the shape of the goat, Luang Por Am would then empower the Goats with incantations, and invocations of elemental powers and angelic beings, with Buddhist Blessings on top. Sometimes he would immerse them in aromatic sacred oils to consecrate them, mixed with herbal oils made from herbs and vines and flowers of the forest, with magical, healing, protective, and attraction powers.
Below; Luang Por Am, of Wat Nong Grabork
He would rebless the amulets again and again until he felt the amulets were completely stuffed as full with magic as possible, and unable to insert any more. The magic within the amulets was hence always filled to the brim before distribution.
Luang Por Am, or 'Pra Kroo Taep Sittaa, was one of the Great Masters of the Central-Eastern Provinces during His Era, and the ex abbot of Wat Nong Grabork from 2431 - 2490 BE. He was respected and revered all around the Province, and had Great fame around the Nation for his Powerful Wicha Pae Maha Lap.
During his lifetime he became known as the top Master for carved Lucky Goat amulets. What is less known, and is of immense interest to investigate the lineage Wicha of the Pae Maha Lap, is the fact that Luang Por Am himself received this Wicha from Luang Por Dtaeng of Wat Ang Sila.
Temple:Wat Nong Grabork
Year of Issue:
Circa 2470 BE
Maker of Amulet:Luang Por Am Gesaro (Abbot from 2431-2490 BE)
Weight:3 Grams (100 Grams Packed with certificate, box and casing)
Recommended Uses:Anti Bl;ack Magic, Survival Against All Odds, Lucky Fortunes, Gambling, Protection, Good Business, Dominate the Opposite Sex.
Number of Amulets Made:Unknown
Size of Amulet:3 x2 Cm
Material:Nuea Khao Kwai Fa Pha Dtaay Gae (Sacred Buffalo Horn from a Buffalo Strick dead by Lightning in the centre of a Fertile Field.
Additional Info:One of the rarest and most highly sought after Animist amulets of all, and considered the number one Carved Goat amulet of All Time
Encasement Options
Solid Gold Waterproof Custom Casing - We will email you with a price quote, and invoice you per Paypal if in Agreement (0) Waterproof Casing (Free Offer) (0) None (0)