This list of Buddhist Guru Master monks will auto-update each time we add a new Master. Click each link in the list to view the amulets and read about each Guru Monk

External Pages
---
Palad Khik Mai Kheuy Dtaay Prai Sacred Lingam 5.8 Cm Hand Carved Holy Prai Deva Treewood - Luang Phu Maekh Wat Lam Gradan
03015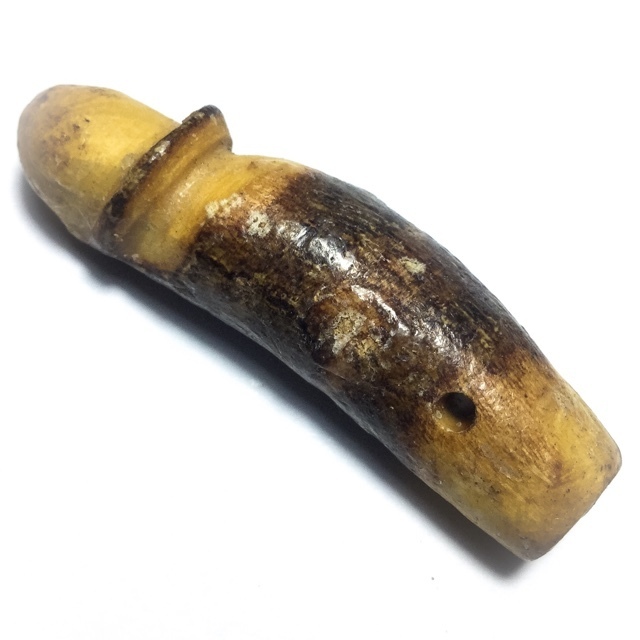 The amazing Palad Khik of Luang Phu Maekh, of Wat Lam Gradan (Minburi), is carved from Mai Kheuy Dtaay Prai. Local Devotees consider the Palad Khik Mai Kheuy Dtaay of Luang Phu Maek to be extremely sacred. This Palad Khik Measures 5.8 Cm Long, and is portable.
Luang Phu's Palad were first made by himself, and after their popularity became much greater, he would allow the local devotees to help to carve the amulets, and bless them. When devotees came to give alms at the temple, he would have a large bowl full of the Palad Khik, and allow each devotee to take one handful of Palad Khik home with them after making Merits.
Luang Phu's Palad were first made for locals to hang around the waists of their children to prevent them accidentally being bitten by cobras when playing in the fields, and it soon came to light that the children who received Palad Khik, were playing with cobras without being harmed, and even using the Palad Khik to taunt the Cobras, who would flee at the sight of the Palad Khik.
A young man of the town who wore one was shot at riding a motorcycle, but the gun did not fire the bullet, and he was unharmed. he came to the temple to recount the story, and the legend of Luang Phu Maekh's Palad Khik grew.
A lady Devotee wore the Palad Khik around her waist on a cord belt. She was walking home one night, and entered a dark small soi (alley), and was suddenly pounced upon by a thief, who, when he saw it was a woman, then began to demand that she undressed, so he could rape her.
The lady Devotee prayed to the Palad Khik of Luang Phu Maekh as she undressed, to save her from her plight anmd danger, and as she removed her dress, the robber and to-be rapist cried out in surprise when he saw the Palad Khik poking out of her dress, and, thinking the lady was a man (transvestite), ran away, leaving the lady unharmed, and with all her money and possessions intact.
Many market traders who Bucha the Palad Khik Luang Phu Maekh would use the Palad as Luang Phu had instructed to stab the wares they were selling with the Palad Khik in hand and chant the Kata for Luang Phu Maekh, and their sales would skyrocket.
Luang Phu Maekh's mortal remains are said to be 'Mai Nao Mai Bpueay' which means that the corpse does not rot, without any mummification.
This is seen as a miracle of Arahantship by devotees.. Luang Phu Maekh was known for his direct speech which did not beat about the nbush, but also for his great truthfulness of speech, and open hearted honesty.
His Palad Khik is known for its power to ward off the dangers of poisonous beasts such as snakes and deadly insects, as well as for its Kaa Khaay power to increase successful sales of goods.
Kata Bucha Luang Phu Maekh
Light 9 sticks of incense and call Luang Phu Maekh to you by merely calling him.. 'Phu'
Chant Maha Namsakara 3 Times;
Namō Dtassa Pakawadtō Arahadtō Sammā Samputtassa
Namō Dtassa Pakawadtō Arahadtō Sammā Samputtassa
Namō Dtassa Pakawadtō Arahadtō Sammā Samputtassa
Then Chant;
Idti Sukadtō Arahang Mēkhō Sajja Sappō Nāma Dtē Bprasitti Mē Ēhi Ahō Namō Puttāya Putta Sangmi Nachā Lidti U-Ā-Ga-Sa Mi Dtē Pā Hu Ha Dti Ahang Wantāmi Sappatā Sappa Lāpang Bprasitti Mē
Temple:Wat Lam Gradan
Maker of Amulet:Luang Phu Maekh
Weight:6.52 Grams
Recommended Uses:Kaa Khaay Good Business and Commerce, Protection against Poisonous Beasts
Size of Amulet:5.8 Cm
Encasement Options
Waterproof Casing (9) Without Casing (0)