This list of Buddhist Guru Master monks will auto-update each time we add a new Master. Click each link in the list to view the amulets and read about each Guru Monk

External Pages
---
Palad Khik Mai Koon Dtok Code 3 Niyom Jarn Mer Hand Inscriptions by Luang Phu Tim Wat Laharn Rai
03422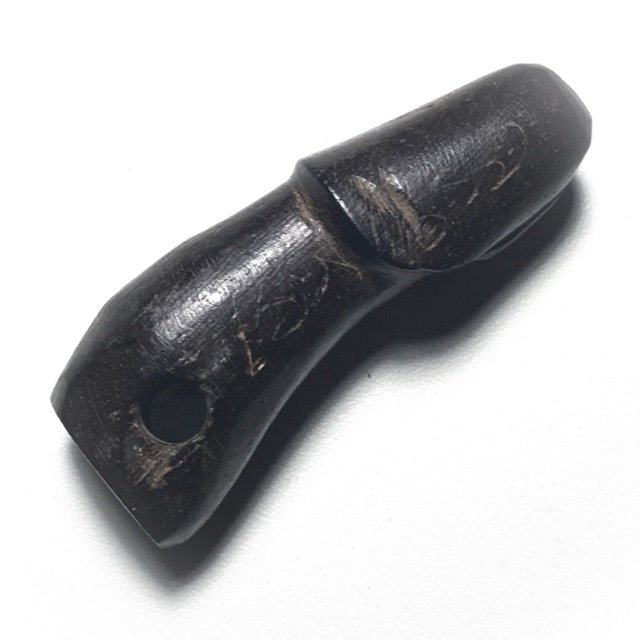 The famous Palad Khik Mai Koon Dtok Code Sam of Luang Phu Tim, carved from the Artisan Chang Pattana Bun Anugun with his code 3 stamp on the base. A most Sacred and rare exhibit, that is ever and rarer by the day, to find in the present time. The Palad Khik bears the code number 3 of the artisan Chang Patana Anugun. bears the ''Laekh sam' number 3 code stamp. The code Laekh 3 is found stamped on many amulets of Luang Phu Tim, ranging from Khun Phaen, Look Om, Palad Khik, and his Metallic Coins and other amulets, and is derived from the Laymaster Kun Pattana Bun Anugul.
It was this Artisan, who was the artisan who made the Palad Khik amulets (in a couple of different versions) for Luang Phu Tim to Bless, and whose involvement in the creation of amulet designs and models for Luang Phu to empower is related to the number 3 code. The true reason and meaning of the number 3, is argued over and speculated. It is highly possible that in truth, it is the Khom (Khmer Sanskrit) letter 'Pa', which stands for for either the word 'Putta, meaning the Buddha, or perhaps 'Pattana' the name of the artisan, which is the most probable reason. The code stamps were made to make it easy to recognise the authenticity of amulets made by Chang Pattana Anugun and Blessed by Luang Phu Tim
This Palad Khik of Luang Phu Tim, is a highly attractive and rare Sacred Amulet that would be a welcome addition to any Master Class Collector's Showcase, and more importantly, a most powerful amulet to possess for Bucha, and receive its Blessings, which History has proved time and time again to be one of the most powerful and famous makers of amulets in Thai Amulet History.
Luang Phu Tim Issarigo
Luang Phu Tim Isarago, is of course not only one of the most highly acclaimed and sought after Guru Monks for his amulets, he is the holder of the highest esteem in Thai Buddhist amulet history for Pong Prai Kumarn powders. Luang Phu Tim, is Internationally Acclaimed, for his famous Pra Khun Phaen Pong Prai Kumarn, and Look Om powder balls.
As to the classic 'Rian' type coin image amulets which have become all time favourites, and eternally, world famous classic amulets of the high end variety. His Rian Jaroen Porn, and Rian Nakprok Paed Rorp are amongst the most highly sought after coin amulets of all. The Pra Kring Chinabanchorn Medicine Buddha is amongst the most rare and highly priced amulets of the pra Kring Category in the World. His Takrut and other 'Krueang Rang' Talismanic Charms such as Palad Khik, Hanuman, and other Animist Charms are highly revered and have a large number of fanatic collectors, for they are highly valued for their power.
Since his passing, his devotees and apprenticed monks, have now become the world's top living masters for the making of Pra Khun Phaen Pong Pra Kumarn, and literally dozens of encyclopaedic books, have been printed, documenting both this great master monk, and his classic amulets of high esteem.
Buddhist monk coins with his image and others with Buddha images and other deities and imagery are amongst the most highly collected amulets and most expensive of all of the great Luang Phu Tim. He has various direct lineage apprentices, Who are continuing to progress and spread his most powerful and world-famous Wicha. Of all of these masters, perhaps the most famous, preferred, was Luang Por Sakorn, of Wat Nong Grub, who is also now deceased, and whose amulets are fast becoming just as highly sought after. In second place one could possibly estimate the great Luang Phu Sin, of Wat Laharn Yai, and in third place, possibly, Pra Ajarn Somkid, of Wat Beung Tata (Rayong).
Kata for Praying to amulets of Luang Phu Tim
Puttang Ārātanānang Tammang Ārātanānang Sangkang Ārātanānang
Na Maedtaa Ja Mahaa Raachaa Taewiraacha Budtra Dtraa Budtra Dtrii Sa Ma Na Praahm Chiitaasaa Taasii Grasadtrii Paab Raacha Idthii Naarii Sappa Aehi Much-Chi Sappang Sappa Grotang Winaasandti Bpiyo Taewa Manussaanang Bpiyo Prahmma Namudt-dtamo Bpiyo Naaka Subannaanang Bpinintriyang Namaa Mihang Wikring Karae
The Palad Khik is an Ancient Wicha, whose development can be traced right back to the Vedic Brahman Occult practices of Thousands of Years ago. Palad Khik amulets must be empowered by the repetition of incantations, which Thais call 'Kata Bucha', derived from the Devanagari 'ghata poojah'. The incantations depend on the creator's lineage in each school of traditional non-Buddhist animist magic.
Kata Bucha Palad Khik
Ganha Neha Na Ma Pa Ta
or
Ja Pa Ga Sa Na Mo Put Taa Ya Gan Ha Nae Ha Na Ma Pa Ta
Om Siwaling Sabbha Metta Sabbha Pokaa Sabbha Laapo Sabbha Tanaa, Sabbha Yasa, Sabbha Pranee Sabbha Mangalaani Bhavantume.
Maha Sanaeh for Seduction
Om Laluay Mahaa Laluay Samsip Sorng Hee Hae Hom Lorm Dtorm Kuay Khor Hai Guu Ram Ruay Pro Hua Kuay An Nii Da Daa Di Dii Duu Dii Hee Maa Kuay Maa Burut Maa Dii Sadtrii Mii Maa Swaa Home
Chant Once, 3 times, or 9 times
Temple:Wat Po Sampant + Wat Laharn Rai
Maker of Amulet:Luang Phu Tim
Recommended Uses:Business, Mercy Charm, Gambling, Seduction, Protection, Wealth Attraction
Size of Amulet:2 Cm Diameter (Look Om Only) - 3 Cm with Silver Frame
Encasement Options
Waterproof Casing (Free Offer) (0) No Casing (-30)