This list of Buddhist Guru Master monks will auto-update each time we add a new Master. Click each link in the list to view the amulets and read about each Guru Monk

External Pages
---
Paya Rachasri Phone Nuea Pong Puttakun Pasom Poon - Ultra Rare Singha Lion Amulet - Luang Phu Doo Wat Sakae
02858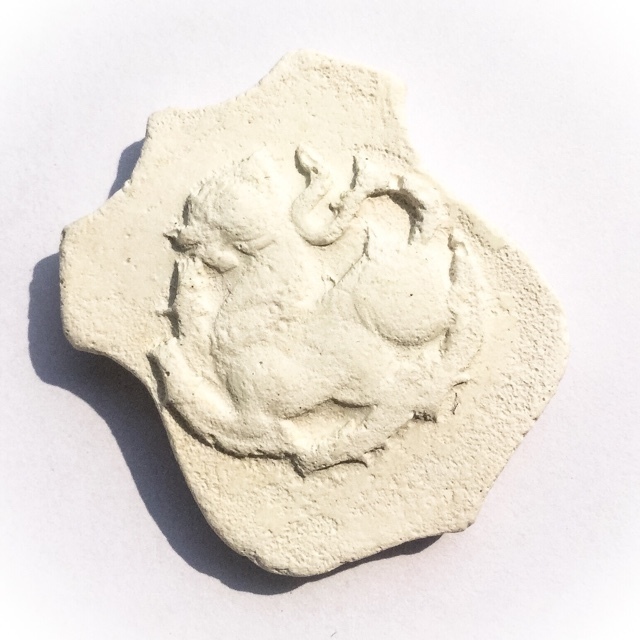 Extremely Rare model of the Grand Pantheon of amulets of the Great Guru Master of Ayuttaya, Luang Phu Doo of Wat Sakae, featuring the Rachasri Singha Lion King of the Legendary Mythical Himapant Forest, with front legs raised up in leaping posture.
The amulet is imbued with powerful Maha Amnaj Commanding Power of Dominion, and Serm Yos Status Increase, with Maha Lap for Proesperity, and Chai Chana (Victory over Enemies).
A favorite amulet of high ranking officers who need to command their minions and underlings, and those in Administrative Professions, who need to control many employees, as well as those who need to increase their influence, and status, above their present level.
The Sacred Prohmajak Brahma Chakra Disk is imprinted with the rubber ink stamp of Luang Phu Doo on the rear face of the amulet
This amulet belongs to the Most HIghly Preferred Class Amulets of Luang Phu Doo, and is extremely sacred not only because it was blessed by the Great Luang Phu Doo's own hand, but because of the presence of Pratat Buddha relic within the sacred powders.
Luang Phu Doo made a large number of different amulets during his lifetime, many of them taken from designs which he would beseech from other masters and temples, and others which he would design himself.
It is believed he made over 100 different models of amulets during his lifetime, ranging from Deities such as Brahma and Hanuman, to Guru masters such as Luang Phu Tuad, Lockets, and Buddha Images such as the Pra Somdej.
Luang Phu Doo was known to not hand out amulets to his devotees easily, and would only hand out amulets to a devotee when they would show enough faith and effort to practice Meditation, after which he would hand the devotee an amulet, and teach them how to use it for Samadhi Bhavana (practice meditation) and 'Tam Nam Montr' (make Sacred Prayer Water), to heal illnesses with and to increase Auspicious Blessings
One important fact about the sacred Powders of most of Luang Phu Doo's amulets, is that the powders have released 'Pratat' crystalline substance, which is considered to be a form of Sacred Relic, which arises through the Sacred Power imbued within the amulet. The crystalline substance grows on the surface in small beads, which are visible when studied close up.

Luang Phu Doo was a great Monk of National Importance, and of Great Purity of practice in his Patipatā, who is believed by many to have attained Arahantship. The amulets were released sometime after 2517 BE at Wat Sakae.
Luang Phu Doo Ordained in 2468 at the age of 21 Years Old in the Uposadha of Wat Sakae in Tambon Tanū, Amper Utai, Pra Nakorn Sri Ayuttaya. His Upachaya Ordaining Officer was Luang Por Glan of Wat Prayatikaram, and Luang Por Dae (Abbot of Wat Sakae), as his Pra Gammawājājarn. His pra Anusawanājarn was Luang Por Chay of Wat Klang Klong Sra Bua.
He was given the Ordained Name of 'Prohmabanyo' (Wisdom of Brahma). In his first year of Ordination, Luang Phu Doo studied the Pra Pariyatti Dhamma (Academic Concepts of Dhamma) at Wat Pradoo Song Tam (in those days it was known as 'Wat Pradoo Rong Tam). His teacher was Jao Khun Nueang (Luang Por Rod). Luang Phu Doo also practiced and developed his skill in Vipassana Kammathana practices with Luang Por Glan, and Luang Por Phao (an Adept Apprentice of Luang Por Glan).
Luang Phu also studied the Jatakas and the Dhammapada. Once he had become well studied in all these aspects of practice, he then went on to seek Wicha with other Masters. he travelled to learn under Guru masters of the Province of Supan Buri and of Sra Buri and other Provinces. Luang Phu Doo was known to revere Luang Phu Tuad with Incredible Fervor, but it was also believed by many of Luang Phu Doo's most faithful devotees, that Luang Phu Doo was also a Manifestation of Luang Por Tuad himself, reborn on Earth to make further Merits.
Luang Phu Doo was close friends with many famous masters, but one strange thiing is that, although he never met the Arahant Luang Por Kasem Khemago of the Sussaan Trailaks in Lampang, he always stated himself to be a Devote Admirer of Him and a Student of his Teachings. Luang Por Kasem in turn, was also heard to have recommended his own Devotees to go and obtain of of Luang Phu Doo's Luang Por Tuad Perd Loke amulets.
Luang Phu Doo passed away on 17th January 2533 BE at the age of 85 Years and 8 Months Old, in his 65th year of Ordained Life. He left his degotees Devastated, and his Legacy is contined by his apprentice Masters who follow is footsteps, namely; Luang Ta Ma of Wat Tham Mueang Na, Kroo Ba Bun Chum, and Luang Por Dtiw of Wat Mani Chonlakhant.
Kata for Bucha to Paya Rachasri Lion
Kata Chanting for Paya Rachasri (Singha) Lion - Maha Amnaj, Klaew Klaad, Kong Grapan Chadtri. Increase Power and Commanding Dominion, Induce Respect and Awe in others, and Conquer Your Foes.
Putta Saetho Mahaa Naathang Wan Nago Singha Naa Tagang Putta Sirasaa Dtaechaena Maara Saenaa Bparaa Cheuyyang Chayya Pakawandtu Mae
Chant the Kata holding the amulet between the palms of your hands whilst holding it to your forehead, and blow into the amulet when you finish.
You can also use this Kata before entering for job interviews or to meet with powerful people or superiors at work, as well as when you will meet with enemies or opponents. You can also blow the Kata into betel and areca leaf to chew in your mouth (if you eat it), and also can blow the Kata into face talc or oil to smear on yourself (for example to blow it into Nam Man Prai Suea Tiger oil, is of course an extremely powerful option for this particular spell, but any oil can be used, be it Nam man Prai or just massage oil, coconut oil or even after shave cologne).
Temple:Wat Sakae
Year of Issue:
Circa 2520 BE
Maker of Amulet:Luang Phu Doo
Weight:10 Grams
Recommended Uses:Maha Amnaj, Klaew Klaad, Maha Lap, Serm Yos
Number of Amulets Made:Exact Numbers Unknown (very few of this very rare model)
Size of Amulet:4 x 3.5 Cm
Encasement Options
Solid Gold Custom Casing (Waterproo​​​​​​​f) - We will email you with a price quote according to current Gold Prices, and Invoice You after Agreement (0) Waterproof Casing (9) Without Casing (0)