This list of Buddhist Guru Master monks will auto-update each time we add a new Master. Click each link in the list to view the amulets and read about each Guru Monk

External Pages
---
Pha Yant Hua Jai Ngu Jong Ang Luang Por Dto 2511 BE 1st Edition 16.5 x 13 Inches - Wat Intrawiharn Bang Khun Prohm
03256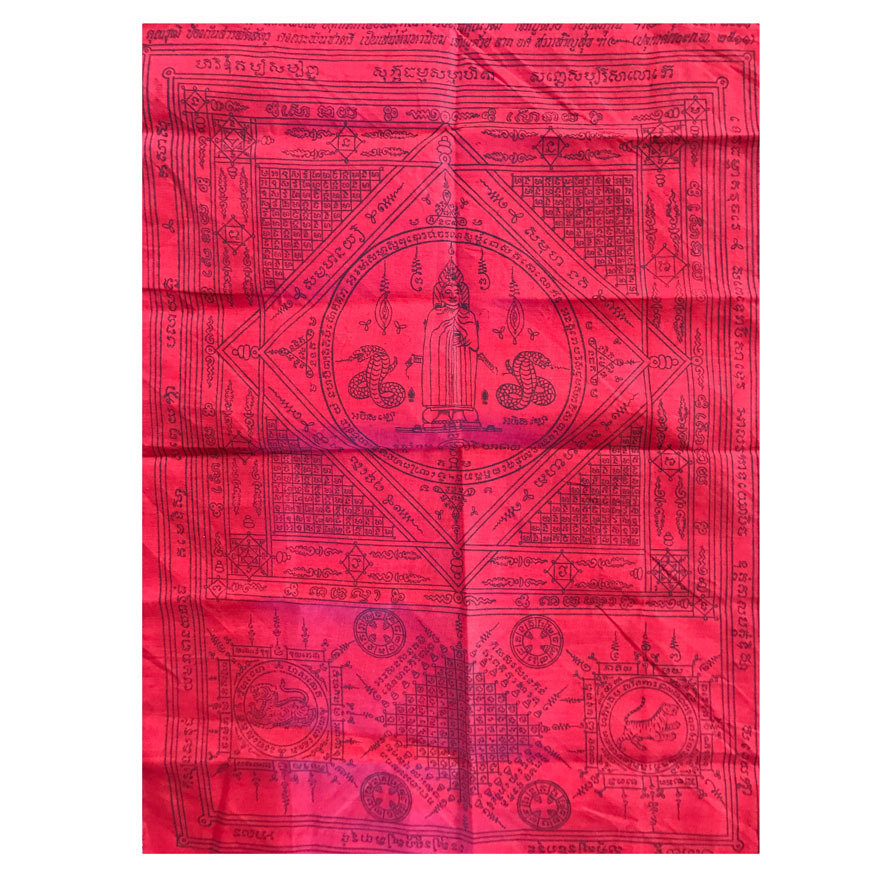 A Rare and Pristinely kept Sacred First Edition Yantra Cloth from Wat Bang Khun Prohm released in Buddha Abhiseka Blessing Ceremony on 29th February 2511 BE, the Pha Yant Hua Jai Ngu Jong Ang with the image of the Luang Por Dto Buddha of Wat Bang Khun Prohm, with the Heart of the Cobra spell, and a Grand Pantheon of Sacred Yant emblazoned around the Buddha.
The Pha Yant were blessed at Wat Bang Khun Prohm (Wat Intra Wiharn), with a grand assembly of powerful Master Monks of that Era present to lend their empowerment. The Pha Yant Hua Jai Ngu Jong Ang Luang Por Dto Cobra-Buddha Yantra is empowered for Kong Grapan Chadtri, Klaew Klaad, Protect against all Enemies, Metta Kaa Khaay Mercy Charm and Business Success, Jeroen Lap Yos (Advancement in Profession), Maha Amnaj Commandiing Status, and Maha Pokasap Wealthy Fortunes.
The Pha Yant features the image of Luang Por Dto in the central section, with a pair of Cobras guarding either side. The Yant Mongkol auspicious Yantra below surrounded by 4 Yant Duang Karma Improving spells is placed below Luang Por Dto. A Rachasri Lion and a Suea Phaen leaping tiger are placed on each bottom corner section.
Above Luang Por Dto to either side are two Yant Tong Chai Flag Yantra for Success and Victory. An immensely complex composition of the lesser pantheon of Sacred Na and Yantra, with Khom Agkhara Kata Akom Incantations are emblazoned on the remaining spaces around the major pantheon.
A classic first edition Old Yantra Cloth for Protection and Success, from one of Thailand's most Sacred and Important Buddhist Temples, whose amulets and Blessing Ceremonies are amongst the most important and Sacred, and hold National Importance.
Use the Traditional Thai Buddhist Method for Bucha;
1. Chant Maha Namasakara (3 Times)
2. Chant the Trai Soranakom (3 Times)
3. Chant Kata Aaraatanaa Pra Krueang (3 Times)
Kata Maha Namasakara
Namo Dtat-Sa Pakawa-Dto Araha-Dto Sam-Maa Sam-Put-Dtat-Sa
Namo Dtat-Sa Pakawa-Dto Araha-Dto Sam-Maa Sam-Put-Dtat-Sa
Namo Dtat-Sa Pakawa-Dto Araha-Dto Sam-Maa Sam-Put-Dtat-Sa
Trai Soranakom
Puttang Cheewidtang Yaawa Nipaanang Saranang Kajchaami

Tammang Cheewidtang Yaawa Nipaanang Saranang Kajchaami
Sangkang Cheewidtang Yaawa Nipaanang Saranang Kajchaami
Tudtiyambpi Puttang Cheewidtang Yaawa Nipaanang Saranang Kajchaami
Tudtiyambpi Tammang Cheewidtang Yaawa Nipaanang Saranang Kajchaami
Tudtiyambpi Sangkang Cheewidtang Yaawa Nipaanang Saranang Kajchaami
Dtadtiyambpi Puttang Cheewidtang Yaawa Nipaanang Saranang Kajchaami
Dtadtiyambpi Tammang Cheewidtang Yaawa Nipaanang Saranang Kajchaami
Dtadtiyambpi Sangkang Cheewidtang Yaawa Nipaanang Saranang Kajchaami
Kata Aaraatana Pra Krueang
Puttang Aaraatanaanang
Tammang Aaraatanaanang
Sangkang Aaraatanaanang
Puttang Prasittimae
Tammang Prasittimae
Sangkang Prasittimae
Temple:Wat Iintrawiharn (Wat Bang Khun Prohm)
Weight:14 Grams
Recommended Uses:Protection, Status, Good Business, Wealth Accumulation
Size of Amulet:16.5 x 13 Inches