This list of Buddhist Guru Master monks will auto-update each time we add a new Master. Click each link in the list to view the amulets and read about each Guru Monk

External Pages
---
Pha Yant Look Dtakror Maha Ud 2522 BE - 78th Birthday Edition Yantra Cloth - Luang Por Sud - Wat Ka Long
03038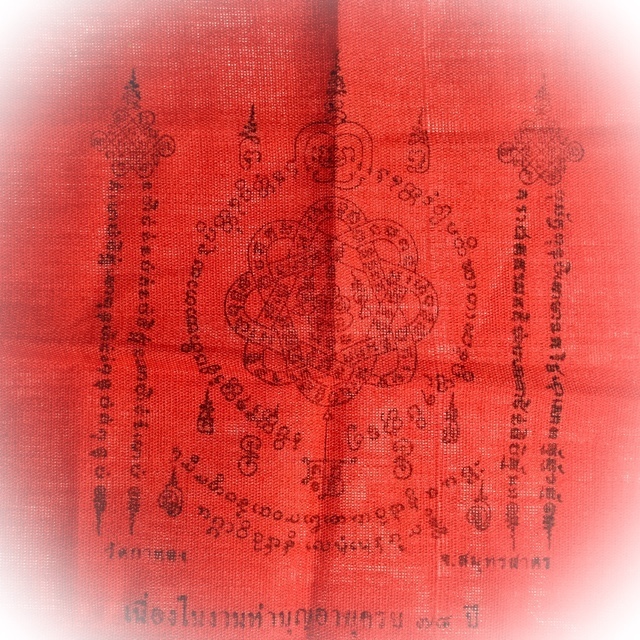 Yant Look Dtakror Sacred Yantra Cloth from the 2522 BE 78th Birthday Celebration of Luang Por Sud ceremony at Wat Ka Long, a Classic Essential Rarity, considered a Great treasure for its Power of Maha Ud, Kong Grapan, and Maha Pokasap.
The Wicha Yant Look Dtakror of Luang Por Sud is the most famous Wicha of all Masters who have made the Yant Look Dtakror Whicker-Basket-Ball Yantra, in Living Memory. It is impossible to speak of the Yant Look Dtakror, without paying respect and reference to Luang Por Sud, whose name is synonymous with this Sacred Yantra.
The Pha Yant Look Dtakror in fact, contains a vast compendium of blessings, ranging from Maha Ud protection to Maha Ud Sap (Maha Pokasap) wealthy fortunes, with very strong leanings towards Klaew Klaad Evasion of dangers, and Kong Grapan Chadtri Invincibility, beng the most prominent form of magic present
This Sacred Yantra Cloth from the great Luang Por Sud, of Wat Ka Long, is a very rare item indeed to find in the present era. It is so highly sought after and preferred in the amulet appreciation societies, and with the many devotees of LP Sud around South-East Asia and the rest of the World.
Luang Por Sud was the legendary originator of the Wicha Yant Daktor rattan whicker ball Yantra spell. The spell is composed of an Ongk Pra Buddha image in the center, with the woven knotwork around it, enclosing Tai Yai style Lanna Agkhara spells around the Whicker-Ball, and Khom Agkhara within the woven bands.
The Pha Yant has the year and name of the edition ceremony, and the date imprinted on the lower section of the cloth. The seal of the temple of Wat Ka Long is stamped onto the lower right section of the Yantra Cloth.
Luang Por Sud was born in the year 2445 BE on the 7th of May. he ordained into the Sangha at the age of 16 as a Samanera Novice Monk. When he moved after becoming a fully fledged Bhikkhu to Samut Sakorn and stayed at Wat Ka Long, where he eventually became the Abbot through his long term diligence and meritorious acts. He became famous for his Wicha Yant Look Takror Wicker ball Yantra, which he had Mastered through the use of Khmer Sorcery methods.
Luang Por Sud made many different kinds of amulets, but it is perhaps the Takrut, and hits Look Takror Wicha amulets (including the Pha Yant Takror) which are his most revered and famous for their Kong Grapan Chadtri and Klaew Klaad powers. Luang Por Sud became even more famous after his death in the year of his cremation in 2545 BE, when his body would not burn, and seemed impermeable to fire. So the temple committee was forced to give up trying to cremate him, and placed his remains in a glass coffin.
Above; Video Documentary of the Miracle of Luang Por Sud's Cremation Ceremony, Translated and Narrated by Ajarn Spencer Littlewood
Temple:Wat Ka Long
Maker of Amulet:Luang Por Sud
Weight:4 Grams
Recommended Uses:Protection, Wealth Accumulation, Invincibility
Size of Amulet:9 x 7 Inches