This list of Buddhist Guru Master monks will auto-update each time we add a new Master. Click each link in the list to view the amulets and read about each Guru Monk

External Pages
---
Pha Yant Luang Por Ngern Luang Por Chaem 84th Anniversary First Edition Yantra Cloth - Wat Don Yai Horm
03084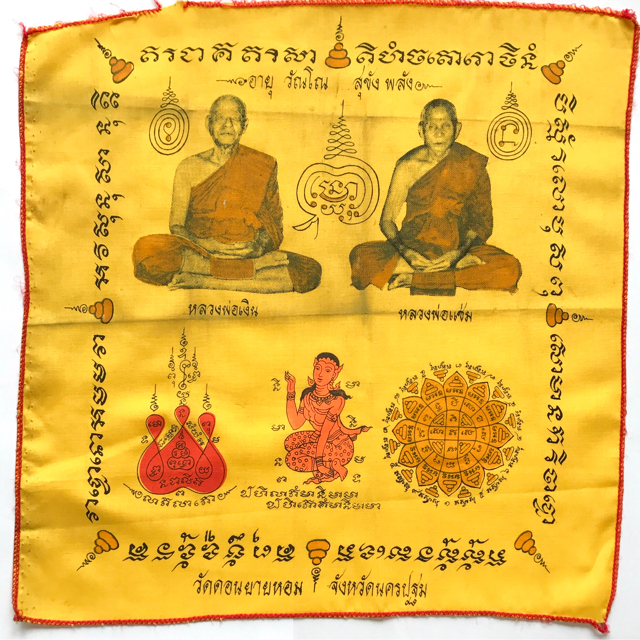 First edition 14 x 14 Inches Double Guru Monk Yantra Cloth of Two Great Monks of the same Temple Lineage, whose Fame and Merits came to cross over in the same lifetime. This has resulted in this amazing and ultra-rare first edition Yantra Cloth of the two Deceased Abbots of Wat Don Yai Horm, which was blessed at wat Don Yai Horm during the 2530 BE 84th Birthday Celebrations of Luang Por Chaem. The Pha Yant is the first edition made with the image of Luang Por Chaem's Kroo Ba Ajarn Luang Por Ngern in unison. Luang Por Chaem was the Abbot of Wat Don Yai Horm who came after the Great Luang Por Ngern of Wat Don Yai Horm.
Luang Por Chaem became abbot in 2520 BE after the passing of Luang Por Ngern. He was born in the year 2449 BE on the 16th March. After becoming Abbot of Wat Don Yai Horm in 2520 BE, he raised funds to perform Merits and Restoration buildings at the temple until the day of his passing on the 9th of December 2536 BE, at the age of 87 years Old.
He was extremely famous for his powerful amulets, of which he made a large pantheon over the years to raise funds for the temple. His high repoute for Kong Grapan Klaew Klaad and Metta Maha Pokasap Magic became equal to that of Luang Por Ngern, which is shows the temple of Wat Don Yai Horm to be as eminent as other world famous lineage master temples, such as Wat Klang Bang Gaew, which also has a long lineage of consecutive abbots, who all gained equal fame and high repute for their powerful Buddha Magic and Purity of Practice, just as is the case with the Temple of Wat Don Yai Horm.
Luang Por Chaem made many official amulet editions, but also made many talismans and charms, not all of which are documented in the official temple releases, for of course, he would also make individual amulets for his closest Looksit to Bucha. This Pha Yant is included in the 'Dtamniap Wadtumongkol' Official listings of his amulets, making it very easy to study and authenticate, which also increases its status and value.
Above; Yant Mongkut Pra Putta Jao - Buddhas Crown Yantra for Protection and Auspicious Blessings, Anti Black Magick and Karma Improvement

The amulets of Luang Por Chaem are officially catalogued split into three different Eras, the 'Yuk Dton (early Era), Yuk Klang (Middle Era) and Yuk Play (late Era). His officially recorded trajectory as an Amulet maker began in the year 2513, before he became Abbot, which is catalogued as the 'Yuk Dton' early Era, which spans the time period between 2513 BE, and 2519 BE.
Above; Yant Nam Dtao Gourd Yantra (Five Buddhas Yantra), with Ongk Pra Buddha Yantra within the Gourd Yantra, for Maha Pokasap Prosperity and Cornucopia Magic.

In this period he made the following editions;
Yuk Dton Amulets (2513 BE - 2519 BE)
Pra Somdej Run Raek First Edition which was released on the 12th September 2513, with 5 different models made.
Pra Pid Ta Maha Lap Nuea Pong Sacred Powder Amulet in the year 2514 BE
Rian Roop Khai Run Raek Dtok Code ๖๗ Guru Monk Coin (oval shape) with code 67 Stamp in the year 2515 BE which were blessed for a period of one whole year, in various Sacred metals, namely; Nuea Samrit (21 coins made), Nuea Tong Daeng (1800 coins made) with two different block presses used to make two different 'Pim' (models), the Pim Kor L (L shaped neck), and the Pim Kor Dtrong (straight neck)
Rian Yord Khun Pol amulet 2516 BE
First Edition Rian Roop Khai Sorng Hnaa 2 sided amulet 2516 BE with the Thai number 1 (๑) code stamp on the side which had Luang Por Chaem's face on it
First Edition Rian Sema Lek shield shaped coin amulet 2516 BE with the Thai number 1 (๑) code stamp on the side which had Luang Por Chaem's face on it
Rian Roop Khai Huang Chueam coin amulet with soldered pendant hoop 2517 BE
Rian Roop Muean Cameo Coin 2519 BE
Above; Yant Nang Kwak, for Calling Customers, and Mercy Charm.

Yuk Klang Amulets (2520 BE - 2527 BE)
The middle era amulets began to take on a large Public Interest, as the Devotees of Wat Don Yai Hormhad gathered a large quantity of Sacred Muan Sarn Sacred Powders and Chanuan Sacred Metallic substances from Great Guru masters around Thailand to donate to Luang Por Chaem for the making of amulets to smelt into Sacred Alchemical Chanuan Muan Sarn Substances for the making of Luang Por Chaem's next editions;
Pra Roop Lor Boran 1st Edition Statuette 2521 BE
Pra Pid Ta Maha Ud Yant Yung Nuea Rae 1st Edition closed eyes Buddha amulet in Sacred Mineral Kayasiddhi substance 2521 BE
Rian Lor Hoo Nai Dtua with one piece pendant ring (not soldered) pendant hoop 1st Edition 2522 BE Pra Pid Ta Nam Tao Gourd Shaped Buddha amulet 2524 BE
Pra Pid Ta Song Serd Chee Bo 1st Edition amulet 2524 BE
Pra Kring Yord Khun Pol amulet 2526 BE
Pra Bua Khem (Upakut) amulet 2526 BE first edition
Pra Pid Ta Nuea Pong Kluk Rak lacquer covered powder closed eyes Buddha amulet 2526 BE
Pra Kring Arahang Buddha Statuette amulet 2526 BE
Pra Chayawat 1st Edition amulet 2526 BE
Rian Lor Pra Jao Ha Pra Ongk 5 Dhyani Buddhas amulet 2526 BE
Pra Kring Takataen Buddha Statuette amulet 2527 BE
Rian Lor Han Khang sideways facing Monk Cameo coin amulet with Thai number Code 77 (๗๗) 2527 BE
Pra Mongkol Jakrawal Nuea Samrit bronze amulet 2527 BE
Pra Pid Ta Pong Metta closed eyes Buddha amulet 2527 BE
Yuk Plaay Amulets (2528 BE - 2536 BE)
Pra Roop Lor Gon Dtok Pim Niyom 2529 BE
Pra Roop Muean Bpam statuette 2535 BE
Rian Run Sang Rong Payaban Nakorn Pathom amulet from the Nakorn Pathom Hospital Building Fund Edition 2535 BE
Rian Lor Kor Nam Tao Gourd Neck coin amulet 2536 BE
Rian Lor Hnaa Suea Tiger face amulet 2536 BE
Rian Lor Jao Sua Millionaire amulet 2536 BE
Rian Lor Pim Tawarn Yern amulet 2536 BE
Rian Luang Por Chaem Bucha Kun Luang Ah amulet 2536 BE (reverence to the Upachaya Kong Monk of Wat Bang Gaporm)
Pra Pid Ta Nuea Rae 2nd edition closed eyes Buddha amulet 2536 BE
Luang Por Ngern;
Luang Por Ngern was the previous Abbot of the temple of Wat Don Yai Horm, before the Great Luang Por Chaem, who continued after him. uang Por Ngern was the Abbot of the temple of Wat Don Yai Horm in Olden Days, before the Great Luang Por Chaem, who continued after him.
In the times of Luang Por Ngern, the temple of Wat Don Yai Horm and the surrounding area were still in the midst of undeveloped countryside, and the temple was the centre of gathering for the local folk. The temple of Wat Don Yai Horm was hence the place where the folk would go to be educated by the monks of the temple who performed the duty of teaching children and schooling them, as well as healing illnesses and ailments.
Apart from this it was of course first and foremost the spiritual centre of the community, and the place where people received Dhamma teachings, and learned how to meditate, pray, and chant Kata. Luang Por Ngern was renowned for his meritorious attainments in both restoring and developing the temple facilities, providing education in the form of schooling for children, and medical treatment for the poor, and was a great source of comfort to those who came in desperation to seek spiritual consolation. This is the reason why he was called 'the Angel of Wat Don Yai Horm'.
Luang Por Ngern was also extremely renowned for his high level of Patipatā (Practice of Restraint as an Ordained Bhikkhu within the 227 Rules of the Buddhist Vinaya Pitaka Canon), for his leadership in guiding the local devotees towards the right way to practice. He was just as well renowned and revered, for diligently and tirelessly developing the temple and its annexed facilities.
He build many Public Buildings for the benefit of the Local Folk, in order to alleviate their sufferings. Even though Luang Por Ngern is long since passed on to the next world, the people of Nakorn Pathom province still pay respect and revere this Great Monk for his great Merits and Metta, and the selfless deeds he performed, and public facilities he built for the local folk, and his memory is as alive today, as it was during his lifetime.
Temple:Wat Don Yai Horm
Maker of Amulet:Luang Por Chaem
Weight:10 Grams
Recommended Uses:Protection, Prosperity, Lucky Fortunes, Mercy Charm, Good Business
Size of Amulet:14 x 14 Inches