This list of Buddhist Guru Master monks will auto-update each time we add a new Master. Click each link in the list to view the amulets and read about each Guru Monk

External Pages
---
Pha Yant Paya Khao Kam In Ma Saep Nang Wicha Lanna 16 x16 Inch Sacred Yantra Cloth - Kroo Ba Wang - Wat Ban Den
03277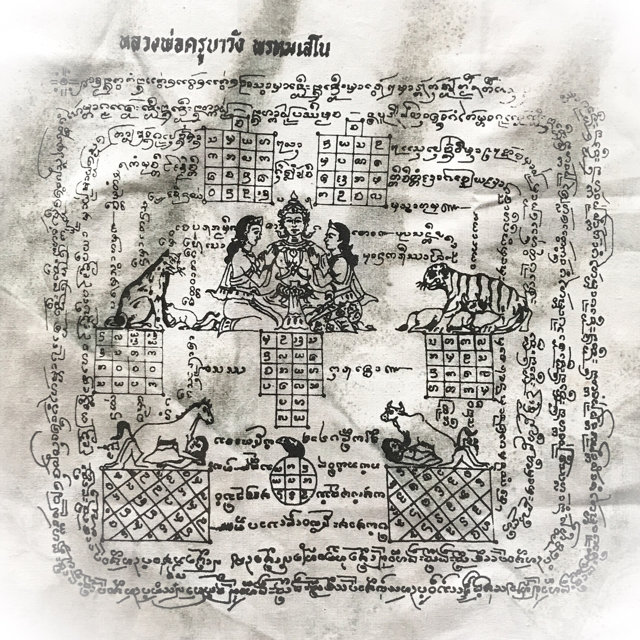 One of the mor highly sought after talismanic items from this great Northern Master, the Pha Yant Paya Khao Kam In Saep Nang Pim Chue Diaw. An Extremely rare Yantra Cloth of Kroo Ba Wang (Wat Ban Den), featuring a Sacred Lanna Yantra containing a Pantheon of Animist Devas and Himapant Animals, and Mythical Beings, The Pha Yant is composed of differing Saep Nang Animal-Lady Yantra, with Paya Khao Kam Deity (Pra Khun Phaen of the Lanna Folk).
The Yantra Cloth's central spell is the Yant Paya Khao Kam (Golden Horned Seduction Demon). He is surrounded by Maidens, and the cardinal points around him are filled with multiple additional Wicha Yant Lanna, including the Wicha Noo Kin Nom Maew (Mouse suckling milk from a Cat's teat), Wua Kin Nom Suea (Calf suckling milk from a Tiger's teat), Wicha Mae Saep Nang (Horse making Love with a Beautiful Maiden), Wicha Wua Grating Saep Nang (Bull making Love with a Beautiful Maiden), and Wicha Nok Kum (Partridge Yantra Spell)
The Pha Yant Paya Khao Kam (sometimes also called Pha Yant Ma Saep Nang) is a Legend of the Lanna Tradition of Amulets, and holds the status of being one of the most Famous and Revered items from Kroo Ba Wang. The Pha Yant exist in various versions, the Pim Hneung Cheu (single name of Kroo Ba WEang on the top) and the Pim Song Cheu (two names on the top, that of Kroo Ba Wang to the top left, and top right the name of Ajarn Paetch), as well as some coloured hand made sik screens, in various versions of Paya Khao Kam.
The full extended Biography and many of the other amulets of Kroo Ba Wang and the Great Thai Lanna Masters, are covered in Ajarn Spencer Littlewood's E-Publication ' The Book of Thai Lanna Sorcery".
The Pha Yant can be framed in a picture frame on the wall or affixed to the wall, and can also be carried in the pocket, handbag, wallet or even placed in the cash till, or wherever you wish to attract admirers, lovers, customers and the like. The spell also possessed Maha Amnaj Commanding Dominion (through seduction and inducing love and admiration).
Below, the Nok Kum Partridge Yantra is placed below the Yant Paya Khao Kam in the lower central part of the Pha Yant
About In Ma Saep Nang Deva
There is a Fable that there was once a family who had a very beautiful daughter. This family reared horses for a living, and their horses were famous for their incredible beauty. The daughter took care of the horses every day until one day she felt intense desire for the horse she had become attached to, and consummated her desires with the horse (had sex with it).
When the family found out about the event, they were incredibly offended and angry, and they killed the horse which the daughter had been caring for and had sex with. The daughter heard of this, and became so sad, that she died of a broken heart, from sorrow for loss of her horse and lover. The ancient Kroo Ba Ajarns of Old believed that this particular horse had an incredible power of Maha Sanaeh (charm and attraction).
Below; Yant Wua Kin Nom Suea
So strong indeed, that even a Human Woman could fall in love with it and allow it to have sexual contact. For this reason the In Ma Saep Nang is an extremely powerful love charm, and that whoever carries it will certainly have the charming effect on others around him or her.
Kroo Ba Wang - Luang Phu Kroo Ba Wang is Legendary for his Maha Sanaeh Magic, was one of the most famous of the Northern Lanna Guru Masters of the Olden Days. Kroo Ba Wang's Magic is highly preferred for his In Koo and In Ma Saep Nang amulets, as well as his famous Takrut scroll, Pra Rahu, and Pha Yant Sacred Geometry Yantra Cloth Spells. Of the Pha Yant he was especially renowned for his Pha Yant Ma Saep Nang Lady-Horse images.
Kroo Ba Wang is Considered one of the Greatest Lanna Masters of all time, and a Master of Thai Lanna Sorcery. Luang Phu was born in 2434 BE, in the country into a family of farmers and market traders, In those days, the only way to get any schooling in the countryside was to stay in a temple and learn with the Monks, and so, at the age of nearly 9 years old, his father took him to live at the nearby temple, to learn to read and write.
Below: Yant Paya Khao Kam
After about 3 years. Luang Phu could read and write fluently enough, and so he was able to ordain into the Sangha as a Samanera Novice Monk in the year 2445 BE. Luang Phu then began to practice Khom Sanskrit Agkhara and Wicha, and within a very short period of time became so adept that he could chant every single line of Agkhara from memory with great aptitude.
After this Luang Phu Kroo Ba Wang then moved to stay at Wat Ban Hmueang Jee, which was in his home area where he was born. Luang Phu then continued to study and practice Wicha Akom and Khom Agkhara for a further three years, until he became inspired to take up the practice of Tudong Solitary Forest wandering. He travelled around the Lanna Region for many decades before building up the temple of Wat Ban Den, where he then remained to serve the needs of the local Folk and to Serve Buddhism.
His many Talismanic Lanna amulets are rare prizes to find in this day and age, and are of immense sacred and historical value. The amulets of Kroo Ba Wang are one of the first to come to mind when the subject of Ancient Lanna Wicha arises, revealing their Iconic Status in the genre of Lanna Occultism.
In the year 2513, time caught up with Luang Phu, and he became ill, and began to weaken with age, and became unable to travel, and stayed for the rest of his life performing meritorious acts for the temple and the devotees, until his final passing at Wat Ban Den, in the year 2516 BE.
Below: Yant In Wua Grating Saep Nang Bull-Lady Yantra
An advanced compendium of Animist Wicha Lanna are inscribed around the Paya Khao Kam as a compendium of supplementary Metta Maha Sanaeh Spells and are of course most powerful for Mercy Charm and Seductive Influence. The Paya Khao Kam is the Pra Khun Phaen Paetch Payatorn of the Lanna tradition). Paya Khao Kam, is pictured surrounded by Maidens.
Paya Khao Kam is traditionally pictured in Lanna Mythology as a Man dressed in full rich regalia with a crown bearing two golden horns of plenty. The Paya Khao Kam, is a powerful Seduction and Mercy Charm, known for its power to possess many lovers and keep them all happy and fulfilled, to attract admirers, customers and friends. It is highly reputed for its Maha Lap and Maha Pokasap powers.
Kata In Ma Yern Saep Nang
Na Mo Puttaaya Na Ma Pa Ta Ma A U Idtipiso Pakawaa Arahang Samma Samputto Na Mo Puttaaya Na Cha Na Ka (3 times)
Dtae Dtii Dtu Dta Nia Mia Pia Tia
The Nok Kum is a kind of bird which the Lord Buddha was once born as in one of his last 500 lives before enlightenment. The Nok Kum was born and one day, the parents flew out of the nest in the forest to fly over the fields and find food. As they were away, a forest fire started, and began to consume the tree which the Nok Kum was nesting in.
Below; Yant Nok Kum Partridge Yantra
The Nok Kum thought to himself; "Apart from Morality and Truth, there is nowhere else for me to refuge!" So he chanted this Kata which translates as; i have both wings, but they are still too small to fly and i cannot fly away – i have both legs, but i am not yet able to walk, for i am still a baby – my parents are flown from the nest and cannot save me, You oh Fire must go back where you came from"
Because the Nok Kum was the Future Buddha, his Baramee was already so powerful that the Kata worked, and the fire died out. The tiny Nok Kum may seem like a peaceful turtle dove, but in fact its Kata did not only save himself, but also the whole forest. When made as a Pha Yant (Yantra Cloth), it is very good for preventing fires in the home.
Below; Yant Noo Dood Nom Maew Mouse Drinking Milk From Cat's Teat Yantra
It is also useful as a Sak Yant Tattoo not just for Metta but also for Muay Thai boxers who use a move called 'Nok Kum Khao Rang' (Partridge entering the nest), which the Yantra will surely assist in making this move perfectly.
Kata to chant to the Nok Kum Deity
Sandti Bpagkhaa Abpadt Dtanaa Sandti Bpaataa Awanjana Maadtaa Bpidtaa Ja Nigkhandtaa Chaadtawaeta Bpadtigamaa Kata Nok Kum (for Metta Mahaniyom) Putta Maedtang Jidtang Ma Ma Puttaputtaanupaawaena Tamma Maedtang Jidtang Ma Ma TammaTammaanupaawaena Sangka Maedtang Jidtang Ma Ma SangkaSangkaanupaawaena Waetaa Saagu Gusaa Taa wae Taayasaadta Dtadtaayasaa Saa Saa Ti Guy Gu Ti Saa Saa Gu Dta Gu Pu Pu Gu Dta Gu
Kata to call Ladies
Om Jidtang Idthīyang Aehi Jid-Dta Gāma Rākang Raaka Ma-Ma Mā Ma
Kata To call Men;
Om Jidtang Burisō Ēhi Jid-Dta Gāma Rākang Rāka Ma-Ma Mā Mā
Temple:Wat Ban Den
Maker of Amulet:Kroo Ba Wang
Weight:24 Grams
Recommended Uses:Mercy Charm, Business Success, Seduction, Kama Sutra Magic
Size of Amulet:16 x 16 Inches