This list of Buddhist Guru Master monks will auto-update each time we add a new Master. Click each link in the list to view the amulets and read about each Guru Monk

External Pages
---
Pha Yant Tong Hlang Nang Kwak 117 Years Edition 2480 BE Luang Por Thong Wat Rachayotya
03670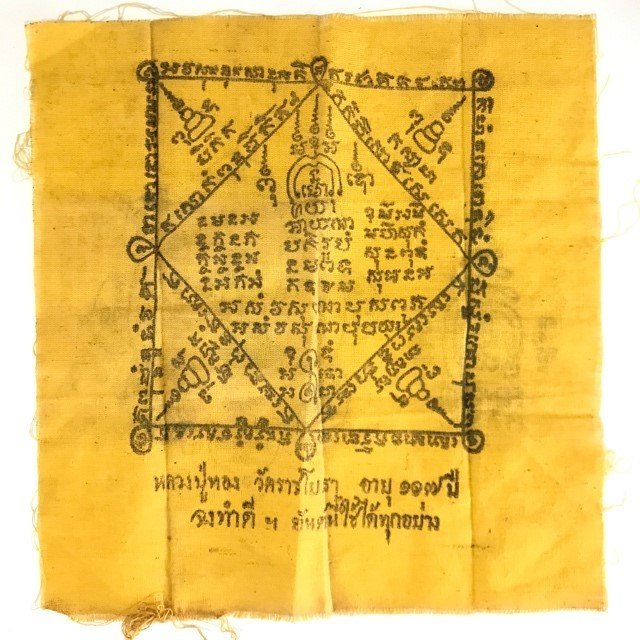 An extremely rare 2 sided Pha Yant (Yantra Cloth) with Sacred Yant Tong Maha Mongkol on front face, and Nang Kwak with yant Putsoorn on rear face, and the power of Buddhist Invocations and Meditative Empowerment from the Great Olden Days Master, famed as a direct apprentice to Somdej Dto Prohmrangsri (Wat Rakang), Luang Por Thong, of Wat Rachayotya.
Below; Rear face of the Pha Yant has the Sacred Yant Putsoorn, and the Yant Nang Kwak within a Lotus Yantra
LP Thong had great fame for being one of the top ten Masters of the Indo-China Wartime era, and whose baked clay, sacred powder and cast alchemical metal amulets remain world famous and legendary to this day. LP Thong was the Kroo Ba Ajarn of the Great Luang Por Phueak of Wat Ging Gaew, to whoe he bestowed the secrets of his powerful sacred powders upon for his own amulets.

Released in 2480 BE, for the 117th Birthday of Luang Por Thong, and hand inscribed by the Master with the Yant Putsoorn 5 Dhyani Buddha Yantra, Yant Putto, and the inscriptions of the invocations of the four elements, and the Dhamma Racha (Dharma King) Invocatiom of the 16 Buddhas (Kata pra Putta Jao Sip Hok Pra Ongk). The Pha Yant Measures 8.5 x 8.5 Inches Square.
"NA MA NA A NOR GOR NA A GOR OR NOR A NA A GA ANG U MI A MI MA HI SU DTANG SU NA PUT TANG SU A NA A"
นะมะนะอะ นอกอนะกะ กอ ออ นอ อะ นะอะกะอัง อุมิอะมิ มะหิสุตัง สุนะพุทธัง สุอะนะอะ

Four Ongk Pra Buddha Yantra guard the four corners of the Sacred Yant, which is an eight sided double Magick Square, and a host of encoded Incantations with auspicious Buddhist Blessings for Protection and Good Karma. Luang Por Thong's amulets are very popular around South East Asia, with a very large number of Devotees in Singapore and Malaysia who revere his amulets, due to many cases of miraculous experiences with those who wore his amulets.
Below; the lower section of the Pha Yant has the words ''Luang Phu Tong Wat Rachayotya Aayu 117 Pi Jong Tam Dee - Yant Nee Chai Dai Tuk Yaang' which declares the celebration of 117 years of life of LP Thong, and states that the devotee should do good deeds, to receive the blessings of the Yantra, and that the Yantra can be used for all purposes, be it protection, prosperity, good health, long life, lucky fortunes, promotion or mercy charm.
Luang Por Thong was one of the Indo-China War Masters who was involved with the Making of the famous Suea Yant Taharn Phii Ghost Soldier Yantra shirts along with Luang Por Jad (Wat Bang Grabao), Luang Por Jong (Wat Na Tang Nork), Luang Por Kong (Wat Bang Gaporm, Luang Por Chaem (Wat Ta Gong), and Luang Phu Phueak (Wat Ging Gaew).
Below: the faded ink of the rubber authenticity stamp from the temple is still visible on the surface of the Pha Yant.

His amulets range from Pra Somdej (in many forms), Look Om, Hmak Tuy Khai Nok Kum, Takrut Fa Badtr, Chan Hmak, Suea Yant and hand inscribed Pha Yant, and above all other amulets, his first edition Rian Roop Hmuean Pim Hnaa Loi 2477 BE coin amulet, which brought over 800,000 Baht in auction recently for a solid silver version of the coin, which can be seen in the below picture, and was featured in Komchadleuk Newspaper.
Luang Por Thong Ayana was born in the Year 2363, duriung the time of his Majesty King Rama 2, as the son of Mr. Huad Chalerm, who was a Chinese Hokkien Immigrant. His Mother was one of the Mong Tribe hill people of the mid Lanna Region. Luang Por Thong Ordained as a Buddhist Monk in the year 2384 BE at Wat Ngern Bang Prohm in Taling Chan (south of Bangkok, now part of Bangkok). Luang Phu Pu was his Upachaya ordaining officer (Pra Kroo Tan Jao Kun Winay Gijjaree Thaera), who was the second abbot of the history of Wat Ngern Bang Prohm.
He received the Maghada Pali Monks name (Chaayaa) of "Ayana". After his ordination, LP Thong remained at Wat Ngern Bang Prohm to study the Dhamma Vinaya Buddhist Canon (Tripitaka). After some years his Upachaya LP Pu took Luang Por Thong out on Tudong Forest Wandering, to discover the more hidden Dhammas and gain insights to develop his Wicha.
Some time later, the temple of Wat Rachayotya was built, and Luang Por Thong was invited to go to be the abbot of the temple and administrate its development, and oversee the needs of the local folk and devotees of the temple.
Luang Por Thong thus became the first ever abbot of Wat Rachayaotya,as well as one of the top Ten Masters of the Indo-China War Era, and co-creator of the famous Suea Yant Taharn Phii Kong Grapan yantra shirts which caused such legends to be recounted by American soldiers who saw Thai Military being shot, knocked down to the floor, and standing up again to continue fighting.
These stories of eytewitness accounts are part of what has made LP Thong's amulets, and his trajectory as a Monk, of immense Historical Importance for Thai Buddhism and the Amulet Scene in general.
Other colleagues who exhanged and developed magical Wicha together with Luang Por Thong included Luang Por Ngern, of Wat Bang Klan, Luang Phu Sukh, of Wat Pak Klong Makham Tao, Luang Por Pring of Wat Bang Bakork (famous for Wicha Look Om), Luang Phu Pu of Wat Intr, Luang Phu Iam of Wat Hnang, Luang Por Chaem of Wat Chalong in Phuket, Tan Jao Ma of Wat Sam Plerm, and Luang Phu Bpan of Wat Ngern Taling Chan.
Because of Luang Por Tong's great Mastery and Adept status in Magical Wicha, he was often asked by Monks and Lay Sorcerors to teach them his Magick, and became a very famous Kroo Ba Ajarn with many apprentices.
Below; Yant Putsoorn. One of the many spells contained within the Pha Yant
Amulets of Luang Por Thong Wat Rachayotya

Most of his famous clay Pra Somdej Hlang Yant Trinisinghae, and other Somdej amulets were released during the years 2436 - 2439 BE. His metallic alchemical Maekapat metal amulets were released during the mid era between 2459 BE and 2460 BE. His baked clay Luang Por Dto, Nang Paya, Pid ta Yant Rorb, Pid Ta Met Khanun, pra Lila amulets were released during the later era around 2476 BE. His first edition coin Rian Hnaa Loi was released in 2477, the Rian Hnaa Jom in 2480 BE. Luang Por Thong is also accredited with having blessed the amulets found in the Kru Beung Praya Suren amulet hiding place find.
During the IndoChina wars, Luang Por Thong was officially asked to go into the airplanes of the airforce and bless the permimeter of the temple of the emerald Buddha and the Sanam Luang with sai sek sandgrains, to protect the Royal Palace and Nation, and asked to make as many Suea Yant magick shirts of protection for the military in battle.
Luang Por Thong passed away in the year 2480 BE after his 117th anniversary, making this Pha Yant one of the members of his final edition of amulets before his passing.
Temple:Wat Rachayotya
Maker of Amulet:Luang Por Thong
Weight:5 Grams
Recommended Uses:All Round Protection and Auspicious Blessings
Size of Amulet:8.5 x 8.5 Inches Square