This list of Buddhist Guru Master monks will auto-update each time we add a new Master. Click each link in the list to view the amulets and read about each Guru Monk

External Pages
---
Pha Yant Yaks Koo Bpraab Marn - Anti Black Magic Yantra Cloth - Luang Phu Ngoen Sorayo 2535 BE
02516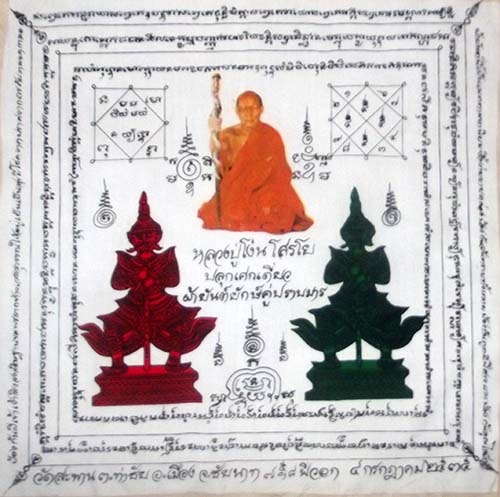 This sacred Yantra cloth is a Buddhist sacred geometry design, with spells inscribed all over in ancient Khmer. The Pha Yant features two Yaksa (Asura Demi Gods),who are standing as guardians to protect against Demons and ghosts.
this classic piece of predominantly Buddhist sacred geometry, was blessed at Wat Sapan in Chaynat Province. in the year of the monkey, 2535 BE (Buddhist Era), and given empowerment in solo from the great Luang Phu Ngoen Sorayo, of Wat Pra Puttabat  in Pijit Province.
The central area of the cloth design features the image of Luang Phu Noeng Sorayo, flanked by sacred Yant on all sides.
Two Asura Deva Giants (Yaksa) are arranged below the image of the Great Master, representing Tosakiriwan and Tosakiritorn, two Yaksa Protectors of the Buddha-Dhamma who serve Taw Waes Suwan Lord of Wealth and of all Monsters Demons and Giants.
These two giants are often seen guarding the entrances to many Thai Buddhist temples including that of Wat Pra Kaew, the temple of the Emerald Buddha, at the Royal Palace.
Between the bases upon which these two deities are standing, is a sacred yantra design, the famous Yant Putsoorn, which involve the five Dhyani Buddhas.
this monk was indeed a very great master who had the honour and also the ability to receive the requests of performing empowerment with some of history's greatest realized masters. For example, the great Luang Phu Doo of Wat Sakae. Luang Phu died in 2545 BE, & his funeral pyre was lit by her royal Highness, the Princess Somdej Pra Taep Radtana Racha Suda (สมเด็จพระเทพรัตนราชสุดาฯ).
Above; Luang Phu Ngoen's funeral pyre being lit by the Royal Princess in 2545 BE
Temple:Wat Sapan
Maker of Amulet:Luang Phu Ngoen
Weight:5 grams
Recommended Uses:Improve horoscope, protection against ghosts demons & thieves, increase wealth, anti-black magic
Size of Amulet:14 x 14 Inches