This list of Buddhist Guru Master monks will auto-update each time we add a new Master. Click each link in the list to view the amulets and read about each Guru Monk

External Pages
---
Pla Tapian Koo Silver Barbfish Origami Yantra for Prosperity - Luang Phu Rian Wat Bang Rahoeng
03344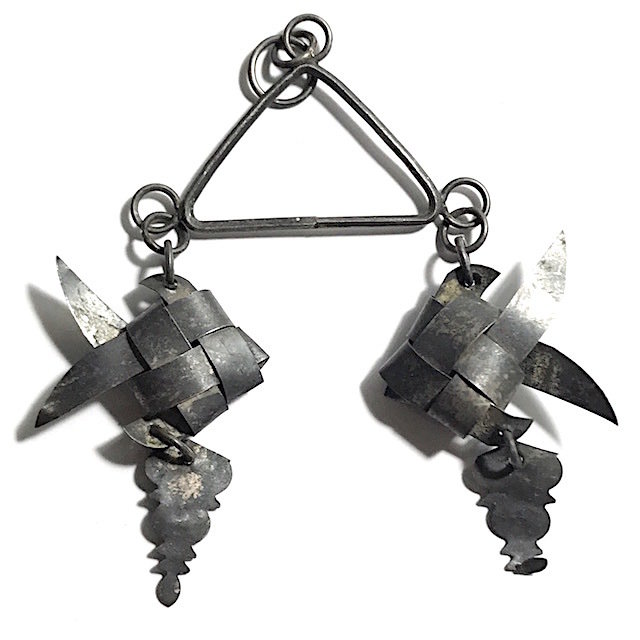 An extremely rare and pristinely kept Pla Tapian Koo silver origami Yantra spell woven in the form of two lucky Barbfish for Business Prosperity and Auspicious Blessings in the Household, one of the classic preferred amulets of the pantheon of Luang Phu Rian, Gaeji Ajarn Master Monk of Wat Bang Rahoeng, in Nontaburi. Pla Tapian are extremely recommendable for Merchants, Salespersons and Business Owners, for their ability to increase good commerce and attract customers. One can see Pla Tapian Tong-Ngern in shops and places of business, market stalls and floating markets all over Thailand, which is a popular Animist Charm that has been used for many Centuries if not thousands of years.
The Pla Tapian Koo of Luang Phu Rian is famed for its Maha Lap Lucky Fortunes, Kaa Khaay Magic for increased Business Sales and Maha Pokasap Power to accumulate treasured possessions. The Pla Tapian Koo of Luang Pu Rian is one of the eminent and world famous members of the Tamniab Pra Niyom of the Samakom Pra Krueang Thai, in the category of Krueang Rang Talismanic Charms, as well as in the Category of 'Pra Kanajarn Nontaburi' (Nontaburi Province) Guru Monk amulets.
The Pla Tapian both have been attached to a triangular frame for hanging in the desired place. The Pla Tapian Koo spell is both Maha Lap Wealthy Fortunes Magic, Kaa Khaay for Good Business, and also Maha Sanaeh and Metta Mahaniyom Seductive Mercy Charm, which attracts customers and even the opposite sex. Prosperity and Fertility are hence both powerful forces within the Pla Tapian amulet.

Luang Phu Rian was extremely famous for his Takrut, Bia Gae, and Pla Tapian Koo fish amulets, and his Monk Coins. He was especially favoured for his Pla Tapian lucky fish, which he would make in Origami style fashion from folded silver Yantra Foils. Luang phu Rian was also highly reputed for his Bailan parchment scroll spells, with porotective powers.
The Pla Tapian Koo, is along with the famous Takrut Bailan Pitsamorn, one of Luang Phu Rian's most popular amulets from his large repository of Wicha, and is a very rare artifact to encounter in the present day and age. Highly regarded for its powerful Mercy Charm and Power to Attract of Prosperity. The Pla Tapian amulets have also become famous over the decades for their ability to bring people out of poverty and lead them to success. Very popular with small traders, market salespersons and also with large business establishments. Thai-Chinese Folk are also very reverent of the Pla Tapian Koo silver-goldfish Animist charm. Use to hang or place in a frame or wear in your place of business and your pleasure haunts too, to attract customers, admirers, employers and helpfulness.
One can easily say that the Pla Tapian Animist Charm Yantra Foil spell of Luang Phu Rian, is an all time Classic Pra Niyom amulet of great fame and esteem, and an amulet that most fans of ancient amulets will have heard of more than once. It is not possible to spend years studying, loving and collecting amulets withough encountering mention opf Luang Phu Rian and his Takrut Pitsamorn. In short, an extremely well known amulet, that is very rare to find, but very much desired.
Pla Tapian is a Sacred Fish that appears in Vedic legends. Pla Tapian are seen as very lucky fish and are related to a story about the Sacred bird Nok Garawaek, in a story where the Ruesi in the Deva world sent a Garawaek bird to retrieve a magical tome from a Pla Tapian fish. Pla Tapian have been used as lucky charms since centures by both Thai and Chinese people.
Kata Pla Tapian
Sappae Chanaa Pahu Chanaa Prahma Sivang Namaa Mi Hang Ehi Jidtang Biyang Ma Ma
Kata Pla Tapian Ngern Tong
Idti Puttassa Suwannangwaa Rachadtangwaa Maniinaa Wadt Thang Waa Bpach Chadtang Waa Aakaj Chandti Swaaha
(chant and blow into the Pla Tapian).
Kata for food offerings to the Pla Tapian;
Sappae Chanaa Pahu Chanaa Biyaa Yandti Aakaj Cheuya Aakaj Chaahi Aehi Aehi Jidt Dtang Bpiyang Ma Ma
Biography of Luang Phu Rian, Wat Bang Rahoeng (Born Circa 2439 BE - 2531 BE)
Pra Kroo Nanta Samanawat (Luang Phu Rian Thawaro), was the abbot of Wat Bang Rahoeng, and the Arch Bishop of Bang Grang-Bang Rak Noi Municipality in Nontaburi. He was born in gthe year 2539 (Circa), in the town of Nakorn Rachasima (Korat) in the Municipality of Don Madtan. He was born under the name of 'Rian', which means 'coin'. His father's name was Mr. Daeng sangkarat, and his mother's name was Mrs. Yu Sangkarat. During his youth he lived the normal life of a country town boy, and went through all the adventures and trials and troubled a normal child would go through.
Luang Phu Rian tells of his discovery of his Wicha Kong Grapan Chadtri Klaew Klaad, when he was still a young boy. he was with six of his friends, who decided to go and chase off a group of twenty workers who had come from another province to harvest rice in the fields. So Luang Phu Rian cast some spells to make his gang invincible, and they set out to find the strangers. It turned out that, despite being only seven of them, they managed to chase off the twenty strangers even though they were attacked with large knives and were outnumbered, and that nobody had a scratch on them, even though their shirts were full of rips and holes from the knives of their enemies. He then realised that he possessed powerful magic when he cast spells, and decided to use his powers to develop Wicha.
Luang Phu Rian was Ordained into the Sangha on 1st July in the year 2470 BE, at Wat Khwan Mueang in Bang Grang, Nontaburi, with Pra Kroo Chum of Wat Pracha Rangsan as his Upachaya Ordaining Officer.
After his Ordination, he went to study in Khon Kaen, and became very well studied and proficient in Dhamma, and attained his Masters Degree. After he received his Masters' Degree, he traveled back to stay at Wat Khwan Mueang. After some time he decided to begin the practice of Tudong Solitary Forest Wandering, to meditate and practice Vipassana Kammathana Mindfulness methods in the forests and mountain caves.
When Luang Phu Rian spent some years on Tudong forest wandering, he met a number of great Kroo Ba Ajarn with powerful Wicha, who bestowed their secrets upon him. He masters a great many Wicha, including his mysterious Takrut Pitsamorn. Luang Phu would distribute the Takrut to devotees whenever he would attend Buddhist Ceremonies and Blessings. Luang Phu was always invited to amulet blessing ceremonies to assist with his empowerments, along with his peers of the time. He was most often seen present with other colleagues who were great masters of the time, such as Luang Phu To of Wat Pradoo Chimplee, Luang Por Tong Yoo of Wat Mai Nong Pa Ong, Luang Phu Say of Wat Bang Rak Yai, and Luang Por Sud of Wat Ka Long.
Amulets of Luang Phu Rian
The most preferred and sought after amulets of Luang Phu Rian were his Takrut, especially his Takrut Pitsamorn, which became famous after he gave one to a young child to hand round his neck, and the child fell into the river which had a very strong current, but did not drown. His Takrut Tone are renowned for their Kong Grapan Chadtri power after a devotee was shot at point blank range repeatedly, and the devotee's skin was not pierced, but his shirt was full of bulletholes.
The Takrut Jakkapat of Luang Phu Rian became very famous after a Malaysian Devotee who wore one was attacked by somebody with a long sharp rubber tree cutting knife. The devotee's shirt was ripped to shreds from the blade, but his skin was completely unharmed. It was stories like these which caused Luang Phu Rians many forms of Takrut amulets to become talked about around Thailand and Southeast Asia. Amongst his most famous Wicha takrut are the following' Takrut Tone, 2. Takrut Pitsamorn Lek, 3. Takrut Pistamorn 19, 4. Takrut Klaew Klaad, 5. Takrut Sariga, 6. Takrut Jakkapat, 7. Takrut Sam Kasat, 8. Takrut Maha Ud, 9. Takrut Pokasap, 10. Takrut Hua Jai 108
Other famous amulets of Luang Phu Rian are; 1. Pra Kring - Chaiyawat 2523 BE, 2. Pra Kring - Chaiyawat 2527 BE, 3. Pra Roop Muean 2522, and 2527 BE, 4. 1st Edition Coin (Rian Run Raek) 2516 BE, 5. 2nd Edition Coin (Rian Run Sorng) 2521 BE, 3rd and 4th Edition Coin (Rian Run Sam, Run See), 5. Pra Nakprok Bai Makham 2528 BE, 6. Fifth (and final) Edition Coin (Rian Run Sud Tai) 2531 BE, 7. Various Muan Sarn Sacred Powders Amulets, especially Pra Pid Ta, 8. Many forms of Takrut and other Talismanic Charms, like Bia Gae, Mitmor, Pla Tapian Fish, Look Om, and Takrut.
Luang Phu Rian lived a life free of illnesses and afflictions, until the end of his life, when in the year 2531 BE, he had terrible stomach ache and drank some 'ya Tat' herbal medicine, but it was to no avail. He was transported to hospital and treated, and returned to the temple, but had to keep going back to the hospital as the ailment came back again many times. Finally, hen was ingressed into Thonburi Hospital, and diagnosed with lung cancer, and on the 17th April 2531 BE, he entered Hospital for the final time. On the 27th April 2531 BE, he passed away peacefully at the age of 92, after 62 years of ordained life in the Sangha.
Temple:Wat Bang Rahoeng
Year of Issue:
Circa 2500 BE
Maker of Amulet:Luang Phu Rian (2439 BE - 2531 BE)
Weight:6 Grams
Recommended Uses:Protection and Prosperity