This list of Buddhist Guru Master monks will auto-update each time we add a new Master. Click each link in the list to view the amulets and read about each Guru Monk

External Pages
---
Pong Nang Kwak Sor Khor Hneung Nuea Wan Pasom Chan Hmak - Por Tan Klai Wajasit - Wat Suan Khan
02864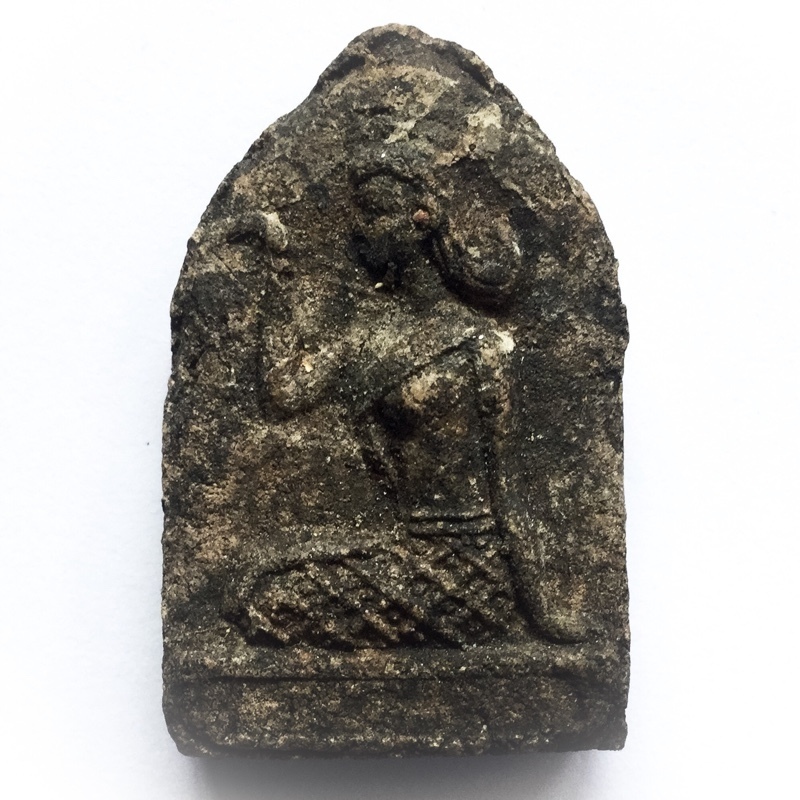 Pong Nang Kwak Sor Khor 1 - Sacred Betel and Areca Powder Amulet in the image of the Goddess of Merchants, Nang Supawadee (Nang Kwak) from the Great Khao Or Master Monk of Wat Suan Khan, Por Tan Kla Wajasit. Released Circa 2500 BE
Mae Nang Kwak Code Sor Khor 1 Pim Yai is a very early era and rare amulet to find, which received a very long blessing ceremony performing empowerment within the Uposatha Shrineroom at Wat Suan Khan throughout 7 days and 7 nights. The amulets were made for devotees to use to improve their sales and business affairs.
Por Tan Klai Wajasit, was the Abbot of Wat Suan Khan in Nakorn Sri Tammarat, was the Abbot of Wat Suan Khan in Nakorn Sri Tammarat. Por Tan Klai was one of South Thailands most revered monks, and one of the most important Khao Or Sorcery lineage masters of the Southern Khao Or Tradition, along with the great Luang Phu Tim (Wat Chang Hai), Ajarn Iad and Ajarn Tong Tao (Wat Khao Or) Luang Por Kong (Wat Ban Suan) and of course, the Greatest Master of all, Luang Por Tuad of Wat Chang Hai.
Amulets by Por Tan Klai are very rare, and jealously guarded by devotees of this Legendary Master monk, and are, extremely rare to come by, and only seen in circulation on very rare occasions. This is due to the massive worldwide following of Devotees, who Revere this great monk, and the fact that most of his amulets already found their rightful owners decades ago.
Nang Kwak is an extremely Ancient Deity worshipped since the time when the Lord Buddha was walking the Earth, and is derived from a story of the daughter of a Brahman Market merchant who traveled to markets to sell his wares on an oxcart, and who was blessed with great wealth and success due to the merits of his beautiful and charming daughter, Nang Supawadee.

Nang Supawadee was on two occasions blessed with the opportunity to listen to the Dhamma from the Arahants Saributra and Maugdalyana, which gave her a golden aura of Metta, and this is one of the reasons attributed to her having such immense mercy charm, and attraction of popularity and business sales.
Thai Version of Nang Kwak
There is also the Thai Occult Legend of Nang Kwak, which gives a different account of the origins of Lady Nang Kwak, which goes like this;

Nang Kwak is the daughter of 'Phu Jao Khao Khiaw' (meaning 'Grandfather Lord of the Green Mountain - Khao Khiaw could also mean 'Green Horns'). Phu Jao Khao Khiaw was a Lord of the Jadtu Mahaa Raachiga realm (one of the lower levels of Heaven - an Asura realm of giants and monster beings). His other name is 'Pra Panasabodee', and he is the Lord of the forest and places where wild plants grow. In that time, there was an Asura demon called Taw Gog Khanag (otherwise known as 'Taw Anurach').
Taw Gog Khanag was a good friend of Phu Jao Khao Khiaw, who had been attacked by 'Pra Ram' (the name of Rama in the Thai Ramakian - adapted from the Indian Ramayana Epic), who had thrown a Gog tree at him which pierced his chest and carried him through space to be pinned to the side of 'Pra Sumen' (Mount Meru). In addition, Pra Ram cursed him with the following magic spell; 'Until your descendants weave a Civara monks robe from lotus petals, and offer it to Pra Sri Ariya Maedtrai (Maitreya - the future Buddha), your curse will not be lifted'.
After this, Nang Prajant, the daughter of Lord Gog Khanag (Taw Anurach) had to serve her father, spending the days and nights trying to weave a Civara robe from lotus petals, in order to have it ready for offering to Pra Sri Ariya Maedtrai, who will descend to become enlightened in a future age from now.
Because Lord Gog Khanag had to remain cursed and pinned to Pra Sumen, his daughter was in a pretty dire state without her father to help run things. Because she had to spend all her time weaving the Civara, she had no time to go sell things or make money, nor time to run a shop. When Jao Khao Khiaw heard the news of this, he felt compassion, and sent his daughter Nang Kwak to go stay with her as a companion. Because of the 'Bunyarit' (power of her great merit), Nang Kwak caused merchants and rich nobles from around the area to flock to Nang Prajants home and bestow gifts of gold, silver and money on them. Nang Prajant became wealthy and led a comfortable life.
Nang Kwak statues are a very sacred and ancient tradition of Deva worship which Thai Buddhists adopted from Brahmins as they immigrated and came to stay in Siam, long before Buddhism had got a foothold. Due to this, Ajarns of Ancient Times created 'Kreuang Rang' (magical effigies) in the likeness of a lady with a shoulder mantle, sitting and beckoning with her waving right hand, inviting you to come and buy her wares. The statues were dressed in the traditional costume, and the Masters would make offerings and chant in meditation, until the statues hand began to wave back and forth, which was the signal that the ritual was successful and complete. Nang Kwak is seen to be prayed to (Bucha), as an altar statue, and also as an amulet, and Pha Yant (Yantra Cloth).
Kata Chanting and Bucha method for Nang Kwak Deity
Nang Kwak is one of Thailands most commonly seen Deities. Her image is given offerings and prayed to, in order to increase wealth and business prosperity. She is a Deity revered by Merchants in both India and Thailand, by both Brahman, and Buddhists alike.
Nang Kwak is the helper of all shop-owners and merchants. She is normally seen placed on a high shelf (normally a wooden or red and gold lintel, called 'Hing' in Thai) and offered "Nam Daeng" (a red syrupy drink, often used in Bucha offerings to Deities in Thai Buddhist practice). Also, Incense, and flower garlands are offered to please Nang Kwak, and bring customers and make sales.
Kata Nang Kwak is used when paying devotional merits to Nang Kwak, who is used in the place of business to increase the amount of customers and sales you may ingress. Nang Kwak is a very popular magic cloth Yantra used in most business establishments in Thailand. You can also see Nang Kwak worshiped as a statue . Traveling salespersons may use Nang Kwak portable amulets to be able to make Bucha whilst on the road, and ensure success in their salesmanship.
How to Rever Nang Kwak
To Bucha Nang Kwak, One should use 5 incense sticks and offer flowers (preferably jasmine), any kind of red colored non alcoholic drink ('Nam Daeng'). Some water, and also some sweets and rice as offerings. Light the incense, candles, and offer the flowers and drinks.
Then Say;
"Namo Dtassa Pakawadto Arahadto Sammaa Samputtassa" 3 times,
Each time you say the above line, you should be kneeling, and should bow after each time to the Buddha before you begin chanting Kata Nang Kwak.
Om Sriwichay Gangwian
Phu Jao Khao Khiaw Mii Luuk Kon Diaw Cheu Naang Gwak
Chaay Hen Chaay Rak Hying Hen Hying Tak
Tak Tuan Naa Puak Paanichaa Paa Guu Bpai Kaa Terng Mueang Maen
Guu Ja Bpai Kaa Hua Whaen Gor Dai Wan La Saen Tanaan
Guu Ja Kaa Saarapadgarn Gor Dai Doey Klong
Guu Ja Kaa Tong Mua Rai, Gor Dai Dtem Haab Piang Wan Nii Bpen Rooy
Saam Haab Ma Ruean Saam Duean Bpen Saedtii Saam Bpii Bpen Por Kaa Sampao
Pra Rasii Puu Bpen Jao Bprasit Hai Gae Luuk Kon Diaw Swaaha.
Kata Bucha Por Tan Klai
Puttang Arahang Putto, Tammang Arahang Putto, Sangkang Arahang Putto, Pisit Adthagaaro Na Mo Put Taa Ya
Por Tan Klai is one of the Top Guru Master Monks of the Last Century, and is one of the Four great Masters of the Previous Generation of Lineage Masters of the Khao Or Southern Sorcery Lineage, whose great Attainments, Humble and Diligent Practice, and Powerful Wicha Akom Magick have brought him to Legendary Status in the Annals of History of Thai Buddhism, and of Buddhist Amulets.
Kata Bucha Por Tan Klai Wajasit
Puttang Arahang Putto
Tammang Arahang Putto
Sangkang Arahang Putto
Pisit Athagaaro Namo Puttaaya
Temple:Wat Suan Khan
Year of Issue:
Circa 2500 BE
Maker of Amulet:Por Tan Klai Wajasit
Weight:5.4 Grams
Recommended Uses:Good Business, Increase Sales and Customers, Convincing Speech, Mercy Charm
Number of Amulets Made:Unknown
Size of Amulet:3 x 2 Cm
Encasement Options
Solid Gold Custom Casing (Waterproo​​​​​​​f) - We will email you with a price quote according to current Gold Prices, and Invoice You after Agreement. (0) Waterproof Casing (9) Without Casing (0)