This list of Buddhist Guru Master monks will auto-update each time we add a new Master. Click each link in the list to view the amulets and read about each Guru Monk

External Pages
---
Pong Roop Muean Hlang Jiworn Tee Raleuk Edition 2514 BE Sacred Powder Guru Monk Image with Civara Robe on Rear Face Luang Por Prohm Wat Chong Kae
02851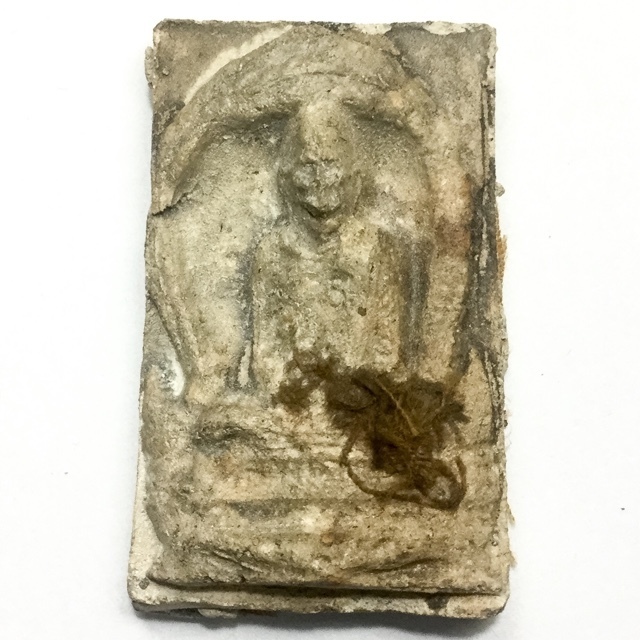 Sacred Powder Image of the Great Luang Por Prohm of Wat Chong Kae with Civara Monks Robe on rear face, and Civara robe piece attached to the front face blessed by Luang Por Prohm - Tee Raleuk Chalong Monton Edition 2514 BE.
This is a much lesser known and rare to see amulet, compared to the 'Nang Sum rakang versions which have a bell shaped arch, whereas this version has a bow shaped arch.
It is also rarer to find exhibits with a piece of Civara robe attached to the front face by Luang Por Prohm, to bless the amulet with personal touch. Some hand inscription has also been made on the Civara robe of the rear face. Some flakes of gold leaf are attached to the Civara robe on the rear face of the amulet. Blessed for 11 Days and Nights from the 28th of March to 7th may 2514 BE, A classic Amulet of immense Metta Maha Niyom Serm Duang Power with Klaew Klaad Evasion of Dangers and Maha Lap Lucky Fortunes.
The front face features the classig image of Luang Por Prohm in meditative posture, which his inimitable tall sitting posture, which is instantly recognizable as being that of Luang Por Prohm. The rear face has a piece of Civara Robe affixed to it and the rubber ink stamp of the temple of Wat Chong Kae, with the words 'Tee Raleuk, and 'Wat Chong Kae' imprinted.
One can assume that this will have been onf of a very few amulets which Luang Por himself will have blessed by hand during the ceremony which can be judged by the fact that a piece of his Civara Robe is manually attached to the front face, making this a special amulet with extra blessings from the hand of the master. It has obviously been in the possession of the devotee and recieved Bucha, which can be seen from its appearance.
Luang Por Prohm of Wat Chong Kae is one of the most highly revered Guru Monks of is Era, and his amulets are amongst the most highly preferred with Collectors in the Amulet Appreciation Society. His amulets are mostly hard to find these days, as they have been to the most part collected and kept in the private collections of aficionados and devotees of this Genre of Amulets, and can be considered a rare find to see any amulet of any edition from this Great Master.
The amulet was released in the Chalong Monton Edition in 2514 BE, which was a very famous edition especially for the famous Rian Tee Raleuk Chalong Monton Monk Coin, which is now one of the highly revered and collected favourites of the Pantheon of amulets of Luang Por Prohm The edition also celebrated the 88th year of Luang Por Prohm. Luang Por Prohm spent 11 daus and 11 Nights empowering this edition.
Temple:Wat Chong Kae
Maker of Amulet:Luang Por Prohm
Weight:11 Grams
Recommended Uses:Klaew Klaad, Maha Lap, Maha Pokasap, Serm Duang
Number of Amulets Made:Unknown
Size of Amulet:4 x 2.5 Cm
Encasement Options
Solid Gold Custom Casing (Waterproo​​​​​​​f) - We will email you with a price quote according to current Gold Prices, and Invoice You after Agreement (0) Waterproof Casing (9) Without Casing (0)