This list of Buddhist Guru Master monks will auto-update each time we add a new Master. Click each link in the list to view the amulets and read about each Guru Monk

External Pages
---
Pong Roop Muean Hlang Yant Nuea Pong Ittijae - Por Tan Kling Wat Thalung Tong
02923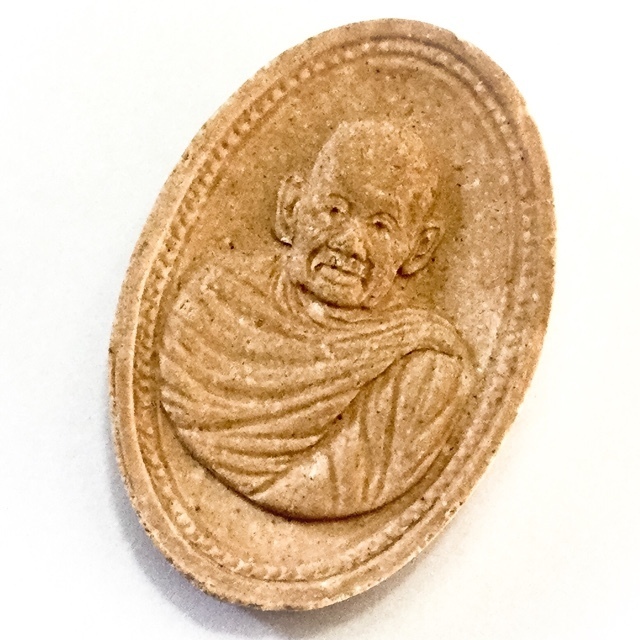 Pong Roop Muean Hlang Yant Por Tan Kling Nuea Pong Ittijae Pasom Chan Hmak (Niyom) - Lozenge shaped Sacred Votive Tablet in the Image of Por Tan Kling Janta Siri of Wat Thalung Tong, Amphoe Rong Piboon, Nakorn Sri Tammarat, Made from Pong Ittijae Yantra Powders, with Yant Maha Ud on rear face.
Por Tan Kling Janta Siri, of Wat Thalung Tong, in Nakorn Sri Tammarat, was born in 2429 BE. Luang Por Tan Kling was ordained as a Samanera at age 4, and continued on to be ordained as a Bhikkhu. He passed away at 104 years old in 2533 BE.
The rear face of the amulet has the sacred Yant Maha Ud (Yant Dtri - 3 segment Yantra), known for its Maha Ud capacity to both silence deadly weapons (guns), as well as 'Ud Sap' (to ingress wealth and treasures). The amulet is powerful Klaew Klaad Kong Grapan Chadtri with Maha Lap Blessings of Prosperity.
Known for a large variety of magical and sacred amulets, ranging from look om, rian kanajarn monk coins, and other sacred powder amulets such as the Pong Roop Hmuean, and his famous Pra Pid Ta.
Most famously, his Life-Saving Miracle Amulet; the 'Rian Roop Hmuean Hlang Por Bor Ror'. which was the subject of focus in the News around Thailand after the miraculous survival of Mr Suton, in a Tsunami accident which sunk his small fishing boat on the open sea.
Mr. Suton was wearing one single amulet, namely the Rian Roop Hmuean Hlang Por Bor Ror. His rescuers asked him how on earth he could have survived overnight on the open sea in such a storm? Mr. Suton said he had prayed to Por Tan Kling, to help him have the strength to continue swimming and stay afloat, and that his prayers were answered, and this was the only thing that had kept him alive.
In the below Video, you can see some old footage of Por Tan Kling a few decades ago before he passed away, as he gives Blessings to Devotees, and bestows the Panca Sila (5 Precepts) on his Devotees.
His amulets are renowned mostly for Metta Maha Niyom, Maha Pokasap, and Klaew Klaad power. Even now more than a quarter of a century after his passing, the Devotees of Wat Thalung Tong still flock to the temple to pray to his relics and beseech his blessings and protection.
Below; Wat Thalung Tong Temple
He was one the Great Olden Days Khao Or Masters of the Nakorn Sri Tammarat Province, and a Highly Revered Monk throughout the Nation. Por Tan Kling was undoubtedly one of the Great Masters of that Era.
The Great Por Tan Klai Wajasit is said to have told Devotees from Rong Piboon Municipality who travelled to see him, that 'next time you don't need to travel this far, because Por Tan Kling is in your home area, and he gives powerful Blessings just as well as i do'. It can be said then, that the Greatest Khao Or Master Monk of that Time and Region had recommended Por Tan Kling to his own Devotees, and that this is the highest recommendation one could ever recieve.
Devotees regard the amulets of Por tan Kling with high reverence for their power to protect and bring prosperity, and the powers of Por Tan Kling are considered to be Abhinya level (Miracle Worker).
As to those Devotees who are also Avid Collectors of the Pantheon; The amulets of Por Tan Kling are very rare, and are collected by a select niche of Devotees. His Pantheon of amulets are medium-high priced and are considered a Highly Distinguished Pantheon to collect.
Use the Traditional Thai Buddhist Method for Bucha;
1. Chant Maha Namasakara (3 Times)
2. Chant the Trai Soranakom (3 Times)
3. Chant Kata Aaraatanaa Pra Krueang (3 Times)
Kata Maha Namasakara
Namo Dtat-Sa Pakawa-Dto Araha-Dto Sam-Maa Sam-Put-Dtat-Sa
Namo Dtat-Sa Pakawa-Dto Araha-Dto Sam-Maa Sam-Put-Dtat-Sa
Namo Dtat-Sa Pakawa-Dto Araha-Dto Sam-Maa Sam-Put-Dtat-Sa
Trai Soranakom
Puttang Cheewidtang Yaawa Nipaanang Saranang Kajchaami

Tammang Cheewidtang Yaawa Nipaanang Saranang Kajchaami
Sangkang Cheewidtang Yaawa Nipaanang Saranang Kajchaami
Tudtiyambpi Puttang Cheewidtang Yaawa Nipaanang Saranang Kajchaami
Tudtiyambpi Tammang Cheewidtang Yaawa Nipaanang Saranang Kajchaami
Tudtiyambpi Sangkang Cheewidtang Yaawa Nipaanang Saranang Kajchaami
Dtadtiyambpi Puttang Cheewidtang Yaawa Nipaanang Saranang Kajchaami
Dtadtiyambpi Tammang Cheewidtang Yaawa Nipaanang Saranang Kajchaami
Dtadtiyambpi Sangkang Cheewidtang Yaawa Nipaanang Saranang Kajchaami
Kata Aaraatana Pra Krueang
Puttang Aaraatanaanang
Tammang Aaraatanaanang
Sangkang Aaraatanaanang
Puttang Prasittimae
Tammang Prasittimae
Sangkang Prasittimae
Temple:Wat Thalung Tong
Maker of Amulet:Por Tan Kling
Weight:3 Grams
Recommended Uses:Protection, Evade Danger, Gunstopper, Prosperity, Metta
Size of Amulet:2.8 x 1.8 Cm
Encasement Options
Solid Gold Custom Casing (Waterproo​​​​​​​f) - We will email you with a price quote according to current Gold Prices, and Invoice You after Agreement (0) Waterproof Casing (9) Without Casing (0)