This list of Buddhist Guru Master monks will auto-update each time we add a new Master. Click each link in the list to view the amulets and read about each Guru Monk

External Pages
---
Pra Khun Phaen Pong Prai Kumarn Ongk Kroo 2 Takrut First Edition Amulet 2547 BE - Luang Por Dtat Wat Chai Na
02733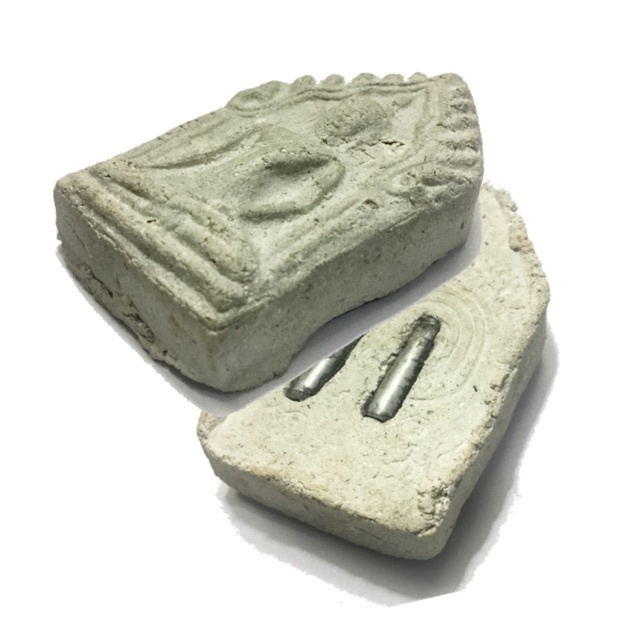 Pra Khun Phaen Pong Puttakun Pasom Pong Prai Kumarn - Ong Kroo Pised Takrut Ngern Koo - First edition amulet, from the Late Luang Por Dtat of Wat Chai Na.
This first edition Pra Khun Phaen is an extremely rare amulet indeed, for which we are extremely proud to present it with clear images for your perusal and study, and for documentation for posterity. The Pra Khun Phaen is made from extremely coarse Pong Prai Kumarn powders, and is hand pressed.
This hand pressed early First Edition Pra Khun Phaen form this master, making this an exclusive amulet of classic status, that was only made in very small numbers, before Luang Por Dtat's powers became so widespread.
It can be said that few other masters who have passed away in the last 2 decades have generated such a fast depletion of his amulets by devotees as Luang Por Dtat, with the exception of perhaps Luang Phu Ka Long, and Luang Por Kambu. Because Luang Por Dtat did not produce massive quantities of amulets, is pantheon is also much more difficult to find all models anymore, making them rarer than those of some of his peers.

Rear face of Pra Khun Phaen has 2 Takrut inserted and the Sacred Yant Putsoorn
Luang Por Dtat, of Wat Chai Na was a highly revered Gaeji Ajarn Guru Monk of the Paetch Buri Province, whose Takrut amulets became Legendary within his own lifetime. Hlwong Por Dtad (Pra Putta Wiriyaagorn), of Wat Chai Nai, Pechtburi province, is one of Thailands great Gaeji Ajarn.
A great specialist in Takrut amulets, and Phalad Khiks, he is the creator of a vast range of different Takrut, as well as other amulets, including Pra Somdej, Pra Khun Phaen, and other Buddhist Votive Tablets.
Luang Por Dtat passed away in 2552 BE, leaving his Devotees devastated. His amulets depleted at the temple within a few months of his passing, and have now become an extreme rarity to find any at all. His leaden Takrut amulets are as legendary as his world famously powerful Palad Khik charms, Some of his tiger skin Takruts would also contain leaden Takrut concealed within the tiger skin too.
His Palad Khik, Takrut (special!!) and Pra Somdej Amulets are famous around the country and indeed the world.This 1st Edition Pra Khun Phaen is of course an extremely highly sought after item with Devotees of Luang Por Dtat's amulets, not only due to its rarity, but also its aesthetic appeal. LP Dtat was renowned for his great humility, and modesty.
He never presented stories of himself or made claims about his powers, or amulets. He would often play down his powers claiming to not possess any kind of ability, yet he was always seen to perform extremely diligent empowerments with high levels of concentration, in contradiction to is modest claims. In addition, the many stories of Klaew Klaad Lifesaving Miracles occurring with Devotees who wore, and still wear his amulets, have also served to substantiate the widespread belief in the powers of his amulets.
His ability to enchant and empower physical objects (amulets), was legendary amongst his Peers, and was impossible to go unnoticed. His Aura of Magical Prowess emanated around him despite his Humility and Great Metta, and his Psychic Powers were highly noticeable when in is presence.
Known for his Kong Grapan Chadtri Klaew Klaad protective amulets, Khun Phaen, Monk Coin, Takrut, and Tiger Skin Amulets, Pra Somdej Yiaw Chanee (Gibbons Piss Amulet), are Immensely renowned with Devotees, for their ability to Protect from Dangerous Accidents
Pra Khun Phaen is not only one of Thailands most internationally known and popular amulets, it is also the name of the legendary protagonist of this amulet, and the subject of a Thai legend based in factual historical evidence. The Dtamnan of Pra Khun Phaen is the source of magical ritual methods for a great number of Thai Animist and Buddhist occult practices (Saiyasart), such as Gumarn Tong Effigies, 'In Koo', Nang Pimsen Dam effigies,Khun Phaen amulets, See Pherng paste, and Nam Man Prai oil.

Kata Pra Khun Phaen
There are various Kata for praying to Pra Khun Phaen Amulets and Bucha Statues,ranging from 'Kata Hua Jai' (heart Mantras, a short abbreviated Kata), to full length Prayers to Pra Khun Phaen.
Kata Hua Jai Khun Phaen
Su Na Mo Ro Mo Ro Su Na Na Ma Pa Ta Ja Pa Ga Sa Na Maa Mi Hang


Full Length Kata for Chanting Bucha to Pra Khun Phaen
Om Sitti Sri Sri Play Gaew Jidtang Bpiyang Ma Ma
Sasee Doo Ngaa Bpraduj Dang Gab Phaen Fa
Hnaa Goo Ngam Dang Gab Khun Phaen
Khaen Goo Ngaam Dang Pra Narai Gay Goo Dang Gab Pra Aatidt
Rit Goo Ngam Dang Prajantr.
Saw Nai Mueang Sawan Hen Hnaa Goo Yoo Mi Dai
Saw Gae Mae Hmay Nai Loke Manus Yaeng Yutgan Hlong Rak
Lae Fai Fan Chwong Ching Gan Mi Waern Way
Goo Ja Ramleug Terng Dton Mai Gor Hai Ma Nguay Ngong
Jong Dtam Ma Glai Mai Hang Hae Samakanae Neug
Goo Ja Ramleug Terng Payaa Hongs Gor Hai Ma Hlwong Lerm Tham Koo Haa
Goo Ja Ramleug Terng Paya Pla Gor Hai Reeb Ma Hlong Lae Lerm Nam
Goo Ja Ramleug Terng Kon Tammada Gor Hai Ma Hlong Lerm Tee Norn
Goo Ja Ramleug Terng Look Gai Awn Gor Lerm Mae Wing Rae Dtam
Goo Ja Ramleug Terng Chang Ngam Gor Jong Dtam Ma
Goo Ja Ramleug Terng Sae Mae Ka Jong Ma Ha Goo Goo Ja Goo Rorng RiakSaw Hyai Hai Hlai Hlong
Goo Ja Ramleug Terng Dong Pong Prai Hai Chorp Jai Goo
Goo Ja Ramleug Terng Foong Chon Tang Hlay Tee Mee Yoo Jong Yaa Hang Hern
Jong Soo Hnaa Ha Mee Sanae Metta Dtalord Bpai
Krai Hen Krai Rak Krai Tak Krai Chom Hai Mee Kon Niyom Dtam Goo Ma
Om Na Ma Pa TaNa Ma Pa Ta Na Ma Pa Ta Arahang Putto Na Mo Put Taa Ya
Puttang Sitti Tammang Sitti Sangkang Sitti Metta Sitti Sitti Sawaha
Above; Kata Pra Khun Phaen Luang Por Dtat
Idti Bpāramidtādtingsā Idtisappanyūmākadtā Idtipotimanubp-bpadt-dtō Idtibpiso Jadtae Namo Piswāt Hlong Hlai Pismay Yin Dī Jai Kid Therng Klao Kleung Winyā Wichā Jarana Sambpanno Idtibpisō Pakawã
Temple:Wat Chai Na
Maker of Amulet:Luang Por Dtat
Weight:25 Grams
Recommended Uses:Maha Sanaeh, Maha Lap, Maha Pokasap, Kaa Khaay, Jerajaa, Kong Grapan Chadtri, Klaew Klaad.
Number of Amulets Made:Extremely few Numbers
Size of Amulet:5x 3 Cm
Encasement Options
Solid Gold Custom Casing (Waterproo​​​​​​​​f) - We will email you with a price quote according to current Gold Prices, and Invoice You after Agreement. (0) Waterproof Casing (9) Without Casing (0)