This list of Buddhist Guru Master monks will auto-update each time we add a new Master. Click each link in the list to view the amulets and read about each Guru Monk

External Pages
---
Pra Khun Phaen Saen Sanaeh Nuea Wan Sanaeh 108 - Luang Phu Nai - Wat Ban Jaeng
03111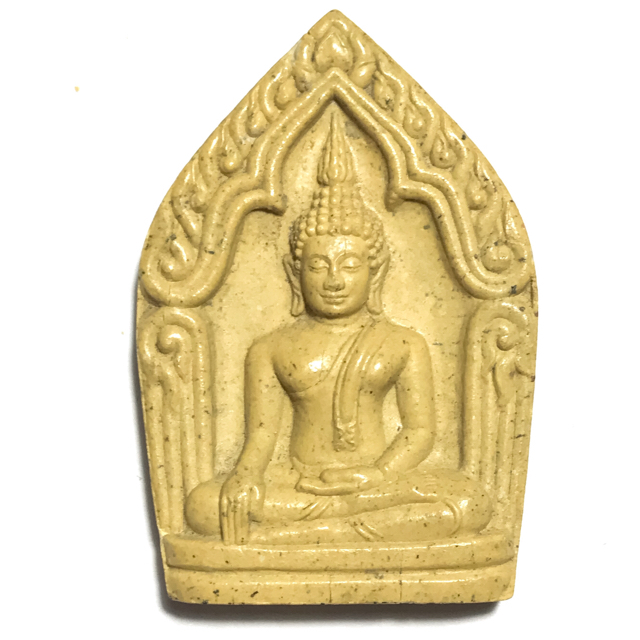 Pra Khun Phaen Saen Sanaeh Nuea Wan Sanaeh 108 Luang Phu Nai Wat Ban Jaeng (Ayuttaya). This Pra Khun Phaen is empowered primarily for Maha Sanaeh Kaa Khaay Metta Mahaniyom Magic, with special Maha Sanaeh Herbal powders. This amulet has become a very favoured amulet of merchants in Ayuttaya over the many years since its release, for its power to attract customers, increase sales, and to assist in enchanting others for love and professional purposes.
The rear face of the amulet has a Sacred Na Khun Phaen Yantra spell with the Kata Hua Jai Pra Khun Phaen, the Kata tat See, and Trai Soranakom, embossed and the name of edition, maker and temple; Na Ma Pa Ta Su Na Mo Lō Na Ma Ma Ma A U U U - all these components are leaced together to form a Yant Ha Yord, 5 Spires Yantra.
Below the Yantra on the rear face, are the words (in Thai) 'Khun Phaen Saen Sanaeh Luang Phu Nai Wat Ban Jaeng, Amphoe Bang Bahan, Ayuttaya
The front face features a Buddha image in Sukhothai Era style Artistic Interpretation, seated in the Mara Wichai posture, representing the moment where the Buddha touched the earth to call the Dharani Earth Goddess (Mae Toranii) to witness the truth of his merits, in the final discussion with the Mara Demon.
Luang Phu Nai (2446 – 2531 BE), was a Gaeji Ajarn Master Monk of Ayuttaya, who possessed the Lineage Wicha of Luang Phu Sukh (Wat Pak Klong Makham Tao). Luang Phu Nai was a very famous Sak Yant Tattoo Master of Ayuttaya, whose Wicha Jing-Jok Gecko Magic was known to be the most powerful of any Sorceror-Monk of his Time. His Jing Jok amulets are the most nationally and internationally famous Gecko amulet of all the Pantheon of Thai Classic Pra Niyom in HIstory to Date, belonging to the 'Krueang Rang' (Talismans and Charms) Category of High End Masterpieces.
Luang Phu Nai Made a large number of Krueang Rang Talismanic Charms, including this Pirod Khaen, as well as many forms of sacred Powder amulets, Monk Coins, and of course the Jing Jok Gecko charms, made in many different substances, including Galabangha Dam (black coral), Mai Saksit (Sacred Tree woods), Nga Chang (Ivory), Khao Kwai (Horn) and Graduk Gae (bone).
Luang Phu Nai was a previous generation olden days master of Sak Yant Thai Temple Tattoos, and a master amulet maker, especially renowned for his carved sacred gecko charms, as well as many other Amulets. His life as a Buddhist Monk is highly documented, with many different authorships of his Biography and life's works. His amulets are equally documented and highly prized with collectors of this Genre of Masterpiece Amulet, and the Jing Jok Luang Phu Nai can be found in almost every high class Amulet Magazine, and Encyclopedic Work of importance ever published.
Considered by most people to be the number one Gecko Talisman of all time. The legends of Luang Phu Nai's powers extended into the world of Sak Yant Thai Temple Tattoos, and Devotees of the Occult, and Buddhist Amulets, and the Faithful Followers of Luang Phu Nai's Buddhist Practice and teachings Luang Phu Nai was born in the year 2446 BE, and Ordained early in his childhood as a Samanera novice Monk, at the age of 12 years old, and hence never lost his purity.
Then later, at the age of 22, he was ordained to the highest status of a fully ordained 'Bhikkhu' (that is to say, a fully fledged Buddhist monk). He remained Ordained and Pure from the age of 12 within the Buddhist Sangha, until the day he passed away in the year 2531 BE. He was able to travel to Wat Pak Klong Makham Tao temple to study Sorcery and Buddha Magic with the great Luang Phu Sukh, and even met Grom Luang Chumporn the Royal Admiral Princely Lord, who taught him the missing parts of Wicha which had been left unstudied when Luang Phu Suk passed away.
Apart from the famously powerful Gecko Charms from this Great Master Guru Monk, Luang Phu Nai has also great fame for his Takrut Tone and Takrut Maha Ud amulets, and his Pra Buddha Kotama (Pra Putta Kodom) and Pra Mokkhallā (Maugdalyana Arahant) amulets (both models in small and large versions) and his Metallic Monk Coin amulets, all enjoy a highly revered and top rankiing position in the Amulet Appreciation Societies. His Sak Yant Thai Temple Tattoos were and still are legendary, for their authentic Maha Ud, Kong Grapan Chadtri, and Klaew Klaad power.
Kata Pra Khun Phaen
Always chant to the triple gem first before chanting to any amulets;
'Na Mo Dtassa Pakawadto Arahadto Sammaa Samputtassa' (three times)
Then chant Kata Pra Khun Phaen (3, 5, 7, 9 or 108 times)
Su Na Mo Ro Mo Ro Su Na Na Ma Pa Ta Ja Pa Ga Sa Na Maa Mi Hang
Then take the amulet and tap your forehead or the crown of your head before leaving the house each day.
Temple:Wat Ban Jaeng
Maker of Amulet:Luang Phu Nai (2446 – 2531 BE)
Weight:12 Grams
Recommended Uses:Mercy Charm, Good Business, Popularity and Seductive Influence
Size of Amulet:4 x 3 Cm
Encasement Options
Solid Gold Custom Casing (Waterproo​​​​​​​​f) - We will email you with a price quote according to current Gold Prices, and Invoice You after Agreement (0) Waterproof Casing (9) Without Casing (0)