This list of Buddhist Guru Master monks will auto-update each time we add a new Master. Click each link in the list to view the amulets and read about each Guru Monk

External Pages
---
Pra Luang Por Tuad Dtua Duang Nuea Wan Pim Yai Fang Takrut 2534 BE - 72 Years Old Edition - Pra Ajarn Nong Wat Sai Khaw
02969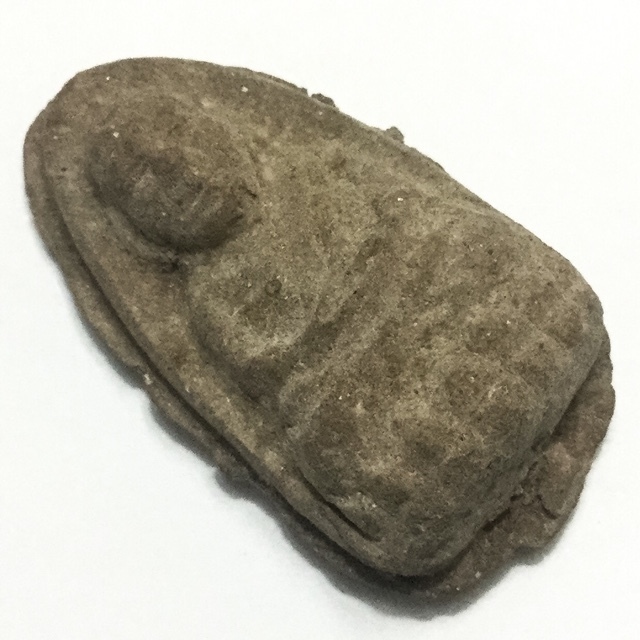 Pra Luang Por Tuad Pim Dtua Duang 72 Years Birthday edition of Pra Ajarn Nong - Wat Sai Khaw. This model is Pim Yai Gammagarn Fang Takrut (large size Model with Takrut Spell insert)
Made from Nuea Wan Herbal Powders with Din Kakyayaks Sacred Peat Marsh Earths, this amulet is an all time classic and world famous edition known for its immensely powerful Metta Maha Sanaeh Effects, which are much more evident than in most editions of Luang Por Tuad Amulets, which are more well known for their Kong Grapan Klaew Klaad and Maha Lap Powers.
The amulet has a Takrut Spell inserted into the base of the amulet, which was pressed by hand at Wat Sai Khaw and blessed in full Buddha Abhiseka to celebrate the 72nd Birthday of Pra Ajarn Nong.
This Pim (Model), is known as the Pim 'Dtua Duang', which means 'Beetle', referring to the beetle shaped form of the amulet and the hunched shape of the image.
Pra Luang Por Tuad amulets of Pra Ajarn Nong of Wat Sai Khaw belong to the Dtamra of Luang Por Tuad Amulets of the Wat Chang HGai and Khao Or Magical Lineages, and enjoy inclusion in the Category of Pra Niyom Master Class Amulets of this Genre.
Pra Ajarn Nong Tamma Phudto – Wat Sai Khaw 2462 -2542 BE
Ajarn Nong was Ordained as a Bhikkhu at the age of 21 in 2482 BE. He led a life of practice worthy of reverence and is one of the most important makers of Luang Por Tuad amulet in the history of Thai Amulet making. He became the Abbot of Wat Sai Khaw in his Birth Place of Pattani, in Ampher Koke Po.
During his 60 years as a Bhikkhu, he made well over 40 editions of Masterpiece amulets. After Ajarn Nong, ex Abbot of Wat Sai Khaw, in Ampher Koke Po (Pattani) passed away on the 11th September 2542 BE, the 'Wongarn Pra Krueang' (Amulet Collector Society), began to gather and keep the amulets of LP Nong even more than before.
This was because they knew that the amulets of Ajarn Nong were already incredibly famous as he was still living, and that these amulets were destined to become extremely rare in the future and jealously guarded by their owners.
This is already now since over a decade the case, and his amulets are ever rarer to find anywhere. Ajarn Nong is most Famous for making Pra Luang Por Thuat amulets, of which he has Created over 40 different Editions of amulet in the image of LP Thuat.
Pra Ajarn Nong made so many different types of amulet, ranging from Takrut, Metta charms, up to Pra Kring, Powder amulets and Yantra Cloths. One of his ost famous creations is of course the Takrut Narai Plaeng Roop, which was so famous for its Miraculous Events Experienced with Devotees.
He is a Master Gaeji Ajarn of the Southern Khao or magical Lineage. Most of his amulets were empowered with the Lineage Masters of the Khao Or Cave. He is entering History along with the Great Luang Por Tim (Wat Chang Hai) for his contribution to continuing the Dtamra of making Pra Luang Por Thuad amulets.
If we talk of Ajarn Nongs amulets, then the Takrut Tone amulet is one type which cannot be overlooked, for his Takrut charms are amongst the most preferred amulets of LP Nong along with LP Tuad amulets. It is therefore the Takrut and the LP Thuad amulet for which Ajarn Nong is commonly known for.
The most famous of all Takruts by Ajarn Nong is the Takrut Tone Narai Plaeng Roop, which was so successful with Devotees, that it has become his trademark. Especially in the Vietnam War, the Soldiers who had received Takrut from Ajarn Nong all came home safely without one single exception, and many returned with tales of miraculous escapes from death, attributed to the magic of Ajarn Nongs Takrut amulets.
There are so many tales of Devotees encountering Miracles and life saving magic, that the legend of his Takrut follow him like his own shadow. It is said that Ajarn Nong began to make and hand out Takrut Tone amulets around 2496 BE, which he would hand out to his close disciples. The very first Takrut were made from small sheet of Iron, and were small in size.
Some time later, some Looksit brought some gun shells to use for Takrut making. These Takrut were varied sizes depending on what kind of bullet shells were available. This edition gained much fame and legendary status for the many life saving tales from those who possessed one.
For Luang Por Tuad amulets, his metal amulets in Loi Ongk and coin form are very worth collecting and revering, especially if you are a believer in the Wicha Pra Narai Plaeng Roop, and there is one edition of Pra Kring in the form of Luang Por Tuad, which he made that is very interesting.
It is unusual because the sacred metals ('Chanuan Muan Sarn') used for the 'Kring' (a tiny ball inserted inside the amulet which rattles) of the statuettes, was made exclusively with a great number of Yantra Foils with Yant Pra Narai Plaeng Roop.
Ajarn Nong passed away in 2542 at the age of 80, after 60 years as a Bhikkhu. His legend now continues with the Amulets of Ajatn Peng (current Abbot of Wat Sai Khaw), to Whom he taught, and passed on the Wicha of Takrut Narai Plaeng Roop.
Kata Luang Por Tuad
Namo Potisadto Aakandtimaaya Idtipakawaa
Temple:Wat Sai Khaw
Maker of Amulet:Pra Ajarn Nong
Weight:8 Grams
Recommended Uses:Seductive Influence for Business, Social and Professional Advancement, Mercy Charm, Prosperity, Protection
Size of Amulet:3.5 x 2 Cm
Encasement Options
Solid Gold Custom Casing (we will email you with a price quote according to current gold prices at the time of inquiry) (0) Waterproof Casing (9) Without Casing (0)